The Five Failsafe Pieces You Need For Every Emergency Outfit Crisis
01 August 2018
We've all been there: you've spent weeks mentally planning your outfit for the next big shindig, and you're 300% sure it's going to be the envy of all your friends. And then the moment comes – it's the eve of the event, you put it on and you look… like a potato. Damn. But don't fear: stock your wardrobe with these in-case-of-emergency pieces and even the most dire closet crisis will be a cinch to solve. You'll never experience the dreaded "I-have-nothing-to-wear-and-I-despise-everything" moment again. In fact, adding these must-haves will totally transform the way you get dressed. Easier? Yes. Chicer? Definitely.
The Chic Sneak
Correct, sneakers – but we're talking less running, more runway. A pair of classic white kicks takes anything from a sultry sundress to cropped culottes from tired to fresh AF in an instant.  Plus, they also give your look a seriously cool street-style edge (think off-duty model) – no joke: pull on a pair and expect to be mistaken for a Hadid sister within minutes. Our fave way to style sneaks for cooler temps? Rock them with a trendy two-piece suit set – yep, we'll bet you thought coordinating couldn't get cooler, but stark-white sneakers can still take it up a notch. Try it now, thank us later.
The Little White Dress
There's no denying the LBD is a staple, but it's not always a standout. Enter: the Little White Dress. For the times you need to reach for a failsafe option but still want to make a serious statement, upgrade your LBD to an LWD. White does wonders for your look – it'll instantly resurrect any remnants of your summer tan and make you look downright angelic. Worried about rocking a dress in the depths of winter? No prob. Literally any jacket works with the right LWD – try leather for added edge, denim for a casual vibe, or a trendy teddy shearling for a look that's equal parts cool and cosy.
The Tuckable Turtleneck
A long way from schoolgirl skivvies (dw, we're shuddering too), turtlenecks are back with an ultra-versatile vengeance.  The key? Opt for one in a fabric thin enough to tuck into other pieces. Try jeans for a relaxed weekend vibe or A-Line skirts for the ultimate office outfit (because let's be real, Jen Aniston's "Rachel Green working at Ralph Lauren" sweater and mini combo is always going to be the subject of serious work wardrobe envy). Neutral shades are your ultimate ally in the turtleneck department – blacks, camels and creams will be your sartorial saviours on those mornings you can't part ways with the snooze button. Instant chic, zero thought required.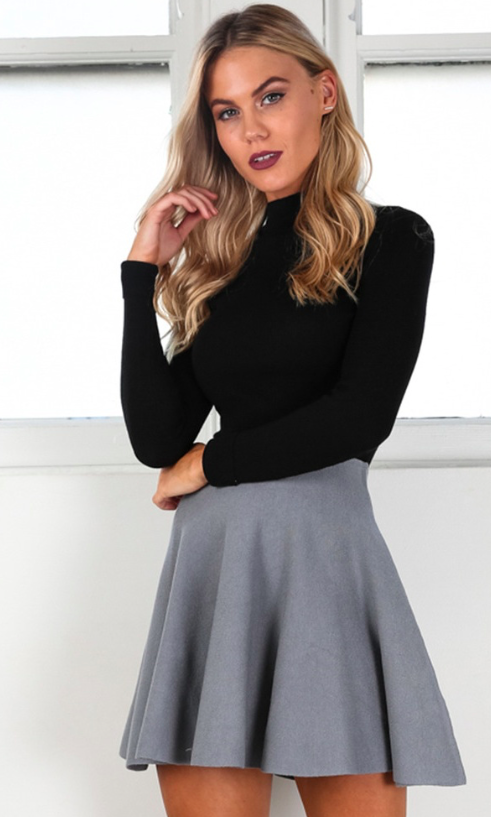 The Statement Midi
One word for the midi – u-n-d-e-r-r-a-t-e-d. The right midi dress can be magic – it can take you from a boozy brunch with your girlfriends, to your sister's baby shower, all the way into date night, be it a movie night or a swanky dinner – yep, it's that good. Pick a fun, femme print in a statement colour and pair it with simple sandals and statement earrings to induce ultimate outfit envy. Bonus: the lower hemline means you technically only have to shave below the knee, so midi's are basically a lazy girl's dream dress (zero judgment here, we've all done it.)
The Mid-Wash Denim Mini
All hail the humble denim skirt (only there's really nothing humble about it at all.) Hemlines and colours change with the seasons, but this year is all about the mid-wash mini, and damn does it look good. Embroidered, buttoned, structured or frayed, there's a mini for every single style. Dress it up with a metallic cami, dress it down with a logo tee, or even wear it to work with boots and a blazer. The options are endless (just like your legs in that hemline).
Style tips by Delaney Loane