15 Fashion Hacks That Will Blow Your Mind
03 January 2019
Ever heard someone talk about a life-changing experience? Like that time they flew to the other side of the world to go backpacking in Europe? Or maybe the time they saw the Pyramids at sunset? Or perhaps even that time they did Eat, Pray, Love? Life changing experiences are great, but they do seem to cost a lot of dosh. That's where we come in.
Sit back and let us change your life for less, much less. All we ask for is a few minutes of your time as you watch our amazing fashion hack video that is sure to have you preaching from the rooftops to whoever will listen!
FASHION HACKS
HACK 1: DE-PILL YOUR CLOTHES WITH A RAZOR

Ever had those disgusting little balls ruin your clothes, that DON'T seem to come off with a good wash or a lint brush? Finally, a solution for the little buggers! Simply grab a razor (preferably without any soap or shea butter attached) and run it down your clothes; the pills will come right off!
HACK 2: 'STRAW' YOUR NECKLACES FOR TRAVEL
Finally a storage solution for travelling with necklaces! Every gal loves her accessories, but necklaces are prone to tangling at the best of times – let alone when they are rattling around in your bag for eight hours! In the past, you might have forgone taking them along all together…'too hard' you said, 'not worth it' you added. Well, NOT NOW! Simple pop them in a straw and do up the clasp! Simple!
HACK 3: USE CLEAR NAIL POLISH ON YOUR LOOSE BUTTONS
Ever had a loose button, but no time to sew it back on? Nine times out of ten, when this happens I write off the button. I ALWAYS take a chance and let it hang, and I ALWAYS end up losing it. If only there was a simpler way…
But there is! Next time you have a loose button or thread, simply add a drop of clear nail polish! This will set the thread in place and give you enough time to prepare a convenient time to sew it back on (or I mean, you could just keep doing this hack!!).
HACK 4: USE A NAIL BUFF TO GET TOUGH STAINS OUT OF SUEDE SHOES 
Suede shoes. They may be beautiful, but when they get stained it can be a real b*tch to get out. Especially if they are a light coloured suede. Fortunately, there is an easier way. Next time your favourite pair of suedes gets damaged, simply buff it off with a nail file, the stain will come right off! – I told you it was easy!
HACK 5: STOP FAKE TAN RUBBING OFF ONTO YOUR CLOTHES BY WEARING A PANTYLINER UNDER YOUR OUTFIT
Stop that awful orange fake tan rubbing onto your favourite white dress by sticking a pantyliner under your armpit!
READ: These Are The Only Fake Tans That Don't Look Fake 
HACK 6: TURN YOUR BRA INTO A T-BACK USING A PAPERCLIP  
Who needs to spend $$$ on a new bra when you have a drawer of suitably adequate ones? Next time your outfit requires a T-back bra, simply make one yourself by bringing the straps together with a paperclip.
HACK 7: USE A HAIR STRAIGHTENER TO IRON YOUR CLOTHES IN A JAM
Ever packed your dress in your bag to take to your friend's house to get changed, only to pull it out and discover it's a wrinkly mess? Next time you're in a jam, simply go over all the 'important bits' with a hair straightener and you will be looking crisp and neat in no time! Pay attention to the collar, hem and edges for the best finish.
READ: Read This Before You Buy A New Hair Straightener
HACK 8: SOFTEN YOUR ITCHY KNITS WITH WARM WATER AND CONDITIONER
Ever ridden off a knit because it is just too itchy? All your problems are now solved, next time you have an issue with itchy knits, simply soak them with a cap (or two) of conditioner, and then leave them to air dry. They will be soft and luscious in no time!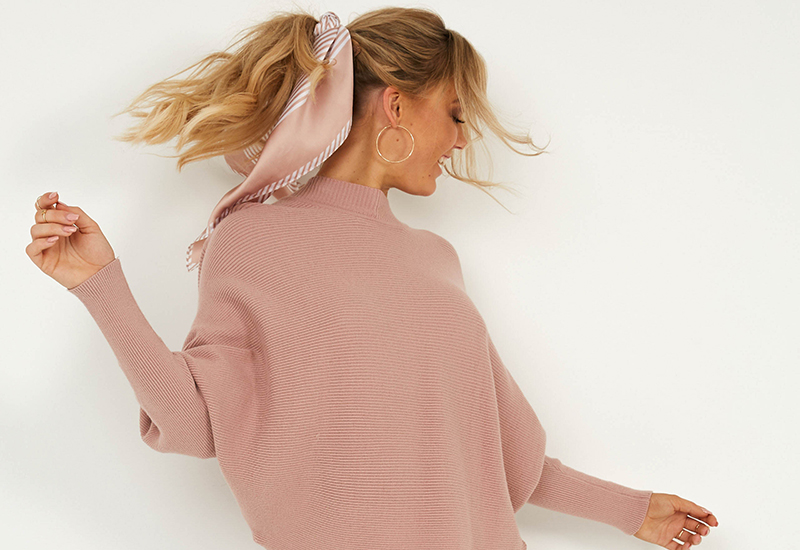 HACK 9: WORK OUT IF THOSE JEANS WILL FIT YOU WAIST WITHOUT A CHANGEROOM
This hack is simple, grab the jeans and wrap them like a cape around your neck. If the two ends touch, you know they're going to fit your waist!
HACK 10: USE WHITE TOOTHPASTE TO CLEAN WHITE SHOES
Next time your white sneakers are looking a little worse for wear, simply grab some white toothpaste and a toothbrush and get scrubbing! They'll be back to their former self in no time!
HACK 11: STRETCH OUT YOUR LEATHER SHOES WITH A HAIR DRYER
Next time you want to stretch out some shoes, simply put on a pair or two of thick socks, squeeze yourself into your shoes, and then blow dry the tight areas for approx 5 minutes. Then keep them on and pot around the house for two hours. When your times up, your shoes should feel A LOT more comfortable.
HACK 12: RUB VASELINE OVER A ZIPPER TO HELP IT SLIDE
This fashion hack needs no explaining. Next time your zipper is feeling a little stiff, simply rub some vaseline over it to loosen it right up.
HACK 13: GET MAKEUP STAINS OF WITH A MAKEUP WIPE
Next time you're getting ready and you accidentally spill some makeup onto your crisp, white sleeve, simply grab a makeup wipe and gently rub it off.
HACK 14: PANTS TOO BIG? FOLD THE SIDE SEAMS INTO THEMSELVES AND SECURE WITH A SAFETY PIN
Next time your pants are too big and you want to do a quick DIY job to take them in, simply fold the existing seam onto itself and secure with a safety clip.
HACK 15: FLIP YOUR BELT BUCKLE AROUND TO WEAR WITHOUT POKING A NEW HOLE
When your belt is made for the hips but you want to wear it around your waist, you are likely to fall into an issue where you have no way to fasten it in place. When this happens, simply flip the buckle the other way round and thread it through like normal.