Destination Weddings: The Best Locations For Every Budget
03 May 2019
It's no secret that weddings cost wayyyy more than we'd like to admit; but did you know that destination weddings can actually work out cheaper? I know, wild right!? We've curated a guide to help inspire, plan and perhaps create your dream wedding day. Whether near or far, we've got a destination to suit you and your budget.
READ: The Ultimate Wedding Checklist: From 'Yes' to 'I Do'
DESTINATION WEDDING – AUSTRALIA
To many this is 'home' and we're pretty damn lucky we live in one of the best places in the world. If you're looking for a wedding full of sun, sand and good times – then Aus is the place to be. Here are our top places for a flawless Australian wedding.
$ (from $8,000)
Why wed here: If you're looking for a beautiful venue away from the city, then this country heaven place might tick all the right boxes. The Woodhouse is set on 100 acres, for which 25 have been landscaped to host the perfect wedding. If you're looking for charm and vintage vibes, The Woodhouse comes complete with an indoor fireplace, lounges and high ceilings; the styling and decorating options are endless. Hosting up to 150 guests and with onsite accommodation offered and a glamping option; you and your wedding guests can dance the night away.
Best time to wed: Spring (September – November) and Summer (December – February) are our top picks for a wedding in the Hunter.
READ: Our Hunter Valley Getaway Guide
$$ (price not listed..)
Why wed here: Sydney is a stunning city, so who wouldn't want to get married with those iconic harbour views? This North Shore venue is every bit elegant and charming and makes for a perfect wedding reception especially when the dining is five stars. With seated capacity for up to 130 guests, or 180 if you're going for a cocktail event. Gunners Barracks offers waterfront and bushland views as well as unique photo opportunities.
Why wed here: Perhaps Sydney's best-kept secret is this little gem of a place. Offering indoor and outdoor options, The Calyx is the perfect place to say I do, and celebrate afterwards. It offers a range of indoor plants that form artworks to add to the decor and with so much lush greenery surrounding this opulent glasshouse, it's a winner in our eyes.
Best time to wed: Sydney's weather is pretty good all year round, although if you're wanting to make the most of the sun and warmth, September to February is prime time.
(prices not listed)
Why wed here: If you're a lover of art deco, then the George Ballroom is calling your name. With a venue so opulent and dating back to the 1860s, the ballroom offers heritage charm yet a modern flair. If you're not fussed on what day you say, I do – then perhaps check out their Sunday Wedding Soiree.
Why wed here: Why not write your own love story and get hitched in Australia's oldest public libraries. Complete with historical 19th and 20th Century heritage charm it's amazing what can be created in this timely space, plus they have so many options for small or large weddings – so no one has to miss your special day. They even have paired with food&desire to bring fresh and innovative catering to your special day.
Best time to wed: Melbourne can be cooler than most of its neighbouring cities, but that doesn't mean the sun won't shine. Choose January through to March for warmer weather and cool breezes.
Why wed here: This is one luxe wedding venue that ticks all the right boxes to say 'I do'. Nestled in the Whitsundays, Hayman Island boasts mountains with pristine water views. You'll be pinching yourself with this stylish Australian resort, that is a chilled 2 hours and 40 minutes from Sydney by plane. Opening this July 2019 – you can be one of the first to claim this venue as your dreamy wedding location.
Best time to wed: The Whitsundays is fortunate enough to have a pretty perfect climate all year round. If you're after a warm day May- October is best, or November – April is for those looking for a summer day.
$ (some packages listed online – range from $12,000 – $15,000 but inclusions aren't for many guests)
Why wed here: Say I do under leafy palms and sunshine. If an island wedding is what you had in mind, then Orpheus Resort offers wedding packages tailored to your perfect day. Accommodating up to 28 guests and including a seated or cocktail style reception, each Orpheus package includes all-inclusive features so you can stay stress-free, and enjoy your honeymoon in style.
Best time to wed: The Great Barrier Reef is warm mostly all year-round, however, we recommend June to October when the weather is at its driest.
Why wed here: If luxurious outback is what you're after – then look no further than Longitude 131. The photo opportunities await with Uluru behind you, and an iconic desert landscape. Guests can enjoy 5-star accommodation on site as well as having your wedding meal under the stars. With a capacity for less than 30 guests, this outback escape is perfect for those seeking a more intimate day.
Best time to wed: March-May are moderately temperate months for the Northern Territory and best if you don't want a wedding in high heat.
WATCH: That Time We Went To The Northern Territory 
DESTINATION WEDDING – NEW ZEALAND
Although the world is big, with so many package holidays and cheap airfares – the world has become smaller in the best way possible. These places are home to an endless amount of wedding venues to suit every style and budget.
$ (ranging between $5,000 – $20,000 +)
Why wed here: Pretty much a skip and a hop away, our friendly neighbour NZ is the place to get married if you want a destination, but perhaps don't want to go to far from home. If you're looking for somewhere that offers a package for every budget yet offering stunning mountain views then Stoneridge Estate is sure to wow you and your guests.
Best time to wed: For a stunning NZ wedding don't look past December to February for lovely summer warmth!
DESTINATION WEDDING – FIJI
$4,294.00
Why wed here: If you're looking for a private escape for you and a small number of wedding guests (and not too far from the Aus coastline), then this place might just make those wedding bells ring! With white sand beaches, sparkling waters and creative dining options, you can say Bula to a destination wedding.
With their 'Indulgence Wedding Package" which caters for the wedding couple and 4 guests, this nifty package includes a marriage licence, beach set up and wedding ceremony and if that's not enough, flowers and French champagne are just two of the many more inclusives. For under $5,000, you'll be ready to say yes to paradise.
Best time to wed: Fiji's dry season runs from May to mid-October, which makes the warm weather and clear skies perfect to get married.
DESTINATION WEDDING – ITALY
READ: Shhh! Where To Go In Italy To Skip The Crowds
(price on request)
Why wed here: Villa Cimbrone, otherwise known as the 'backdrop for love' ultimately speaks for itself. With those lush panoramic Amalfi coast views, and located in the heart of Ravello. This venue is prepared when it comes to weddings with multiple halls to choose from, a hairdresser and makeup artist as well as video and audio systems (so you can live stream the ceremony to your loved ones who can't make it). Not to mention the delish Italian food and vino on offer from none other than the gardens of their own Villa. Did I mention there is a helicopter service too? If you want extra, this is it!
Why wed here: This Italian Villa is 16th century and absolutely stunning to host your dream wedding. It recently had a two-year long refurbishment where every feature has been restored perfectly. With an impressive entrance, Italian style gardens and located right beside the lake it's the place to exchange vows. Whether you want a luxury ceremony, intimate dinner party or lavish event this Lake Como gem has something for everyone including 6 luxe suites for you and your guests.
Best time to wed: The warmer months begin from April to October, but between June to September is peak tourist season, so expect crowds and more expenses. Be wary that during August many locals head for their own vacays so many hotels are closed.
DESTINATION WEDDING – AMERICA
Las Vegas, Nervada
Why wed here: If eloping is your cup of tea, then Vegas is the place to do it and with a lot of websites offering them for under $1,000 AUD, it's not a case of if, but when! Most of these packages include your ceremony, wedding licence fees, transfers and a photographer for your special day/night. Although your hotel and flights are not included in most of these packages, at least you can focus on your honeymoon travel plans and know the wedding will be a piece of cake.
Best time to wed: March and May are the warmer months in Vegas, although if you're after a cooler wedding, then choose anytime between September to November.
READ: Sin City: 48 Hours In Vegas
Why wed here: Set in South Carolina's contemporary Charleston, Cannon Green is a venue like no other. A picturesque 19th Century house highlighted with lush greenery and an open al fresco space. The venue can accommodate 20 to 250 guests, and their wedding packages include everything from linen, outdoor heaters, silverware and fine dining catering.
Best time to wed: March-May is the best time for a wedding in the South.
DESTINATION WEDDING – IRELAND
(price on request)
Why wed here: If traditional charm is what you're after, then you can't look past a wedding in Ireland and especially not one in Cavan. Only an hour away from Dublin, this venue is a boutique estate offering a menu prepared by one of the UK's top chefs, Richard Corrigan, as well as exclusive lakeviews and stunning backdrops. They are specialists when it comes to preparing the perfect wedding day for you, as well as accommodating up to 100 guests for an overnight stay. Their packages are made in mind with your best needs and they even offer little extras like yoga and spa packages.
DESTINATION WEDDING – ENGLAND
Why wed here: If you've ever wanted to live like Royalty, why not wed like it? The home of the Duke and Duchess of Richmond and Gordon sets the scene for a very glamour filled English wedding so you can marry your Mr Darcy in style. Surrounded by breathtaking parkland and home to one of the country's finest art collections – your wedding will be one regal and ever so special.
Best time to wed: Ireland and England are known to rain most of the time, however the best weather usually ranges from May to September in the Summer months. Keeping that in mind if you're after a winter wedding then prices may be lower from October through to March.
READ: Our Ultimate Guide to London
DESTINATION WEDDING – SOUTH AFRICA
(price on request)
Why wed here: Idyllically located in the heart of the Simonsberg mountains, and overlooking a Zorgvliet Winery, this Cape Dutch-inspired wedding venue is one of absolute serenity. With a chapel on site, an Oak Room for your reception and a Country Lodge area for pre-drinks (yes, you heard us) you can dine in their country-esque restaurant or under the stars. Either way, this South African beauty is sure to make your wedding day a magical one.
Best time to wed: South Africa's climate is warm and inviting pretty much all year round, although the best time would be around December to February.
DESTINATION WEDDING – HAWAII
Why wed here: Famous for its iconic pastel building, this Hawaiian beauty is everything pretty in pink for your dream day. With regal gardens and stunning sunset views, this Palace includes wedding packages to suit each and every couple's needs.
Best time to wed: Hawaii is splendid all year round, while winter (November to February) sees a little more rain it still has beautiful warm days.
DESTINATION WEDDING – COOK ISLANDS
Why wed here: These idyllic villas offer a private sanctuary for you and your guests. With a romantic backdrop of the Muri Lagoon, infinity pools and dreamy gardens; it's high at the top of our list of destination weddings. Guests can stay in style with each townhouse offering accommodation for up to 4 guests.
Best time to wed: As you guessed, tropical island weather can be temperamental so be prepared, however end of February through to May should be clear.  
DESTINATION WEDDING – GREECE
Why wed here: This is one palace you won't just want to get married in, but live in as well. Endless sea views and Crete traditions await in this romantic Greek getaway. Guests can enjoy accommodation onsite whilst their bridal packages are next level – think personalised menus and fireworks. This venue has everything to make your day an extra special one.
Best time to wed: Prime time for this dreamy destination is mid-April to October.
DESTINATION WEDDING – CYPRUS
Why wed here: Annabelle is one of the most iconic hotels in Cyprus and being in the heart of Paphos, it's easily accessible for guests. It showcases stunning Mediterranean views and oozes sophistication. Newly renovated, the hotel features a wellness spa, pool, rooftop bar and luxurious suites; so you can wedding prep in the most relaxed way possible. This dreamy hotel will have you saying 'I do' in no time.
Best time to wed: April through to October is the best time to get married on this stunning island.
DESTINATION WEDDING – BALI
Why wed here: When it comes to planning a lavish event, you can definitely know that your wedding day wishes will come true in a destination wedding in Bali. The Ritz-Carlton offers a stunning chapel, with amazing glass windows overlooking the ocean.  
Best time to wed: If you're after tropical weather for your big day, May-October are the dry months for Bali.
DESTINATION WEDDING – FRANCE
Why wed here: Why not say I do in the city famous for love? You and your guests can overlook the Eiffel Tower whilst sipping on the finest French champagne. Whether you have 30 or 230 guests; the many historic and grand rooms that this hotel has to offer are sure to wow. You don't have to stress, as they have so many packages to choose from: including cake and open bar additions you know your dream day is only a Oui away!
Best time to wed: June-August is France's summer time for those seeking a warm wedding. If you're looking for a Winter wedding plan to say I do in November-January.
DESTINATION WEDDING – MEXICO
Why wed here: If sun, fun and vibrancy are what you seek then look no further than Mexico for your destination wedding. Your guests will love exploring Mexico's rich history and colourful cities; whilst falling in love with the stunning views this city has to offer. Hotel Matilda offers Mexican tradition with an art deco flair; and for those that are foodies, you can't go wrong with a Mexican feast. Finish your wedding celebrations in style while you sip on Tequila margaritas by the pool with your guests.
Best time to wed: Optimum time for this dreamy destination is the warm months ranging between December – April.
DESTINATION WEDDING – THAILAND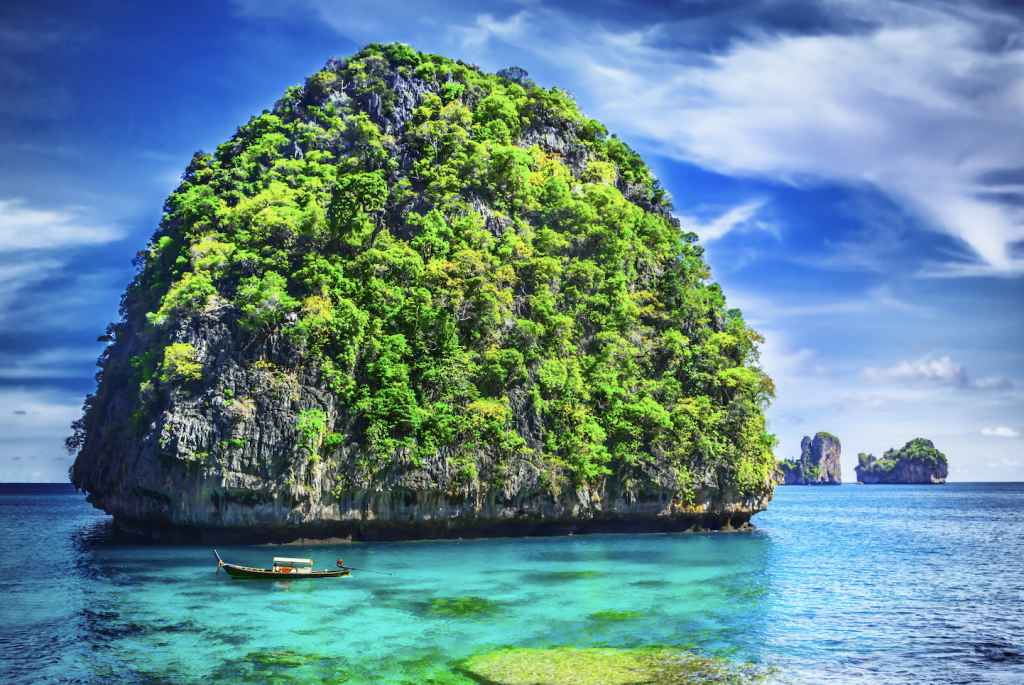 Why wed here: Thailand is a tropical escape not too far from Australia, which means it is a dreamy destination that most guests would be able to attend! Zeavola Resort offers wedding packages for a Western Ceremony with Thai influences if you wish to add in a little destination extra. Most of their ceremony packages are around $3,500 and under, and food and drink are extremely reasonable. Phi Phi offers stunning island views and Zeavola Resort are pros when it comes to taking the stress out of your Wedding Day; so you can enjoy luxurious spa days instead.
Best time to wed: November to February are the driest months in Thailand, perfect for getting married!
DESTINATION WEDDING – JAPAN
Why wed here: If you're looking for luxury and perfection – then Tokyo might be the city for your dream day. They've got an array of ballrooms to choose from and while they're busy planning your day, you can relax in the spa. They'll ensure your day is everything you have envisioned and more. Best part? You can continue the celebrations and party in Disneyland Tokyo with your guests.
Why wed here: If you want a small ceremony in a Shinto Shrine or would rather combine a little tradition with an extraordinary modern venue, The Ritz-Carlton might just be the icing on the cake when it comes to creating your dream day that is unique to you. From customised menus, three different wedding venues to choose from and pre-wedding photo packages available; you can see why Japan is high on our list.
Best time to wed: March-May is the Spring months in Tokyo as summer can be too hot and humid.
Caitlin Martin.