What To Wear To A Job Interview In Every Industry
What's the one thing that can make a job interview less intimidating? Confidence.
Remember, if you've been asked to come in for an interview, they're already impressed with your skills and experience – but your outfit will give you an extra boost. There are no set rules for what to wear to the workplace, but there are guidelines and a few things to think about: the company culture, the position you're going for, and comfort.
We've broken it down, industry by industry, so you can skip that pre-interview panic and add those job-getting pieces straight to your cart.
If it's a corporate role…
E.g. Accounting, banking, financial services, insurance, real estate or general management
These are among the most corporate industries in the world, so you'll want to keep your look classic, polished, and on the conservative side. You're interviewing for a top-dog position, so show them how serious you are by suiting up.
Once you're in the role, you won't necessarily have to wear a power suit every day, but it sends the message that you mean business. With suits, you get what you pay for. The quality varies wildly, so view yours as an investment piece. Now, let's talk details. Think clean, tailored lines for straight-legged pants or a knee-length pencil skirt. If you're more of a dress girl, look for a solid colour and a hemline that falls below the knee. Your blazer should be smart and fit you like a glove, and you can show a teeny bit of personal style with the shirt. I'm talking subtle prints or flourishes, like bows. Opt for a silk blouse, soft linen shirt or turtleneck, and make sure it's clean, ironed/steamed, and doesn't show too much cleavage (as nice as yours might be). Something with sleeves is best, and if you're stuck, go with the top that has a higher neckline.
As for accessories, let a little more of your personality peek through with a pair of studs, delicate rings, or a pendant necklace. The finer the piece, the better – so save your statement jewellery for celebratory drinks with your friends. A good rule to remember is: if in doubt, leave it out.
Finish your corporate interview look with a chic bag (bonus points if it has a top handle), classic black pump or dressy bootie. It's amazing what a heel can do for your confidence levels!
If it's a legal position…
E.g. Lawyer, barrister, associate, solicitor or paralegal
The same rules apply here. When you get the job, you'll be expected to dash between the boardroom and the courtroom with poise, so your wardrobe should look the part. In a corporate setting, that comes down to a classic black or navy suit and a crisp blouse. Get your suit tailored for a perfect fit, and stand out amongst the sea of interviewees with a pretty, patterned shirt.
If it's the middle of summer, ditch the jacket. Settle for a silk, button-down shirt (long-sleeved, please) and a knee-length skirt – that way, you'll still look formal, and combat that bead of sweat threatening to roll down your back. Oh, and the days of compulsory pantyhose are long gone – as long as your hemline hits or passes your knee, you're fine without.
If the job is in tech, or at a start-up…
E.g. Designer, communications executive, content strategist, IT rep, engineer, product manager or coder
Start-ups are more laidback when it comes to dress codes. They're young, inclusive and don't try too hard, so there's a good chance your interviewer will be wearing jeans and sneakers. But while you can keep it casual in this environment, you still need to look semi-professional. Go for dark denim or trim trousers, with a sleeveless top, chambray button-down, or longline vest. Pleated skirts and dresses are great, too, especially if they're not too short or figure-hugging. Pop on a pair of booties, block sandals or flats, and a small, structured bag, and you'll fit right in among the hipsters and creatives.
Sure, Mark Zuckerberg wears the same grey t-shirt every day of his life, but he's earned it. For your interview, aim to dress a half-notch up from everyone else. To figure out what that might be, research! Read up about the company culture, stalk their social media accounts, and look at photos from past events.
If the role is in the media, arts or creative industries…
E.g. Art director, writer, editor, photographer, production assistant, advertising manager, account executive, graphic designer or PR rep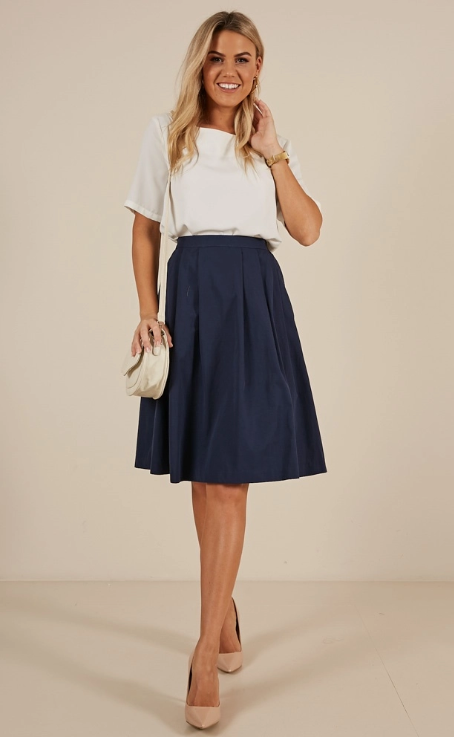 For success in this industry, you need to be creative and collaborative. Your interview outfit should have the same flexible-yet-professional vibe. When you're putting the pieces together, think 'polished.' Opt for well-fitting denim or printed pants, with a button-down shirt or structured short-sleeve top. Or, try a chic pantsuit (yep, really!). In the warmer months, go for a shift dress, or A-line skirt and printed blouse combo. While we'd advise you to keep your hemlines low and necklines high, don't be afraid to add a pop of colour to your look – whether it's your clothes, shoes or bag. As always, your jewellery shouldn't be OTT. Wear a watch, necklace or bracelet – as long as it doesn't jangle! – and a pair of studs or sleepers, and leave it out.
If the job is in fashion….
E.g. Fashion editor, buyer, retail assistant, stylist, designer, merchandiser
Congrats on scoring a fashion interview! We may be a bit biased, but it's such a fun industry to be in. While it might be tempting to wear a head-to-toe runway look, that's far too distracting. Don't peacock. Instead, wear something that highlights your personal style – and if that includes an on-trend piece, so be it. Just be wary of wearing every edgy, fashion-forward item in your wardrobe.
If you're interviewing for a specific brand or label, try to incorporate one of their pieces into your outfit. Don't have any? Just keep their aesthetics in mind. And if you're applying for a more general role, avoid blatant branding. In other words, you can wear that immaculately-cut investment piece, so long as the designer's name or logo isn't scrawled across it. (This goes back to the distraction thing.)
Choose one eye-catching piece, such as a colourful skirt, beautiful bag, leather jacket or statement heels, and balance it out with classics and neutrals. By doing that, you'll hint at your sense of style while showing your interviewer that you're ready to work.
Lastly…
The small details count! Beauty-wise, arrive with clean hair, manicured nails, and fuss-free makeup. Everyone notices bags and shoes, so make sure yours are in good condition (aka no scuffs or stains!), and suit the style of your outfit.
Still not sure what to wear? Don't worry girl, we've got you covered with the Showpo workwear edit. Shop it now and nail that interview.
Words by Katia Iervasi.