Genius Or Tacky: Brides Weigh In On Millennial Wedding Trends
15 August 2019
Every now and again a wedding trend will come along and we'll find ourselves almost as in love with it as we are our fiancés. However, we've seen a few trends that have us raising our eyebrows rather than adding them to our Pinterest boards.
From electronically transferred wedding gifts to long and complicated hashtags, we asked our Showpo brides-to-be to weigh in on the millennial wedding trends having a major moment right now.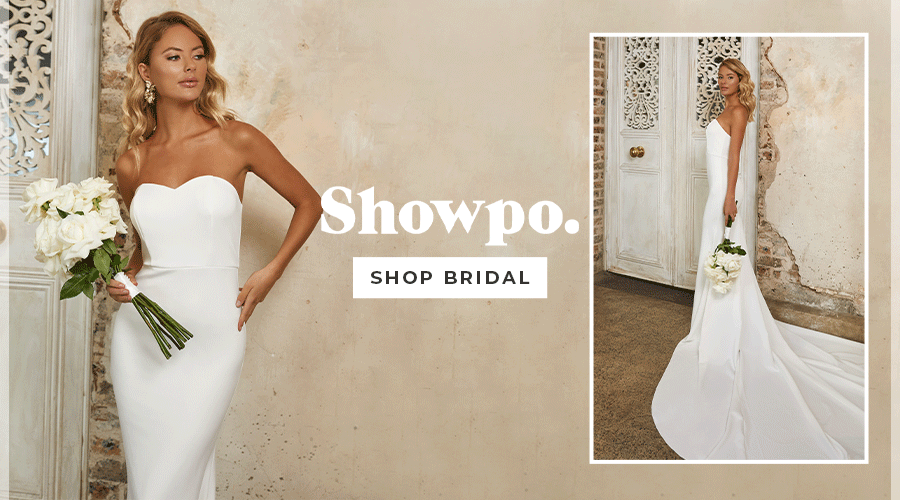 Bridesmen and Groomswomen
Long gone is the tradition that wedding parties have to be divided by sex. More and more often brides are asking their best guys to be in the bridal party and grooms are asking their sisters or friends to stand in as best man.
"I think this is an awesome idea! It would make for a totally unique bridal party," – May.
"It's a big yes from me! I don't think your gender should determine how important you are to someone. You only need to look at Nicole Warne (Gary Pepper Girl's) luxe wedding in New Zealand to see how amazing a mixed bridal party can look!" – Rosalie.
"I love this! I've been to a few weddings where the sister was the best woman, or best mate is a bridesman," – Tania.
"Why TF shouldn't your male bestie stand by your side? I'm 100% going to demand being the best woman for my guy friends," – Kelly.
"This makes a lot of sense, I'd be so keen for it! I'm really lucky that my closest male friend has become really close to Waldie, so close that he's a groomsman," – Jane.
"Hell yes. I LOVE THIS," – Corina.
"One of my best friends is going to be my Bridesmate and I'm so thrilled he'll be standing with me on the big day!" – Emma.
Dry weddings
Yup, you read that right, weddings sans the alcohol. It's an unlikely trend but believe us, this one is gaining ground quickly.
"NEXT!" – Jane
"Personally, there's enough alcohol in a bottle of kombucha to get me buzzed, but I can't say the same for my guests. Part of being a good host is catering to others. Sure drink packages can get pricey, but so are weddings, that's just a fact," – Emma.
"Why would you choose this?" – Rosalie
"Not unless it's an AA wedding," – Corina.
"No. Why would you subject your guests to a sober night of festivities?!" – Tania.
"Absolutely no. I'm not coming and you shouldn't bother having a wedding you buzzkill you," – Kelly.
Mismatched bridesmaid dresses
Unless you've chosen identical twin sisters to be your bridesmaids, it's unlikely they look the same or have the same style. That's why more and more brides are opting for mismatched bridesmaid dresses. When it comes to choosing, have the same colour in different styles or go for a rainbow-hued bridal party.
"BIG YES! This is what I'm doing for my wedding. My bridesmaids all have different styles, personalities and shapes so I really want to make sure they feel confident in what they're wearing. I know a lot of people wouldn't want their bridesmaids to stand out, but these are my girls and I want them to look fine AF on my wedding day," – May.
"VERY chic and on-trend. Your girls will be way happier too as the dress they choose will be something that really suits them," – Kelly.
Let's face it. Everyone says you can alter a bridesmaid dress and wear it again but who honestly does that? If your gals all pick their own looks, at least there is a better chance of the dresses being worn again rather than gathering dust for the next 10 years," – Emma.
"There's no right or wrong when it comes to bridesmaids dresses. I'm sure every amazing friend in the party has a unique taste, so why not make them feel amazing too?" – Tania.
"I'm doing this so I hope it looks good!" – Jane.
"I love mismatched styles but I think colour cohesion is important; I would not have my bridal party in a random mix of colours but a mix of styles for sure!" – Rosalie.
"Yes, this is actually so common in other countries," – Corina.
Electronic bank transfers as a gift
We're big fans of the notification that pops up when money goes into your bank account, but how would you feel if that was your wedding gift?
"I'd rather have cash with a card," – Tania.
"I just think if someone wants your bank details, they'll ask. It's very presumptuous to include it," – Kelly.
"What the hell? I didn't know this was a thing. I feel like this is even worse than having a registry," – May.
"I wouldn't be mad if someone decided to transfer me a wedding gift. A gift is a gift, and gratitude is gratitude (I would want to know how they got my details though)," – Emma.
"Practical yes, but it's so impersonal. I don't love the idea," – Corina.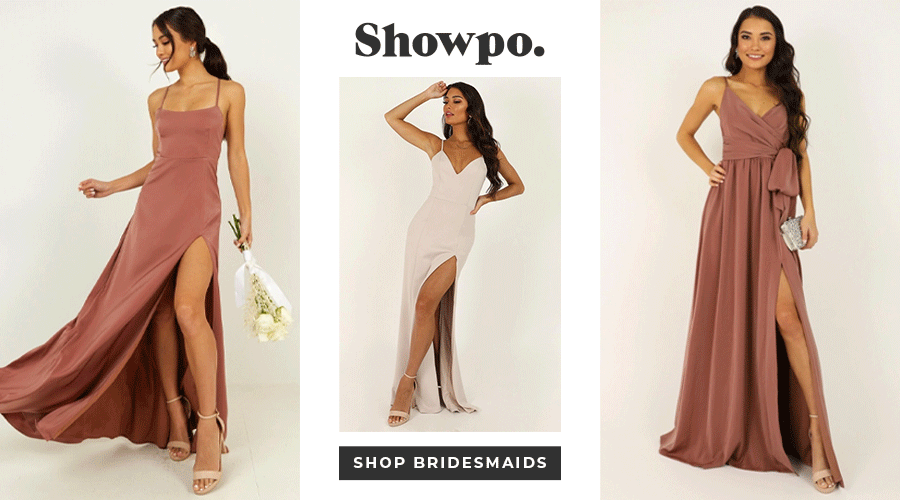 #OverlyComplicatedWeddingHashtags
There are actual businesses out there who, for a small sum of cash, will create a personalised wedding hashtag for you. But is it worth the effort?
"No thanks, a simple hashtag is cute just to keep up with all the pics of the night – as they teach you in school K.I.S.S (Keep It Simple Stupid)," – Tania.
"Maybe I'm spiteful because my fiancé and I don't have surnames that make a cute hashtag, but I think this is overdone. Plus studies show that only 30% of people actually use them at your wedding so all the effort you put into creating something fun and unique generally goes wasted," – Emma.
"Pls don't," – Kelly.
"No. Unless you're making fun of it," – Corina.
"No one uses wedding hashtags anymore. I'd prefer for people to tag me in their Insta stories so I can repost them. We tried to have one for our engagement party, and a few people used it, but some people got the order wrong. We're not holding our breathe for the wedding," Jane.
Not-a-cake cakes
Maybe the bride and groom don't have a sweet tooth between them, or maybe they're still in wedding shred mentality, but wedding cakes aren't as common as they used to be. Cheese-wheel cakes, macaron towers and doughnut walls are all taking centre stage.
"Everyone is too drunk to enjoy the cake so it's far cleverer to do cheese in my opinion. PLUS, if there's heaps left over, it lasts better," – Kelly.
"My fiancé hates cake (I know, I think it's weird too), so this really wouldn't be a bad idea for us, especially because we LOVE cheese. I don't hate the idea of a not-a-cake cake as long as it's not cupcakes. That's way too 2003 for me," – Emma.
"Yes! Why not?! If you're not a cheese lover are you really my friend?" – Tania.
"No, they should just make wedding cakes people actually want to eat! Naked cakes forever," – Corina.
"Everyone knows I love this! Check out the #showpobdays tag, we're all about not-a-cake cakes," – Jane.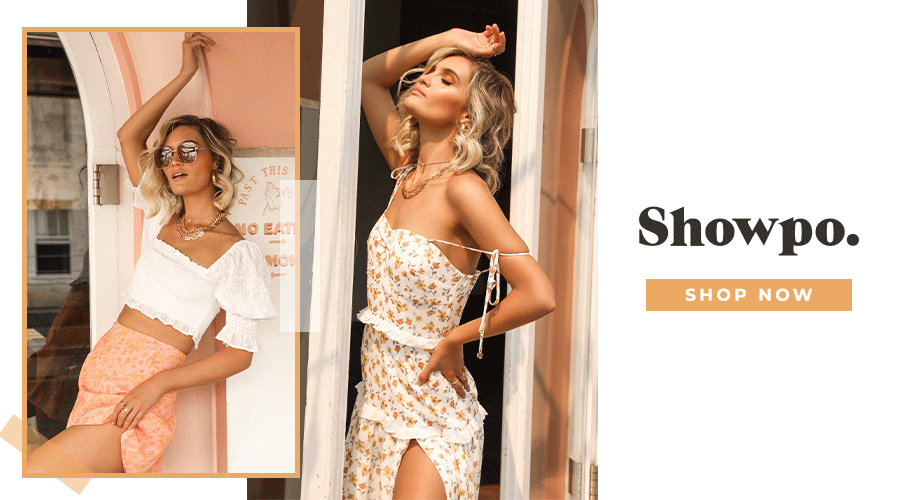 Second weddings
If it's good enough for Sophie Turner and Joe Jonas, it's good enough for us. Second weddings are all the rage with people choosing to officiate their nuptials in a more intimate setting (or you know, in Vegas), then go all out with a big wedding later.
"If I could afford it, I'd have a giant party every year so why not?" – Kelly.
"Ah, to be rich and famous. I don't think this applies to anyone outside of Hollywood, so go for gold. The more gushy celeb wedding content out there, the better," – Emma.
"I could not be fucked," – Jane.
"Love this for elopements; have a little elopement with your closest people and then a big old party when you make it home!" – Rosalie.
"Yes!" – Corina.
Sponsored weddings
Perhaps this only applies to the Insta famous among us, but sponsored weddings are starting to get out of hand.
"See above," – Emma.
"I have about 300 followers, so this would never apply to me. However, if you have the opportunity to have some parts of your wedding sponsored, do it in a tasteful way or use it to spoil your guests," – Tania.
"I didn't want that for my wedding, but I could see the merits in it. If you both love a brand, and they're giving you free shit, do it! Weddings are so expensive so it make sense," – Jane.
"Tacky AF. If you can't afford something, don't get it. Don't exploit your wedding and your relationship for a freebie," – Kelly.
"I mean, if you have the means and the reach, sure; but the last thing I would want to be doing on my wedding day is making sure I'd met the requirements of all my sponsors – not for me, but you do you," – Rosalie.
"Of course it's tacky! [Chiara Ferrangi's] Alitalia plane post was GROSS. It depends how you show it," – Corina.
Unplugged weddings
There is nothing worse than forking out a small fortune for a wedding photographer only to have a million iPhones in the background of every shot. What's worse, people end up standing in the way so the photographer you've hired can't actually get the shot.
"I couldn't even imagine this!" – Jane.
"If you can get your guests to comply then 100% on board, but we've all been to a wedding where just after the celebrant has reminded everyone the Bride and Groom have requested an unplugged ceremony, Aunty Carol hops up and shoves a phone in the brides face as she walks down the aisle – so I mean, go for it, but have some people on stand by to make sure this doesn't happen to you," – Rosalie.
"I love this for ceremonies and will definitely implement it for my own. There is nothing worse than seeing the professional photos and there are people in the background with their phones up in the air trying to get a shot for the 'gram. You pay so much for a photographer, just let them do their job!" – May.
"Your day so go for gold. PLUS, you're paying for professionals, I get why you don't want shitty iPhone pics shot under your chin," – Kelly.
"I've been to a few weddings unplugged during the ceremony and speeches. I think for the intimate and special parts of the day I'm all for it, but a girl needs her phone for the rest of it." – Tania.
"Yes! But plan some extra things so the guests can still have fun," – Corina.
Bridesmaids for hire
Yep, this is a real thing! If you're worried about asking too much of your bridesmaids, these are the women for you. Going above and beyond the role of a wedding planner, professional bridesmaids do what they can to blend entirely into your nuptials.
"…why no friends? This seems… sad," – Kelly.
"Take some of mine or Kelly's. We both have so many!" – Jane.
"Who actually makes money this way? Where would you even hire one? Please explain?" – Rosalie
"Seriously? This reminds me of those families for hire for businessmen or the pillows that have arms to "hug" you" – Corina.
"I would rather have no bridesmaids than hire a random to stand by my side on my special day, heck I'd rather have my grandad as my bridesmaid than a stranger," – Tania.
"This isn't my cup of tea but I can see why people do it, especially if they're prone to Bridezilla-like tendencies but don't want to alienate all their friends (or have truly wild friends). Still, I'd rather just hire a wedding planner," – Emma.
"Um, what…?" – May.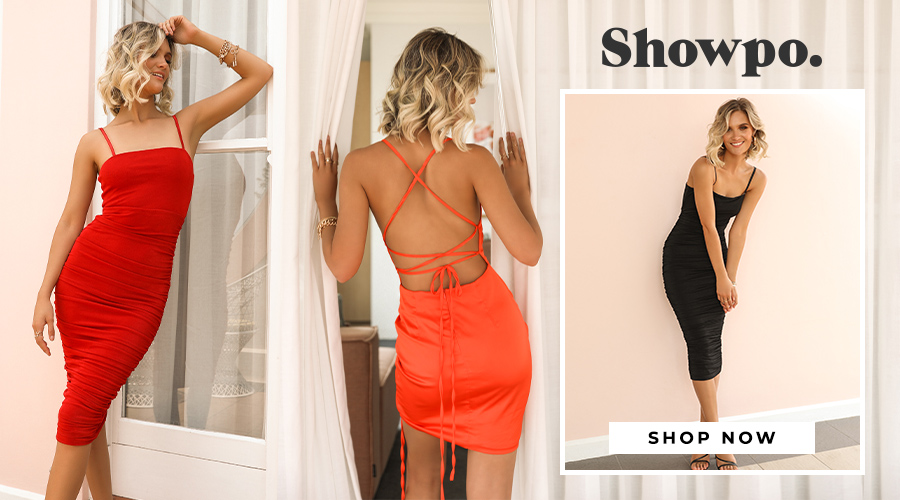 Flower crowns
Flower crowns have been around for a while and if boho brides have anything to do with it, they're here to stay.
"This one is totally down to preference. They can look so pretty but I already know I want a full-length cathedral veil. A flower crown on top would be far too extra," – Emma.
"Not for me but if you're a free spirit with a love for boho, you do you boo," – Tania.
"Every time I see one, they always look beautiful, but it's 2019, I think we might need to move on from this trend," – Rosalie.
Massive bridal parties
It's not always easy to narrow down your friends to a handful of guys and gals, which is probably why oversized wedding parties are such a hit. We're seeing plenty of weddings with upwards of 10 people on each side of the altar. At least you wouldn't worry about leaving anyone out!
"Massive bridal parties look so good in photos! But unfortunately, we're not all blessed in having that many besties," – May.
"If you're having a more intimate wedding, a massive bridal party seems a bit redundant. No one is getting to watch the ceremony because they're all right next to you! If you really want to involve everyone, find other roles for them to fill," – Emma.
"A no for me, I totally get that people have large friendship circles but if I'm going to be looking at my wedding photos until I die, I'd only want the most important people in my life in my bridal pictures," – Tania.
"It looks stupid in photos but really couldn't care less. It's your wedding," – Kelly.
"Although I personally won't be doing this, I think this is such a beautiful way to involve your special people; and if you have more than most I don't see any reason why you shouldn't have them in your bridal party (budgets permitting). Plus the photos always look INSANE; a little tribe of your favourite people, I think it's so special," – Rosalie.
"Honestly I prefer smaller, but that's just me" – Corina.
Hen's weekends away
Hen's do, bachelorette party, last night of freedom; whatever you call it, a bride's final hurrah before tying the knot is becoming a bigger and bigger occasion. From overseas jaunts to somewhere tropical, to week-long spa retreats, there's no actual rule that hen's parties are a one-night-only affair.
"ABSOLUTELY!" – Jane
"Go for it! How fun! Getting gals together for a boozy weekend away? Sounds like my idea of heaven," – Kelly.
"More like a week! I'm all for a destination hen's party! My fiancé is having a 2-week buck's party (mmm, I know)," – May
"How fun! Would love to both attend and host one; but keep in mind this is not financially possible for everyone so maybe choose somewhere that is driving distance so some guests can come for the lunch/dinner and head home after if you want everyone to attend," – Rosalie.
"Hells yes. Let's be real though, the last day is spent being massively hungover, so you may as well be hungover together," – Tania.
"YES. Nothing else to say. It should be a hen's month," – Corina.
E-vites
Invites can be a surprisingly expensive part of the wedding planning process. Combine that with how much time we spend on our phones, is it really that odd that millennial newlyweds are turning to e-vites instead?
"I personally prefer a good old fashion print out, adds more realness to the event," – Tania.
"I mean the world really doesn't need more waste so I'd say sending traditional invites (of which I'm guilty of) is more tacky," – Kelly.
"I think invites are a bit pointless and a waste. I almost didn't do it, but I really wanted to be on people's fridges so we had magnetic ones made," – Jane.
"Some are very cute, but it's more special if you go the traditional way because nobody receives letters nowadays (aside from the bank)," – Corina.
Surprise weddings
Ever rocked up to an engagement party that's turned into a wedding? You might do considering how popular surprise weddings have become.
"No thanks, I'm old and need all the notice I can get!" – Tania.
"I would just be scared someone would do this and I'd be busy because I wouldn't know how important it was. But fun!" – Kelly
"Would LOVE to attend a surprise wedding, but not sure I would be game to have one myself. Really ramps up the excitement of your guests but also means there will likely be people missing from the festivities because they didn't realise the importance," – Rosalie.
"I would love to do this but I'm the worst at keeping secrets so I could never pull it off. Plus, I think my Mum and future Mother In Law would be less than impressed," – Emma.
Buying your dress online
With so many great internet retailers breaking into the wedding industry (ahem), why wouldn't you buy your dress online, try it on in the comfort of your own home and get it tailored specifically to you?
"Yes! Being able to try it on in front of your friends without a psycho saleswoman trying to convince you to purchase a dress on the spot is great. Plus, you won't feel awkward if you don't buy one or decide to return it," – Corina.
"Yes! But do proper research about the fit and fabrics before you commit and lock in an amazing tailor to adjust your dress if needed," – Tania.
"Well, I mean, I obviously think it's great! Especially since you're most likely going to get it altered anyway. Don't pay for the cost of the store's rent, staff and window-dressing. Put that money towards your honeymoon!" – Jane.
"Huge fan! An off the rack dress is my dream scenario, as long as you can return or refund if it's not quite right, it is a win-win in my humble opinion," – Rosalie.
Psst! You can shop our range of wedding gowns right here! Not to brag, but they're pretty stunning.