7 Things We've Learned About Love From MAFS
01 March 2019
Chances are you've become as hooked as the rest of Australia, but JUST IN CASE you haven't, here's all the tea you need to know and seven things we've learned about love.
#1 We love, love and will go to great lengths to find it.
Are we all just sick and tired of swiping right and left? It looks like many of us are.
With hundreds of dating apps at our fingertips, many of us are looking for more of an old-fashioned way of finding love; and it seems that these days we have to go to pretttyyyy extreme measures to find that.
MAFS this year had tens of thousands of Aussies apply for the show. We don't know how many of them did it for the Instagram fame and radio-hosting deals, but either way, plenty of us are willing to hand over our love lives to strangers.
And if you didn't apply for the show, you gotta admit there's something endearing about watching others find love!
Perhaps this will spark a phenomenon of real-life arranged marriages. Who knows?
#2 Sometimes we self-sabotage relationships to test them.
Ok so she needs to calm TF down, but we kinda get where Cyrell is coming from (sometimes).
The experts have eluded to Cyrell having a tumultuous past, and having been cheated on in the past has left her with some major trust issues.
Her way of dealing with this is to push her partner Nic away, before he can hurt her.
It does make sense in a twisted way.
The most recent flare-up between Cyrell and Martha over "rumours" of Nic touching Jess's leg under the table sent Cyrell nutty as a fruitcake, but later in the show, we got a bit of an insight into why.
To Cyrell's credit, when she was sitting down with Nic and relationship expert John to discuss the blow-up, she shared that she's very scared of being hurt again.
If we're honest, many of us have done this in relationships too. Perhaps just not in such a flamboyant way. So, before we're too quick to judge her – maybe we need to admit that we've done it too.
#3 Cheating never ends well for anybody. Not even the cheater.
Ok, so we thought cheating scandals on MAFS were so 2018, but apparently, the producers couldn't get enough.
Introducing: Ines & Sam.
Ines and Sam had their five minutes (maybe ten) of controversy, and it was pretty damn good television while it lasted.
In the end, Ines sort of got karma walking away without her "snack" Sam by her side.
Moral of the story here: Don't try to steal another woman's man.
There's a saying that say, "how you get em' is how you lose em.'"  
Just stay in your lane!
#4 Apparently, after you've had sex, you're known as an "ex-virgin".
ICYMI: Matt lost his virginity during the show to Loz.
From that moment on, he was referred to on the show as "ex-virgin Matt."
Can we acknowledge the hilarity of this label because…umm…aren't we all ex-virgins?
Matt and Loz were going so strong in the first couple of weeks and we all thought they would go the distance. Nekkkkk minute, Loz overheard him telling the boys that he wasn't attracted to her!?
Maybe it was her huge sexual appetite that scared him away – we don't really know. But either way, it was sad to see these two part ways.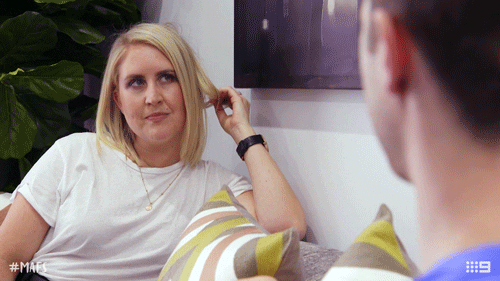 They were a cute match and we wish them both happily ever after in their journey to finding love outside of the experiment (and to shedding the title of "ex-virgin").
#5 First impressions can be wrong.
They're the quintessential Australian couple: playing pranks on each other, wearing flanno's, and dropping sentences like, "you bloody galah" – and we love em' for it.
Jess and Mick (at the time of writing this) are doing pretty well right now, but the pair had a rocky start.
You may recall their awkward dinner where Mick decided to ask Jess whether she was on the show for the right reasons. Jess cracked it. But it wasn't only Mick who was unsure of Jess. Jess too took a while to warm to Mick, as she initially thought he was a bit of a dweeb who was out of touch with the world of social media and selfies.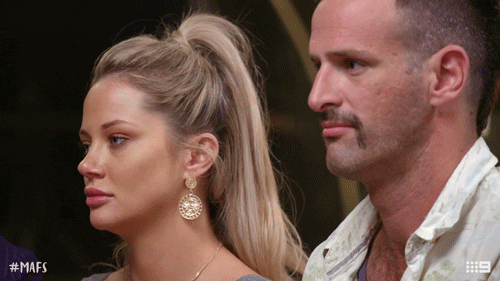 However, they made it through with humour and appear to be growing rather fond of each other.
Moral of the story: don't judge a book by its cover.
#6 You need to find common ground to connect.
You couldn't have possibly put two more distinctly different people together than Dino and Mel, and the jury is still out on whether these two will go the distance. (We're watching with our popcorn.)
The first few weeks of their marriage was kind of like watching a monkey trying to communicate with a bird. They were speaking completely different languages and it was frustrating, and funny AF.
As time went on and Dino stopped pushing the meditation mambo jumbo down Mel's throat, it looks like they've started making headway. They might still be struggling to find similarities and common ground, but they're certainly giving it a good crack, which is all that counts.
*Note to Dino: we know you want to make love to Mel's "soul" and not just her bod, and we salute you for being such a gentleman. Butttt…..the girl is practically begging you to be "THROWN DOWN" 😉
#7 If love doesn't work out, there's always pizza.
Love her or hate her, Lizzie was always honest and didn't deserve to be ditched on the first day of her honeymoon by her new groom Sam.
While Sam was off in another country, Lizzie was back at their apartment eating Nutella out of a jar and heating up pizza in the toaster.
Our love for Lizzie grew in that moment we all discovered a new pizza hack…?
We'll remember this one the next time we've got cold pizza in our fridge!