6 Shows You Need To Binge Watch This October
29 September 2017
Do you find yourself endlessly scrolling through Netflix and Stan looking for new only to realise you've already binge-watched every show (as evidenced by the popcorn and chockie wrappers strewn around the room)?
Well fear not friends, 'cos a whole lotta ~fresh~ content is about to be dropped for your viewing pleasure.
Will & Grace

If you loved the OG Will and Grace, you'll be glad to know the series reboot is just as LOL-worthy as it was 11 years ago. Starring the OG crew of Debra Messing, Megan Mullally, Eric McCormack and Sean Hayes, the debut episode defs brings the laughs and is chock-a-block of references to current events. Also, the cast doesn't seem to have aged a day (tell us your secrets, pls).
New series debuts September 29 on Stan
Riverdale
After season one saw Fred's (Luke Perry) life hanging in the balance following the shooting at Pop's Diner, Archie (KJ Apa) now has to deal with the emotional trauma from witnessing the entire event. Meanwhile, Veronica's (Camila Mendes) dad Hiram returns to Riverdale earlier than expected, and a new character could come between our favourite couple, Jughead and Betty (nooooo!).
Season 2 debuts October 12 on Netflix
Dynasty
It's the year of rebooting classic TV series, so of course, '80s soap opera Dynasty had to make a return! Already dubbed 'the new Gossip Girl', it's full of deliciously scandalous backstabbing, devious plots, and risqué relationships. The show is set to star Grant Snow from Melrose Place, Elizabeth Gillies and Aussie actor James Mackay.
Debuts October 12 on Netflix
Good Behaviour
If you haven't yet heard of Good Behaviour, it's basically a story about a con artist called Letty Raines and her inability to live a crime-free, clean life. Upon overhearing a hitman's ploy to kill a man's wife, she sets to ruin his plans, until she becomes embroiled in a complicated relationship with said hitman, an Argentinian assassin named Javier, and of course, chaos ensues.
Season 2 debuts October 16 on Stan
Claws
Set in a nail salon in Florida, Claws is a drama that follows the story of five manicurists who get involved in the world of organised crime as they begin laundering money for a pain clinic. Starring Niecy Nash of Scream Queen fame, Karreueche Tran (best known as Chris Brown's ex-GF) and True Blood's Carrie Preston, we're loving the inclusion of a strong female cast, plus, if the trailer is anything to go by, it's set to be one hell of a series.
Season 1 debuts October 25 on Stan
Stranger Things 2
Awwww yes! After a year-long hiatus, our fave '80s sci-fi throwback has finally returned. Apparently, the second instalment of the cult hit is set to be even bigger than the first – with Finn Wolfhard – who plays Mike in the show –  saying, "[It's] Stranger Things but just sorta hopped up a little. It's almost like season 1 was drinking a Coke and season 2 they drank a Red Bull."
We. Can't. WAIT.
Season 2 debuts October 27 on Netflix
FRIGHT NIGHT BONUS: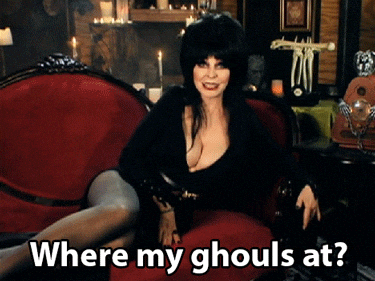 If you're all about those Halloween vibes  (much like myself), you're in for a spooky (trick or) treat, 'cos there's a whole bunch of classic horror flicks dropping on October 20th on Netflix that'll have you needing a change of underwear after viewing…
Cloverfield
Dawn of the Dead
Friday the 13th
Land of the Dead
Psycho
Paranormal Activity 4
Words by Jessica Lynch.