How To Break Up With Your Friend
25 October 2018
You used to be besties. You spent all your free time together (and not just your free time – isn't that what work emails are for?) Every invitation you'd get, you'd ask if you could bring a plus one (and it wasn't for your boyfriend)… but then she started to get clingy, and needy, and toxic, and just plain annoying the crap out of you.  She's not a boyfriend, so the breakup rules seem super different  – plus, you've got all the same friends because you've introduced her to every single person you know. #awkward. Really, there are only 9 ways to break up with your friend… and we've got them all below. Good luck out there.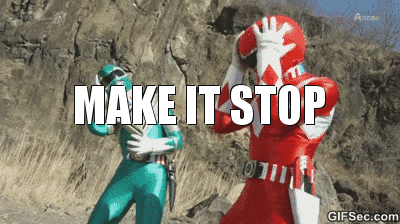 The slow fade, ie "ghosting"…
You send her a text apologising for missing her calls and when she asks when you can next hang out – you say you can do brunch on Saturday in two weeks. Or you say you've got Wednesday nights free because you know that's the night she has that yoga class she just CAN NOT miss. Basically, you're fading her out of your life without really letting her know you're doing it. I call this the gentle approach.
The "we need to talk"…
Nobody likes those four words: "We. Need. To. Talk". When have they ever come with good news? But sometimes they're just the best approach. If you think you might want to be friends in the future and there are just some things on your mind – grab your friend for a coffee and sit down and calmly talk her through why you have to break up with her. You never know – maybe it might help change her ways and you can go back to being BFFs.
The text message…
When you want to break up with your friend and air your grievances – but know you'll blow a fuse if you talk to her in person or over the phone. So instead you send her one of those long texts that goes over three messages explaining everything and just hope to hell she doesn't show it to everyone she's with (she will).
The cold turkey (AKA the most brutal way to break up with your friend)…
Ouch, this one hurts. The breakup with no explanation. She calls, you don't answer. She texts, you don't answer. She shows up at your door, you don't answer. Your mutual friends ask what happened, you don't tell them. She sees you at the pub she knows you go to every Friday night, you leave. Brutal.
The blow-off…
You agree that you should do something together, but then never lock down a time. When she suggests Saturday, you're like: "Oh no, I can't do this Saturday, maybe next weekend…" and then when next weekend comes around, you're like: "Oh no, I can't do this weekend, maybe next weekend…" This continues until she gives up.
The letter…
Oh the letter, the letter – kind of brings back memories of high school. Similar to the text – when you just want to get a whole lot of your chest without having the other person but it and mess up your train of thought. Just get it all out there on the plate.
The ultimatum…
When your friend's doing something that is truly p*ssing you off, but if she just stopped it – you'd consider salvaging your friendship. So you offer her an ultimatum to stop. Balls now in her court. Nice play.  
The messenger…
You're a bit scared to break up with your friend, so you pull in a mutual friend to do the dirty work for you. This one's a bit weak, tbh. (Wo)man up and do it yourself – just make sure you have a door nearby to dash out of in case things turn ugly or just really, really awkward.
The 'pick a fight'…
When you can't take it anymore and crack it – yelling at her everything she's doing that is p*ssing you off. You don't care how loud or how public you are. Friendship is OVERRRRRR.