What To Expect In A Spin Class
01 July 2019
The 90s introduced the world to overalls, scrunchies, and itty-bitty bags… and spin! The workout originated in New York, and it spread around the world like wildlife. And for good reason. Outside, the rain, wind or heat can affect your bike ride, but spin is set in a dimly lit studio with pumping music. It's a vibe! 
Here's what to expect in your first spin class.
WHAT IS SPIN?
It's another word for indoor cycling. In a spin class, you'll hop on a stationary bike and pedal the entire time, adjusting the resistance to make it easier or more challenging. Spin is another form of HIIT training – you'll do bursts of high-intensity work, followed by short recovery periods.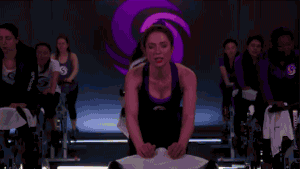 WHAT HAPPENS IN A SPIN CLASS?
When you walk into class, you'll see rows of bikes facing the instructor, who rides at the front or middle of the studio. The instructor stays on his or her bike the entire time and does the whole workout with you – and once you're a few minutes in, you'll understand how MINDBLOWING it is that some of these guys teach 5 classes a day!
During the class, the instructor will guide you through an imaginary outdoor workout. The pace and speed will vary – sometimes you'll be 'sprinting' (aka pedalling as hard and fast as you can), and then you'll stand up to climb up a hill. To recover, you'll 'coast,' which just means cycling slowly and letting the bike do the rest of the work. Spin classes usually last 45-75 minutes, and you can expect to peddle the whole time. Whenever you need a break, you can lower the intensity, or sit down until you catch your breath. The goal is to make sure your legs don't stop moving.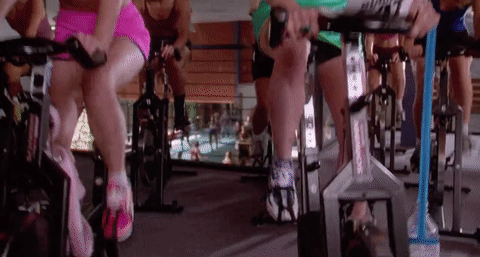 There are three positions in spin:
First position

– sitting in the saddle

Second position

– standing

Third position

– bending over the handlebars
The teacher will let you know what position to be in. As you move through class, they'll also call out when to change your settings so your ride feels like it would outside. Indoor bikes don't have gears – they have resistance knobs under the handlebars. The instructor will give you a number, and you just turn the knob until you get to it. On a flat road, you'll lower the resistance; when you're riding up a hill, you'll crank it up to add resistance. If the resistance is too much (or not enough), feel free to adjust it until you're comfortable. 
The beauty of spin is that you control your workout. It's your bike, and your fellow riders will never know!
To balance out the leg work, some studios throw in a short upper-body routine using bands or light dumbbells. 
If this is your first ride, don't be shocked if your butt hurts afterwards! Spin is a killer glute workout, but no-one talks about how the seat itself can make

your booty

feel sore. The good news is, this will fade with each ride.

MY ADVICE FOR SURVIVING A SPIN CLASS
Confession: I don't love spin. But it's such an effective workout, so my friend and I made a pact to go once a fortnight.
Here are my tips:
Try a few instructors until you find one you like.

Some instructors are super intense and bark the whole time, and some motivate in other ways. The music makes a HUGE difference. If you hate their taste in music, I can guarantee you'll be counting down the minutes until class is over. (Check the class timetable and see which instructor's class is always full – that's a dead giveaway.)

Pace yourself.

Don't worry if you can't keep up with the rest of the class. You can always add resistance as you get stronger and faster.
THE BENEFITS OF SPIN
Spin is a high-intensity workout, but it's gentle on the joints. These are the major benefits of hopping on the bike:
Boosts endurance and stamina

Improves your cardio fitness

Builds muscle strength
HOW TO PREPARE FOR A SPIN CLASS
For a successful spin class:
Eat a high-protein snack 1-2 hours before class.

Choose your bike beforehand. I'd recommend sitting somewhere in the middle or back of the class, so you can copy the instructor or people around you until you get the lingo down.

Get there early to set up your bike. Bring the seat to hip height, and make sure there's space for your forearm between the seat and handlebars. If you're wearing spin shoes, you'll need to 'clip in' to the bike. No idea what to do? Ask the instructor.

WHAT TO BRING TO A SPIN CLASS
Water and a towel to drape over the handlebars.
Depending on your studio, you might need to wear proper cycling shoes. The studio will have them available for hire, and you can buy your own pair if you're planning to spin on the reg. 
Showpo spin buy:
Showpo Has to be True Bag in Black
WHAT TO WEAR TO A SPIN CLASS
Let's be real: that seat has seen a lot of sweat. Shield your lady bits by wearing ¾ or full-length leggings over shorts. Up top, you can wear whatever you like. It does get hot in the studio, so I suggest a supportive sports bra or crop and a breezy top.
Showpo spin buys:
Showpo Turnout Tights in Black
Showpo Mini Me Jumper in White
Feel the burn with Katia Iervasi