22 Facts About The Office From The Show's Official Podcast
18 October 2019
If you ask a room of 15 people, 'have you seen The Office?", I guarantee you'll get 15 eye rolls back because duh, everyone has seen The Office. Even if you're one of those weird BBC loyalists (sorry but the American version is better), you probably still hold a flame for the show that literally made me want to work in paper sales. And like me, you probably hoover up behind-the-scenes facts about The Office every time a cast member utters a word about it. Thankfully, Angela Kinsey (Angela Martin) and Jenna Fischer (Pam Beesly) heard our thoughts, prayers and tweets.
Earlier this week Kinsey and Martin's new podcast Office Ladies premiered. Office Ladies is an epsiode-by-episode deep dive into the show and we're obsessed. Here's 22 things we learnt from episode one of the pod, The Pilot.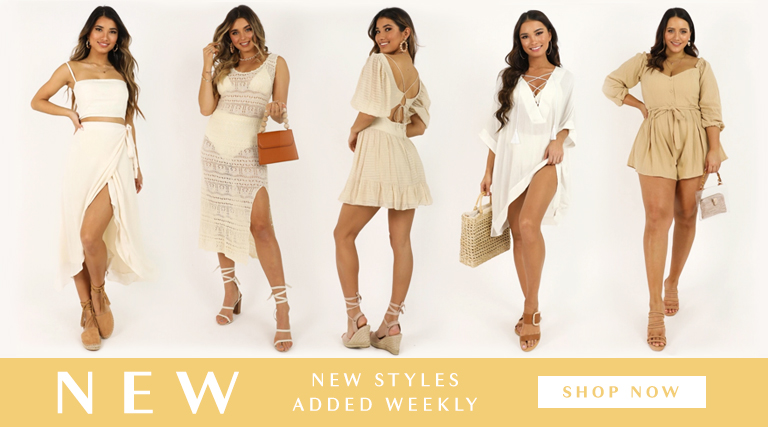 The pilot was filmed six months before season one was picked up
Before a show can be picked up by a network, it's got to submit a pilot episode. The crew behind The Office filmed episode one months in advance so none of the cast actually knew if they had jobs or not. Fischer explains in the podcast that she regrets not inviting the cast to her 30th birthday which fell between the pilot and season one but literally didn't know if she'd see them again.
Meredith is an entirely different person in the pilot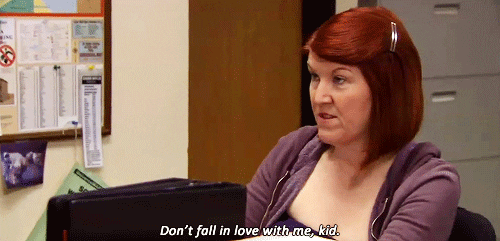 Because the pilot episode was filmed so far in advance, the actress they'd originally cast as Meredith was no longer available when the show got the green light. When they found out it was going ahead, they tapped Kate Flannery to step in.
The cast used to have to pretend to work for hours on end just to get b-roll
Sometimes our videographer, Wayne, tells us to "just be sexy" or "try laughing or dancing" so he can get good cutaways for our Youtube channel. I don't know what I would do if he said, "just pretend to do office work for a bit, we'll eventually use it in season six".
Jim and Pam were always meant to be the heart of the show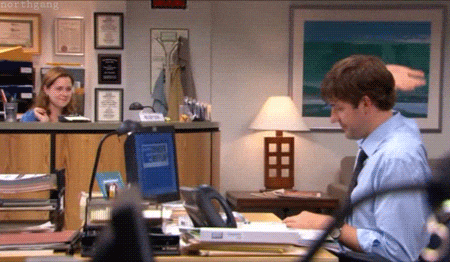 Apparently, the U.S. version was always intended to produce more episodes than it's British counterparts. To keep people interested and give some continuity, the relationship between Jim and Pam was meant to be the heart of the show. When you watch the show back you can definitely see the plot mirror their relationship.
Michael Scott was originally even worse at his job
I don't know HOW this is possible. In the podcast, it's revealed that showrunners thought if Michael was any more incompetent at his job people wouldn't find him at all endearing. That's why he's a great salesman but a terrible manager.
At one point there was four Pams, four Jims, four Dwights and four Michaels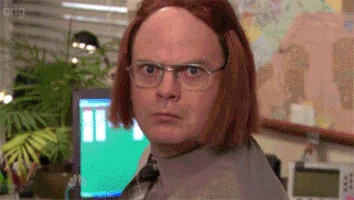 When the cast did screen testing, the casting directors mixed and matched the possibilities until they came up with the cast we love today.
Jenna Fischer thought Rainn Wilson (Dwight Schrute) was an absolute weirdo
When they were doing this testing the first time Jenna Fischer met Rainn Wilson he was in character as Dwight. However, Jenna didn't get that memo and just thought he was a massive oddball.
There was a similar incident with Angela Kinsey. When Wilson introduced his actual wife to his on-screen wife his words were, "This is my wife Holly, bearer of my seed". Very Dwight indeed.
Steve Carrell would win a Dundy for being the world's nicest person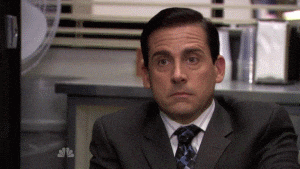 Word on the street is that Steve Carrell is not one of those comedians who is on all the time. In day-to-day life, he's just a very normal, nice guy. He would chat to his castmates about Target runs, where to find the best frozen yoghurt and his love of crafting.
Steve Carrell wrote down who he thought Michael Scott's heroes were and it made it in
In the pilot, Michael Scott says his heroes are "Bob Hope. Abraham Lincoln, definitely. Bono. Uh…and probably God would be the fourth one". This is the exact list Carrell came up with when the show's writer was asking him to tap into his character/
Angela Kinsey (Angela Martin) originally auditioned for the role of Pam
Obviously she beat out by her now best friend Jenna Fischer but Angela originally wanted the role of Pam.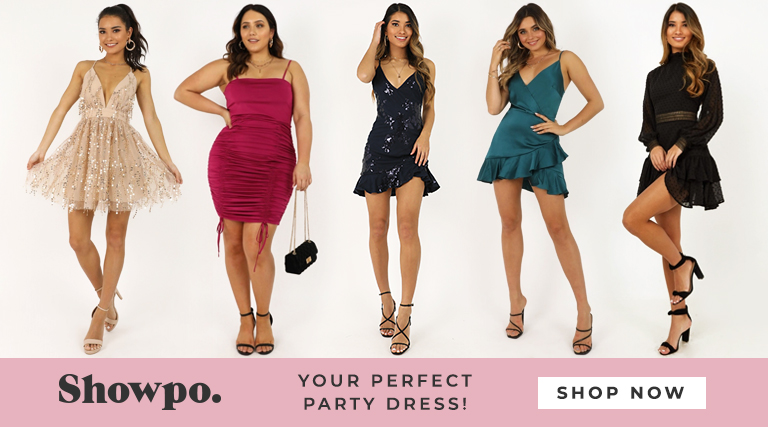 The Office was filmed in a real office
Usually, sitcoms as big as The Office are filmed on sets. The reason for that is so the directors can take out and move walls to get the shots just right. However, the show was filmed in an actual office building adding to the documentary-style feel of the show.
They filmed Pam's reaction to Michael's Six Million Dollar Man bit separately because Jenna couldn't keep a straight face.
"I could not get through that scene," said Fischer. "And in fact, in order to get my reaction shot, they had to make Steve leave the set." Apparently, this really disappointed Carrell who wanted to see Jenna's reaction.
Phyllis Smith (Phyllis Vance) was the casting associate for the show
The role of Phyllis Vance was written for Phyllis Smith. As a casting associate, it was her job to read out the lines with any of the actors doing a screen test. She had such good chemistry with the cast that they wrote her into the show.
Phyllis Smith was also a burlesque dancer
Before she got into casting, Smith was a burlesque dancer which explains SO MUCH.
The cast provided their own props for the pilot
The cast found out about Phyllis' former life as a dancer when they each bought in personal items to use as props. Smith bought in a picture of her from her burlesque days complete with a feather boa draped around her neck. On Angela's desk there was a picture of her with her Nanna and Jenna had a shot with her sister.
BJ Novak (Ryan Howard) was the first person cast on the show
Out of all the people they cast the first person was Ryan The Temp? Surely that can't be true.
Most of the actors were also writers on the show
The reason so many of the actors played their characters so well is that they wrote the show. Mindy Kaling (Kelly Kapoor), BJ Novak Paul Lieberstein (Toby Flenderson) and John Krasinski (Jim Halpert, love of my life) all either wrote, produced or directed episodes.
Rainn based Dwight's hair on his highschool look
I'm starting to think Rainn Wilson actually is Dwight Schrute in real life.
Angela and Oscar have always been a dynamic duo
Before The Office, Kinsey and Oscar Nunez (Oscar Martinez) had already worked together. They were both in a sketch comedy show called Hot Towel.
Jenna and John Krasinki (Jim Halpert, love of my life) improved that bit about Sprinkles birthday party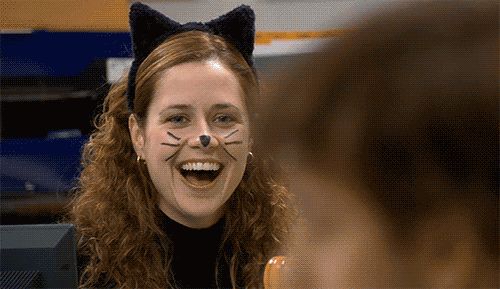 "I drew this cat and wrote 'You're invited to Sprinkles' birthday in the parking lot' and I handed it to you," Kinsey said. "I remember thinking it was weird," said Fischer, "and so when Ken Kwapis told me to talk to John, I remembered that Post-It note." That's how Sprinkles was born and ended up becoming a plot point in later seasons.
None of our fan theories are true
In the pilot, Dwight sings Little Drummer Boy to himself at his desk. Later in the series when his romance is blossoming with Angela he holds the mic for her while she sings the very same song. Fans freaked out when they first realised this but it turns out it's just a lucky coincidence.
Michael fired Pam at least 30 times
Steve Carrell had to fire Jenna Fischer as Pam at least 30 times before they got the shot right. The scene was actually one of Fischer's audition scenes that landed her the role. However, on the day everyone was determined to get it just right for the pilot.
Words by Emma Krasinski Roffey