Here We Go Again With Kim, Kanye and Taylor Swift
25 March 2020
Right. We're ripping this one off like a bandaid folks. Why? Because it's not 2016 anymore yet somehow Kim Kardashian, Kanye West and Taylor Swift (and probably Kris Jenner if I'm honest) are making us talk about their little spat, again. Need a recap of the Kim, Kanye and Taylor feud? Here's a TLDR.
If you're wondering why we are once again talking about this trio ELEVEN years after the VMAs incident that started it all (and made Beyoncé cry) the answer is simple: coronavirus. The answer to everything right now is Coronavirus. Well Coronavirus and leaked videos.
Let me explain.
A few days ago the full video and Taylor and Kanye discussed those infamous lines in his 2016 song Famous found it's way to the internet. How? Nobody knows. My guess is Kim pissed off her Momager, Kris who was already shitty Coronavirus was taking over her news cycle. I mean c'mon, it doesn't even have the decency to spell Corona with a K.
Regardless, the video is there for all to see. Importantly, the picture it paints is not the one we've all been led to believe. In fact, most people are saying it proved Taylor has been right about this whole situation.
It does show Kanye asking Taylor Swift to approve a lyric, but it's not the one that ended up on the album. Notably, the lyrics he reads her don't include the line "I made that bitch famous." Something Taylor has disputed for the last four years.
After all the build-up, she asks sadly if the line is going to be "mean".
He finally tells her that the line is "I feel like Taylor Swift might owe me sex", and she seems relieved, that the line is not as "mean" as she thought it would be. She later says:
"I'm glad it's not mean, though. It doesn't feel mean. But oh my God, the buildup you gave it, I thought it was going to be like, "That stupid, dumb bitch." But it's not. So I don't know. I mean, the launch thing, I think it would be kind of confusing to people".
Cue the tweets:
TAYLOR TOLD THE TRUTH#KanyeWestIsOverParty #TaylorToldTheTruth pic.twitter.com/qNK5eGQUeN

— Ana🇪🇸 (@anilovestay) March 21, 2020
Kim and Kanye quarantined arguing over whose fault it is that the full call was leaked #KanyeWestIsOverParty pic.twitter.com/doVn4jHOBd

— Joshua Chenault (@joshuachenault1) March 21, 2020
But then what?
Naturally, everyone wanted Kim, Kanye and Taylor's opinion on the new vid. Both Kim and Taylor were shadily liking Tweets that were in their favour and a Tumblr post or two.
The video showed nothing new. We all knew that. I'm so confused right now pic.twitter.com/NO0b92Qvpo

— kim (@kimkwestlegion) March 21, 2020
Taylor, however, was the first to address it head on. And by it, I mean Coronavirus, who has now been made into a character in this saga as well.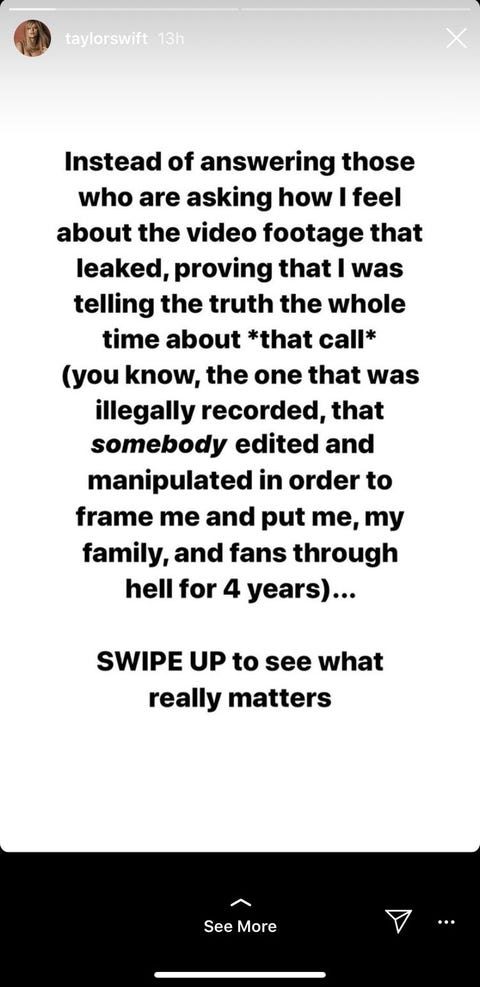 Cool, great, fab. Let's focus on the greater good. The end…we're kidding obviously. There's no way Kim was going to let that one slide. Here's all the Tweets from her own tirade.
But as you can see, Kim brought up Taylor's publicist. Who, after reading Kim's tweets, really had no choice but to roast the Kardashians for pissing someone off so much that they leaked this video.
And that's where we are at folks. Stay tuned, because I'm sure this isn't over yet.
I would like to be excluded from this narrative, Emma Roffey