Weekly Wrap: Harry Styles Is A Disney Prince & Gossip Girl Is Back
19 July 2019
You might have noticed we took a little break from the Weekly Wrap last year and that's because fuck all happened…to be frank. Well our shining stars in Hollywood certainly weren't going to let that happen again, because this week has officially become the week of the reboot. Not only did The Lion King premiere (it's amaze btw), but below we've got all the deets about all the tinsel town revivals that matter.
Harry Styles is Disney's Prince Eric
While we still don't have a release date, things are heating up for Disney's live action remake of The Little Mermaid. According to The Hollywood Reporter, the latest casting development comes in the form of relatively unknown singer/songwriter, Harry Styles who might just find himself playing the très sexy Prince Eric.
Naturally, the internet is frothing at the idea (same tbh). However, let's spare a thought for all the kids who will miss out on tickets because cinemas will be packed with horny guys and gals just wanting to catch a glimpse of Styles in that signature unbuttoned white shirt. Oh and let's not forget Halle Bailey. The literal 19-year-old who gets to star opposite Styles as Ariel. If that's not a dream role, I don't know what is.
Why am I not suprised that Harry Styles is Prince Eric. I mean I can totally buy that a teenage girl would go nuts and give up her voice for him.

— Lyanna Stark (@IceQueen_ASOIAF) July 16, 2019
Disney is keeping the OG soundtrack for the film but Lin Manuel Miranda (the guy who did Moana and Mary Poppins Returns) has been made part of this world – sorry – to add some newbies to the mix. Since Prince Eric doesn't sing in the original movie, we're guessing the new tunes will let Styles flex his vocal chords in the movie.
Introducing the new 007
In news we've all been waiting for, Daniel Craig is finally on the way out as James Bond. Who is Craig's replacement I hear you ask? Well her name is Lashana Lynch, but you can call her 007.
The Bond franchise will introduce Lynch's character as Nomi, the new 007, after the OG James Bond (still played by Daniel Craig) retires. Reportedly, Bond still tries to use his classic tricks of seduction, but it's 2019 so Nomi basically rolls her eyes at him and gets on with the job. Let me just say, if James Bond was as interested in his job as he was with sex, the prequels to the 25th Bond movies would have been a hell of a lot shorter.
The internet is both shaken and stirred over the news that 007 will be a woman, but the first snippets of Bond 25 have already been released and you know what? It looks like a bloody good film.
The Gossip Girl reboot you've been asking for is here
Hey Upper East Siders, you heard it here first, Gossip Girl is officially back but hold onto your headbands because the show could be wildly different.
According to E News, the reboot is a limited run 10-episode season that follows an entirely new crew of Constance Billard girls and St Jude boys. It picks up eight years after the original Gossip Boy Gossip Girl site went dark. However, thanks to social media, NYC's watchful eye is back with a vengeance.
There's no word yet on whether any of the OG cast will be involved but we're hoping at least Dorota gets to make an appearance. Now BRB, while I go and watch the entire series again.
The Cats trailer has given the entire internet nightmares
Your mum's favourite musical is about to hit the big screen with a movie adaption of Cats scheduled for 2019. Apart from scoring major brownie points, taking your mum along to this flick means you'll get to see Taylor Swift in her cinematic debut.
Swift plays Bombalurina (yes, really) and has about a gazillion famous co-stars. James Corden, Jennifer Hudson, Jason Derulo, Rebel Wilson, Idris Elba, Judi Dench. Ever heard of them? Thought so.
"I came right off of a stadium tour and went right into rehearsals," Swift says in a BTS vid. "People coming together through all different corners of entertainment. Everybody's working really long hours, rehearsing every day, and it's really fun. I just was really excited and so honoured to get to be a part of this."
The official trailer dropped early this morning, and holy cow it is TERRIFYING.
If you have two minutes and23 seconds to spare and enjoy being seriously disturbed for a 24-hour period, then go ahead and watch the trailer above. I, however, have questions. Are those tails real? Where did they get all that fur from? Why don't they have paws? What is this movie actually about? Why do some of them wear clothes and others don't? Who is actually going to see this movie? Why did they give Rebel Wilson cat boobs?
I have none of the answers for these questions but this trailer definitely affirms my status as a dog person. status.
Celebs proved they're just like us
I don't know about you, but there has been some seriously distressing content clogging up my Insta feed this week and the culprit is FaceApp. FaceApp for those of you living under a rock is the latest AI filtering app to go viral.
While there are a ton of filters on FaceApp the 'Old' filter is what's taken everyone's fancy, and I mean everyone.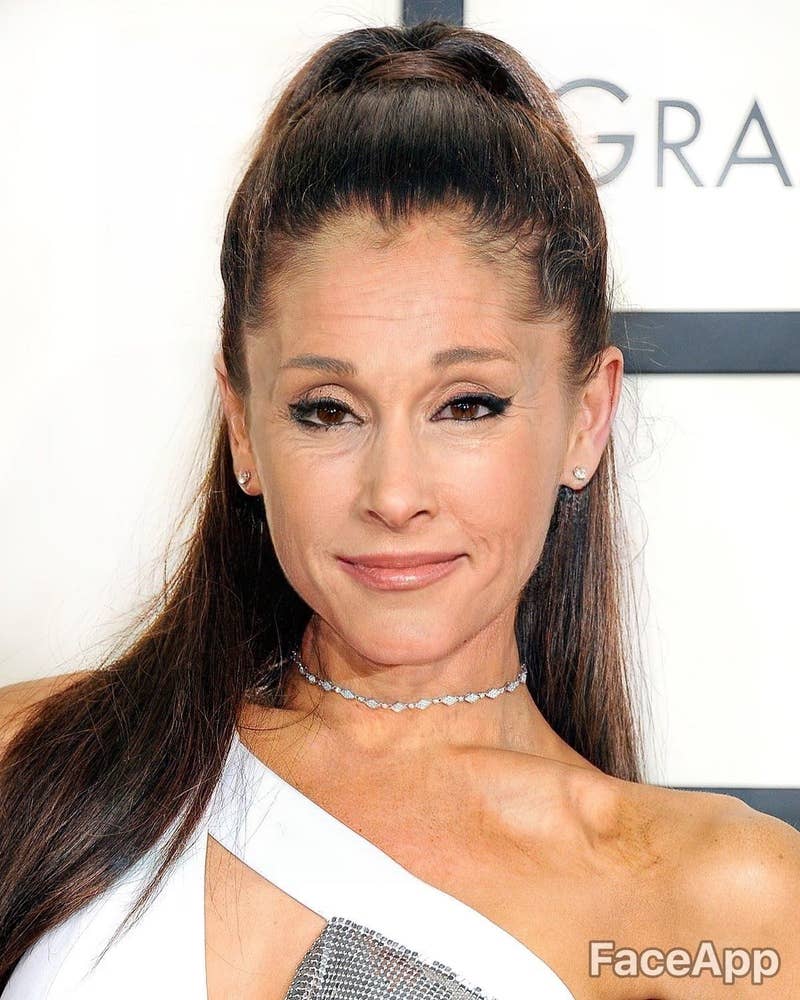 For a full list of our faves, click here.
Words by Emma Roffey who would very much like to play some seaweed in The Little Mermaid.