Get Geared Up For The Hills Reunion
03 September 2018
Pull out your ripped jeans, white tank top and giant sunglasses, because The Hills reunion is coming and it's bound to be bigger than Spencer Pratt's crystal collection.
The Hills: New Beginnings will see 'most' of the original cast return to their MTV home in 2019, with new friends, lovers, and children (!) bound to be introduced.
But with OG queens Lauren Conrad and Kristin Cavallari so far missing from the lineup, is the drama going to measure up to the good old nights out at Les Deux? That is yet to be written (although we assume the producers have a fair idea), so until then, let's revel in the dramz that once was…
#1 When Spencer 'decorated' his and Heidi's apartment…
That metallic gold piece of sh*t on a wall is still burned into my memory. I don't know how Heidi didn't hack Spencer's head off when the word 'surprise' left his mouth and she was basically turkey slapped with a horrid Hollywood-wannabe sign.
#2 He's a sucky person…
'I hate Spencer and I'm never going to like Spencer'. You just can't come back from telling your best friend that her boyfriend is a 'sucky person'. This fight signalled the demise of Heidi and LC's friendship.
#3 Justin-Bobby, a man so great he needed two names…
Ahhh the original fuck boy. We saw him mess with Audrina more times than he was actually on screen (srsly). And now that she's divorced and they're both coming back for the reunion, the games may well begin again. Let's just hope homeboy wears combat boots to the beach again.
#4 The girl who didn't go to Paris…
Lauren decides to stay in LA for the summer to be with her scumbag boyfriend Jason, rather than go to Paris as part as her internship with Teen Vogue (which literally nobody relates to, girl go to PARIS). So Whitney goes instead and gains a permanent role on the show as a result so that we (the audience) can look up to a strong ass female instead of a cock-worshipper.
#5 Whitney's woeful stack…
Poor, loveable, and kinda-shy Whitney. Staged or not, the moment she stacked it on live TV while modelling an iconic Oscars' dress got us right in the feels. It's also crazy that Emily, another intern who stars beside her in the scene, is now Emily Weiss, founder of Glossier. WHUT.
#6 Audrina & Lauren's falling out…
And that iconic mascara-stained tear scene. Producers admit to slowing it down for an ad promo, but they also believe LC wore non-waterproof on purpose, so the audience would side with her. Quite clever from the beauty queen.
#7 The betrayal of Jen Bunney…
Nobody else seems to remember this, but Jen Bunney basically showed up outta nowhere and stole LC's man of the moment (Brody Jenner). Bad bunny. We haven't seen her since. Lauren's death stare might actually be deadly.
#8 When Kristen showed up to replace LC at Speidi's wedding…
QUICK! We need a female lead replacement. Steph-eeeeeeeeen. BAM. Enters the b*tch from Laguna Beach dressed in the same shade of royal blue. LC who?
#9 YOU KNOW WHAT YOU DID…
Just kidding, nothing Kristin ever did could beat the post-sex tape rumour-fight between Heidi and Lauren in the middle of Les Deux. Heidi was baiting Lauren so hard, but to the girl's credit (and producers disappointment), she never cracked and only delivered the now iconic line…
#10 When Heidi revealed her post-ten surgeries transformation…
The opener of Series 6 we all wanted to see: Heidi post-surgery. Ten in total from memory. She flew to her parents home for the big not-yet-fully-healed reveal. And we think her mum said it best, 'you look like Barbie'. And despite that being exactly what she was going for, Heidi broke down in emotionally-restricted tears.
#11 I want to forgive you and I want to forget you…
When Heidi finally kind-of apologised for all her bullshit, LC blessed us with 'I want to forgive you and I want to forget you'. A line you should all try the next time a one-night stand disappoints. Really drives the knife in.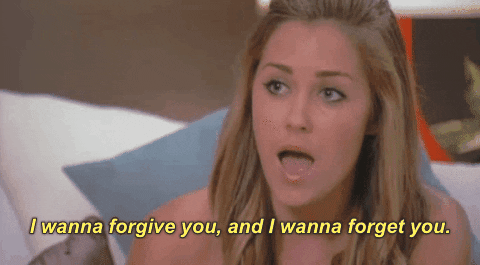 Fandom by Samantha McMeeki

n.