Emmys 2019: All The Looks From The Red Carpet
23 September 2019
Television's night of night's has officially kicked off with the 71st Primetime Emmy Awards. See what your fave screen stars are wearing as they descend on the red carpet.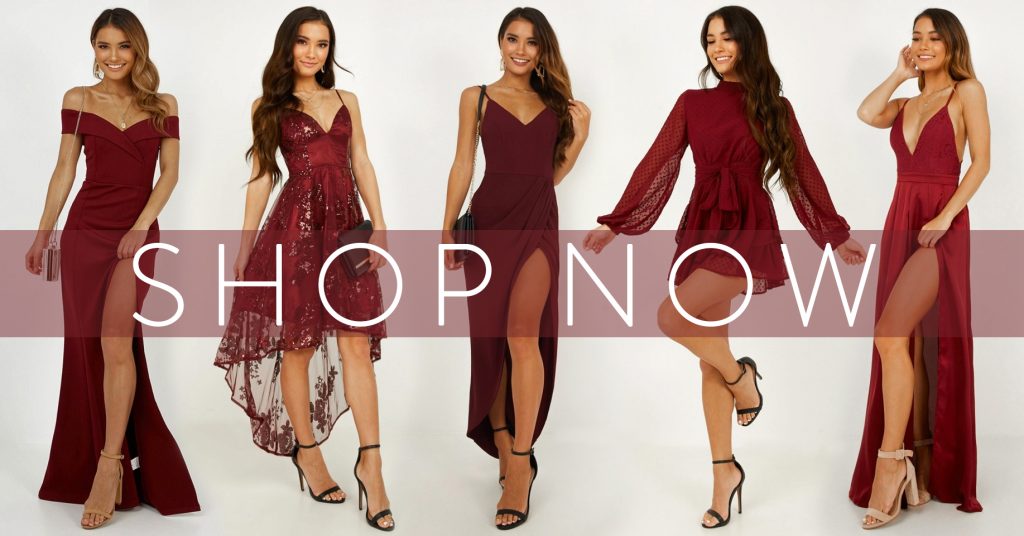 Jameela Jamil
Jameela is really channelling her The Good Place alter ego Tahani with OTT seafoam green look.
Kirstin Cavallari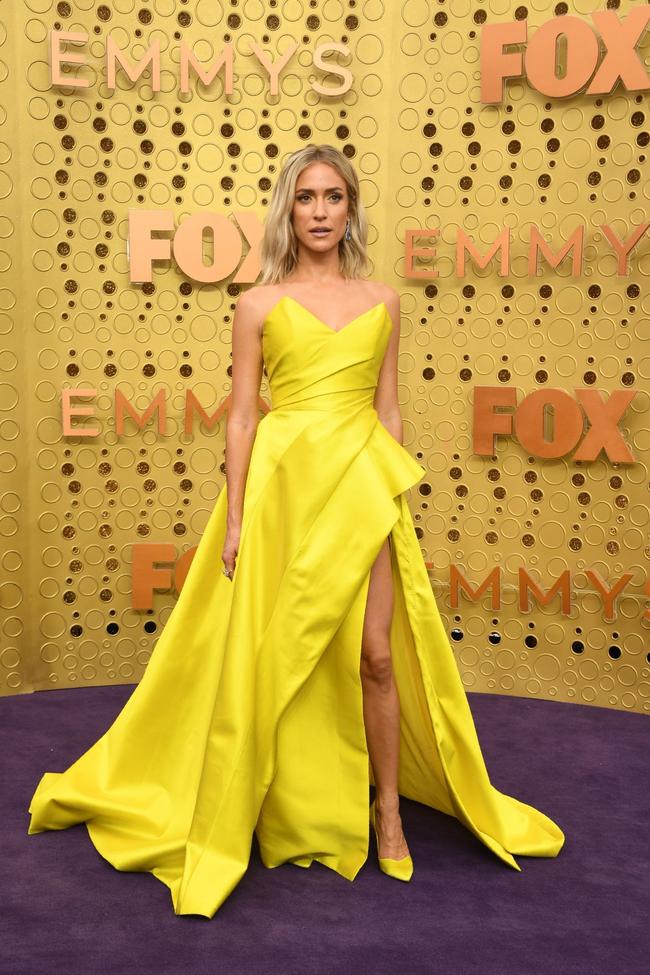 The Hills are alive and awfully bright with Kirsten Cavallari's Big Bird inspired neon yellow look.
Brittany Snow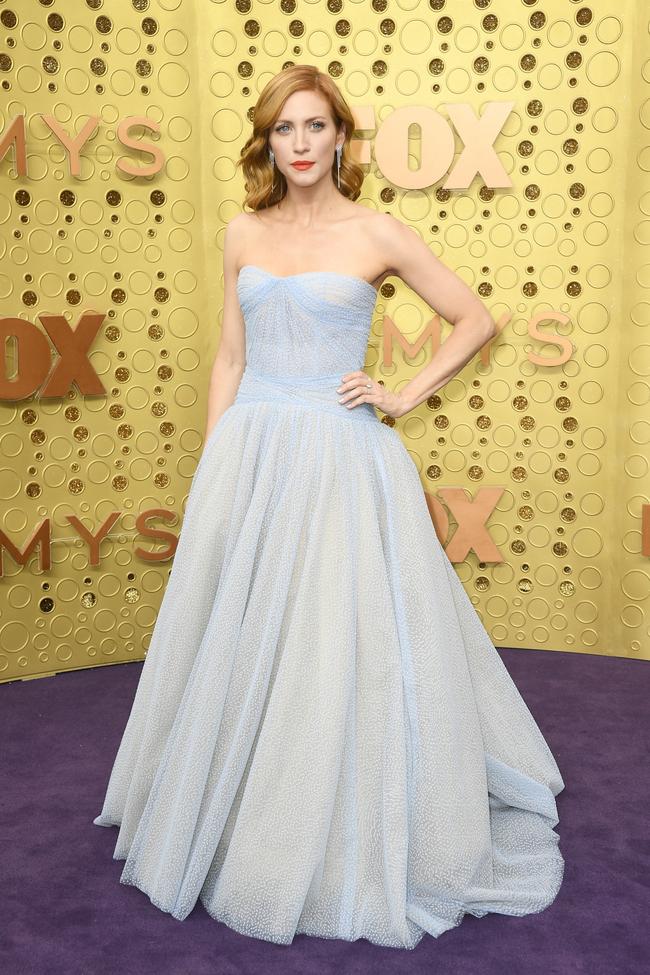 I love this look but Brittany Snow is taking her surname far too literally with this icy number.
Viola Davis
How to get away with wearing an oddly bland dress but still looking fabulous, a lecture by Viola Davis.
Vera Farmiga
This woman looks everything like Alexa Chung but also nothing like Alexa Chung. Someone please investigate if this Alexa Chung back from the year 2070.
Laverne Cox
Orange is the new extra! We're six arrivals in and I am finally blown away by someone's OTT outfit. Thank you for showing up, Laverne Cox.
Bethany Frankel
I'm quite upset with Bethany Frankel for leaving The Real Housewives Of New York so I'm going to refrain from taking it out on her boring and basic dress. Well…I tried.
Bobby Berk, Tan France, Anthony Porowski and Karamo Brown
The irony of wanting to marry each of these men is not lost on me. But dammit, every time they show up like this the heart wants what wants. Also, where TF is JVN?
RuPaul
Shante you stay, RuPaul. I'm living for this leopard-turned-floral motif.
Seth Meyers
Honestly, Seth Meyers. Look at the men who entered before you. Use the back door next time to avoid ruining the streak of insanely good looks.
Aidy Bryant
I want Aidy Bryant to be my friend but I feel like this is the kind of dress salty mother-in-laws wear to their children's wedding.
D'Arcy Carden
Imagine looking this peachy in a shade that is the furthest thing you can get from peach. Well done D'Arcy.
Regina King
'I want to speak to the manager' haircut aside, Regina King is holding down her title as queen of the thigh-high split.
Gwendoline Christie
For the love of all that is holy, please someone tell Gwendoline Christie that Heavenly Bodies was the theme of the 2018 Met Gala, not the 2019 Emmys. There is really no need to dress like the love child of Jesus and the Pope.
Kendall Jenner
Kenny looks like she's trying to make rashies fashionable. As a pale child, I can appreciate that. As a somewhat fashion-conscious adult, I want to know why she's dipped the top half of her body in a melted bin bag.
Mandy Moore
Fuck yes, Mandy Moore. This is the kind of content I want to see.
Kit Harrington
Pick your jaws up off the floor ladies and gents. Kit Harrington is a married man (sadly).
Patricia Arquette
I had this exact haircut for most of my childhood.
Sophie Turner
This dress is simultaneously underwhelming and on point. I'm really struggling to reconcile my thoughts here. Someone just tell me what I think about it, please.
Kerry Washington
I've never been more attracted to a pair of pants in my life.
Maisie Williams
The ear cuff, the asymmetrical hemline, that one stray flyaway hair that ruins all our photos. I cannot get enough of this look.
Taraji P Henson
Loving this colourway everyone (and by that I mean two people so far) is going for. However, if you look close enough, it kind of looks like Taraji is only wearing one shoe.
Maya Rudolph
Maya is wearing a dress by The Vampire's Wife and you know what, the branding is pretty on point. She genuinely looks like she forgot she had an event tonight and had to borrow a dress from her good friend Dracula's wife.
Amy Adams
This is a sexy nightgown, not an Emmys dress. Props to Amy Adams for trying to double her wear though.
Emilia Clarke
HOLY SHIT, THIS LOOK IS FIRE. That was my real-time reaction.
Amy Poehler
Leslie Nope.
Kim Kardashian
Did Kim K wake up this morning and forget who she is? Maybe it's just PTSD from that insane Met Gala look.
Julia Louis-Dreyfus
If you want to win an Emmy, you've gotta dress like an Emmy.
Michelle Williams
Michelle Williams looks like my grandmother's couch but in a good way.
Christina Applegate
This dress is Dead To Me, loving the lipstick though.
Billy Porter
Throw out your fascinator, this is the clear winning choice for the Spring Racing Carnival, but please, someone, anyone, hem those pants!
Busy Phillips
Until today I was a firm believer that no one looks good in yellow. Today I was wrong.
Sandra Oh
Sandra Oh-no someone forgot to hem another outfit.
Alex Bornstein
Big fan of monogramming your own initials on your outfit, it's a huge power move. Not a fan of wearing a Maleficent cosplay look to the Emmys.
Zendaya
Everyone else go home, we have a winner. Bye now! Drive safe!
Kristen Bell
A licorice allsort but make it fashion.
Naomi Watts
Naomi Watts has gothic brides everywhere frantically googling her Dior dress.
Catherine Zeta-Jones
Speaking of wedding dresses, I bet Elle Woods wore this.
Janet Mock
When you've got the Emmys at 6 o'clock and a parachuting lesson at 7 o'clock.
Gwenyth Paltrow
Gwenyth, who do you think you're playing with this dress? Please don't.
Nicole Byer
Banana Paddlepop, but make it fashion.
Halsey
The dragon from Shrek, but make it fashion.
Joey King
If I ever go on The Bachelor, this is going to be my entrance outfit. You can't not receive a rose when you are the rose.
Marisa Tomei
Three times makes it a trend. You heard it here first.
Eliza Scanlen
The ballet dancer in me is screaming for this look. Again, in a good way.
Phoebe Waller-Bridge
PWB is looking nothing at all like a Fleabag tonight.
Zoe Kazan
There's always one vagina dress per red carpet. It's a rule. This year it's a pussy bow that kind of looks like a vagina. Genius.
Natasha Lyonne
Ah, the old JLD tactic of dressing for the award you want has been caught onto by Natasha Lyonne.
Kathryn Newton
Where is all this bright yellow fabric coming from? And who decided to turn it into a waistcoat?
Julissa Bermudez
As above.
Dascha Polanco
Big yes!
Melanie Liburd
Bigger yes!
Sarah Sutherland
I love a surprise two-piece set, bonus points for the pockets!
Susan Kelechi
At this point any commentary on a pink and red combo is redundant.
Lily Singh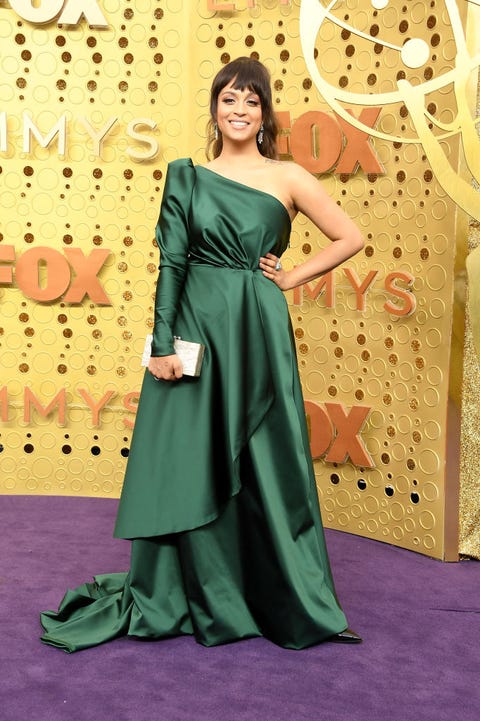 Apparently it's emeralds and not diamonds that are a girl's best friend.
Nathalie Emmanuel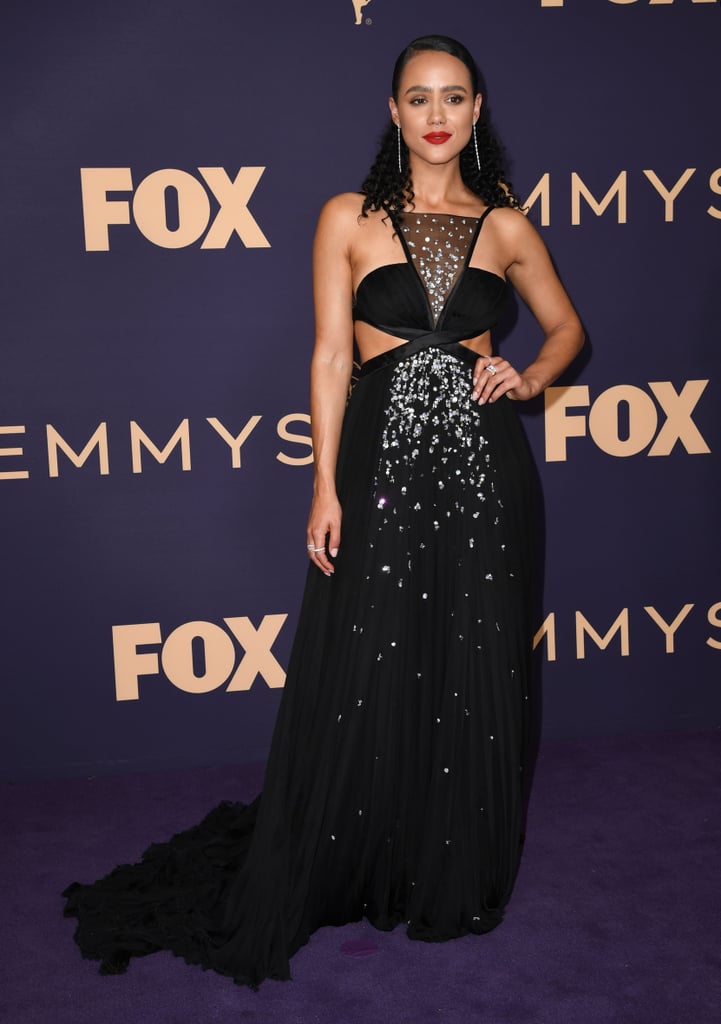 Nathalie Emmanuel's hair looks amazing. Why didn't the GOT team style it like this for every episode? I would gladly have my head chopped off if it was going to look this fab. Okay maybe not, but I'd consider it.
Carice Van Houten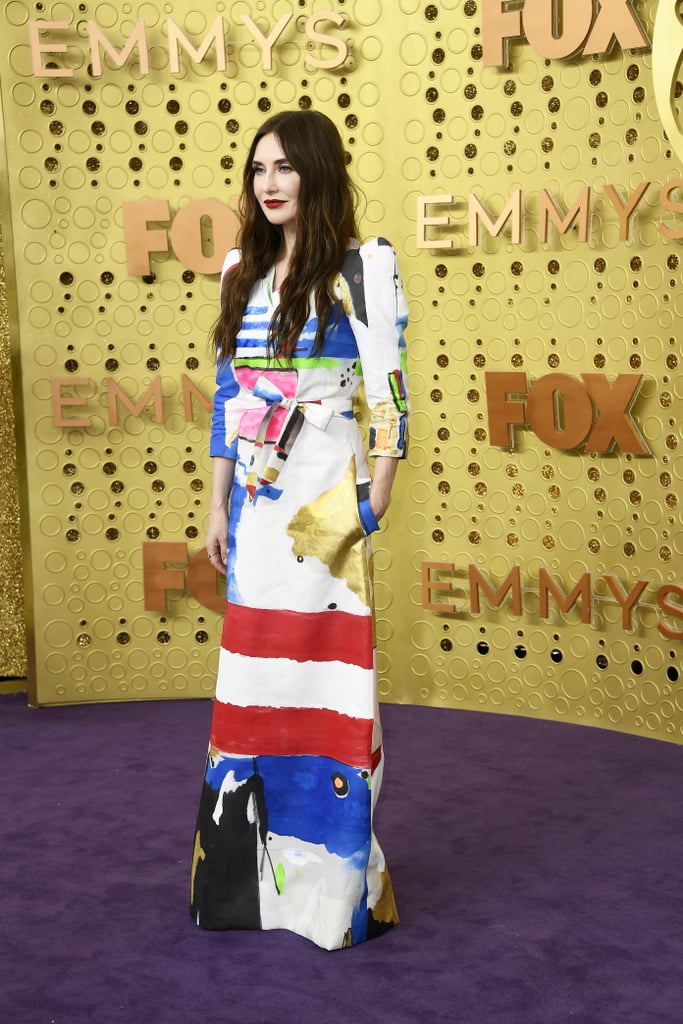 WHY?
Milo Ventimiglia
Just in case you needed any more proof that we should all be #TeamJess, Milo Ventimiglia took his parents to the Emmys.
Sarah Silverman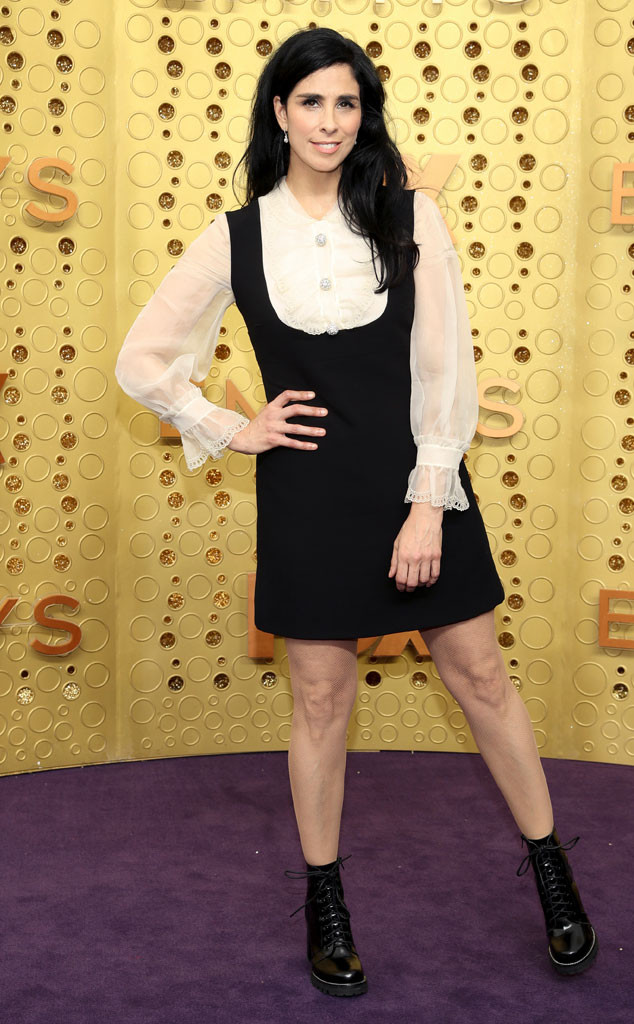 Sarah Silverman is not letting the Emmys get in the way of fall fashion.
Steven Canals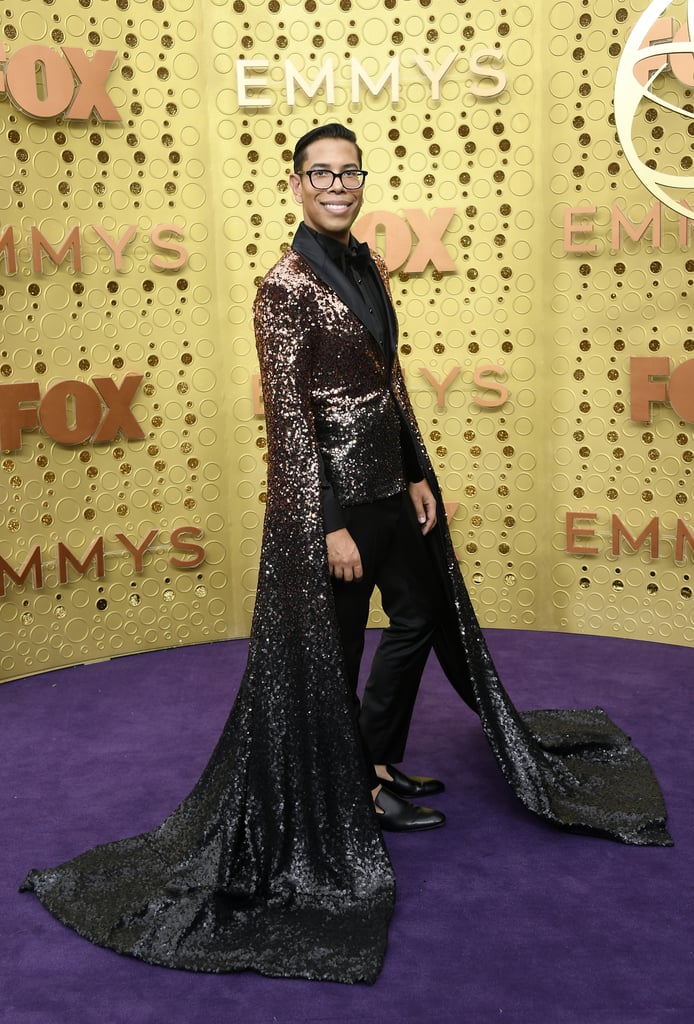 I really hope this suit jacket gave young Steven the ability to fly.
James Van Der Beek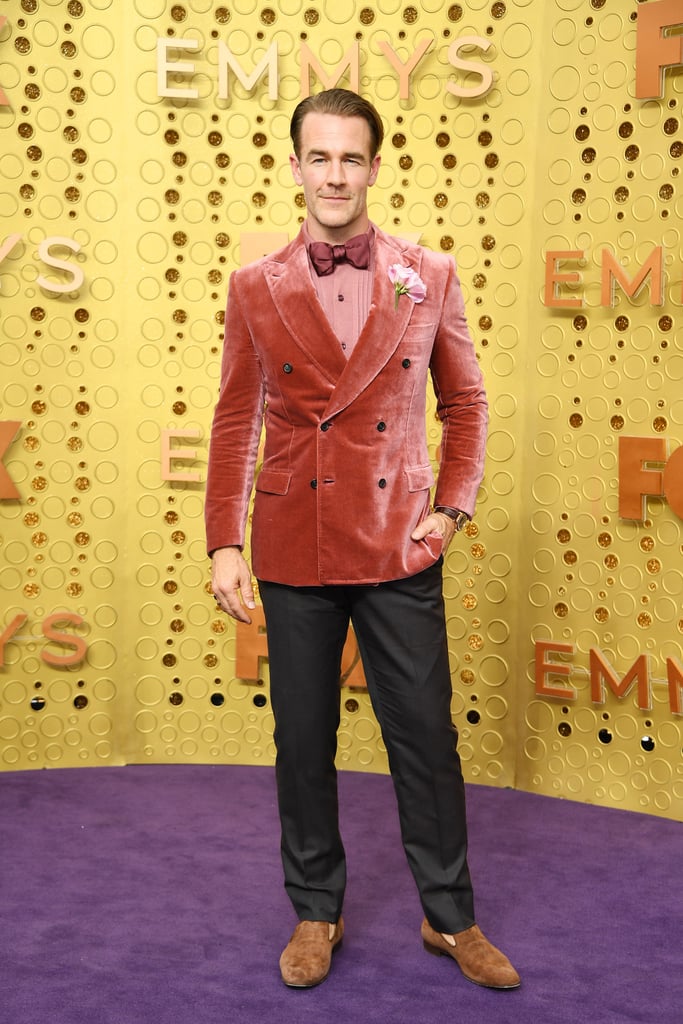 James Van Der Beek's mum is going to be pissed when she finds out her nice Persian silk rug has been turned into his Emmys attire.
Casting judgements while wearing activewear, Emma Roffey.