18 Times Chrissy Teigen Was Relatable AF
27 November 2019
We can all agree that Chrissy Teigen is the one funniest people on Twitter, taking the crown as the Queen of Comebacks. She tweets what we're all thinking, loves to make fun of herself and calls people out on their bullshit, including her own husband. We're all here for it! To celebrate her birthday we have compiled a list of 18 of our favourite Chrissy Tiegen tweets. Trust us, it was a difficult decision to narrow it down so go on and have a scroll and get ready to laugh out loud. 
When her husband John tried to break up with her and she just replied with 'no' 
Put it to the test if you ever find yourself in a breakup sitch. You never know, you might end up married one day. 
When she used her breast pump on date night 
Put your hands up for all the mamma's out there. You guys are queens! 
When she got jealous of another girl in John's music video 
We don't blame her. John Legend is the sexiest man alive, right? 
When she reminisced about the first night she met John 
Well, that escalated quickly, you go girl! 
When she discovered just how great eyelash extensions are 
We don't know how we survived without them. It's a beauty must-have! 
When she admitted that she needs breaks from her kids 
I mean, who wouldn't? As cute as they are, every mamma needs some me time. 
When she showed off her stretch marks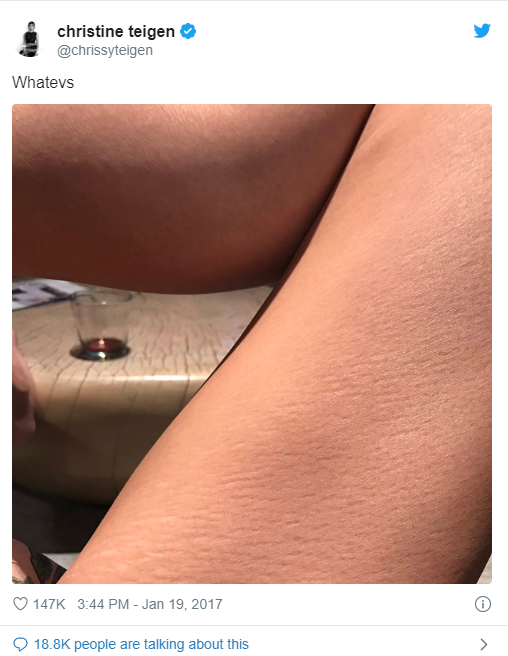 We all have them and if you don't, you will. Let's embrace them! 
When she shuts down the trolls 
She takes the crown when it comes to the best comebacks. Anyone who takes on the president deserves recognition. 
When she called out those post-holiday Insta pics 
People are already jealous of your vacay, don't draw it out.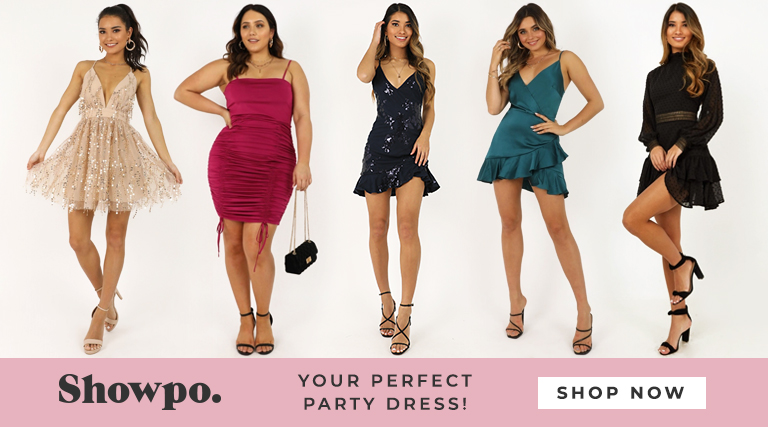 Whenever she drunk tweets something 
We've all been there. Unfortunately, we don't have a house as nice as Chrissy's to go back to. 
When she admitted that she would go Gone Girl on her husband's arse
The whole 'I want you to be happy' thing is a lie. According to Chrissy, your partner belongs to you even in death. 
When she opened up about her postpartum depression  
It happens to a lot of new mum's and she encouraged her fans to open up and get help no matter how scary and lonely it may feel. 
When she became a fitness Insta model for a day
We were wondering the same thing. How do they do it? 
When she gave us a valuable lesson in Googling 
There are actually so many innocent terms that are not so innocent once you search them on the internet. Don't test this out at work! 
When she tweeted what we're all feeling about this notification 
Honestly, I'm surprised my laptop is still functioning with the number of times I've clicked 'update 'later'. 
When she admitted to jumping on health trends that she once made fun of 
We've been seen to indulge in a turmeric latte and charcoal burger occasionally. 
When she tweeted what we're all thinking about our relationship with Netflix 
It's a blessing and a curse to have so many options. 
When she trolls her own husband on social media 
She'll never let anything get to his head. It's all about staying grounded and keeping it real. 
Words by Tamara Bose.