45 Celebs Who Slayed The Halloween Costume Game In 2019
01 November 2019
Halloween is done and dusted for another year, and lowkey, thank god! That means Christmas can finally begin. However before we deck the halls and stuff our stockings (minds out of the gutter, ladies), first we need to round up the very best celebrity Halloween costumes.
This year celebs broke out the tried and tested faves (Cardi B as a sexy nurse) and others went more meta with celebs dressing up as celebs (looking at you Ciara and Russell Wilson).
Cardi B
Yes, 'Sexy Nurse' is the most overdone Halloween costume of all time. But do we expect anything less from Cardi B? No, no we don't and we love that.
Ellen Degeneres
Speaking of Cardi B, meet her long-lost twin, Cardi E.
Liza Koshy
This look could go two ways. Anna will either take the piss out of herself with Liza Koshy or the YouTube star might lose her Met Gala gig.
Ashley Graham
Red locks are apparently a thing this year. Model Ashley Graham also spotted red tresses as Jessica Rabbit.
Kylie Jenner
Kylie Jenner celebrated her foray into music by dressing as Madonna. Later she dressed as a Playboy Bunny and at her third round of festivities, Jenner donned a seashell bra and became the X rated version The Little Mermaid.
Avril Lavigne
Avril Lavigne also went as Queen Madge.
Haim
Sisters Este Haim, Danielle Haim and Alana Haim went dressed as another family-based band, Hanson.
Ciara and Russel Wilson
Who knew there was a couple out there who could do Jay and Bey better than Jay and Bey.
Jason Momoa
Sticking to the musical theme, Jason Momoa went as the king of rock, Elvis.
True Thompson
Already a celeb at just over a year old, True has the costume changes to match.
Stormi Webster
And here's her cousin Stormi Webster dressed up as mum, Kylie Jenner
Kim Kardashian
Aspiring lawyer Kim Kardashian went as the most iconic lawyer of all time, Elle Woods.
Sofia Richie
Sofia Richie also got in on the sexy Disney princess game with this version of Aurora from Sleeping Beauty.
Anastasia Karanikolaou
Kylie's BFF went as a vampy Cinderella.
Kevin Hart
Kevin Hart recreated his best friend, The Rock's most iconic look.
Emma Chamberlain
The YouTube phenom went as Paris Hilton. That's hot.
Gabrielle Union
In possible the most epic throwback of all time, Gabrielle Union dressed up as her own character in cult-fave Bring It On.
Ariana Grande
IDK what Ariana Grande is but it is freaking me TF out.
Camila Mendes
Rick and Morty, but make it sexy. They were the only words on Camila Mendes' Halloween brainstorm and she nailed it.
Nina Dobrev
Okay, we can stop now. Nina Dobrev and her friend going as Gigi Hadid and the Chanel catwalk crasher is the best couples costume of all time.
Nina was also one of the 36,000 celebs who went as Billie Eilish.
Stephanie Beatriz
Our favourite leading lady from Brooklyn 99 also went as the Bad Guy singer.
Elizabeth Hurley
Bills beware, Elizabeth Hurley is out for blood in this Kill Bill outfit.
Halsey
Halsey killed it as a 60's version musical icon, Cher.
Heidi Klum
Heidi Kulm and her hubby went as um…fireworks?
Jameela Jamil
Meet Jameela Jamil and Silly Eilish, Billy's relatively unknown twin sister.
Demi Lovato
I can guarantee you Demi Lovato's costumes were not made by her stressed-out Mum who has started swearing at the sewing machine. Just a guess.
Vanessa Morgan
Riverdale's Vanessa Morgan channelled her inner Angelina Jolie as Malificent.
Jordyn Woods
The Queen of Kardashian exile went dressed as the Queen of the Nile, Cleopatra.
Bella Thorne
Bella Thorne doubled up on Halloween costumes. First, she was a 70's disco queen and later she was a gothic Mad Hatter.
https://www.instagram.com/p/B4F_jt3H7nW/?utm_source=ig_web_copy_link

James Charles
I wonder if James Charles' Patronus is as bright as his highlighter?
Larsa Pippen
Larsa Pippen went to more Halloween parties this weekend than I have been to in my entire life. And she didn't even outfit repeat!
Laverne Cox
IDK what Laverne Cox is dressed as by my guess is Michelle Pfefier-era Catwoman.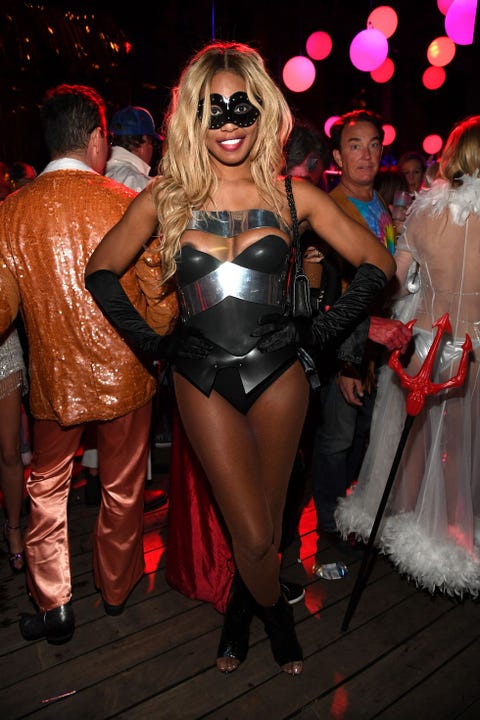 Paris Hilton
Paris Hilton went OTT with her costume and with her Instagram post and there is nothing more Paris Hilton than that.
Jessica Biel and Justin Timberlake
Jessica Biel as her husband Justin Timberlake in NSYC is iconic. However, personally, I identify with Justin as the microphone.
Liam Payne
Liam Payne dressed as Superman and now I'm pregnant.
Lisa Rinna
Snaps for Lisa Rinna for dressing as J-Lo. However, this had to be last-minute but we appreciate the hustle.
Kate Beckinsale
Kate Beckinsale's take on Holly Golightly is incredible. But ours is more comfortable.