31 Britney Spears Fashion Moments We're Still Obsessed With
08 January 2020
Sure, it's the start of a new decade, but you'd forgive us for being stuck in 1999 when it comes to Britney Spears. She's arguably one of the most iconic performers of our time and the same can be said for her wardrobe. Since the late '90s, Britney has been sparking wardrobe envy in all of us, especially if her outfits could give us the same dance skills. So while you're making your 2020 fashion resolutions, don't forget to add 'be more like Britney' to your list. After a round-up of Britney Spears' most iconic fashion moments? Look no further!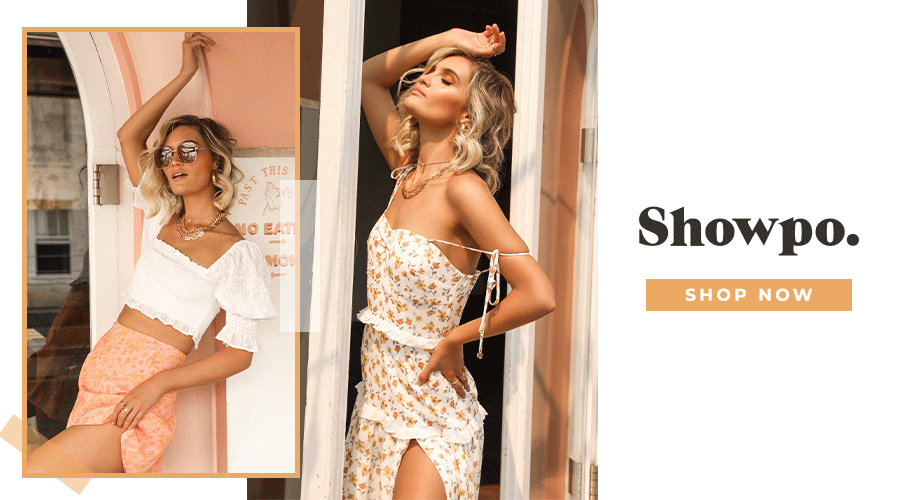 …Baby One More Time music video, 1998
Don't lie, you knew every step to this iconic dance routine. TBH, I still do. However, what really stole our hearts were the absolute fire looks in this video clip. If we had to pick just one, our favourite has to be the pink crop combo. It's by far the most wearable (people tend to give you weird looks if you show up as school girl Britney at work).
…Baby One More Time Tour, 1999
Here it is again but this time we're treated to pleather hot pink knee pads and a pleather boob tube. ICONIC.
26th Annual American Music Awards, 1999
Did you see the Golden Globes red carpet this year? It was full to the brim with blush dresses. We're not surprised to see that Britney did it first.
SHOP THE LOOK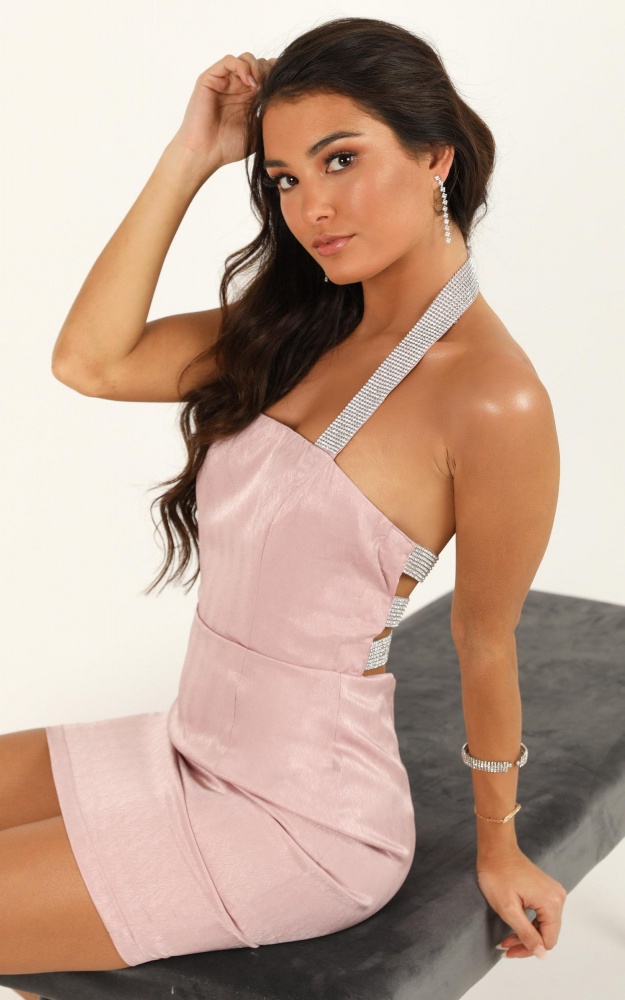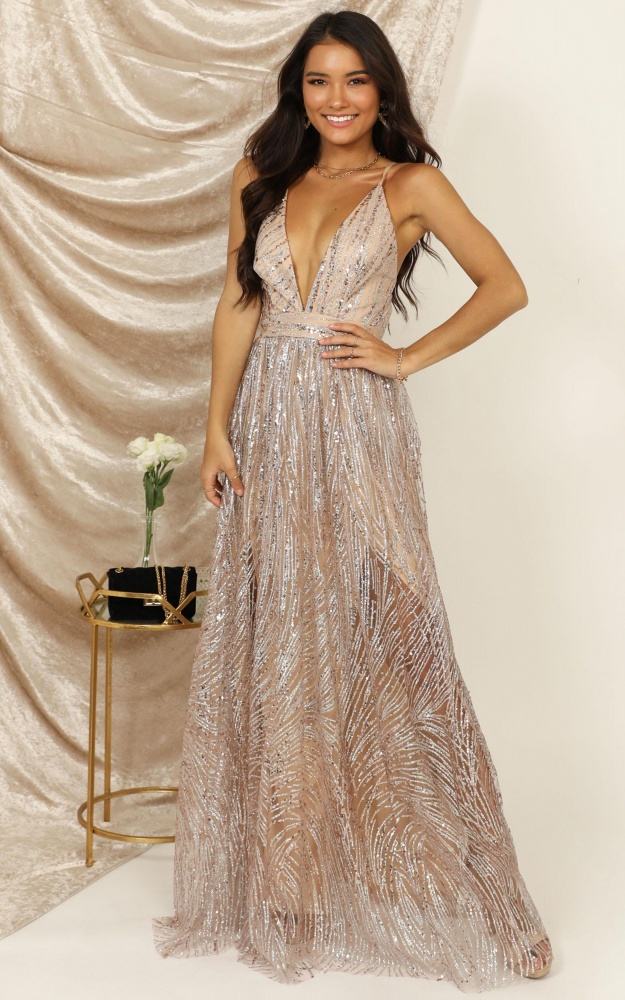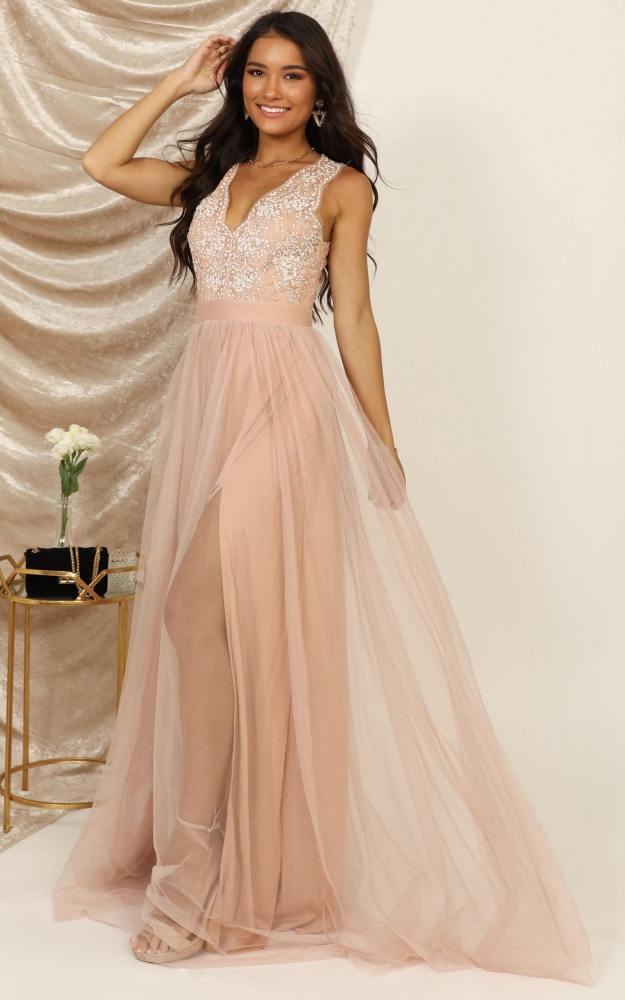 MTV Video Music Awards, 1999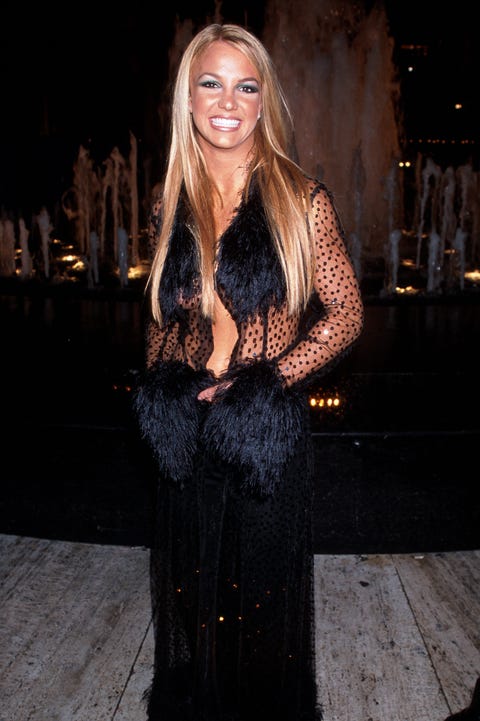 We're all out here catching up on Kim Kardashian's boob tape hacks but it looks like Britney knew them before Kimmy did.
Teen Choice Awards, 1999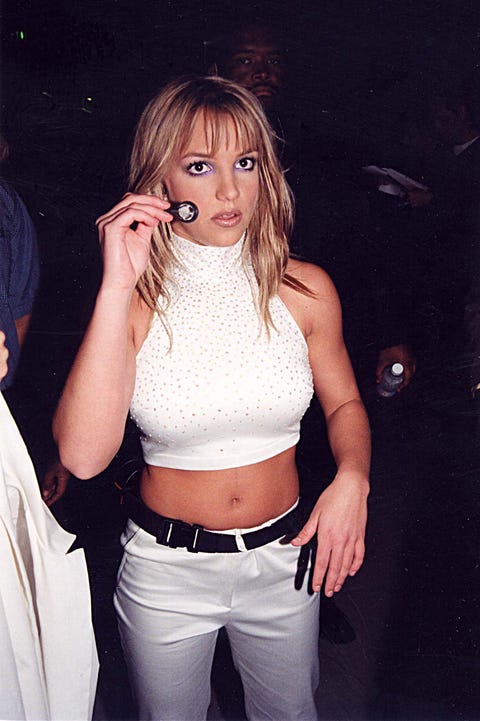 This look screams pop star, and honestly, that's the energy we're chasing in 2020.
SHOP THE LOOK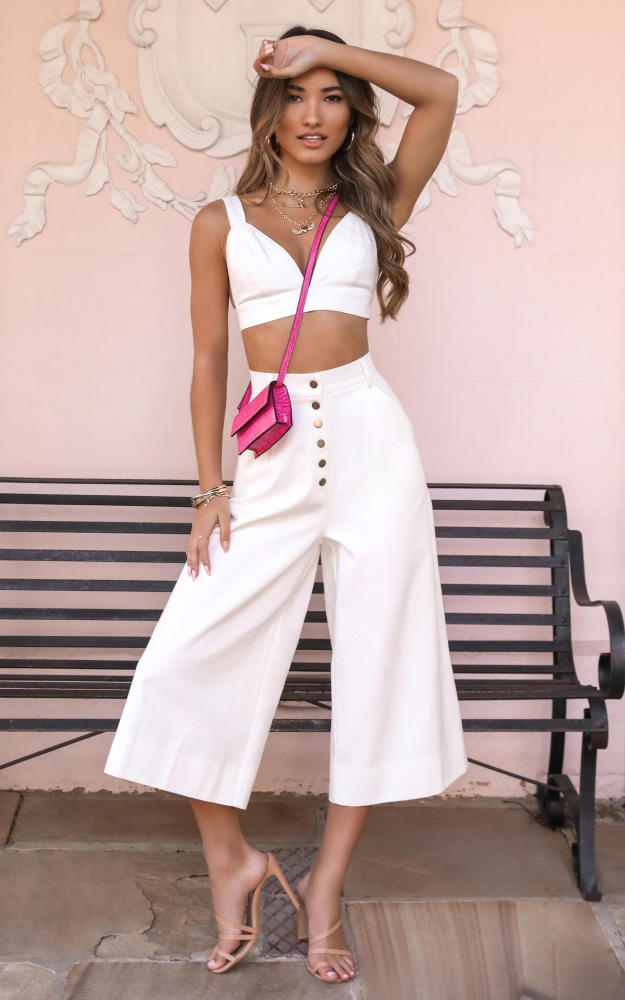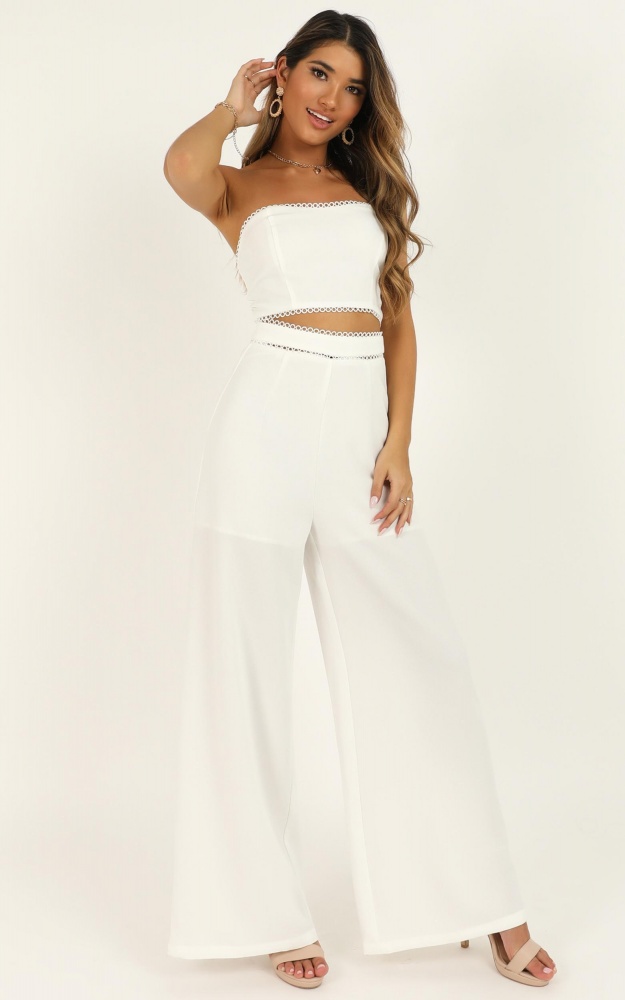 Sometimes music video, 1999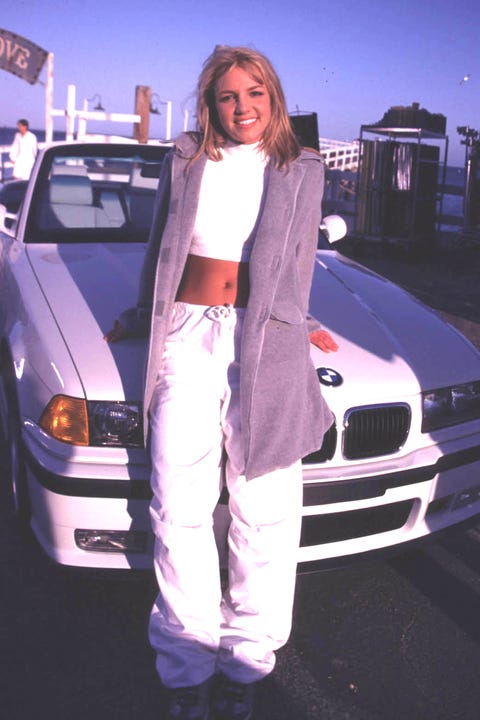 We're also here for off-duty pop star vibes courtesy of this cosy AF look.
Billboard Music Awards, 1999
In 1999 Britney knew lilac would be trending again for Spring/Summer 2019/2020.
SHOP THE LOOK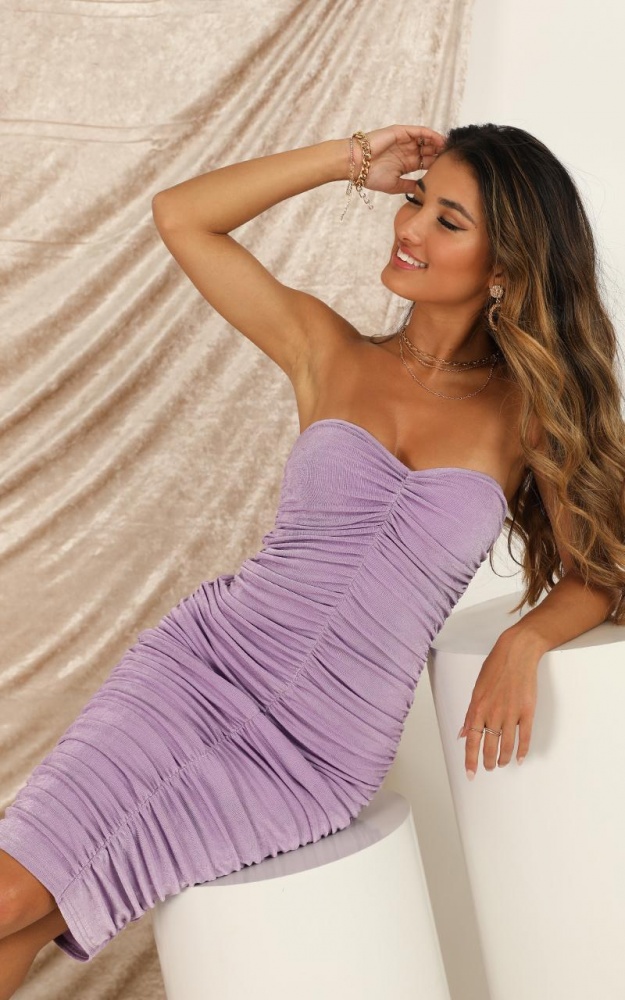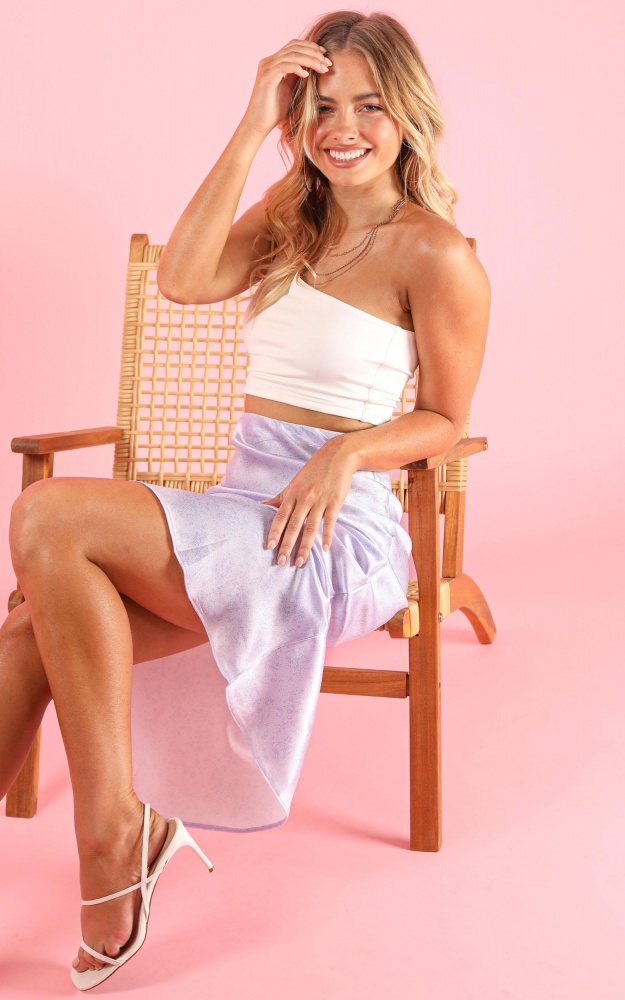 Oops I Did It Again promotional tour, 2000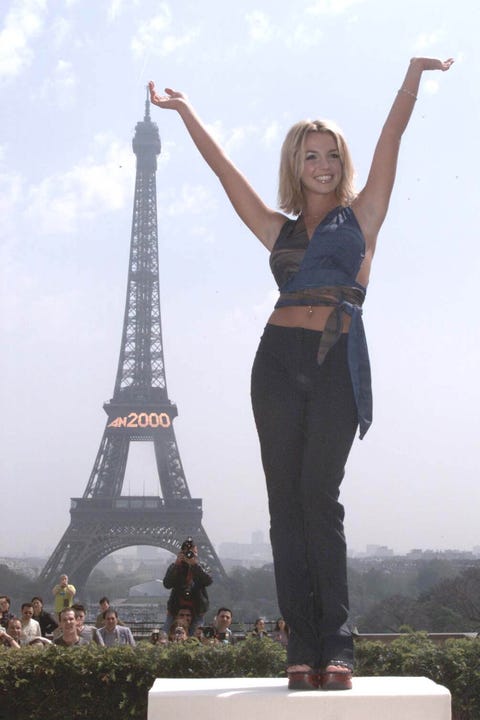 We'll never stop extolling the virtues of wrap dresses, wrap tops, wrap skirts, wrap anything really. You can imagine how glad we are Britney is a fan too.
Teen People's anniversary party, 2000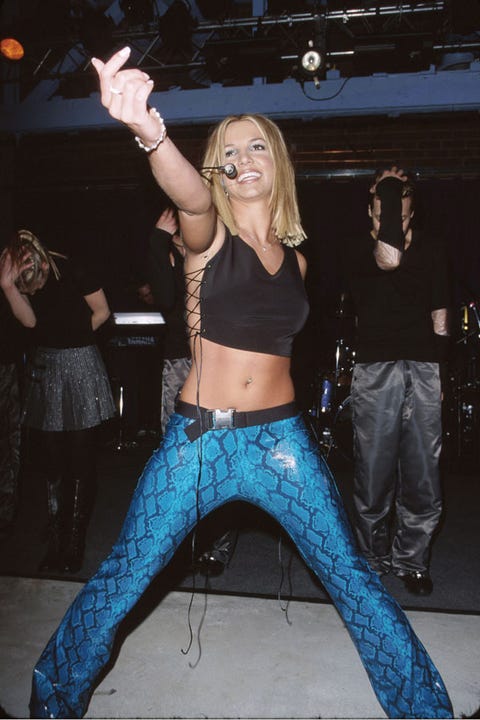 The cut-outs, the neon snakeskin print, what's not to love? Also, shout out to that utility belt and its third appearance on this list.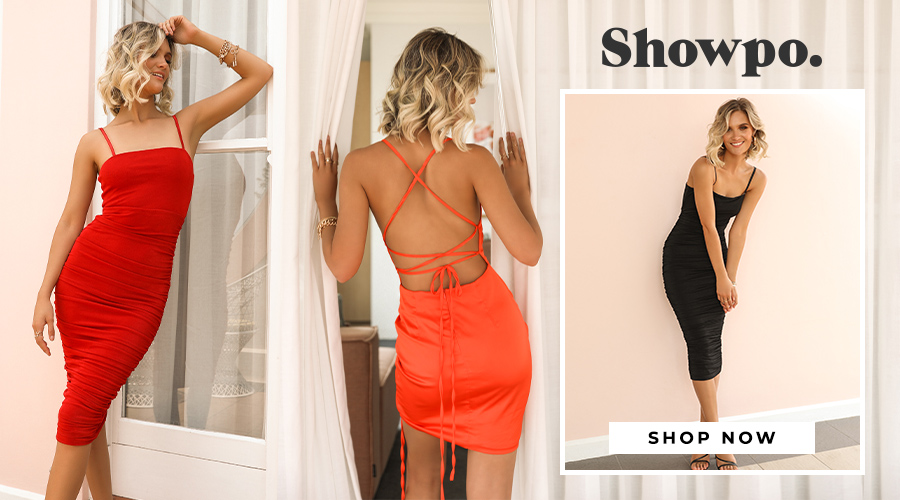 Billboard Music Awards, 2000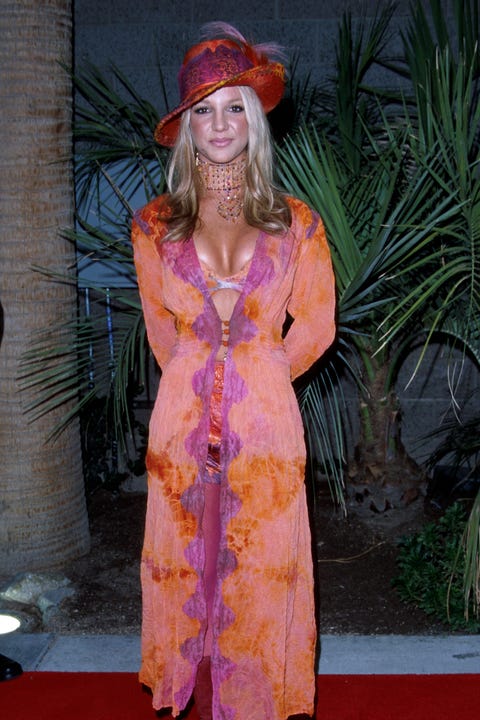 Okay, so maybe the execution wasn't there on this one, but tangerine is having a massive moment and we've traced it back to Britney Spears. Plus, tie-dye is having a revolution of its own. Clearly Britney knew what 2020 was about way back in the 2000s.
SHOP THE LOOK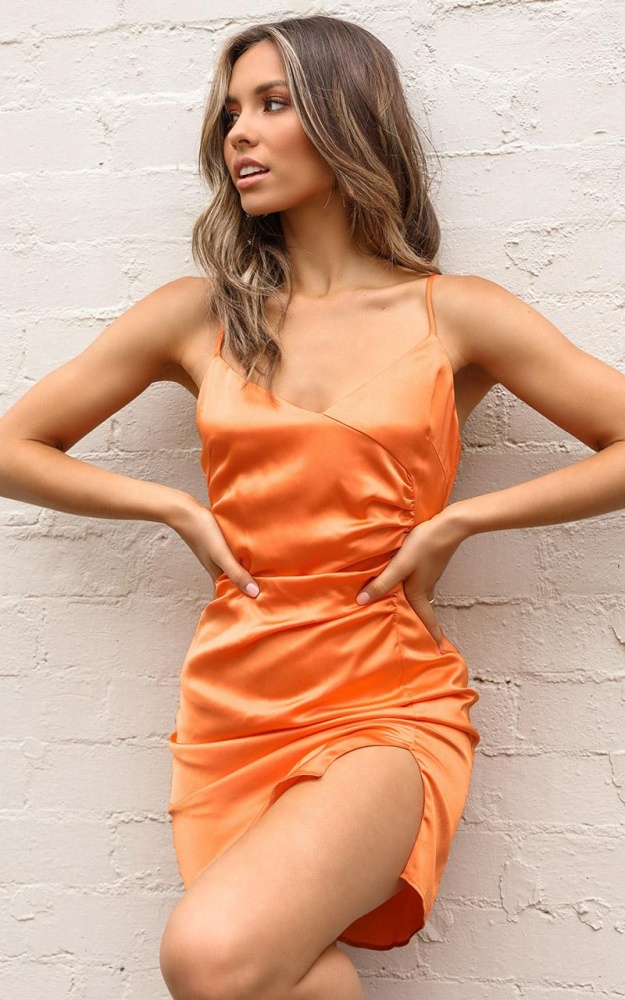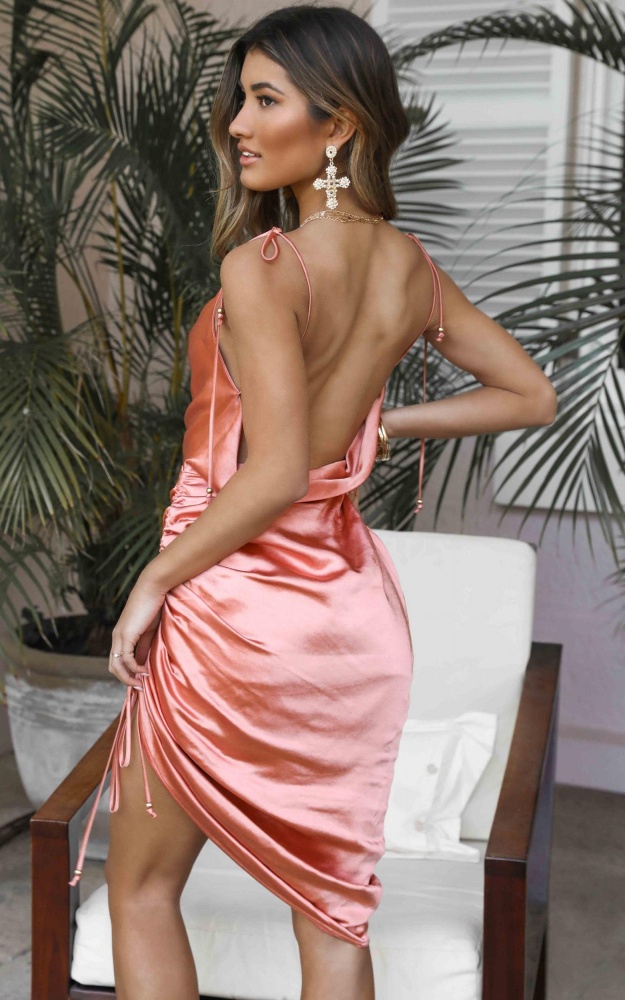 27th Annual American Music Awards. 2000
Treat this image as visual proof that Britney Spears invented the jumpsuit.
42nd Annual Grammy Awards, 2000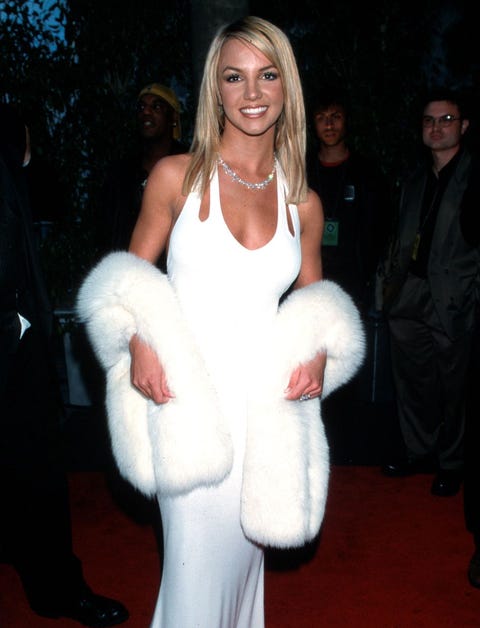 For all the hype LBDs deserve, white dresses tend to get overlooked. This white dress worn by Britney Spears at the Grammys thankfully gives white dresses a moment in the spotlight.
SHOP THE LOOK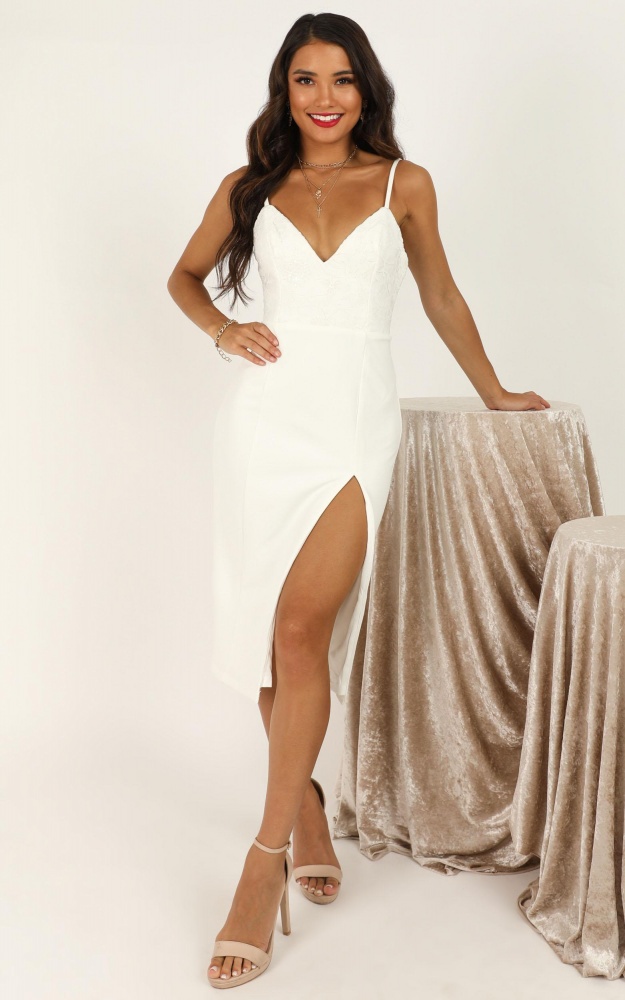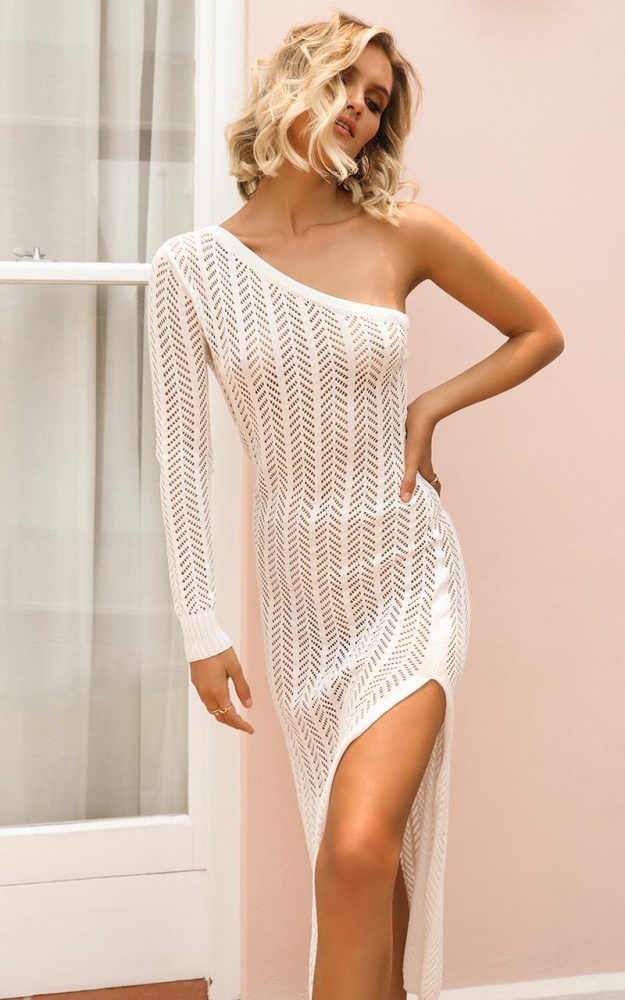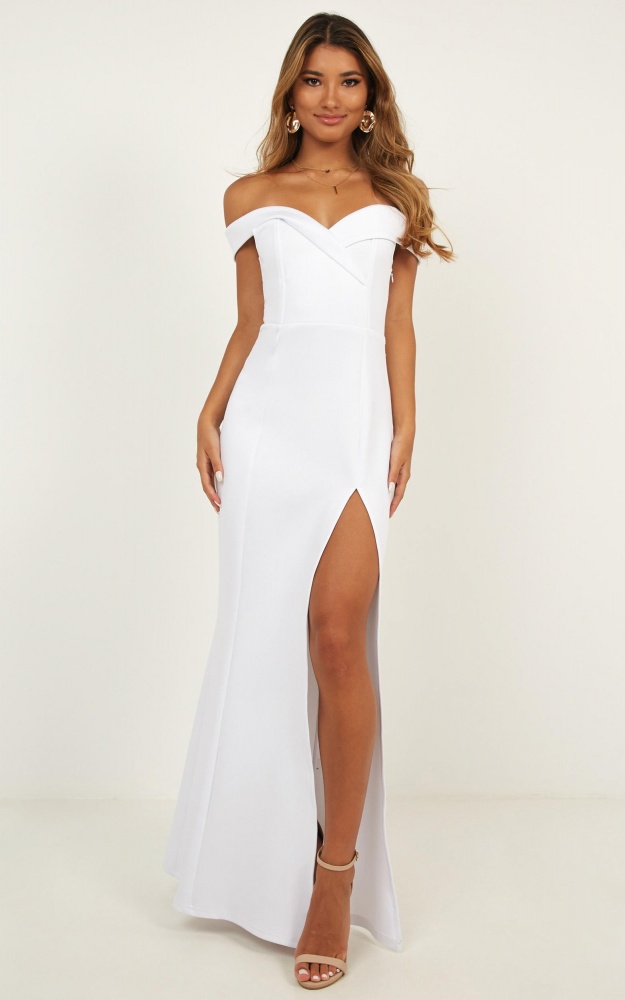 42nd Annual Grammy Awards after-party, 2000
Sequins, beads and chiffon?! There's no such thing as too many textures.
MTV Video Music Awards, 2000
Only Britney could make us think low-rise anything is a good idea.
The Today Show, 2000
The bold florals and the cowboy boots, no wonder we're obsessed! We'd happily wear this look to any 2020 festival.
SHOP THE LOOK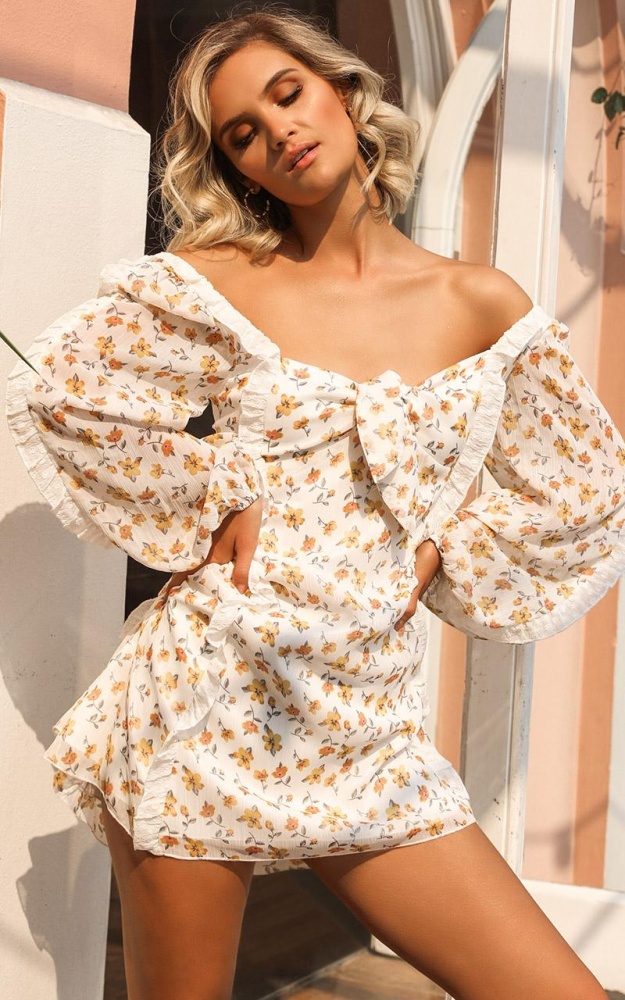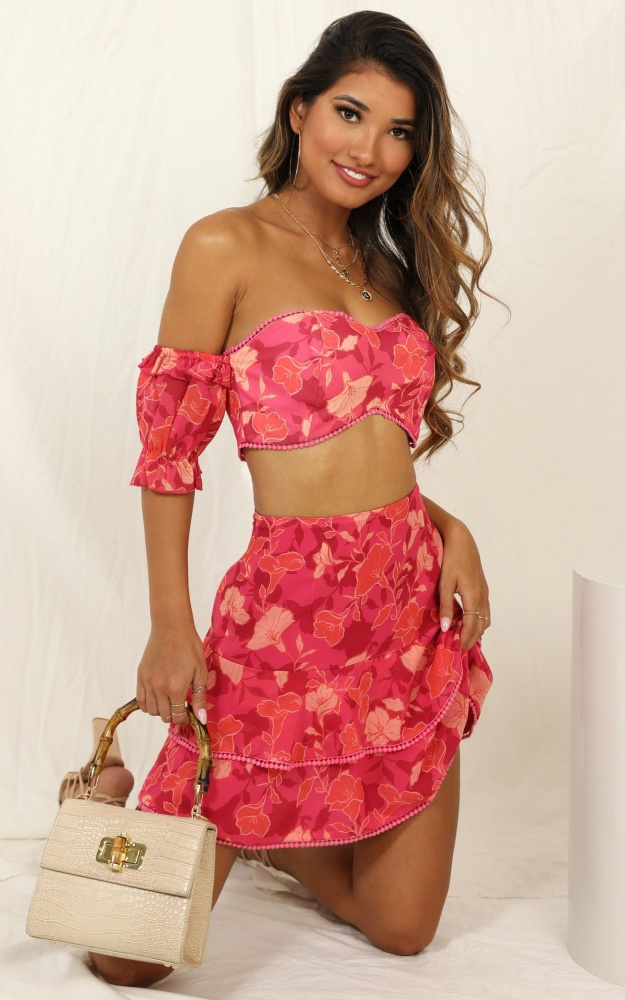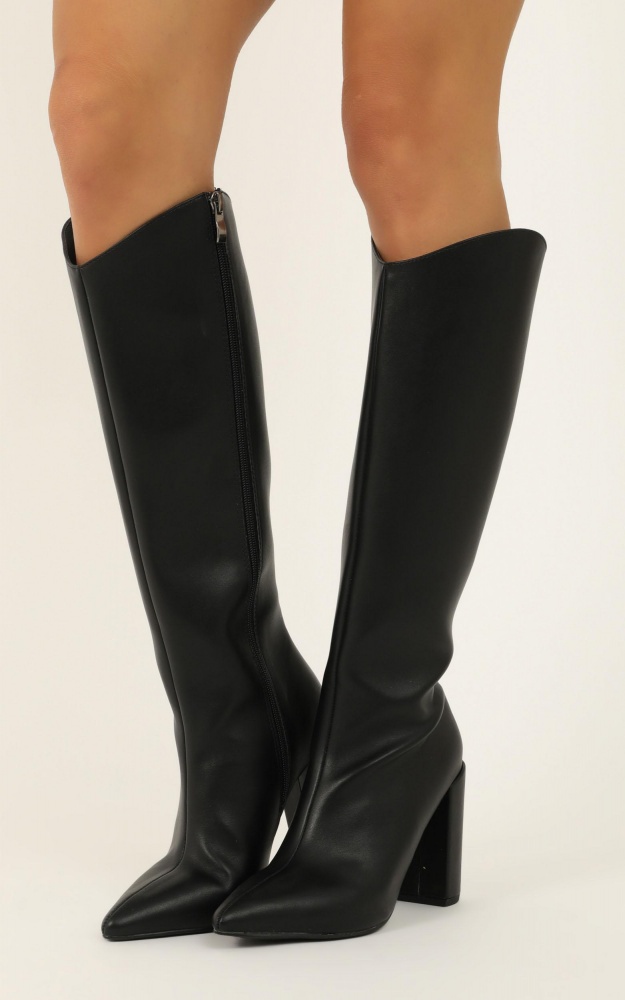 Teen Choice Awards, 2000
I honestly hope this award was for Britney's work in giving lilac the recognition it deserves.
American Music Awards, 2001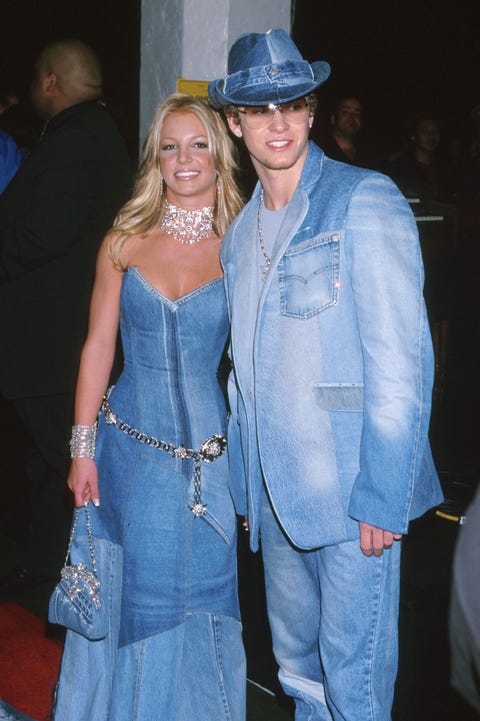 I mean can you have a list of Britney Spear's iconic fashion moments without including this banger? Britney and JT make a serious case for double denim here. It has to be one of the most recreated red carpet looks of all time.
MTV Video Music Awards, 2001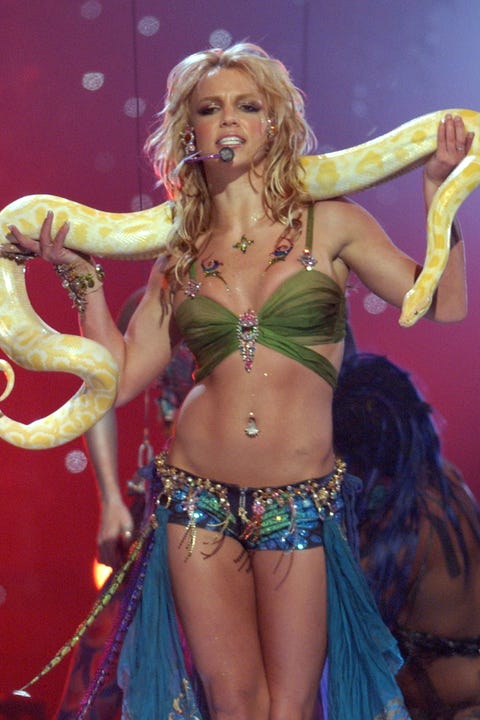 Excuse me, Tana Mongeau, Britney wants you to know she did it first.
London premiere of Crossroads, 2002
When in doubt, sequins are always a good idea.
SHOP THE LOOK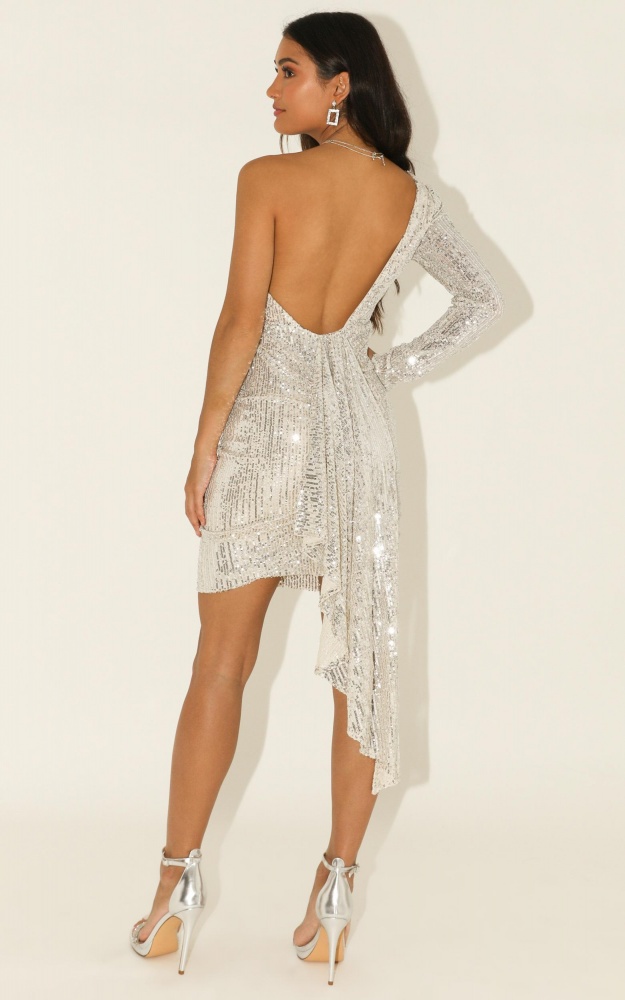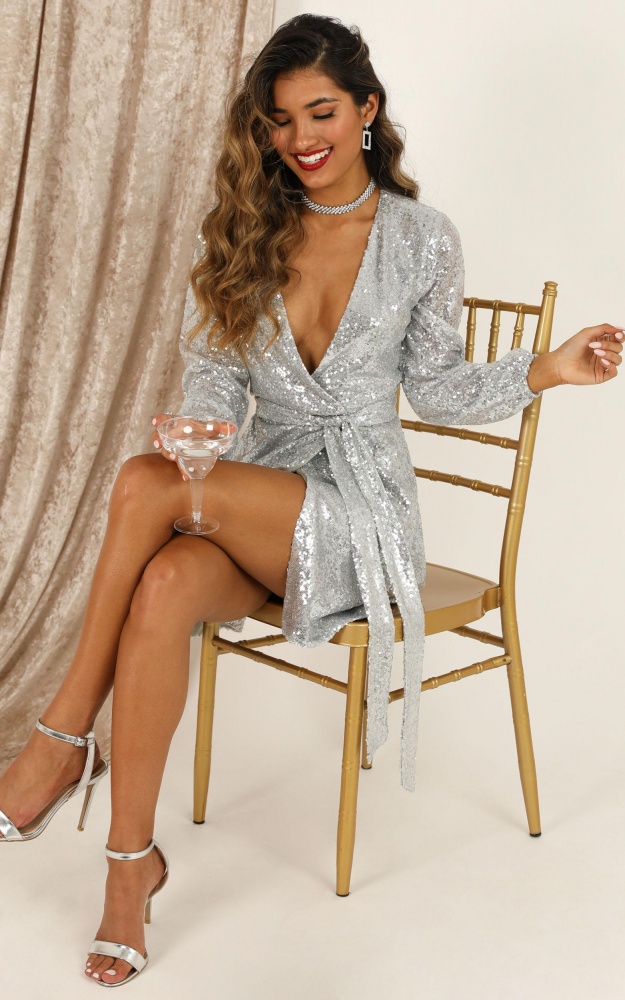 28th Annual American Music Awards, 2002
Little pink dresses, get around them, stat.
43rd Annual Grammy Awards, 2002
This is definitely one of Britney's more demure looks but she pulls it off just as well. The totally 2000s neckline is one of the things we miss so much about that era.
SHOP THE LOOK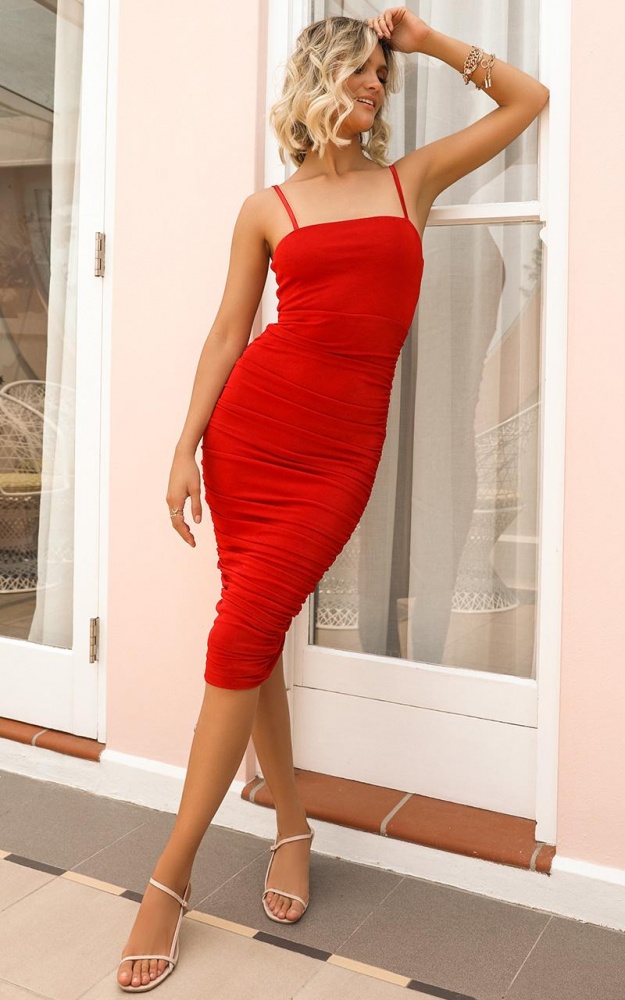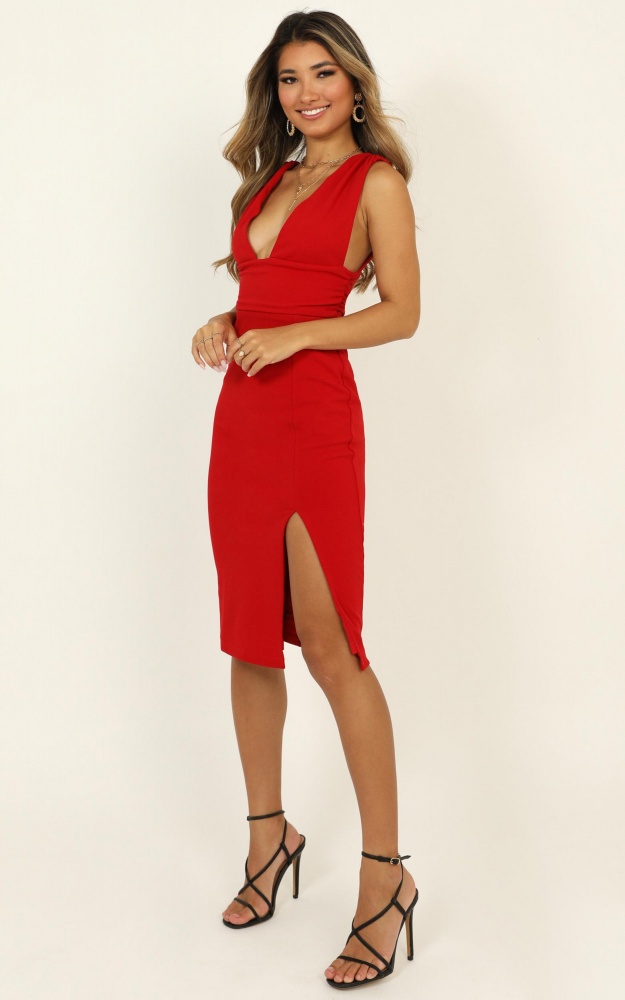 MTV Video Music Awards, 2003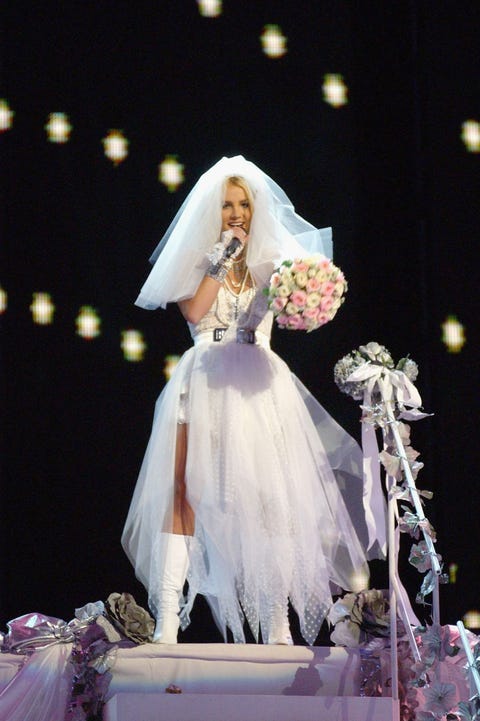 Britney's newly-single energy post her split with JT is something we all aspire too! Take note ladies, this is how you do breakups.
Oops! I Did It Again music video, 2004
There's a reason this look trends every year for Halloween. We all want to look as iconic as Britney, even if it's just for one day.
Billboard Music Awards, 2004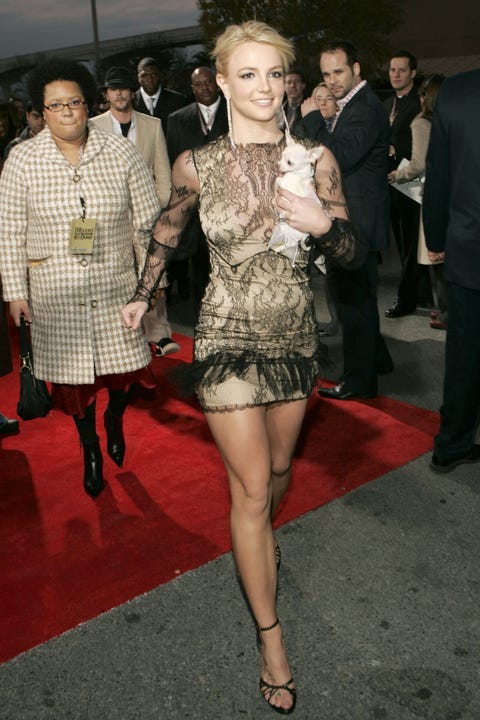 The naked dress has come so far since Britney stepped out on the red carpet in this look in 2004. However, it'd be remiss not to include the OG when thinking about looks we're all still recreating.
NRJ Music Awards, 2004
What did we say about sequins? When paired with Britney Spears, you really can't go wrong.
SHOP THE LOOK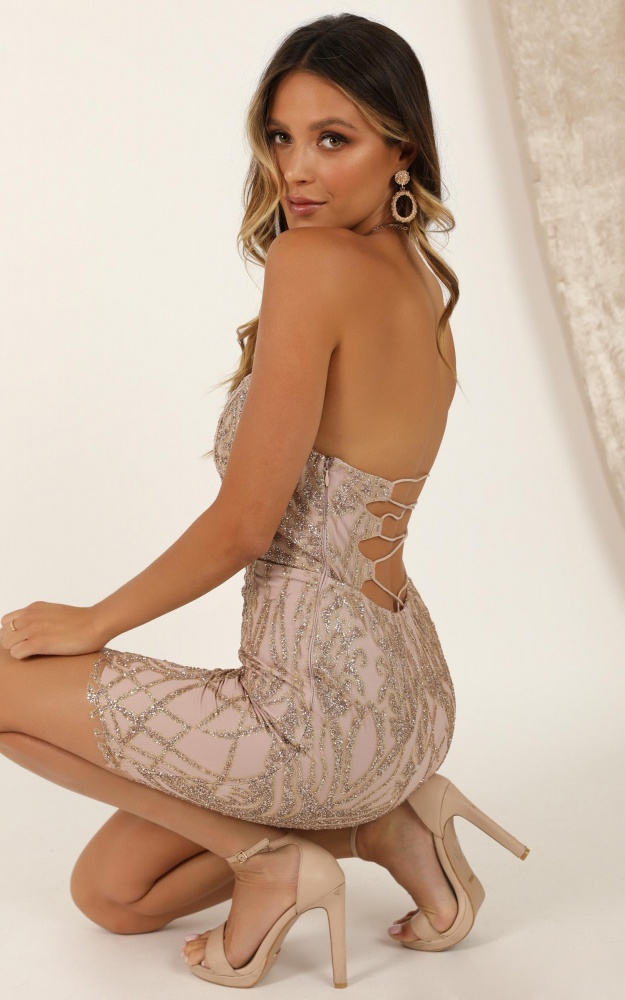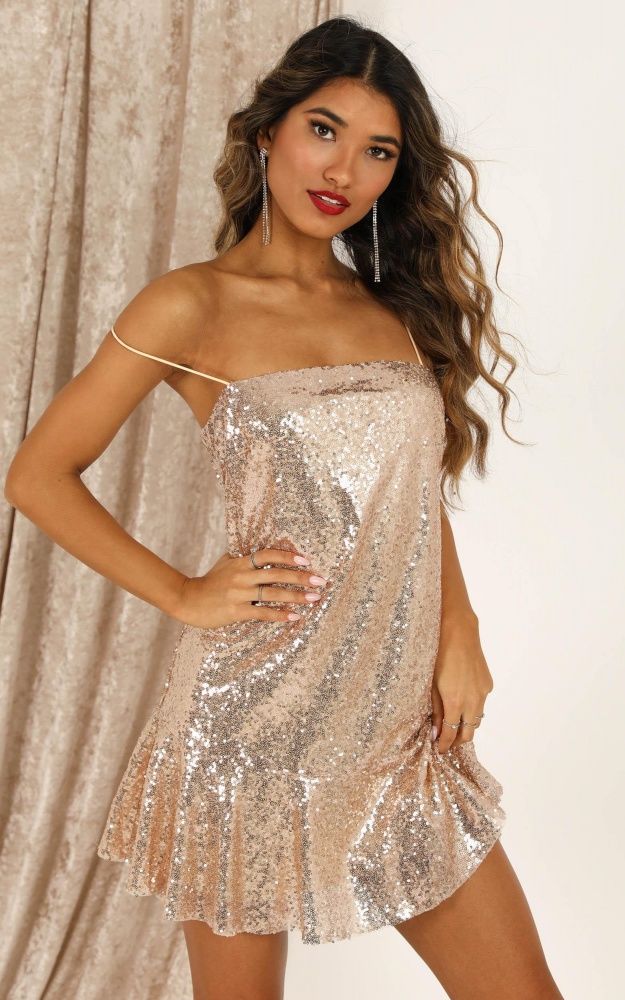 Backstage at fashion week, 2007
The balletic neckline, the sleek low bun, the fact she's standing in third position. Britney wants to remind you all she's a dancer at heart.
MTC Video Music Awards, 2008
One more time for those in the back, Britney rocks sequins like nobody else.
The Circus Starring Britney Spears tour, 2009
Sure, we're not recreating this look every day. However, you can't tell me this isn't one of the first things that come to mind when you think about Britney's best fashion choices.
Southern Style St Bernard Project event, 2011
We're living for this neon revival.
MTV Video Music Awards, 2015
I repeat, SEQUINS.
MTV Video Music Awards, 2016
Finally, a very Britney-esque ode to the LBD, courtesy of the most daring neckline we've ever seen.
Britney forever by Emma Roffey