Thank U, Next: The Music Video Of The Year?
06 December 2018
Ariana Grande's long-awaited film clip for thank u, next dropped last week and we are beyond thrilled about it. The clip was teased as a Mean Girls parody but we're here to tell you it delivered much MUCH  more.
There was, in fact, some banging Mean Girls references but there were also some more subtle references that you may or may not have noticed. As well as Mean Girls, the clip parodies cult films Bring it On, 13 going on 30, and Legally Blonde.
It also has some fabulous cameos from celebs we love/d… also some we'd never heard of but they're Ariana's friend so we get it (kinda).  Here's our breakdown of the clip of the year because we're still not over it and have been watching it on repeat. 
THANK U, NEXT – PART 1
The clip opens straight up with a Mean Girls parody; "One time I heard Ariana was pregnant, so I got pregnant".  This is said by actual pregnant Youtuber, 

Colleen Ballinger/

Miranda Sings. Well played.

Then, the clip slides in Jonathan Bennet aka Aaron Samuels playing his original Mean Girls character but with some more serious eyebrows… I'm not sure why the eyebrows were necessary but it's a lol anyway. It's just goofy.

Stefanie Drummond – who played Bethany Bird in Mean Girls – says "I found a guy to propose to me, then broke off the engagement" which is an obvious ode to Ariana's short-lived engagement to her ex, Pete Davidson. Feisty.
Then, there's a scene where the actor says ( still in the Mean Girls parody) "Ariana says honest to god, knock me out – so I got someone to knock me out" which is a bit weird tbh. But for background,  Ariana actually got a tattoo saying 'H2GKMO' with ex Pete Davidson. Apparently, she says it so much the duo got the abbreviated version tattooed on their hands to reflect it.  Still, a weird thing to have tattooed on you in my opinion but I'm not mega famous or mega rich so…The woman saying this (in case you're not down with the Youtube cool kids) is actually Gabi DeMartino – a singer/youtube who did a 'live like Ariana Grande' vlog earlier in the year. This was possibly one of the most boring Youtube videos I've ever watched in my life but it got her loads of views and a cameo on this film clip so who's the real dunce here?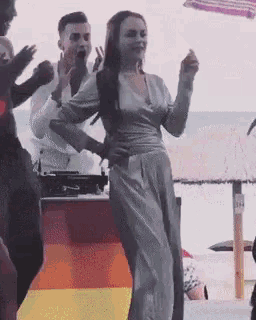 We were all wondering if Lindsay Lohan would make an appearance to play Cady annnnnnnd…… she didn't! Unfortunately, Lindsay was too busy doing 'The Lilo' and running a reputable beach bar in Mykonos to take part in thank u, next so her character was played by Dynasty actor and longtime Ari-friend, Elizabeth Gillies. This was actually really well done and probably a lot easier to get the insurance for than if Lilo herself were to be on set. Loving the friend cameos!
There's a lot of cameos from Ariana's castmates from Victorious which is v cute to see. In case you forgot, Victorious was a teen sitcom that Ariana starred in and was filmed way back when Ariana looked like this…
This is only the first 40 seconds people!
THANK U, NEXT – PART 2
We move into some classic Burn Book scenes where each of Ariana's ex-lovers has a little love page. I'm not sure that's what the Burn Book was intended for but it's a positive spin I guess…?
Ricky = Great dancer, good times man, friends forever.

Sean = So cute, so sweet (something illegible that I'm sure gals with better eyes than mine got).

Pete = I love you

always

(UNDERLINED!) and what looks like the back end of the word 'huuuuuge'. Anyone who has followed Ari knows that she tweeted once about Pete's allegedly huge schlong so I'm going to say it's to do with that. Cheeky lil' devil. There's also scrawled something that looks like 'sry I dipped'. Which goes with the suspected narrative that she's the one who walked on their relationship. 
There's also the classic Mean Girls girl-gang hallway scene where Ariana is dressed as Regina George and wearing a shirt saying 'a little bit needy/seedy or speedy. I can't tell because the front letter is chopped off. She probs should have consulted with T – Swift for some better tips on how to parody subtly, but also clearly.
My personal fave of the Mean Girls scene is the jingle bell rock dance (you know the one).  It looks like Ari and friends are genuinely having a blast which is what we love to see. Except for one girl on the end who is definitely half-assing this once in a lifetime dance opportunity.
Extend your arms sweety!
Then, the momen t of the film, Kris Jenner appears as Regina George's mum and yet is weirdly also playing herself as the stage mum we didn't know we needed.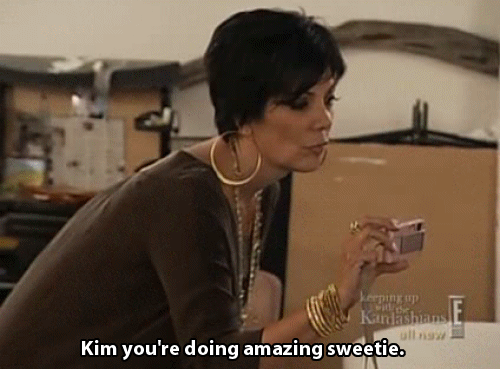 KJ is like a fine wine and only gets better with age – this did not disappoint. She looks so happy (and daggy) playing the part and I can't stop lol'ing.
It's also funny because well, it's kind of real life which is obvs why she was cast for this in the first place.
If you look closely you can also see Ariana's mum loling along in the background.
THANK U, NEXT- PART 3
Onto Bring it On.
The classic tooth brushing scene makes an appearance which we love! Ari shows a tape addressed to herself, from herself and gals everywhere should aspire to this level of self-love.
Even the cheerleading scenes ripped from Bring it On have shirts emblazoned with 'TUN' (thank u, next in case you missed that) which is just another little cute node to Ariana's love thyself motion.
The 13 going on thirty scene was very sweet, and I may be reading too much into this but go with me, the clip heads into this scene as Ariana sings about marriage in her lyrics and how she wants to do it right – in the future. Is this the recognition we were all looking for that she admits she was rushing the whole Pete Davidson engagement just a lil' bit? IS IT? I'm taking the engagement scene + 13 going on 30 + the lyrics combo as a hint she doesn't want to hurry her life away like Jennifer Garner in that tragic, tragic film.
It WAS tragic. No hate plz.
Also note that in the dollhouse, Ariana's face is pinned to the dolls inside for a full and creepy effect.
THANK U, NEXT – PART 4
We move into the Legally Blonde saga (my personal fave) in which Ari rocks up to Harvard just like Elle Woods did in a Porsche. The number plate reads '7 rings' which you may have missed at first glance but this is an ode to her gal pals AND an alleged upcoming single of the same title. Apparently, the story goes, Ari had a shit day in NYC so her gals took her to Tiffany's after a few glasses of bubbles. There, she drunkenly bought each of her bffs a ring – 7 rings!
I'm lucky if my bff buys me an uber home after a day drinking expedition. Can't write a song about that…😒
There's also the classic nail salon scene from Legally Blonde which I think is pretty important. They talk a lot about dating a guy with big teeth. Big teeth = big dick I'm sure of it. Is this another Pete Davidson ode?  Speculation, I know.
Jennifer Coolidge plays her original Legally Blonde part of Paulette (the nail salon owner) for this and it's classic as always.
FYI – I read once that Jennifer was allergic to nail and eyelash glue and for some reason, that's all I can ever think of when I see her in that 'ditsy-blonde' role (every movie she's ever been in). Gosh her eyes MUST be itchy.
Now you too have that burden.
Ari nails the bend and snap in this scene too which is another great girl power 'I love me' move.
Then there's a recap of Ariana from each movie in a celebratory dance showing she's happy she's found herself and isn't a damsel in distress anymore (like each of the movies) because she loves herself the most. Yaaaaaas!
Lastly, Kris Jenner closes this clip with her one-liner of 'thank u, next bitch' and you have to have watched this to appreciate it.
That's pretty much all I pulled out of this kickass, feelgood clip.
Now go make yourself a damn mixtape.
*Note: There were more celeb cameos than mentioned but I have a real job to do people!
Appril Murphy.