We Breakdown Ariana Grande's Epic Coachella Set
16 April 2019
A 26 song setlist, an NSYNC reunion, guest performances by Diddy and Nicki Minaj and a tribute to Mac Miller. Sounds like a heck of a Coachella, right? Wrong because that was all in a single set by the Princess of Pop herself, Ariana Grande.
Grande's Coachella set is already being heralded by critics as one of the best performances the festival has seen in recent years. Obviously, they're excluding Beyonce's 2018 performance right? Because Beyonce's gig aside, Ariana's set was next level.
What made it so iconic? We're glad you asked, read on.
The Guest List
As far as my inner 90s child is concerned, Ariana could walk on water if she wanted to because she damn-well got NSYNC back together. After the third song, the starlet said, announced "I've been practising my whole life for this moment! I could die now." This moment was indeed when NSYNC stepped on stage.
THE CHOREO. 💯@ArianaGrande x @NSYNC #coachella pic.twitter.com/bx0QSYPAwk

— billboard (@billboard) April 15, 2019
Together, they got down to Tearin' Up My Heart and mashup of Break Up With Your Girlfriend, I'm Bored with NSYNC's It Makes Me Ill. Justin Timberlake was noticeably absent from the reunion but Ari filled his shoes perfect. To be fair, Timberlake has just wrapped up his solo tour so we'll let it slide this time.
Nicki Minaj was next to join Grande for a duet. The pair sang Side to Side Bang Bang and while they reportedly experienced technical difficulties, the crowd didn't seem to mind.
Watch @NICKIMINAJ and @ArianaGrande performing "side to side" together at #Coachella 😍

— Music News Facts (@musicnews_facts) April 15, 2019
Lastly, in a tribute to Biggie, Tupac and Mac Miller, Ariana bought Diddy and Mase onto the stage for a rendition of Mo Money Mo Problems. "My sister has been through a lot, but she's still standing!" Diddy told the crowd.
#ARICHELLA: @ArianaGrande brings out @Diddy and Mase at #Coachella to perform 'Mo Money Mo Problems' as a tribute to Biggie, 2 Pac, and Mac Miller ❤️ pic.twitter.com/EIqnT878hx

— Entertainment Tonight (@etnow) April 15, 2019
The Wardrobe
We've already spoken about outfit changes being the theme of Coachella Day 3 and Ariana's set was no exception. Our girl wore five different looks during her set, kicking it all off in this orange number.
For her joint performances with NSYNC and Nicki Minaj, Ariana wore a Sailor Moon-esque get up. Nicki's outfit was clearly made to match but it seems her stylist forgot about her left leg. Check out the pics to see what I mean.
Next, Ari switched her purple outfit out for her performance with Diddy. The star opted for a white belted crop top and mini skirt with knee-high boots.
For a final outfit change, Ariana donned her most signature look. A sparkly silver crop and mini skirt.
The Performance
By all person accounts, Ariana's delivery of her Coachella set was next level. Just look at how much fun Justin Bieber, Billie Eilish and James Corden had dancing:
billie, @justinbieber and @JKCorden dancing together during @ArianaGrande's #Coachella set pic.twitter.com/OQJHBsVUY0

— billie eilish updates (@eilishupdates2) April 15, 2019
There was also plenty of hype around her own dance moves. Fans of the Thank U, Next video clip will recognise this combo from the infamous Mean Girls scene.
coachella, thank u next 💕💕💕💕💕 #ARICHELLA @ArianaGrande pic.twitter.com/MNK303hQh2

— emiliano 🌙 (@oeduemiliano) April 15, 2019
The Set List
Ari performed a combination of songs mainly from her last two albums, Sweetener and Thank U, Next. Considering Thank U, Next was released after she was announced as a headliner so this setlist is very calculated.
Raindrops (An Angel Cried)
God Is a Woman
Bad Idea
Break Up With Your Girlfriend, I'm Bored / It Makes Me Ill – with NSYNC
Tearin' Up My Heart – with NSYNC
R.E.M. (Wake Up)
Be Alright
Sweetener
Side to Side – with Nicki Minaj
Bang Bang – with Nicki Minaj
7 Rings
Love Me Harder
Breathin'
Needy
Right There
Break Your Heart Right Back
Mo Money Mo Problems – with Diddy and Mase
NASA
Everytime
Goodnight n Go
The Light is Coming
Into You
Dangerous Woman
Break Free
No Tears Left to Cry
Thank U, Next
TLDR
Ari's performance was a giant, star-studded thank u next to everyone who complained about Coachella selling out when her set was announced. We're here for it.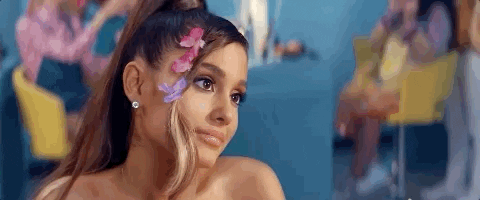 #Arichella hype by Emma Roffey