2018 MET GALA: All The Red Carpet Looks
08 May 2018
Hey Amanda, the costume designer for The Princess Bride called, she knows you thieved this from her memorabilia collection. Give it back pls.
When you're a Victoria's Secret angel, you can pretty much wear whatever you like and always look good. Taylor Hill still decided to try and my god, she looks outstanding. Structured and flattering,  her Diane von Furstenberg gown looks fab with her pulled-back hair and smokey eye.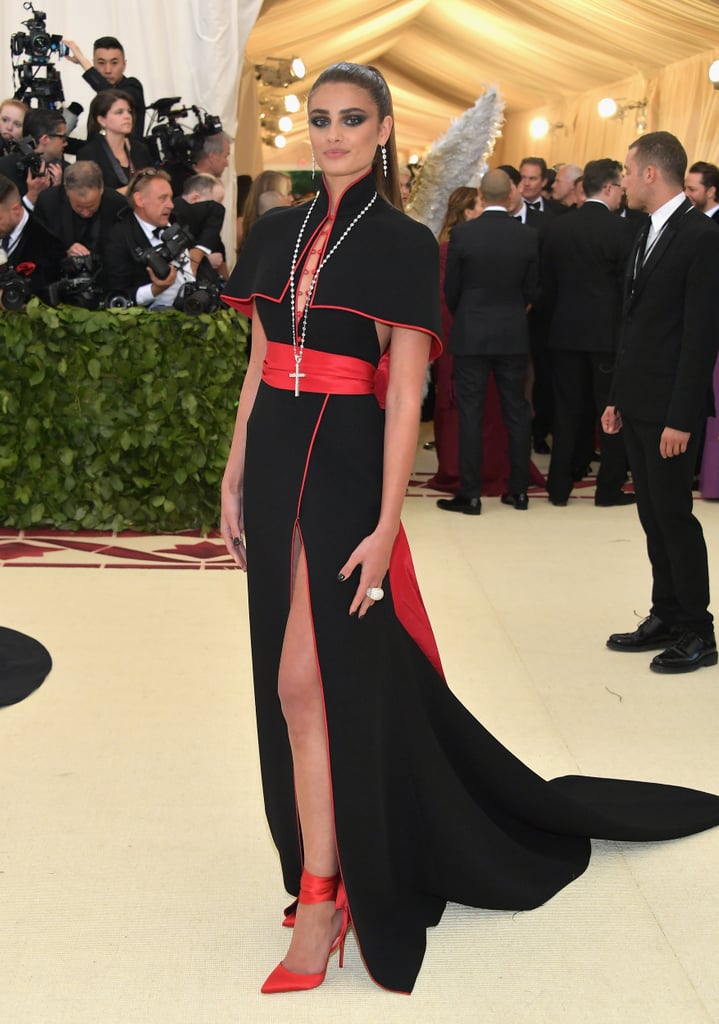 Madonna potentially took the theme a bit too seriously and looks terrifying. American Horror Story casting team need not look further for next seasons lead.
Kylie should have stayed at home with Stormi. She clearly still has baby brain. A strapless scuba suit and pointlessly small sunnies are not #farshun.
Her sister, Kim Kardashian (lol in case you didn't know), was the opposite, completely nailing her look with a knockout, figure-hugging dress and long, glossy locks. Oh and we also need to acknowledge her eye makeup – Mario you did good, real good.
Kendall ultimately wins out of the 3 sisters in attendance though. Her long ponytail and all-white two-piece looks insane. The only issue with her outfit is that when she asked Kris to hem her pants her mum was like 'lol, no' so she will now spend the night triping over herslef a'la JLaw.
If it wasn't for the theme, Sasha Lane would have had her hair and makeup perfectly done and then realised she couldn't go as she left her gown at the dry cleaners. LUCKILY the theme allowed creativity so she just chucked on some heels and went in her ruffled dressing robe.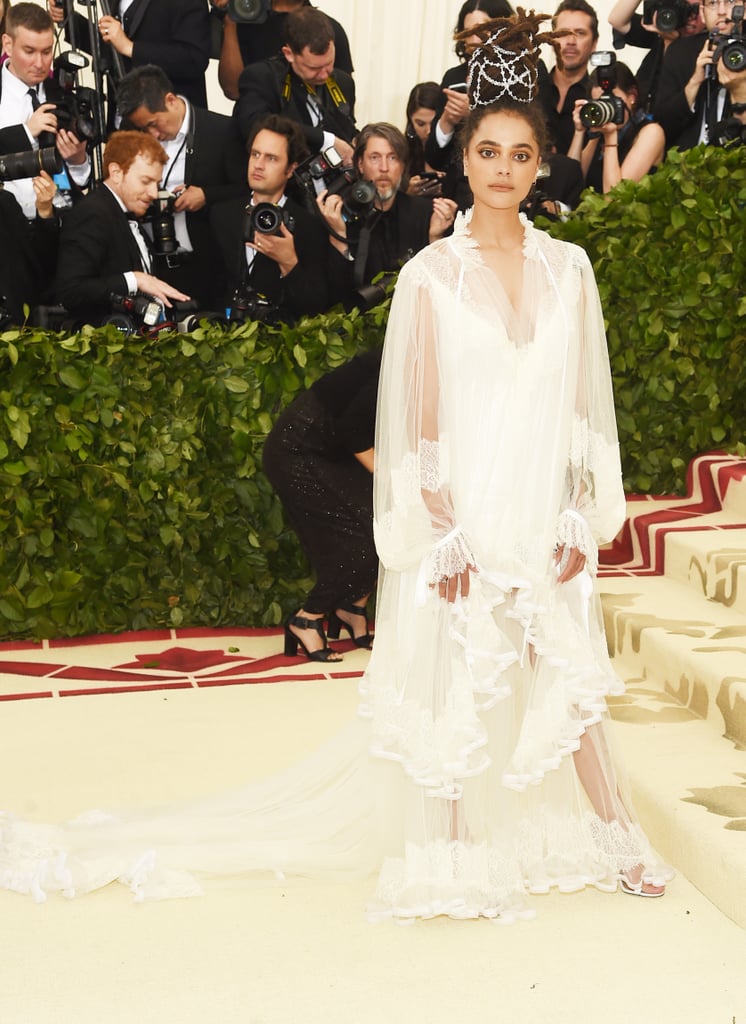 Lily Collins' cuts a striking figure in her monochrome, structured frock. It's very weird but works on her slender frame. I just wish she'd left that ridiculous hat at home, the dress solo would have been only mildly odd. Very creative though!
Offset, Quavo, and Takeoff of Migos all look INSANE in their Versace threads.
Um… I think someone forgot to tell Brooke that it was the MET GALA, not the Oscars….Oh dear.
Cindy Crawford + form-fitting red dress = 🔥🔥🔥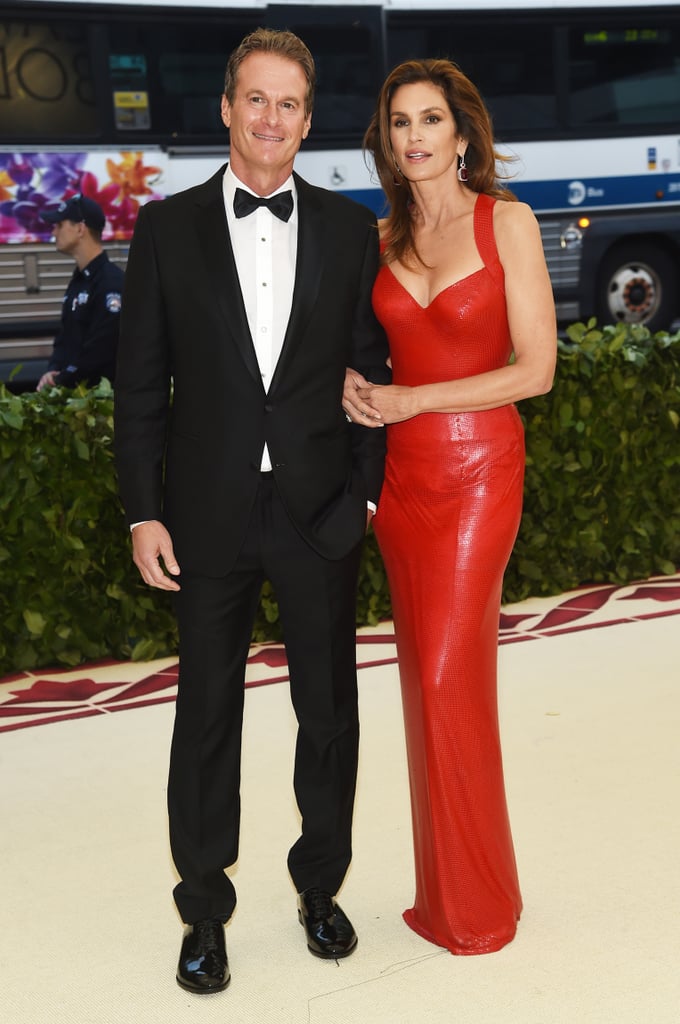 Donatella could give Madonna some stiff competition in the 'older lasses with cut AF arms' competition (not that it exists).  The esteemed designer paired an embellished mini dress with a giant-ass skirt, cinched in with a chunky belt. I think she looks sick, but I wish she'd opted for a less OTT pair of boots, they're a bit much.
Anna Wintour looks stunning in Chanel (despite that ugly ass necklace), while her daughter, Bee, is a bloody vision.
Jarad Leto and his posse are a great example of not half-assing a theme. I'm so not into shitty half attempts that just look stupid. This is extra AF and amazing. 👏👏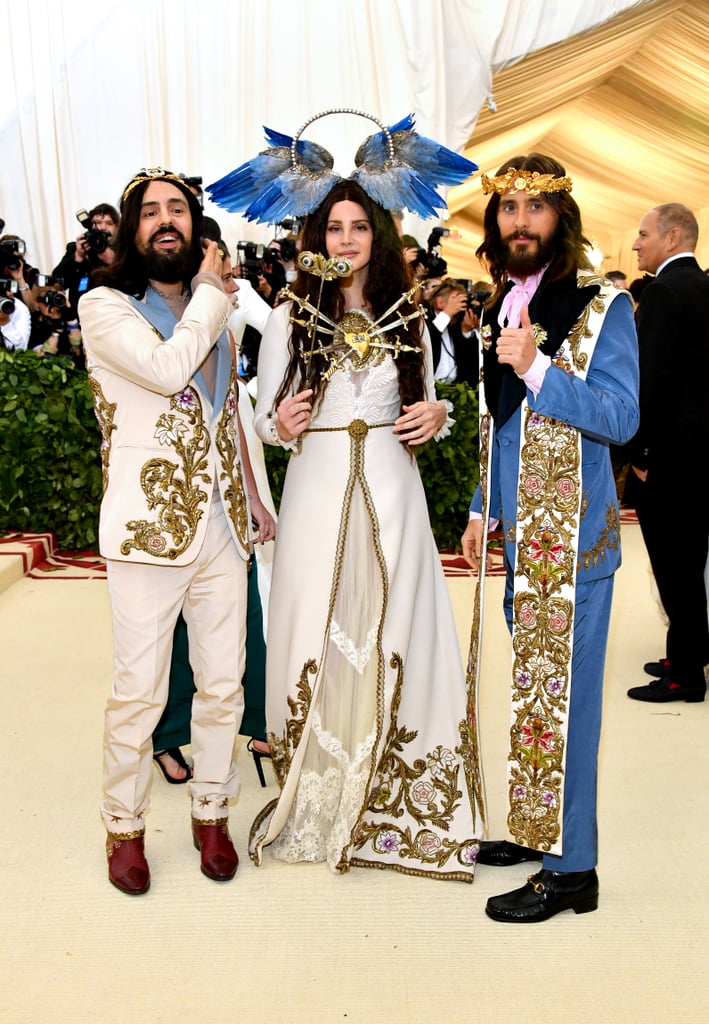 I can't deal with the fabric of Jasmine Sanders' frock, it looks like the fake plastic dresses your Bratz doll came in as a wee child. WHY IS IT SO SHINY.
I can deal with Joan's gold choice though. She looks fierce and fabulous.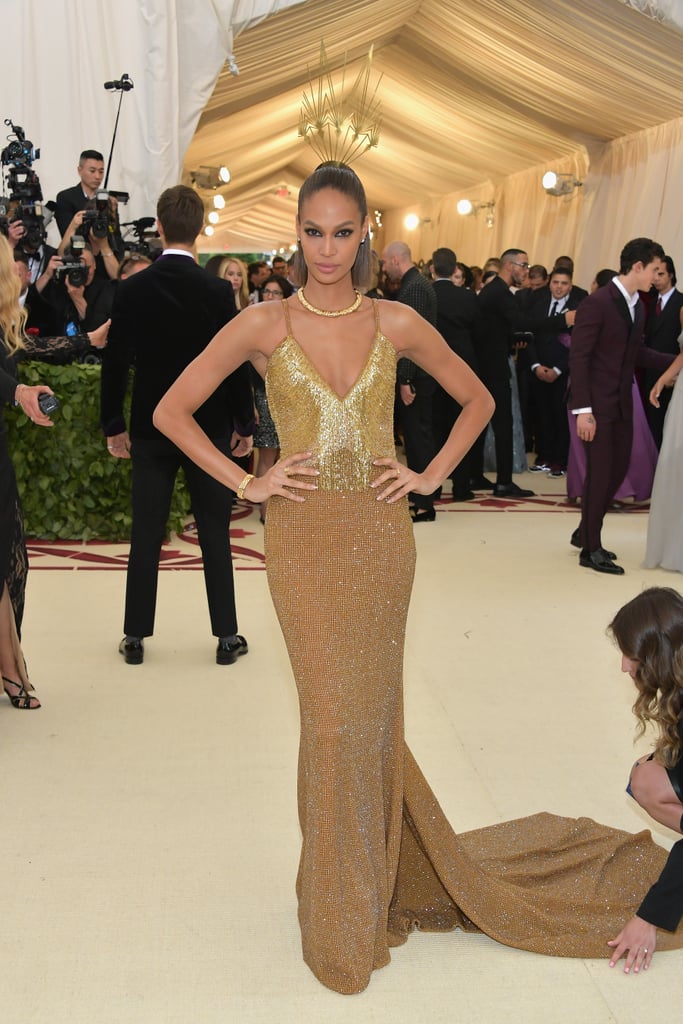 This feels almost safe for our fave Hollywood hipster. Rooney looks so chic in her structured gown. HOWEVER, there appears to be something going on at the back of her head and if it's a giant bow of some sort, I'm not ok with that.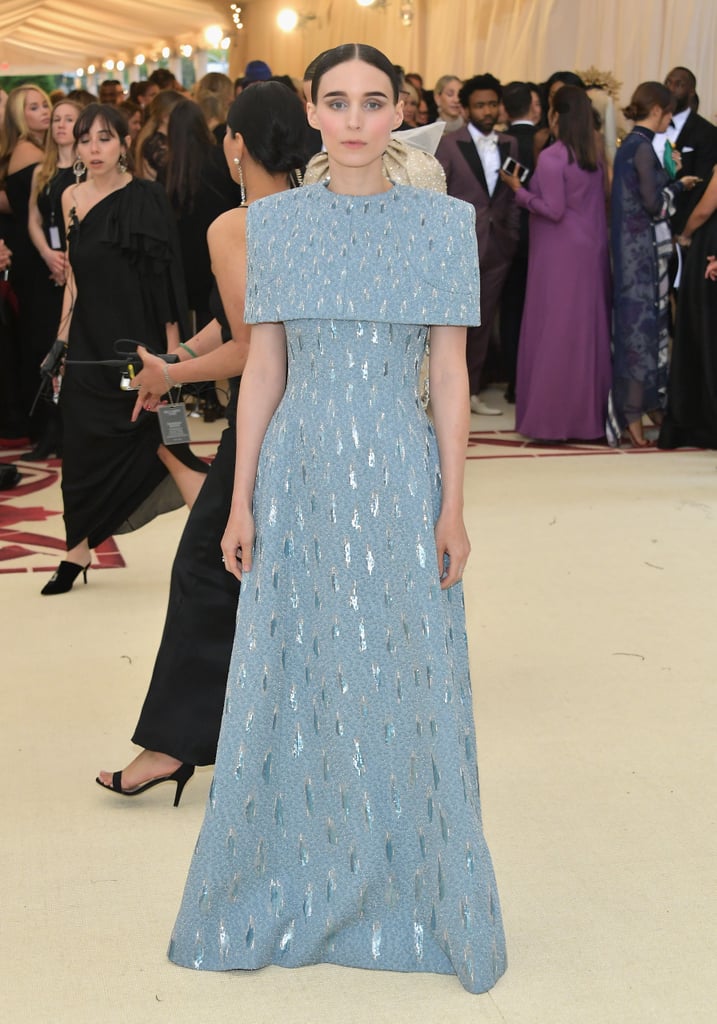 How cool and on-theme is Stella Maxwell's dress! I love that she's paired it with simple makeup and soft boho curls.
Apparently, this is Cara Delevingne… 🤷
Our much-loved Aussie has paired red with pink which seems like an odd choice, but her glowing skin is the focus regardless.
Hollywood star Anne Hathaway looks gorg in her backless red gown. While the hue is perfectly offset by her porcelain skin, the ruffles are working in a major way with her willowy figure.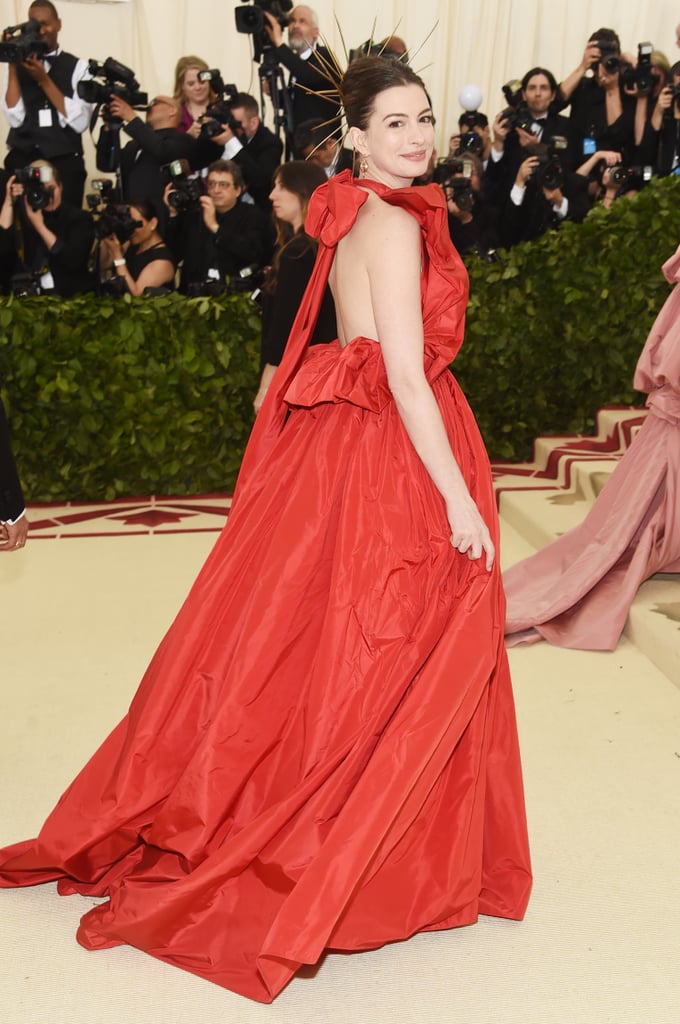 Nick Minaj did try at the whole red gown trend, but ultimately, the train of her gown looks like a crime scene. Not so chic.
The Gold Swan arrived and  I really want some wings this extra in my life. Katy's hair and makeup are on point and she was very theatrical on the red carpet #standard.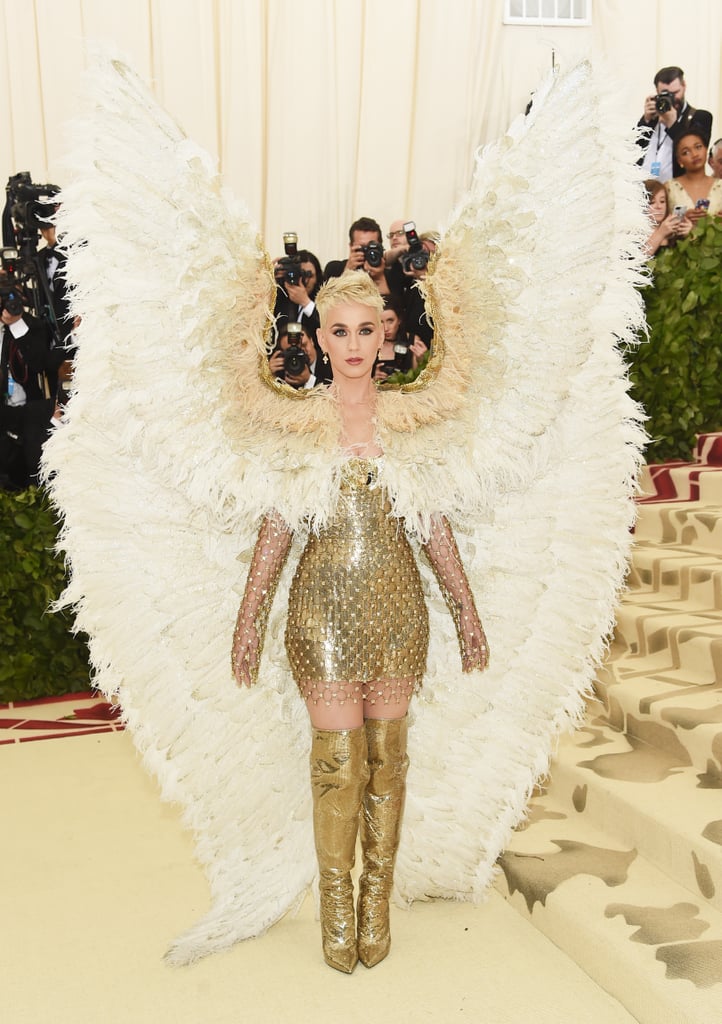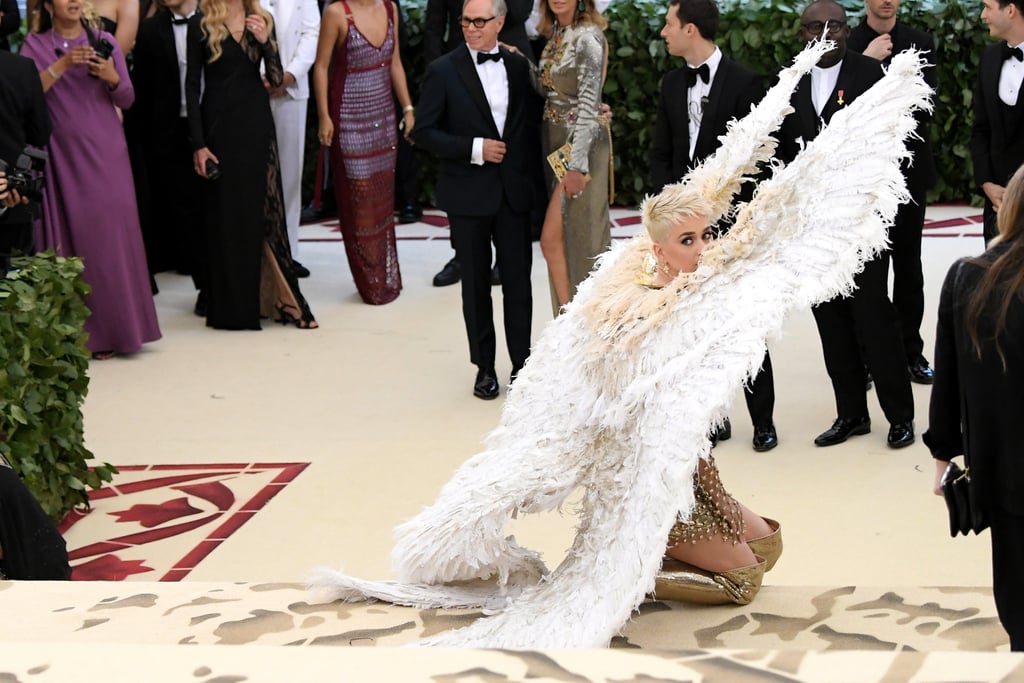 I'm so in love with Amber Heard's choice. Red always looks so bomb on blondes and her makeup looks flawless. I'm also feeling her headpiece, it kinda just goes with the whole look.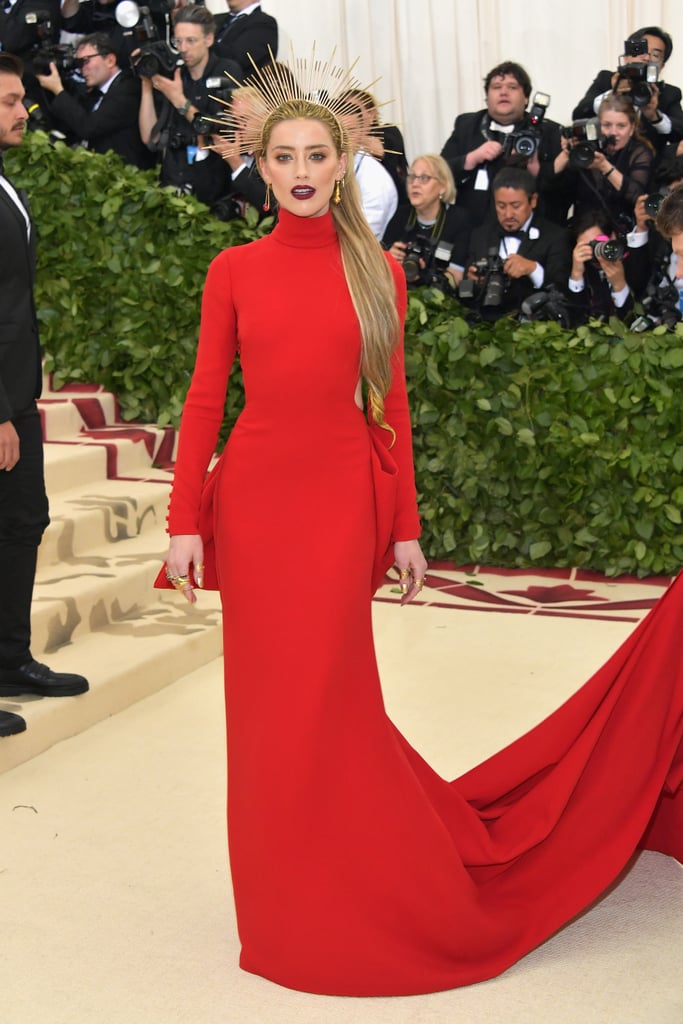 This is GORGEOUS, the perfect mix of classic and artsy.
The teeniest superstar looked cute AF in her custom printed gown. She's even kinda pulling off the big bow. Kinda.
Katharine McPhee clearly found the '5 for $20′ accessory rack at Lovisa, cos' bitch has bedazzled the fuck out of herself.
What a babe. Eiza Gonzalez is smokin' in Prabal Gurung.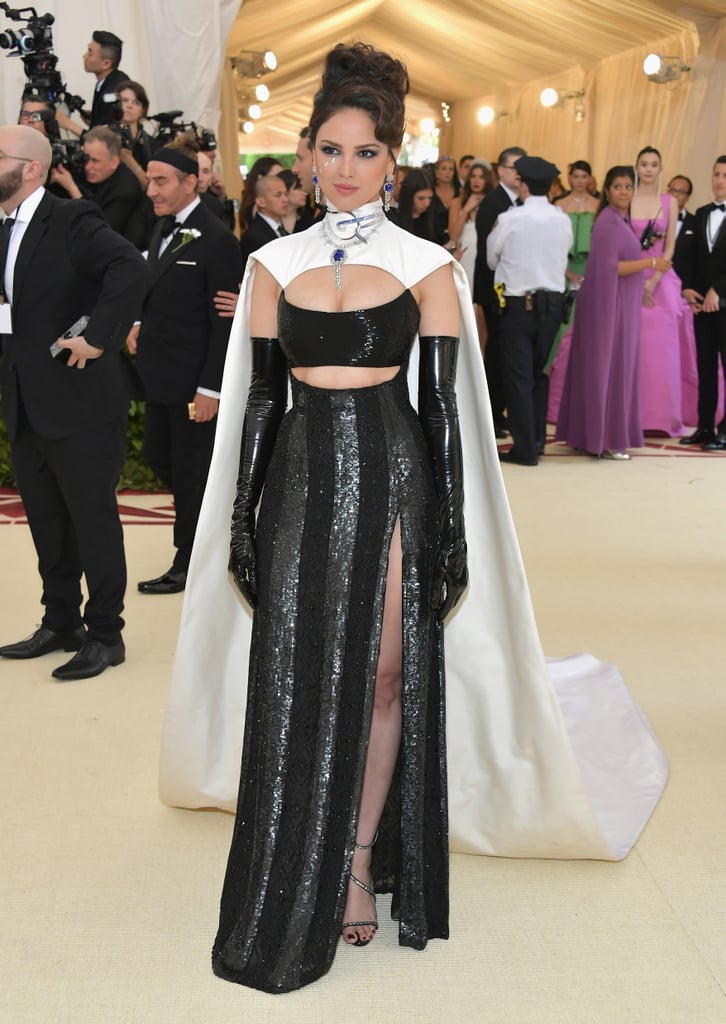 I'm putting in 2 pics of Amal's outfit so you can get a better look at the sheer volume that skirt has unleashed onto the red carpet. The print is very 'curtain-y' but Amal can do no wrong and makes it work.
News Update: THE TECHNICOLOUR DREAMCOAT MAKES ITS FIRST PUBLIC APPEARANCE SINCE THE 90S
Ruby Rose has suffered the same unfortunate haircut we all have at some stage. The haircut that requires a mum, a bowl, and some kitchen scissors. It's ok Ruby, it will grow out.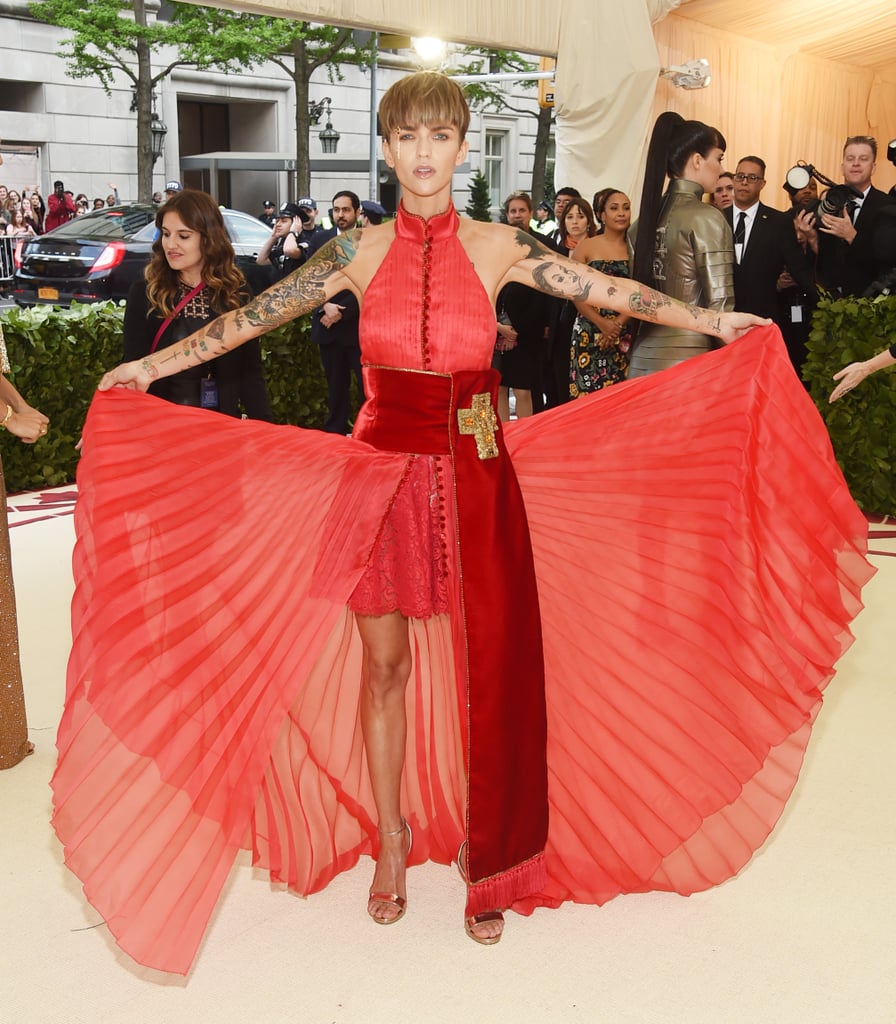 I love this, it's so chic and oddly simple compared to everyone else! I just wish I could wear thigh-high boots without a fat pocket appearing at the top.
Listen, I love that Olivia Munn is wearing H&M (#relatable), but.. just, no. She looks like a sea creature and none of it's working.
Shailene, we know Big Little Lies wouldn't have been chump change. Pls hire a stylist. She will help you.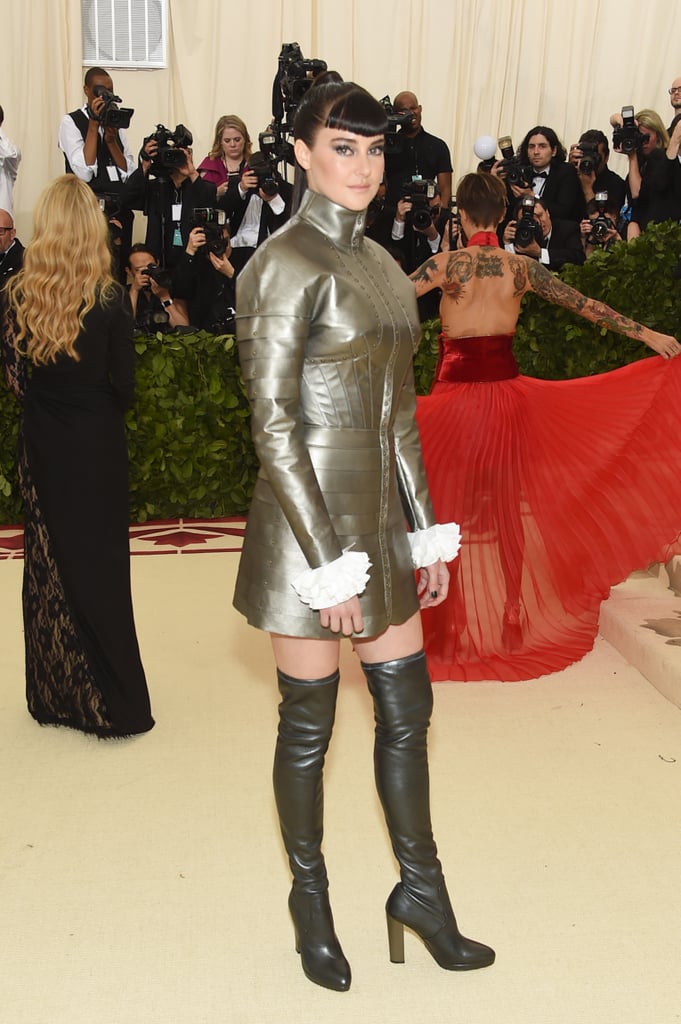 Only Mindy can arrive in an actual crown and not look like a dick. Just the rightful kween she is.
This skirt is on another level. Rita Ora is SLAYING in this Prada number, the plumes of soft fabric trailing behind her are stunning.
Did H&M decide to just sponsor a bunch of celebs this year? I'm into Lili's corset thingy, but the skirt and arms look like a space suit only Neil Armstrong would approve of. As for Cole? Your feet will smell without socks, sir.
OMG, Frances McDormand is officially my red carpet idol. She is 100% having the biggest laff and so much fun as she swans about on the red carpet in her hilariously OTT get up.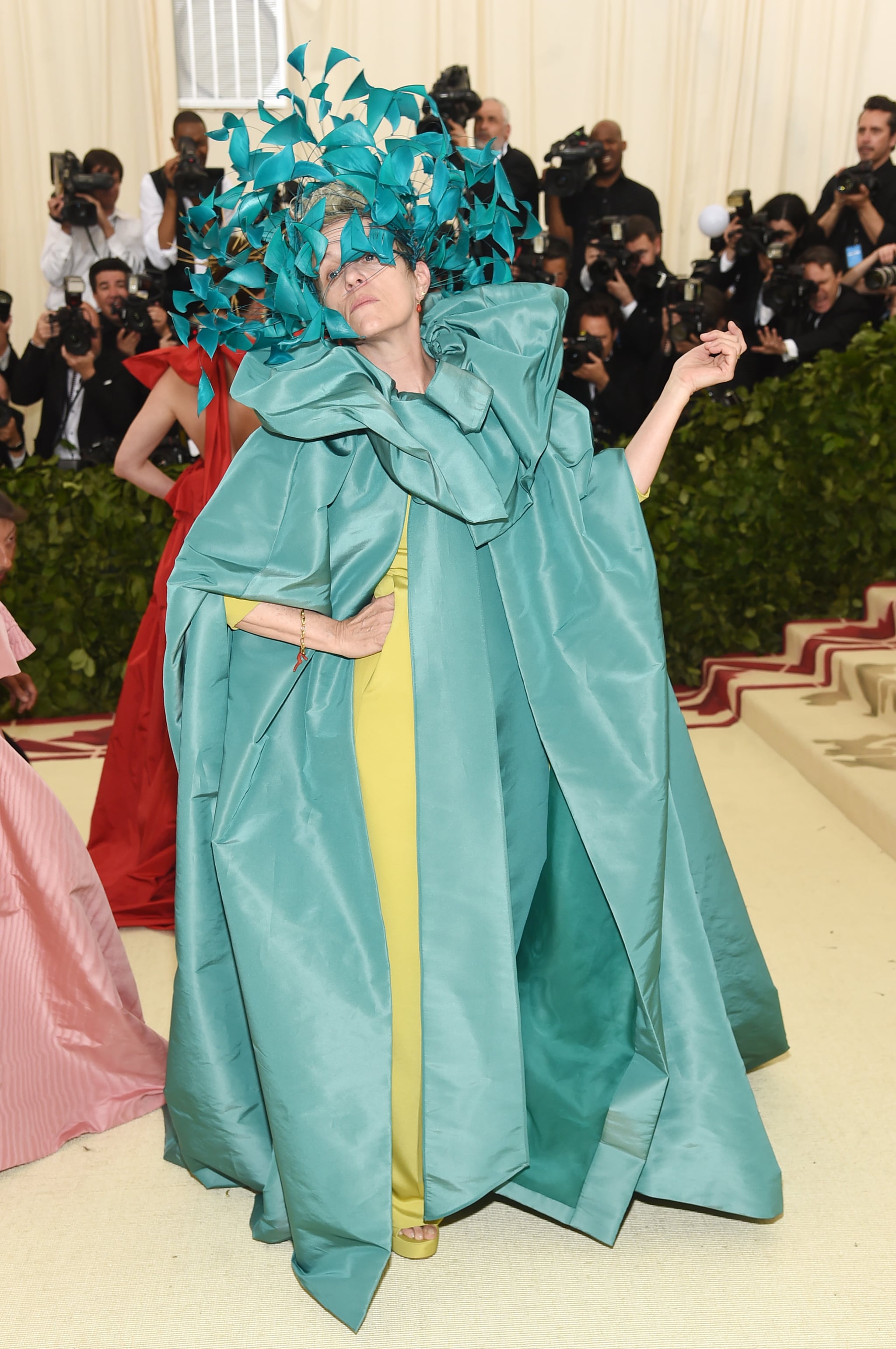 Cute but maybe a bit too cute for the theme?
Bella is a resplendent VISION. Seriously, this bitch continues to kill it in the style stakes. Like, I don't actually like her outfit if you look at it in sections (Dracula cape, dominatrix gloves and perspex bodice?) but as an outfit, she looks fucking phenom.
The older Hadid sister isn't as fierce and her hair kinda looks like a weird prom 'do'. Nevertheless, her mermaid dress is a piece of art by itself.
Alicia Vikander looked stunning in her demure outfit. The headband added a really nice touch of innocence, juxtaposing with the inner corner eyeliner she's rocking.
Lel. Sorry, but what the actual eff is that thing around her neck!? Hiding a few hickies.
Kate Moss earlier today…"Shit, I've got that Met thing on tonight, shit, fuck, I have nothing to wear!?" *puts regular outfit on and chucks on a few feathers for good measure* "yeah cool, this will do".
Anja was like "lol babe, same".
Then Amber was like "duh gals, we're supermodels, we don't need to try with pins like these".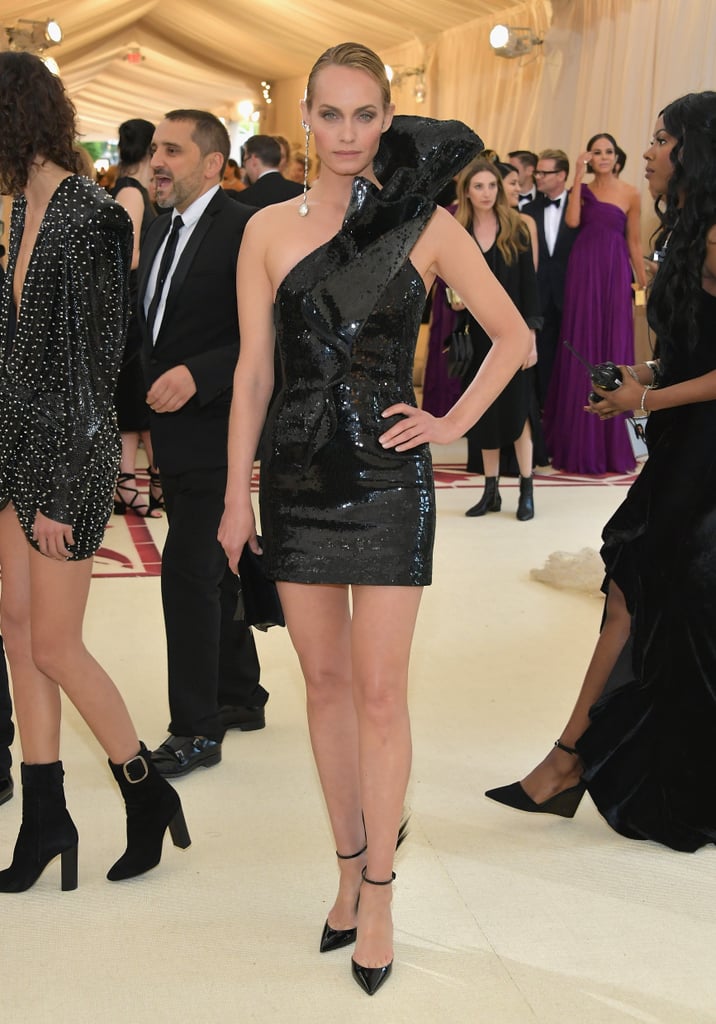 The YouTubers derrière is now a bigger source of squat inspo than Pippa's. I'm also loving the black lace.
I love Hailee Steinfeld in Prabal Gurung and her perfectly curated array of accessories. She's drop dead goregous with a hint of extra.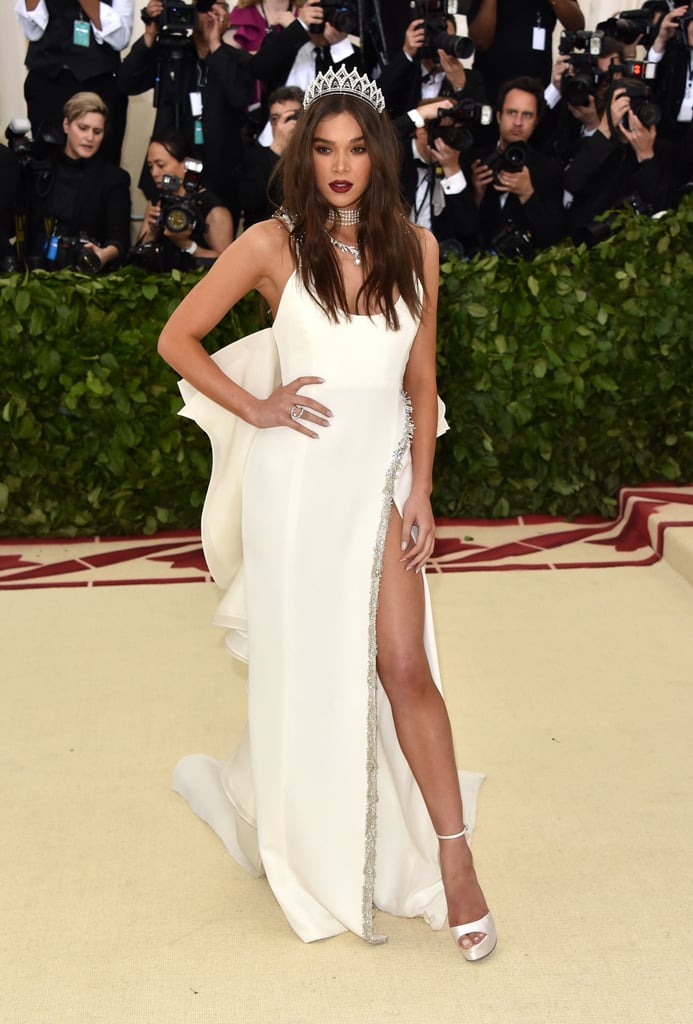 Hey Mary-Kate and Ashley Olsen, next time, try.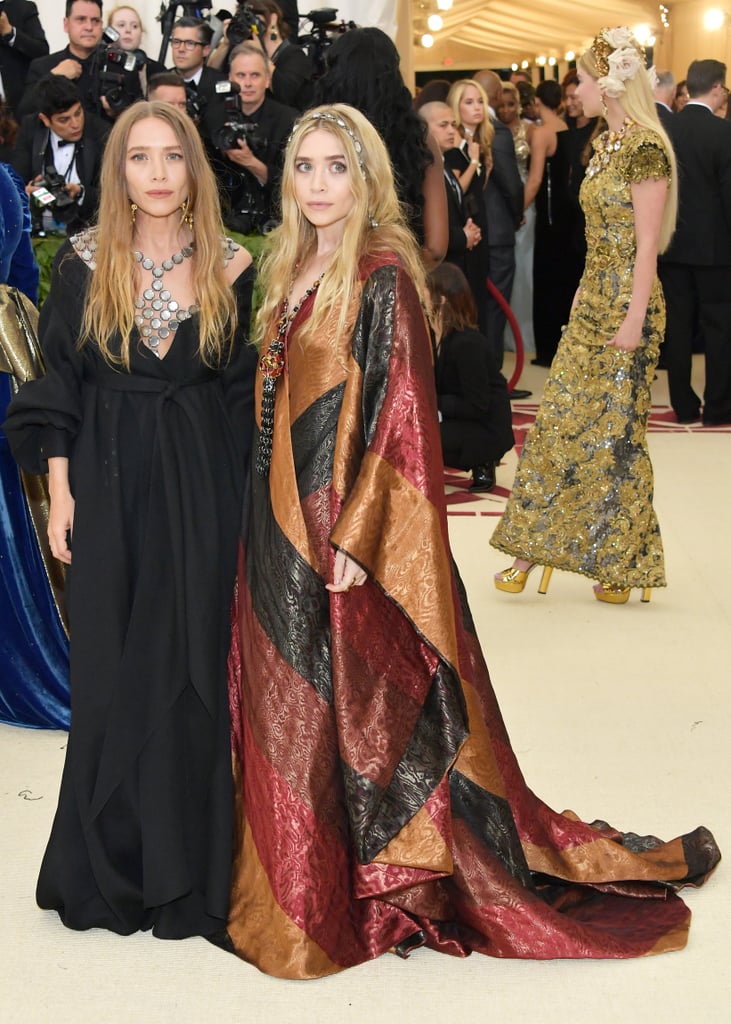 The tallest people in the room, Tom Brady and Gisele Bundchen make a fab couple (standard) in complimentary ensembles.
Zoe looks hot as hell in 2018's red carpet 'naked dress'. This chick is FIERCE, look at her go!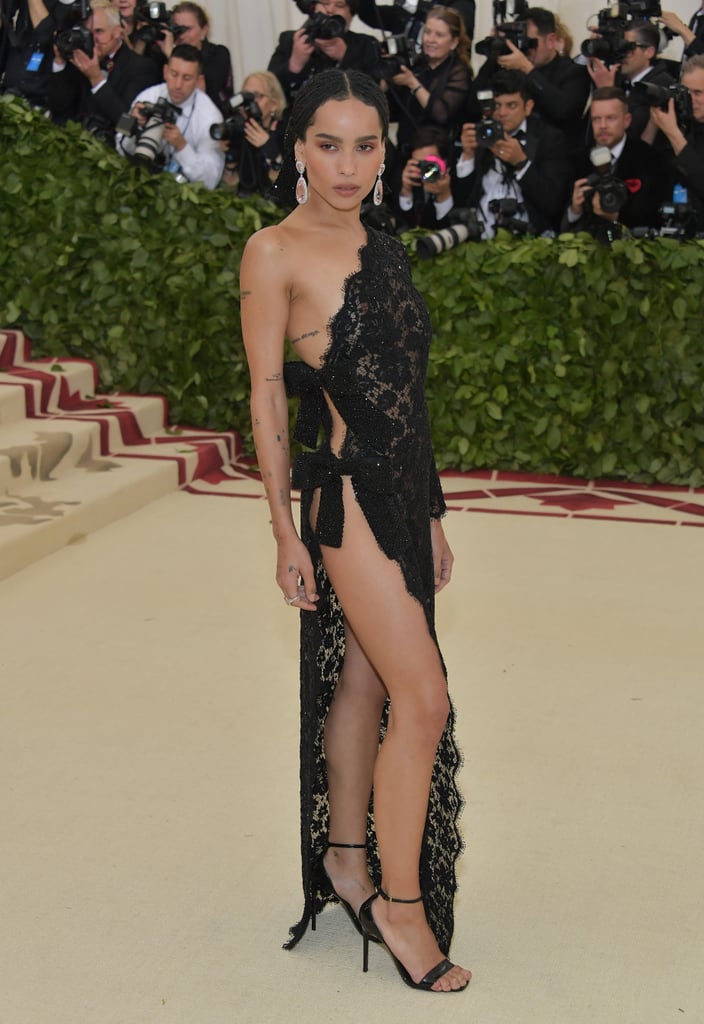 Kate Upton looks ridiculous. What a pretty face, spoiled by horrible green and unnecessary fabric.
Michelle Williams is effortlessly glam in Louis Vuitton.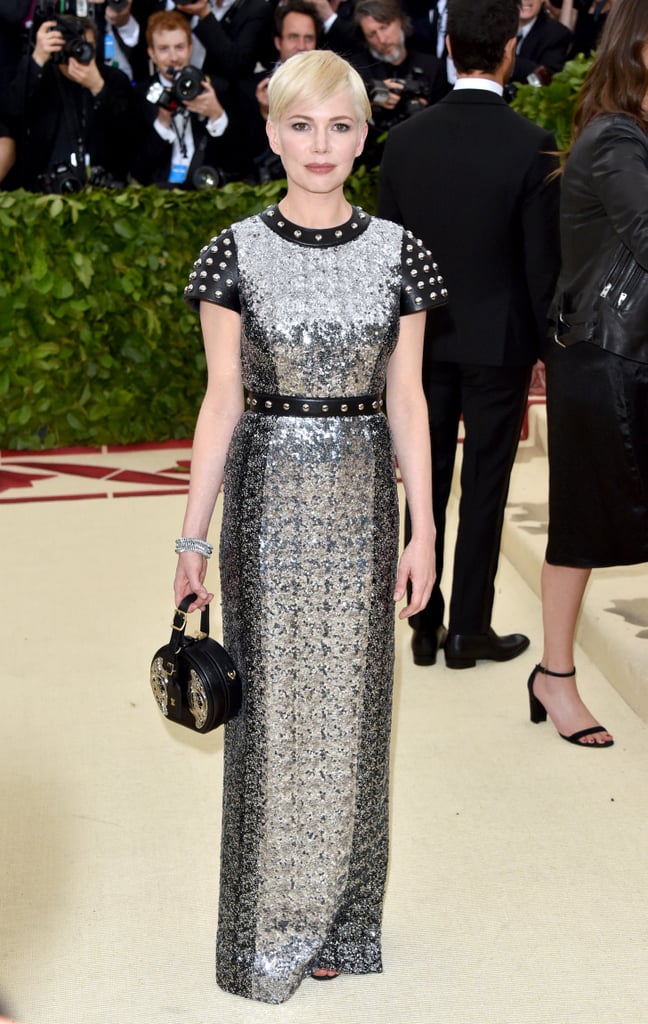 I think Jennifer Connelly went shopping with her pal Michelle, because they're dressed very similar, with Jen also rocking an LV frock.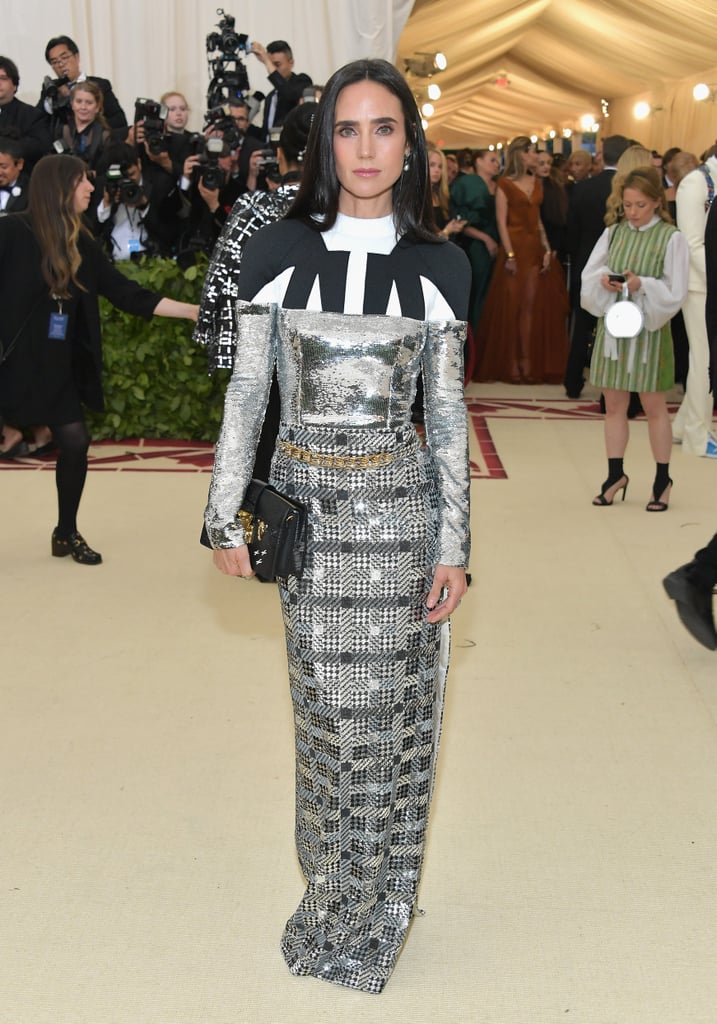 Emma Stone usually nails the red carpet but I think this particular outfit sort of drowns her in a way. The skirt looks fab, it's just the top. Might be the angles though! Also, who TF is she with? New beau?
I have zero idea how this relates to the theme but Solange is pulling off her Matrix-inspired look tenfold.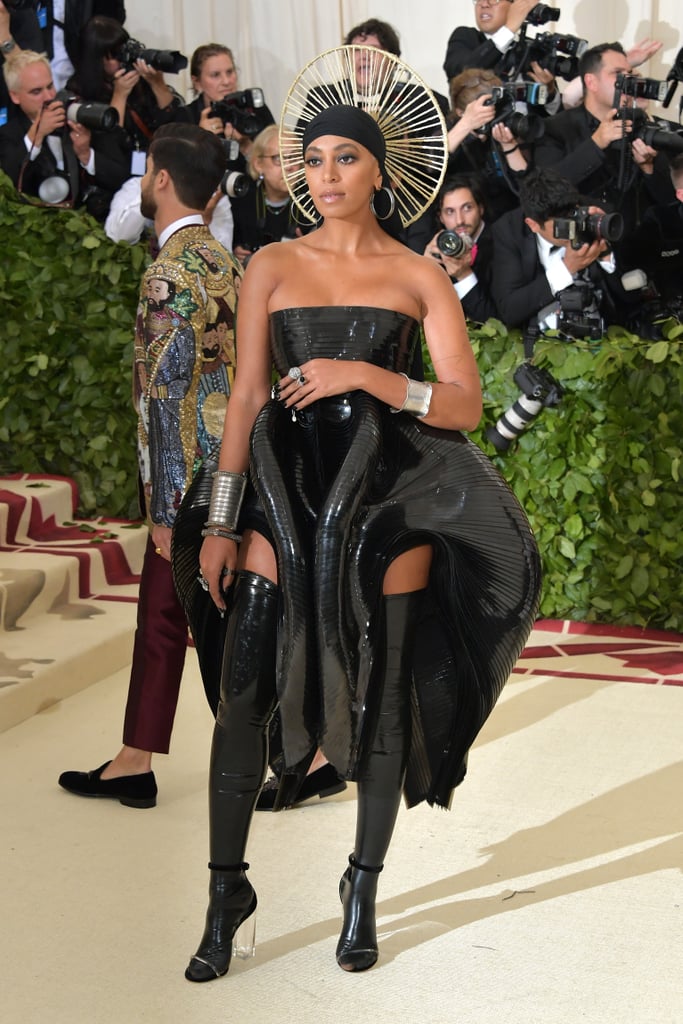 SJP decided to play it safe and wear a completely nondescript outfit this year. Jokes, she's wearing her son's school project on her head and something she ordered for $34.95 from Custome Box.
Kerry Washington looks scandalous (lol not really, I just wanted to say that) in her head to toe golden frock. Her natural hair and glowing skin keep the whole look balanced. I'm in love.
Oh sweet heavens, you are NOT MARY MAGDELINE! TAKE THAT SILLY THING OFF YOUR HEAD AT ONCE. Dress is pretty, but the doily on her head makes her look like a right fool.
Another gold frock lands on the carpet and Rosie HW looks like an actual angel.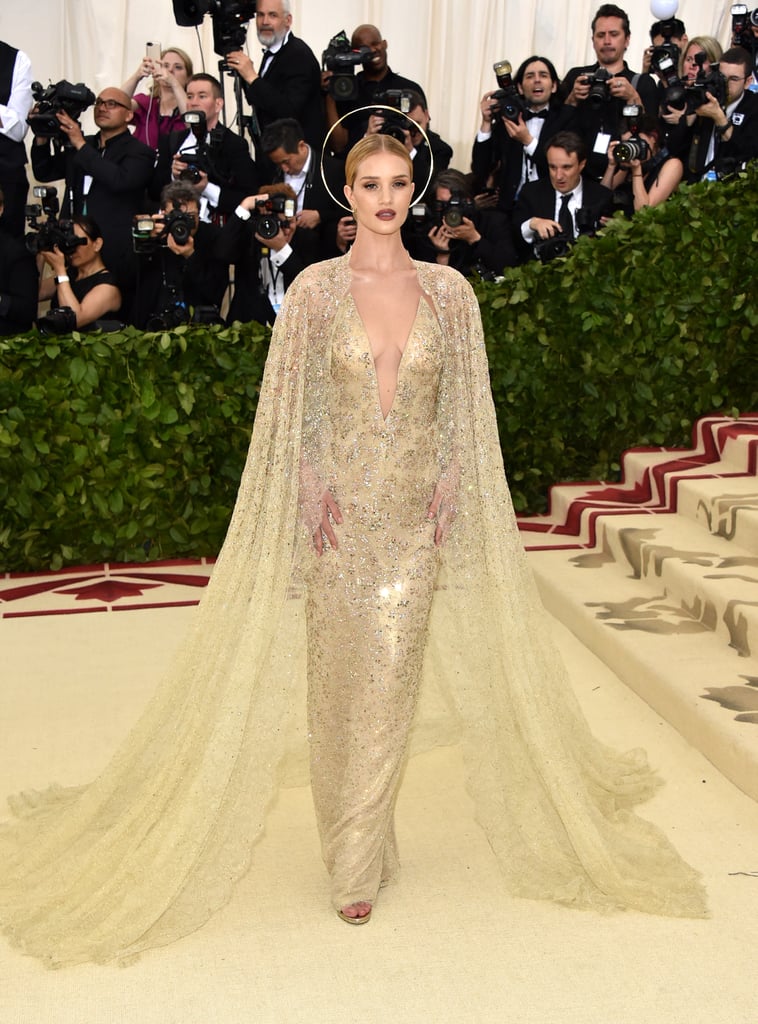 Oh Ashley. *drools* The hair, the smokey eye, the bod, the dress. No one in the history of the world has ever pulled off a BROWN dress like Ash has. Well done.
Even more gold spotted on Irina Shayk.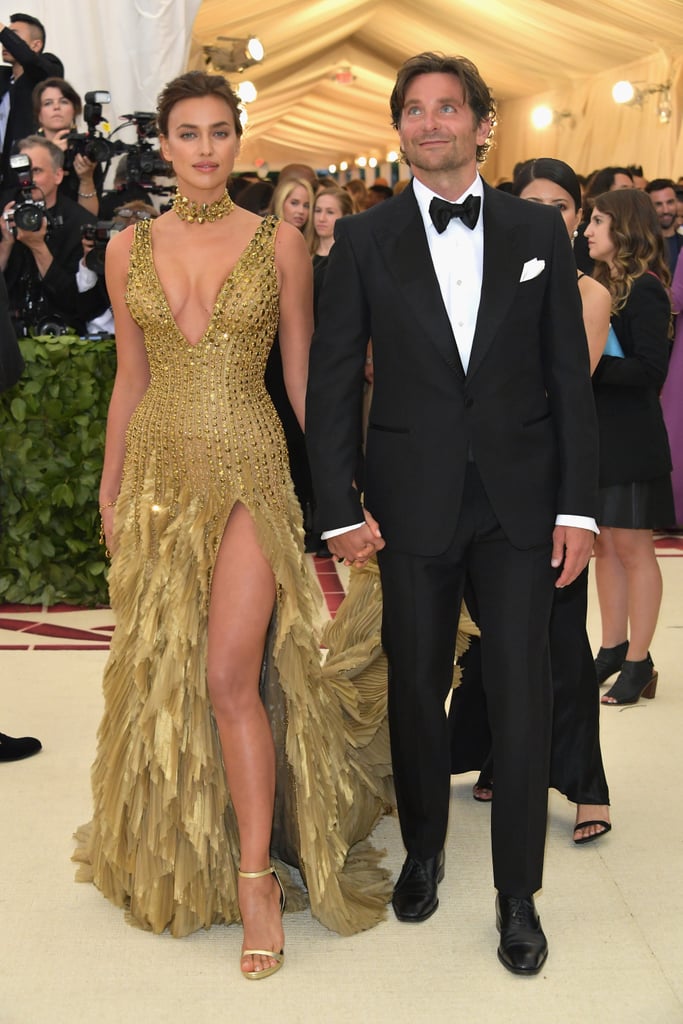 Miley looks like she tried, oh about 0%. Got a flight from Byron, arrived, pulled frock on and cabbed it to the Met.
I'm a sucker for texture so Kris's feathery skirt and gold embellishments speak to me.
I have an issue with the vintage blue shade of her dress and also that she plastered a fishnet across her lovely face.
If I was Uma, I would fire my entire team and break up with any friends or family I saw that day. She was going to the MET FUCKING GALA, and not ONE person thought to remind her to do her damn hair. Outrageous and unacceptable.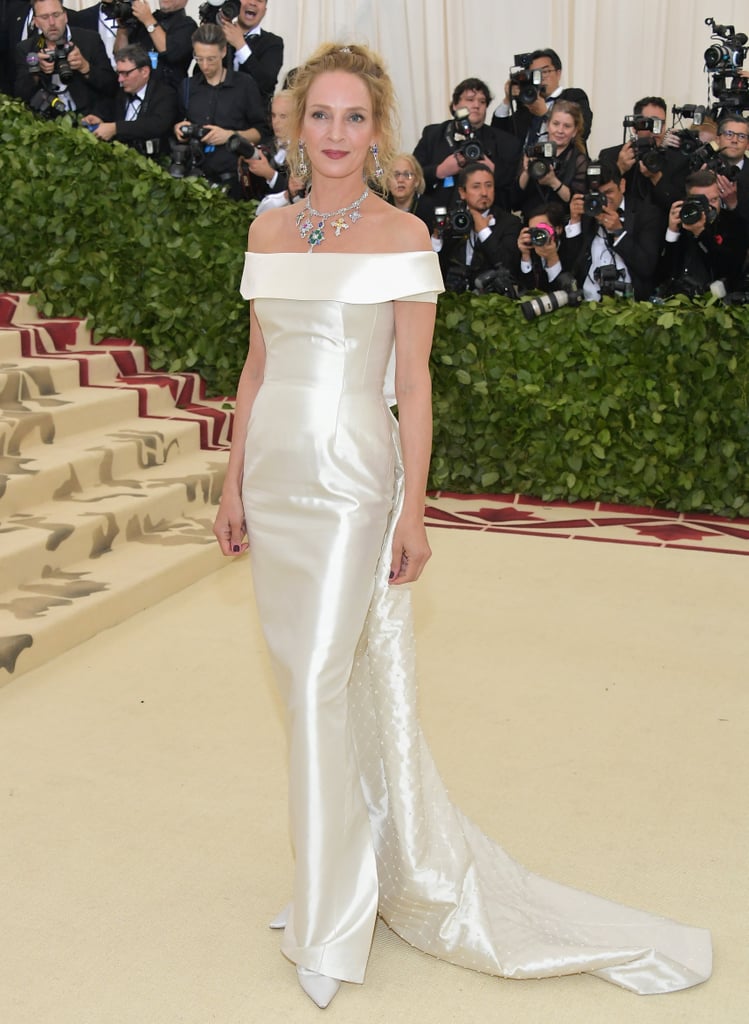 Lily Aldridge is in my most hated colour. Why, WHY would you choose the tennis ball colour out of all of the colours! 🙄😩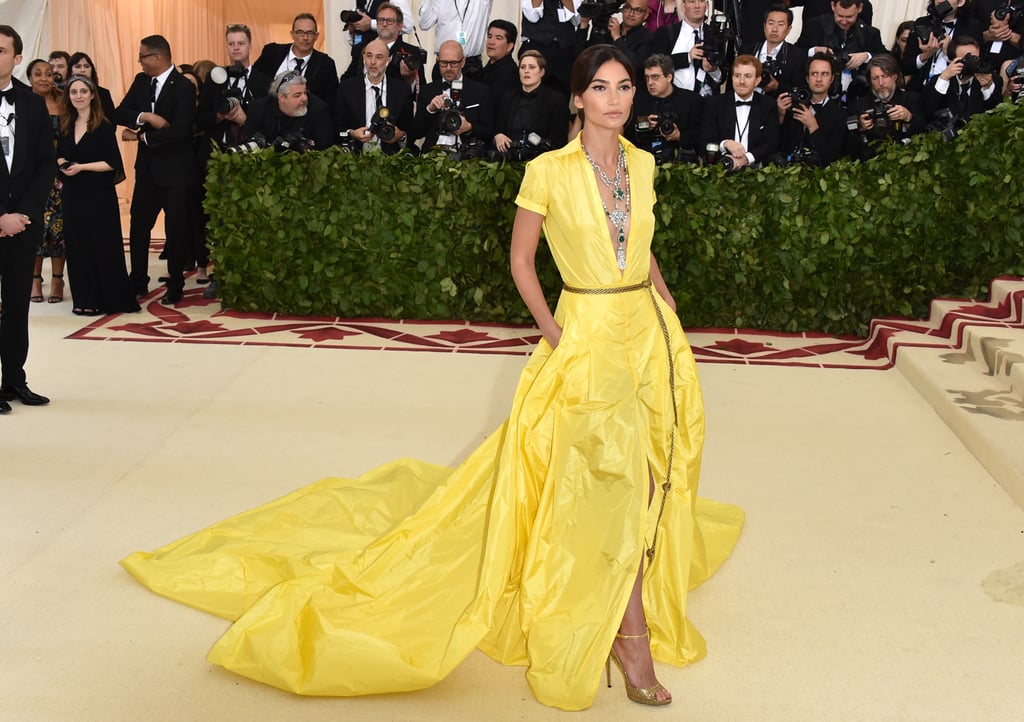 I hate saying this, but I'm not into Selena's look. 😢 The dress looks like a nightgown and she's wearing WAY too much makeup. In other news, when did her boobs get so big! Damn sista!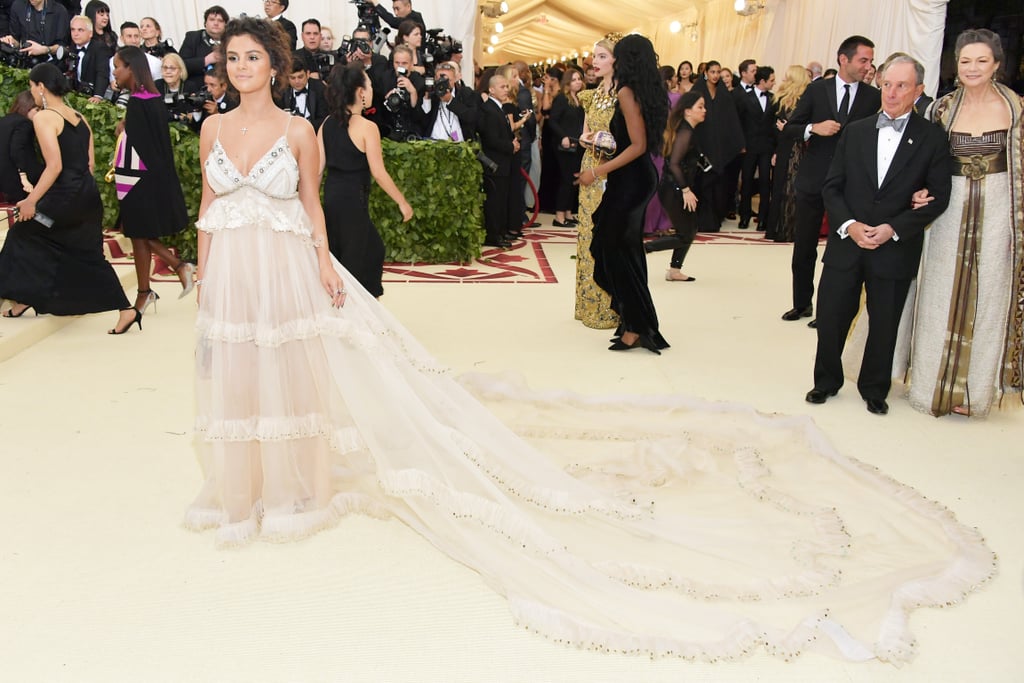 Miss Baldwin looked BEAUTIFUL but I wish she'd bothered to fix her regrowth for, you know, the MET GALA.
Oh FFS. Ladies and gents, the bishop has arrived.
Karlie Kloss is regal and classic in Brandon Maxwell. The statuesque stunner clearly gave zero fucks about the theme but whatevs, she's still a goddess.
J-Lo is an ageless beauty as she struts her stuff, showing off toned AF pins. I'm obsessed with everything from the slicked-back hair, right down to the feathers.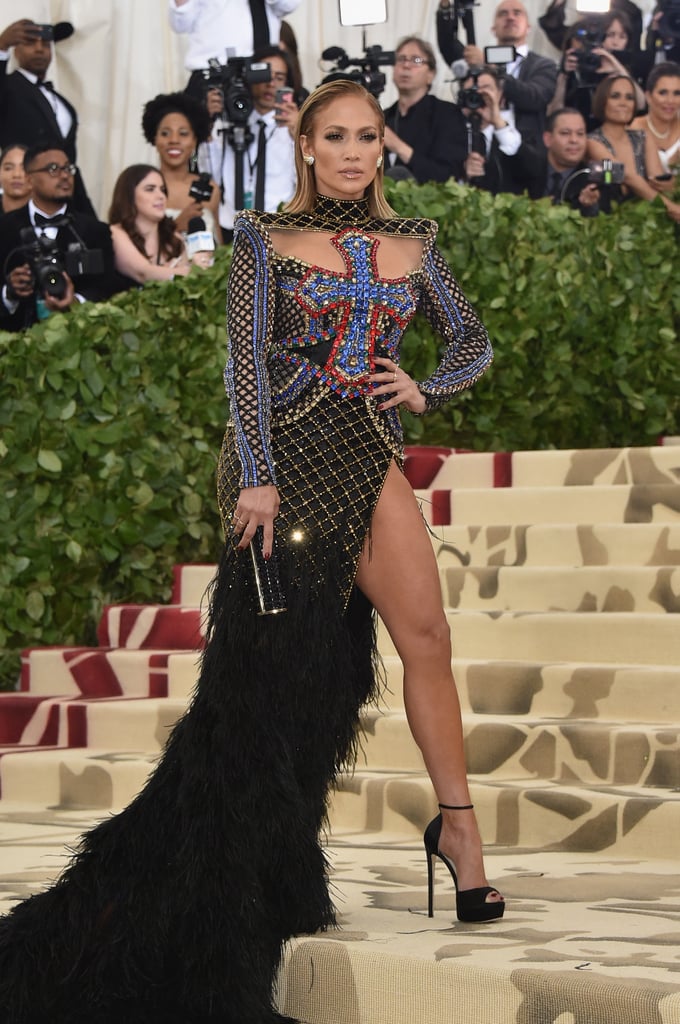 Em, (lol 'Em', we're not pals) looks phenomenal but there's nothing special about her look. It's very 'meh'.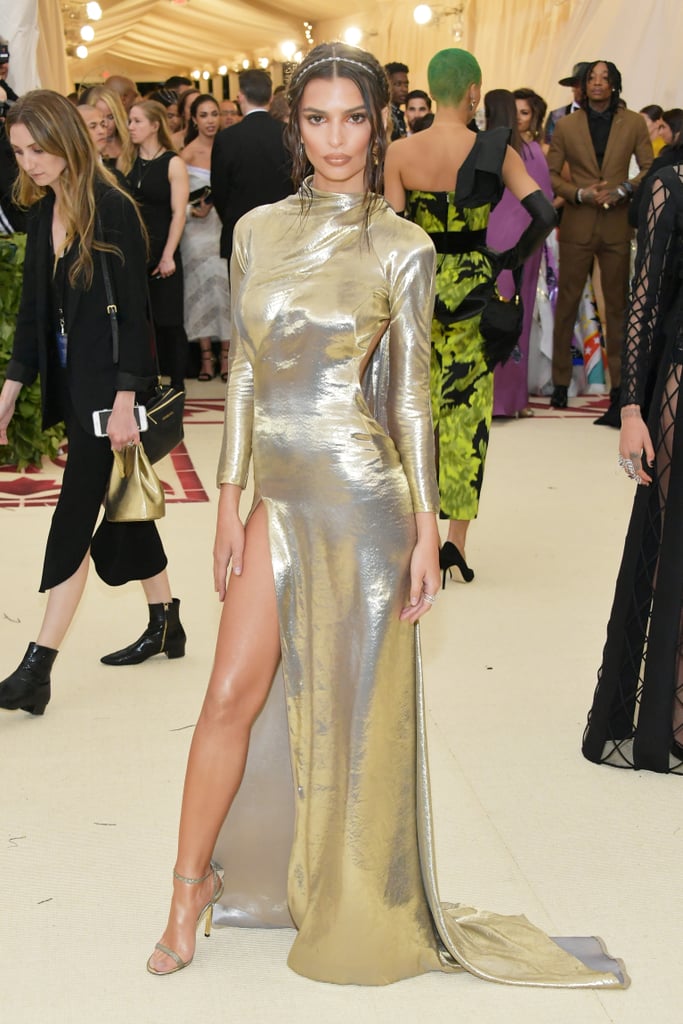 Ok, so I know what I want for my birthday this year peeps. A gold, encrusted cape pls. Just like Evan Rachel Wood's Altuzarra one. K, thx.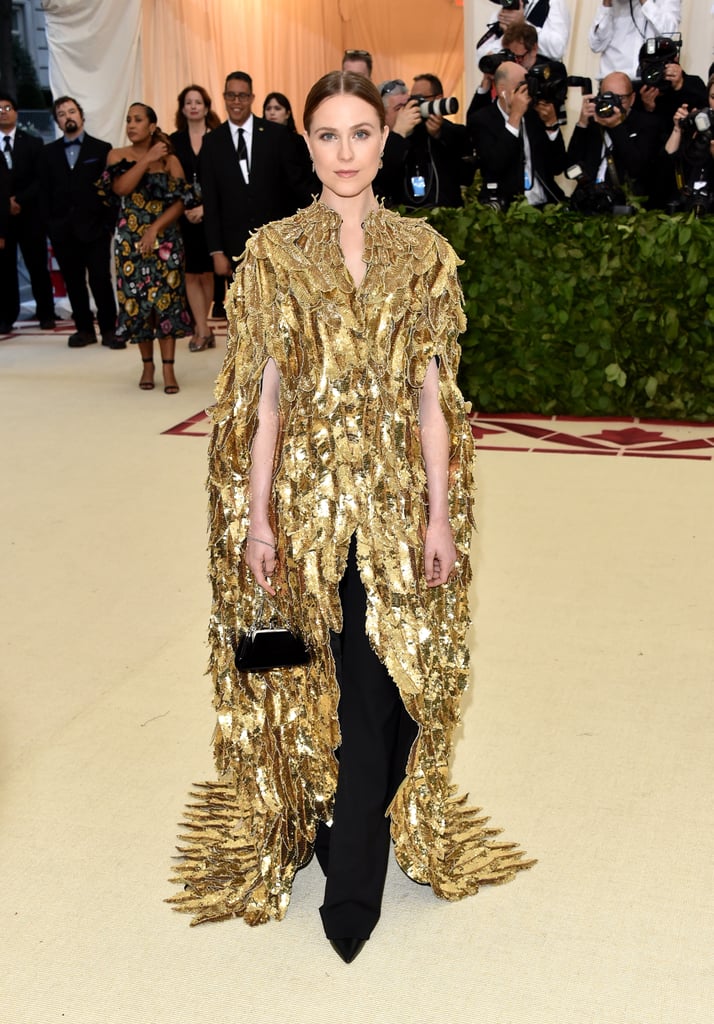 Cardi B was legit DRIPPING in jewels as she stormed the red carpet, giving even RiRi a run for her money in the extra stakes.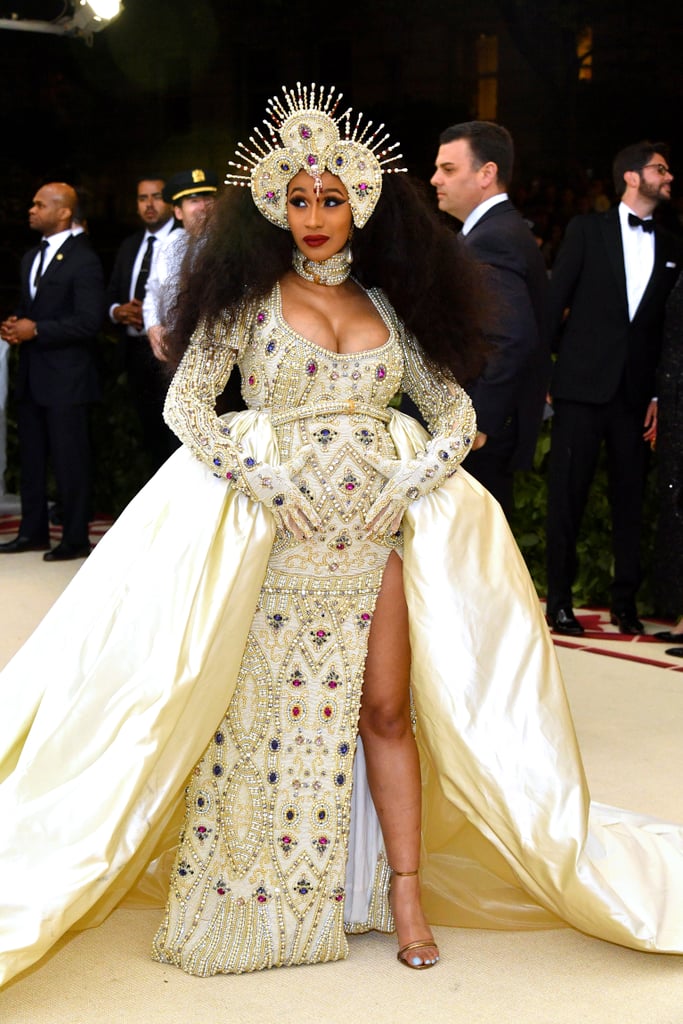 My vote for best dressed is Blake Lively. Seriously, if my wedding dress isn't this fancy and extra, I'm not getting married.  Blake is an absolute VISION in her elaborate wine and gold jewel-encrusted gown, which fits her like a dream.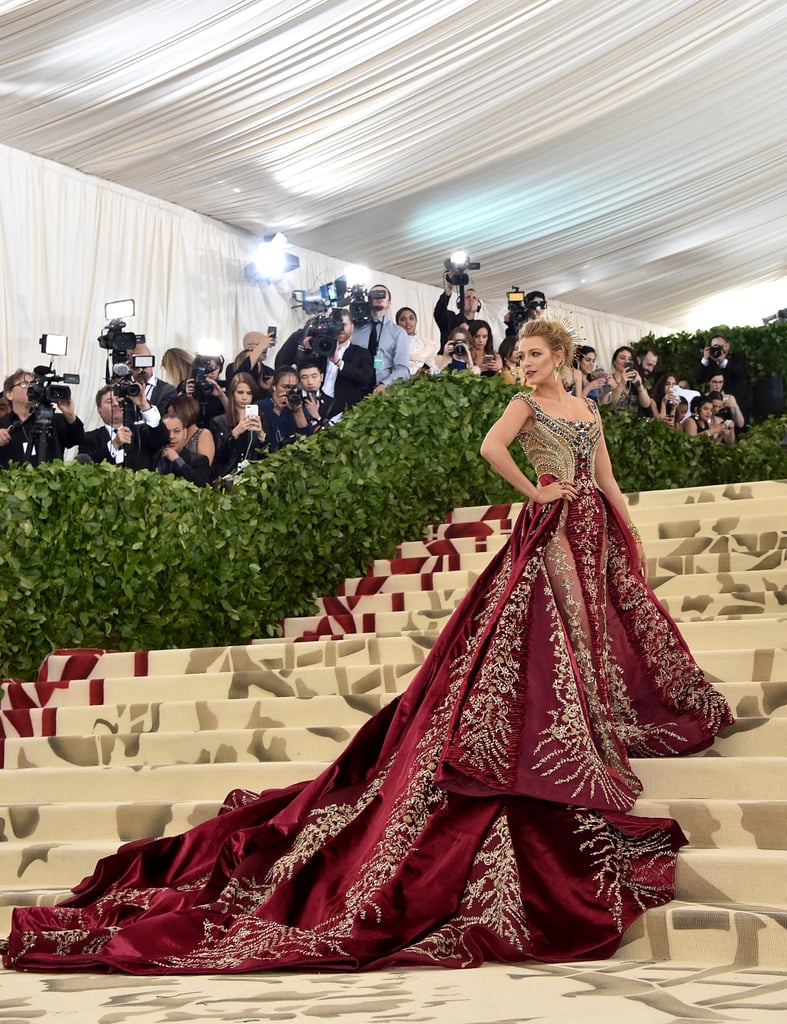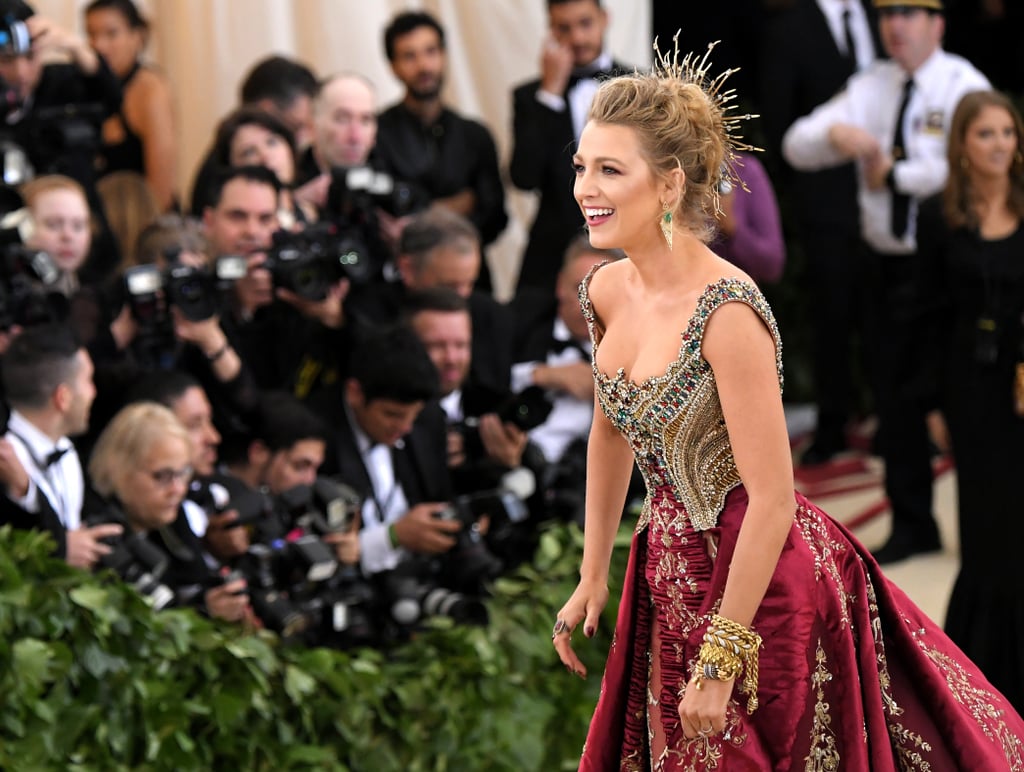 Runner-up goes to Zendaya. I am loving her roman-inspired dress sick but not feeling the orange cropped do'. I wish Versace would make me a custom frock. 😒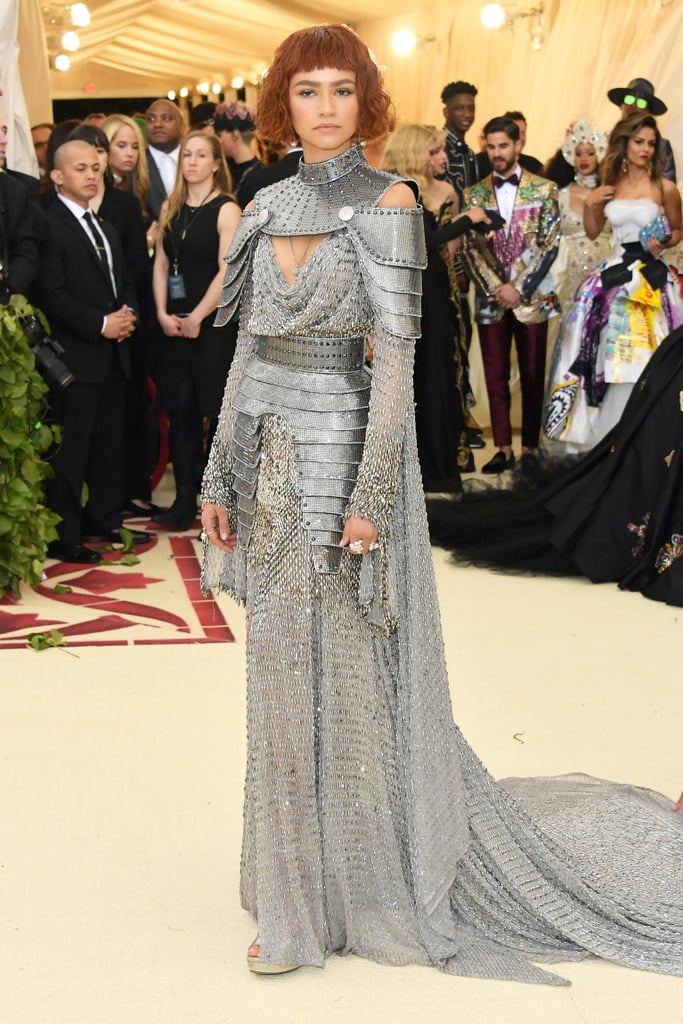 At first glance, I'm slightly horrified by the GOT stars choice (mainly the doll-like BRIGHT PINK blush that's been over applied) but after my eyeballs observed the whole look as one, I get it.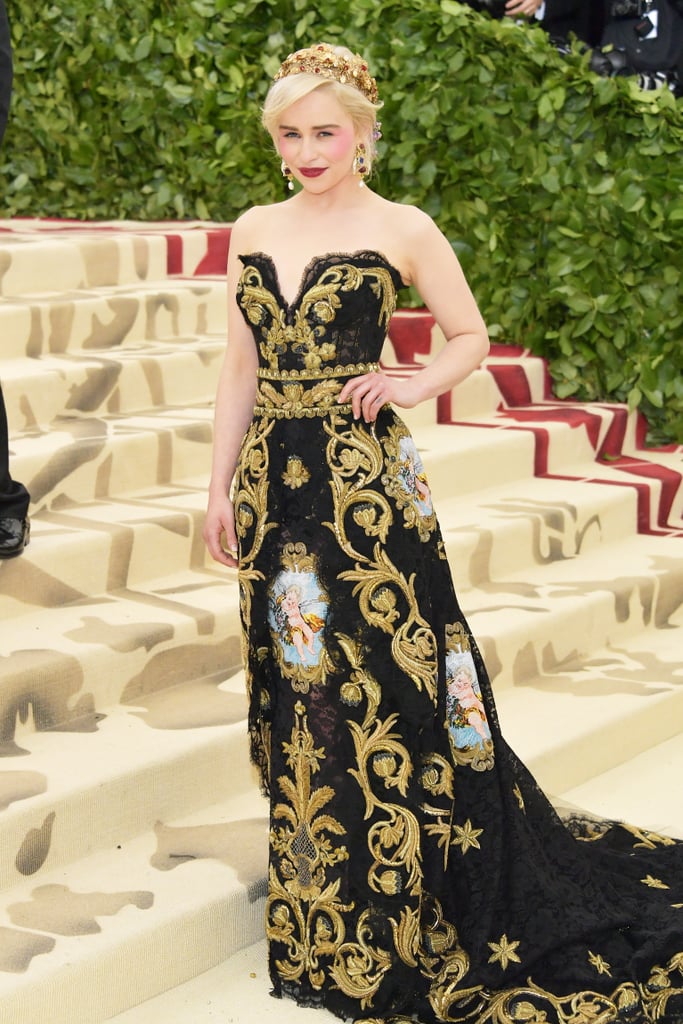 Jourdan Dunn SLAYS. She doesn't give a shit what anyone says about her dreds or questionable pumps. She just slays. Go girl.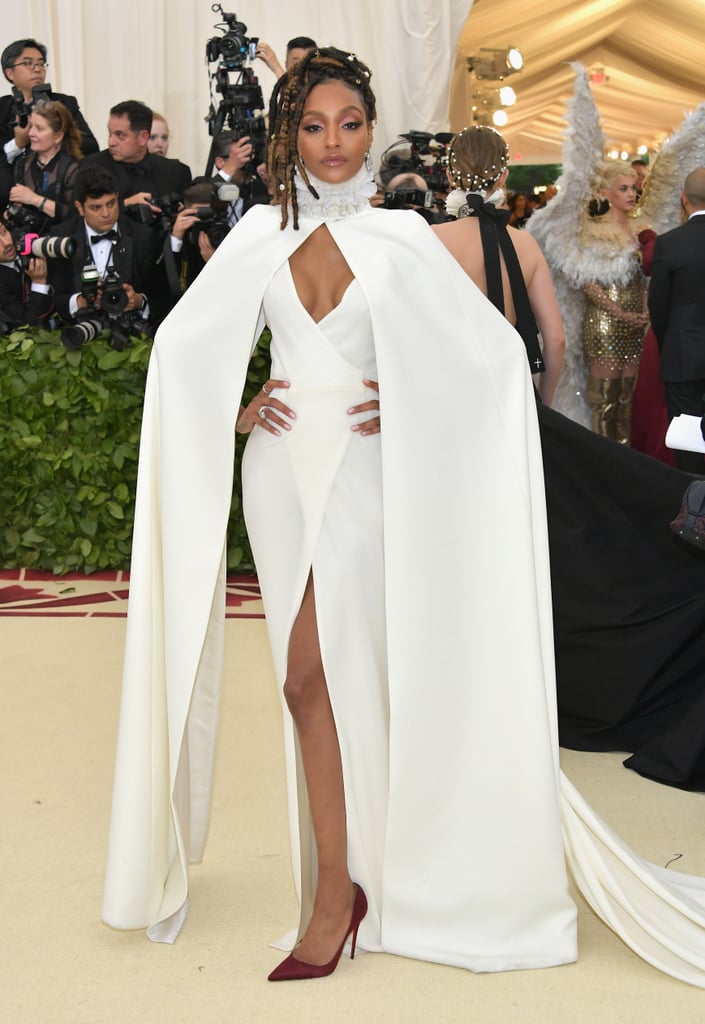 Basically, Claire Danes didn't know what to wear to the Met Gala. So her friends were like 'lol, I dare you to wear this dress my Aunty found from the 40s, it will be so funny' and Claire was like 'yeah ok, whatevs, why not'. And that is the story of this colour-blocking atrocity.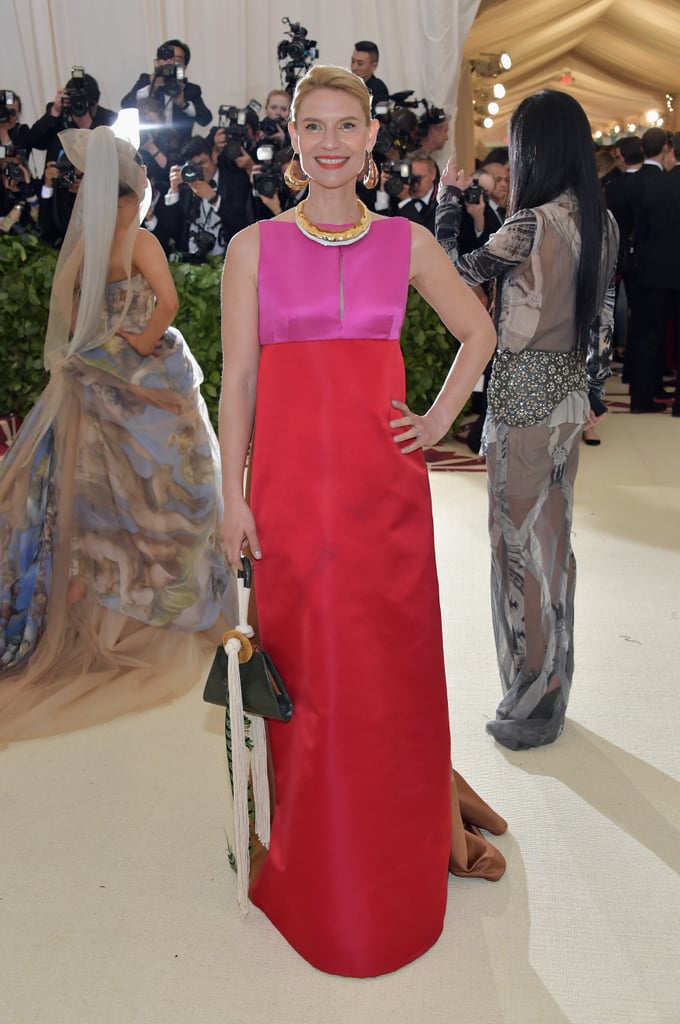 Oh..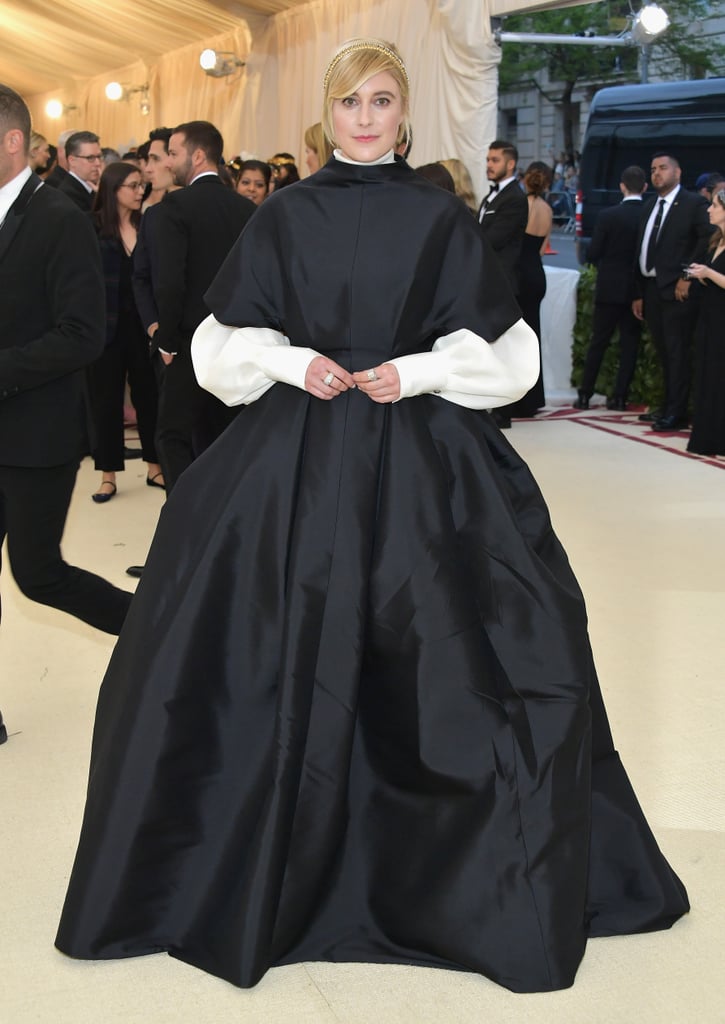 Unasked for opinions by Kelly McCarren.