The Best Wedding Hairstyle For Your Face Shape
16 September 2019
When you're planning a wedding it can be easy to get caught up in the big things. The venue, the vows, the dress, the food, the flowers. However, gearing up for your big day also involves a lot of decisions that might seem small, but trust us, they're actually a huge deal and choosing your bridal hairstyle is one of them.
While matching your dress to your 'do is one thing, matching it to your face shape is just as important. Taking that little bit of extra time with your hairstylist to find out what works for you pays off in the long run. No one wants to look back at their wedding photos and wonder why they worked against their natural features instead of working with them.
Of course, at the end of the day, you'll want a style you feel great in, but if you don't know where to start, we've pulled together some inspo for you (and a nifty guide to working out your face shape!).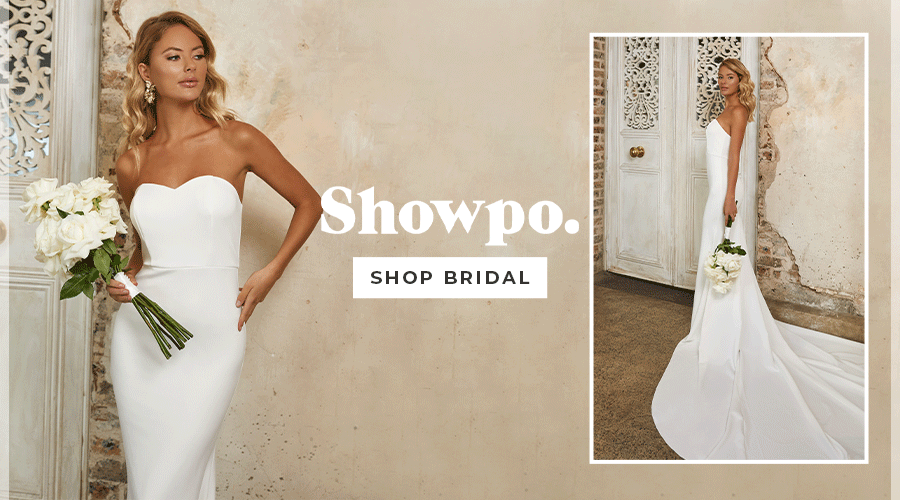 SOS! What is my face shape?
Unless you wear glasses and thus spend a lot of time at the optometrist, it's super unlikely that you've ever thought about your face shape. Most of working out your face shape is about the top of your hairline and your jawline, so keep a mirror handy and prepare yourself to do a whole lot of staring at your face.
Heart: If your forehead is the widest part of your face and your chin is pointed, you most likely have a heart-shaped face.
Angular: Sometimes called rectangle, if you have an angular face, your forehead, cheeks, and jawline are similar widths and the curve in your chin is very slight.
Oval: Ladies with oval faces generally have foreheads that are the tiniest bit wider than their curved chin.
Round: Instead of being straight, the sides of your face curve slightly, your cheekbones are the widest part of your face and chin is rounded.
Diamond: Diamond faces have pointed chins and high cheekbones. If you have a diamond-shaped face, your hairline will be narrower.
Square: If you have a square face, your face is nearly as wide as it is long. The sides of your face are quite straight and your jawline is slightly angled.
If you're still unsure, we've popped some celebrity lookalikes below.
Heart
Faces with pointed chins and high cheekbones can really work a look that centres around their hair being mostly out. Wearing your hair down helps create softness around your jawline and is easy to make glam with elegant hairpieces or a stunning veil.
If your heart is set on an up-do try adding soft, face-framing curls to get a similar look.
Celebrities with heart face shapes: Kourtney Kardashian, Sophie Turner and Reese Witherspoon.
Angular
If you have an angular face that can look quite strong, consider opting for something soft and feminine. Picture loose waves and textured down 'dos. If you'd like to wear your hair up, again, frame your face with loose waves falling delicately from your updo.
Celebrities with angular face shapes: Jennifer Anniston and Olivia Wilde.
Oval
There aren't many restrictions when it comes to optimal hairstyles for ladies with oval-shaped faces. If you're a little bit self-conscious the length of your face, avoid anything too sleek or lengthy.
Celebrities with oval face shapes: Bella Hadid, Jennifer Lawrence and Beyonce.
Round
Round faces have gorgeous angel-like cheeks that can really bring a youthful quality to any look. Of course, the potential downside here is looking a little bit like a child bride when the vibe you're trying channel is a sophisticated bride.
If you have a round face, opt for a look that will give you a bit of height and lengthen and elongate your face. Keeping more volume at the roots and tighter on the sides will help you achieve this look, whether you opt for a voluminous ponytail or a meticulously curated updo.
If you've got thin hair or hair that really struggles with volume, opt for a headpiece that'll give you that height.
Celebrities with round face shapes: Selena Gomez and Miranda Kerr.
Diamond
Diamond face shapes are beautifully angular but for a more traditional bridal look discuss styles that create softness with your stylist. Anything the features the hair all tied back and tight may look too harsh, so whether you're choosing an up or down hairstyle, consider creating height and texture at the sides.
Celebrities with diamond face shapes: Anna Kendrick and  Jennifer Lopez.
Square
Apparently, square-shaped faces are notorious for ageing well, but for your wedding day, think of ways to add softness. Try adding a side part to break up the width of your face or if you're feeling a little bold, add a fringe that sits close to the eyebrows and wear your hair long and tousled to balance out the angles.
Celebrities with square face shapes: Demi Lovato and Keira Knightly.
With any bridal style, you shouldn't feel like you have to move too far from your usual 'look', the greatest way to look and feel your best is to be a polished best version of yourself.
Unsolicited advice by Emma Roffey