Travel Bloggers You Should Follow On Instagram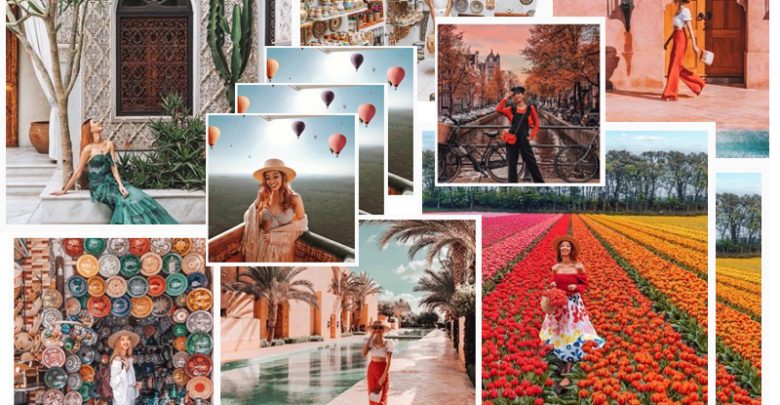 One of my favourite travel bloggers on Instagram, Aggie Lal beautifully snaps her travel adventures and captions them with inspiring messages and her tips and tricks on how to live a more positive and happy life. You can tell by her long and thoughtful captions that she really wants to engage with her followers and get to know us. She regularly asks followers on their opinions on what she should post and gets them involved in the creative process of being an influencer. Aggie also sells her presets, featuring photos posted by her followers in her stories who use her presets.
Australian born Brooke Saward writes regularly on her blog World of Wanderlust and provides readers with detailed general city guides as well as more specific posts like 'where to find the best bookstores in Paris' and 'the complete hipster guide to Amsterdam'. She places an emphasis on the benefits of solo travel and reveals to followers the steps on how to take great photos when travelling solo. Check out her book World of Wanderlust for some of the best travel inspo!
Another fellow Aussie, a Sydneysider with some of the best aesthetically pleasing photos on the gram. Her Insta feed is an explosion of colour and her sense of style is on point at all times. She also posts the most perfect flat lay photos that will satisfy those OCD tendencies in you and make you want to colour coordinate and be more organised in your life.
As the name suggests, Queen of Jetlags does a lot of global travel with an emphasis on fashion and style. Her insta feed features a lot of pics from her hometown of Amsterdam and will make you want to book a ticket to the land of windmills immediately and explore the cute boutiques and the warm and welcoming cafe's she frequents.
One of my favourite blogs to visit for on-the-go style tips. Her following spiked when she developed her own Insta templates that fellow grammers filled out and shared on their stories. Her feed will inspire your weekend style and have you sorted for your next brunch date.
Entrepreneur Mimi Ikonn has founded many successful businesses and because of this that she is able to beautiful destinations on the regular. She deeply connects with her followers by sharing how she manages to create her businesses and the importance of hard work.
Nicola from Polkadot Passport is really down to earth in her approach and comes across in her posts and stories like she could be your best friend. Her blog is my go to when I want completely honest reviews on destinations around the world.
Main images are from @taramilktea
Stalked by Tamara Bose.