Cali Callin': The Best Things To Do In San Francisco
Your ultimate guide to San Fran...🤗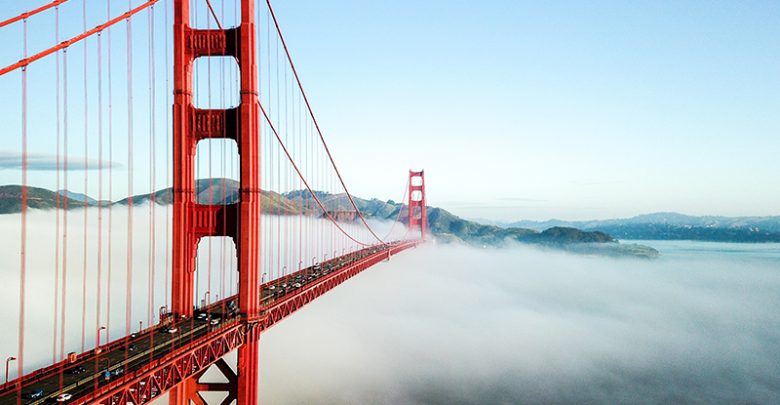 There's nowhere quite like San Fran. Sitting pretty in Northern Cali, it holds onto its hippie charm and laidback attitude, while being the centre of the tech universe. It's a big city surrounded by mountains and the ocean. Oh, and it's a food and wine capital that's hilly (and chilly) – making it a hiker's dream. Since SF has a lot going for it, it's impossible to cram everything into a weekend, or even a week. Our advice? Choose your own adventure!
IF YOU LIKE SIGHTSEEING…
Culture vultures, this is your hit list!

Golden Gate Bridge
With its huge orange towers, it's the most photographed bridge in the world for a reason (sorry, Harbour Bridge). The best way to appreciate its size is to bike or walk across it, and then go to Bar Bocce for pizza and a game of bowls.
Golden Gate Park
This park is the city's backyard, and it's a snapshot of SF life, from the bloggers posing in the Conservatory of Flowers, sunseekers flopping over in Shakespeare's Garden, kids feeding the birds at Snow Lake, and artsy types exploring the De Young Fine Arts Museum.
Fisherman's Wharf
Sure, it's touristy, but Fisherman's Wharf has its charms. At Pier 45, you can see sea lions, eat clam chowder in a bread bowl, and then play your bf in retro arcade games at Musee Mecanique.
Lombard Street
In Russian Hill, this is the most crooked street in San Francisco. Whoever built it was definitely on the wines: it zigs and zags its way past red-brick homes, hydrangea gardens and lush gardens, and there's usually a wait to drive down it.
Alamo Square
SF is home to hundreds of 'Painted Ladies,' pastel-coloured townhouses which you've probably seen all over the 'gram. The most iconic row is on Steiner Street in Alamo Square. While you can't go in (people actually live there), you can pack a picnic and snap them from the park across the road.
Coit Tower
This tower sits atop Telegraph Hill. It looks like a fire hose nozzle, and was named after Lillie Coit, an eccentric socialite who donated the funds to build it back in 1933. Apparently, she had a thing for firemen. The observation deck has 360-degree views of SF and the Bay.
Alcatraz
In the 1870s, Alcatraz – or 'The Rock' – was a maximum-security prison. It sits on an island in the middle of the bay, and though 36 prisoners tried escaping, none succeeded. To get there, hop on the ferry from Pier 33. Then, grab a headset to listen to the audio tour, which has creepy interviews with former inmates and guards. PS. Alcatraz has a thriving pelican population, so BE WARNED if you hate birds. I learned this the hard way.
IF YOU LIKE EATING…
Welcome to food mecca! Wear loose pants because SF has the most restaurants and farmers per capita in the US, and you are in for a FEAST.
The Ferry Building
The Ferry Building is home to SF's best artisanal producers. Pick a starting point, and munch your way through food stalls like the Hog Island Oyster Company, Slanted Door (Vietnamese), Gott's Roadside (burgers), Cowgirl Creamery and Dandelion Chocolate. Then, go home and nap.
Tartine
For croissants, croque monsieurs and crusty bread, join the line at Tartine. The owner, Chad Robertson, has a cult following, and good reason: the man can bake. Most goodies sell out before the clock strikes 12.
Boudin Bakery
During the Gold Rush, San Franciscans had plenty to smile about. Gold aside, the local bakers invented sourdough – and you can try the good stuff at Boudin Bakery. For the full SF experience, order the sourdough bread bowl filled with clam chowder.
Tony's Pizza Napoletana
Tony Gemingnani isn't your average pizzaiolos: he was the first American to win the World Champion Pizza Maker award in Naples. The world title. He's a star, and the queue of people happily waiting to sink their teeth into his pizzas (or 'pies' in 'Murica) can attest to that.
La Taqueria
Picture a burrito on steroids, and that's what you'll get at La Taqueria. In SF, 'Mission-style burritos' are ENORMOUS, and stuffed with beans, cheese, sour cream, salsa, guac and meat, like chipotle chicken.
Saison
Every year, chefs hold their breath, hoping they made the World's 50 Best Restaurants List. Saison slid into spot #37 in 2017 for its Japanese fusion food. Michelin-starred restaurants Benu, Atelier Crenn and Quince also scored a spot in the top 100.
Onsen
You've always wanted to go to dinner at a Japanese bathhouse, right? Obvs. At Onsen, you can chill in the hot tub and sauna, then head upstairs to load up on sashimi, skewers, dumplings and all the sake you can handle.
Golden Gate Fortune Cookie Factory
SF boasts the biggest Chinatown outside of Asia. Weave through the vibrant shops before stopping for a bite at Hunan Home's Restaurant or Good Mong Kok Bakery. Then, head to this factory, where the experts fold over 20,000 fortune cookies per hand every day.
IF YOU LIKE SPORTS…
And even if you don't, go to a Giants baseball game at AT&T Park. The retro stadium is one of the most beautiful in the US. It sits right on the San Francisco Bay, so the views are insane, and kayakers and paddleboarders wait for stray balls to fly over the fence. That's literally their job. Forget baseball, the food alone makes the park a must-visit: think garlic fries, hot fudge sundaes, pizza, poke bowls and the famous Impossible burger.
IF YOU LIKE COCKTAILS…
While SF isn't known for crazy clubs and down-and-dirty dancefloors, its beer gardens and cocktail bars are fab. In this city, bartenders push boundaries to whip up colourful cocktails that were made for the 'gram.
Zeitgeist
In The Mission neighbourhood, this is the place to grab a bevvy (or three) before hitting up a local tacqueria for a big ol' burrito. The outdoor patio fills up fast, so try to get there before the post-work crowd descends, desperate for a drink.
Jones
Jones is sleek and chic, with multiple indoor and outdoor bars. The patio is heated, so you can admire the views in any season while sipping on a classic cocktail. Or you can ask the not-awful-looking bartenders to make a blend just for you.
Social Kitchen & Brewery
Travelling with your bf? He'll love this brewery's signature drink: Belgian golden ale mixed with bourbon, ginger syrup, lemon and orange bitters. If 'beer-tails' are not your jam, don't worry: the buzzy bar has a solid wine and cocktail list.
Tommy's Mexican Restaurant
Tommy's is for the tequila fiends. In 1990, Julio Bermejo whipped up a margarita with top-shelf tequila, fresh lime juice and agave nectar (instead of orange liqueur), and named it Tommy's Margarita after his dad. Now, the lively dive bar has over 240 tequilas behind the bar – just ask Julio which one to add to your marg.
Bourbon & Branch
This speakeasy is the real deal. You need to make a reservation to get the password, and once you arrive, you're not allowed to take photos. You won't care, though, because you'll be too busy sipping on craft cocktails and admiring the talent. Just sayin'.
Smuggler's Cove
SF has a thing for tiki bars, and Smuggler's Cove nails the brief with its pirate memorabilia, indoor waterfall, and a chill soundtrack that kinda makes you want to run away to an island. It also has over 550 rums, which the bartenders will mix into your mai tai or the Jet Pilot, which is insanely strong but goes down wayyy too easily.
Public Works
Sometimes, you need to put on a party dress and dance the night away to Drake. When that happens, go to Public Works, an underground club with DJs playing everything from hip-hop to house.  
Playground
It's your time to shine. Over in Japantown, Playground has private karaoke rooms with bars, so gather the girls and get rowdy. Destiny's Child has nothin' on you.
IF YOU LIKE MUSIC & SHOWS…
When it comes to tunes and talent, you're spoiled for choice. Option A: Go to a concert. Option B: Get drunk and sing-a-long to your favourite Disney musicals. Option C: See a secret comedy show.
The Filmore
This is the club where all the biggest names in music play when they come to town. While it attracts bands across all genres, it has a soft spot for rock. If you're a fan, head upstairs to see the collection of rock posters lining the walls, then elbow your way to a good spot in the mosh.
The Castro Theatre
At this cinema, every movie a sing-a-long! It started a decade ago with The Sound of Music, and so many people showed up to practice their yodel-ing that they just kept going. Today, it screens the likes of Grease and The Little Mermaid. After dark, it's an adults-only booze-fest with a costume contest, so dress to impress!
Don't Tell Comedy
Shhh. This comedy show pops up in random places around the city (in the past, it's been held on a boat, an art gallery and someone's living room). The performers are kept a secret, and you don't receive the address until noon on the day of the show.
IF YOU LIKE HIKING…
Northern Cali is gorgeous, and there's a killer view everywhere you look. To soak them up (and show off your new sneakers), head on a hike. SF is crisscrossed with hiking trails: some of them are steep, and some are perfect for a leisurely stroll.
Lands End
This hike is so chill and flat; we'll just call it a walk. It'll treat you to views of the Golden Gate Bridge, Marin Headlands, Mile Rock Lighthouse, and the rugged cliffs along the coast. You'll even spot shipwrecks. Stop at Eagle's Point Overlook for pics, and then turn around.
Mt Diablo
At 3,849 feet (1173m), this is one of the Bay Area's tallest mountains – which means the views are EPIC. This hike is a bit of a mission, so give yourself a half day to get to the top, enjoy the birds-eye views of the coast, and make your way back down.
Mt Tamalpais
If you're a sucker for a sunset, 'Mount Tam' will sort you out. It's also an easy walk. Set off on the scenic Verna Dunsee Loop (about 1km), and then get onto the Plank Walk, which will take you to the prime spot to watch the sunset.
Tennessee Valley
For minimal hills and maximum views, do this popular hike. The trail weaves through coastal hills and cliffs before ending up at a tiny beach. At that point, the path is horse-friendly (there are stables nearby) and a ready-made photo opp.
Twin Peaks
From the top of these famous peaks, you can spot a bunch of San Francisco's biggest landmarks, like the Bay Bridge, as well as the glittering city skyscrapers. It's an awesome hike to do during the day or at night. Bring a jacket – it gets really windy up there.
Down for a day trip? Jump on a bus to Muir Woods, which is about 20km out of the city. The forest is filled with tall, 1200-year-old trees and it's so peaceful.
Want to get your warrior on? Go to Baker Beach for a silent disco yoga class run by Outdoor Yoga SF. It's open to all levels, and the Golden Gate Bridge is right there.
 Words by Katia Iervasi.