Want To Swim With Sharks In Sydney?
Without a cage I should add...🦈😝
For as long as I can remember, I've wanted to swim with sharks. Proper sharks.
Sure I've swum with baby sharks or silly fat sharks like the wobbegong…
But ever since a young fascination with sharks, I've wanted to get up, close and personal with one. I mean preferably not so close I end up in his or her mouth but you know what I mean.
I remember as a young lass, snorkelling in Fiji, I spotted a small reef shark and eagerly swam after it (I know, weird kid) hoping to get close.
So when I found out that Sea Life Sydney Aquarium was now offering the 'Shark Dive Xtreme' experience, I obviously jumped at the chance.
WHAT ANIMALS WILL YOU SEE?
The main reason people will want to do this is for the Grey Nurse Sharks, like the lovely lass below. Yep, that's her just casually swimming towards me like it's NBD. Ranging from 1-4m in total length, the sharks are BIG, bigger than you expect. There are also some massive Stingrays (and I mean MASSIVE, like bigger than my Queen mattress MASSIVE), Sea Turtles, Port Jackson Sharks, Wobbegong Sharks (the lazy one above), and plenty more.
HOW DOES IT WORK?
When you arrive at Sea Life Sydney Aquarium, you're placed in the capable care of a bunch of chaps ready to calm any nerves, answer any questions and teach you all the basics. We went through a bunch of paperwork and training with a lovely chap, Griff, who walked us through the experience and basic diving skills. He and another fellow, Harry, then suited us up and took us into the 'training tank' where they made sure we could follow simple instructions and breathe properly underwater. Then we went into the proper tank with the big boys!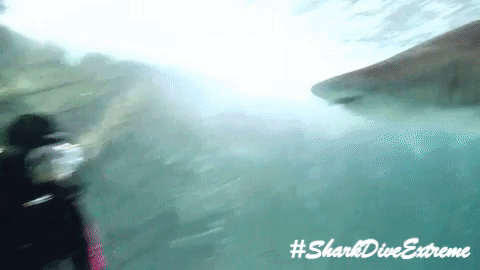 WHAT IS IT LIKE TO SWIM WITH SHARKS?
Surreal, exhilarating and amazing. Photos and videos don't do the experience justice and I couldn't wipe the smile off my face afterwards. Being immersed underwater in the company of all these creatures was just spectacular.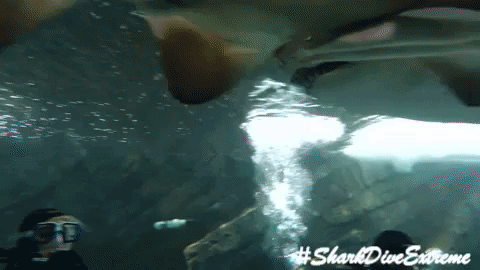 WAS IT SCARY!?
NO! It was the furthest thing from scary! Giff and Harry were so patient and good at explaining everything and pre-warning us how we might feel in certain situations. So there were no surprises, just a huge adrenalin rush! You'd think having those big toothy grins swimming towards you would give you at least a small worry but they are actually such calm, gentle creatures and were just really curious to see these new people visiting them in their home.
HOW DID THE SHARKS GET THERE?
I know, I know; such beautiful animals shouldn't be kept in captivity (we've all seen Blackfish y'all), but most of these sharks were actually caught back in the 80s before people knew they shouldn't and what they were doing was wrong. The team are very aware of how bad it is and would never capture new sharks, but these sharks wouldn't be able to go back to the wild as they just wouldn't survive.  The only shark that wasn't caught back in the 80s is a funny little chap who was bred and born at the Sea Life Sydney Aquarium. He too, is very happy and they are all spoilt rotten!
WOULD YOU RECOMMEND IT?
Yes! 1000 times yes! Honestly one of those experiences that will stay with you forever and such a special moment.
DO YOU HAVE TO BE A GOOD SWIMMER?
Nope. Apparently, they've even had people who could hardly swim at all! As long as you can breathe and follow instructions, you're a good shark dive candidate.
HOW MUCH IS IT RO SWIM WITH SHARKS?
If you go on a weekday, it's $239, which for a 2.5 how experience is pretty damn good! You'll be diving with the actual sharks for 30-40 mins so you get ample time down there.
Book your own experience (or a special gift for someone) right here.
Shark diving extraordinaire - Kelly McCarren.