Weekly Wrap: Jo Bros Reunion, Jordyn Woods Breaks Silence and Lady Gaga's Prank
I need a break.
Monday 25th February 2019. Mark that date in your diaries ladies because let me tell you, this week will go down in history. That might sound a little bit dramatic but let me break down exactly how cray this week was.
The Jonas Brothers Reunited
This is major. Ask anyone born really late in the 90s or in the super early 2000s.  
Hearts were mended on Thursday this week when all three of the bros (even Kevin!) took to Insta to announce a new song, Sucker. Set an alarm because it comes out 7pm tonight AEST.
Even Nick Jonas' newly-wedded wife, Priyanka Chopra was hyped up, sharing the post with the caption, "And yes they're back…and may I say… hotter than ever. So proud of the family". And I mean look, in those pink pants, she's not wrong. I've firmly defected from #TeamJoe to #TeamNick.
Before you run off into the comments, we get it. They're brothers, they can't really break up the same way One Direction did BUT The Jonas Brothers as a band were definitely over in 2013. Google it.
Lady Gaga "fooled" us all
Post their very steamy performance at Monday's Academy Awards show, Lady Gaga says she and Bradley Cooper are not running off into the sunset together.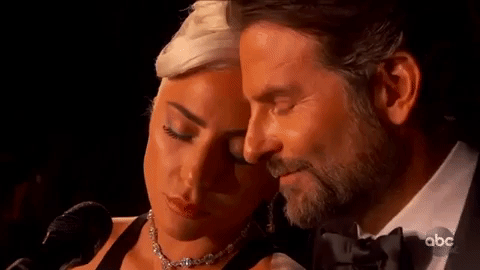 "People saw love, and guess what—that's what we wanted you to see! This is a love song, the movie is a love story," Gaga told Jimmy Kimmel.

"I'm an artist, and I guess we did a good job," she added. "Fooled you!"
As a bonus tidbit, Gaga revealed a new cut of their movie 'A Star Is Born' is coming to theatres for one week only. The cut is an extra 12-minutes and may or may not have a new ending.
There's no word on whether the new version will land is Oz (classic) but you lucky Americans can catch it in cinemas from Monday!
Emma Stone dressed like a waffle
Speaking of the Oscars, Hollywoods night of night's did not leave us disappointed on the fashion front.
Our fave movie mavens graced the red carpets in some award-winning looks and others, well, others dressed like breakfast food.
Read our full review of the red carpet here.
Jordyn Woods dug herself an even deeper hole
I mean come on, girl. Put down the shovel.
This week it was announced that Woods will be joining Jada Pinkett-Smith on her talk show, Red Table Talk.
Of course, we can only assume she is going on to talk about the fact she hooked up with the eternal piece of shit that is Tristan Thompson behind Khloe Kardashian's back.
However, the momager powerhouse, also known as Kris Jenner, probably has Jordyn under a super tight NDA. We wonder how much she can say without getting sued?
If like me you are fully committed to this controversy, you can watch the whole interview LIVE on Facebook at 4 o'clock tomorrow morning.
Taylor Swift might be dropping new music…tomorrow
Always a fan of cryptic instagrams, Taylor Swift stalkers mega-fans have picked up that her latest snaps could be referencing a new album.
Since last week Taylor's grams have seemingly been counting down to March 1st (which is tomorrow in the U.S.).  Her account has featured 7 palm trees, 6 stairs, 5 gaps in a fence and so on.
She's also penned an essay for Elle UK this week so that's either comedic timing or some very good marketing. Based on her Reputation tour, we're sticking with the latter.
What has T-Swiz said about it all? Nothing of course, but her cat might have given something away
Being single is cool again (well duh)
Ever since Sex And The City and Carrie Bradshaw left our screens (on TV at least), we've had a complex that being single is for the weird friend of the group.
Thanks to our friends at Vice, we found out about some cool research out of Canada that suggests being single might make you a happier person.
The research is super long-winded but the crux of it is this: being 👏 single 👏 ain't 👏 sad.
Our latest collection launched
Thank God it's Friday because our US Spring/Summer Collection launched this week and we cannot wait to don our new wears for the weekend.
This collection's got something for everyone – we're talking snake print, we're talking linen. It's 10000% summer goals.
We're moving into Melrose Avenue
That's right, we're going brick and mortar (for a little while). Team Showpo is headed to LA for our first ever the US pop up.
If you're in tinsel town you can find us at 8406 Melrose Avenue, Los Angeles CA 90069.
While we're at it with shameless self-promo,  we're shooting with part DJ, part dream girl Chantal Jefferies on a very exciting hush-hush project. Since we've got total heart eyes for her. she's also going to play a set at out LA pop up!
You've been caught up by Emma Roffey