A – Awards
Not to toot our own horn, but we had quite the clean sweep of awards in our ninth year. Taking home NSW Exporter of the Year, ORIAS Hall of Fame, Technology Champion and Best Pureplay Retailer (just to name a few).
B- Bridal
Our very own founder, CEO and all-round boss babe Jane Lu is getting married this year so naturally, we launched Showpo Wedding Shop. If you haven't already, take a peek at our wedding gowns, bridesmaid dresses and wedding guest attire!
C – Coachella
Just like Ariana Grande, we took to Coachella this year and absolutely nailed it. This year's festival collection was one of our faves so far and we had the babin' Chantel Jeffries step in as the face of our campaign. To read all about our Coachella escapades, head here.

D – DC
We've seen some pretty impressive growth recently so it was time that we moved into our very own warehouse. Of course, we did it in a totally Showpo manner complete with a basketball court!
E – Exporter of The Year
Yep, that's us. We're this year's NSW Exporter of the Year, NBD. Jokes, it is definitely a big deal, almost 50% of our business comes from our international Showpo girls.
F – Fiji
To celebrate her upcoming wedding Jane headed to Fiji with her bride tribe for what looked like the best hen's party ever!
G – Goodbyes
We said goodbye to our 2IC and office favourite Durka. To read all about what she's doing now, head here.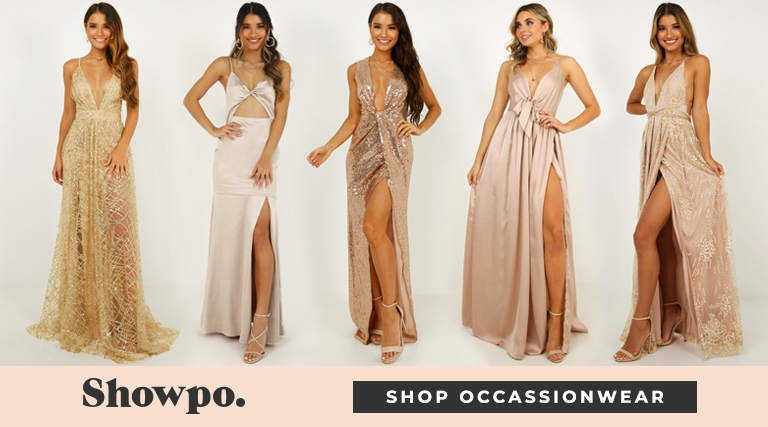 H – Hackathon
We're big on getting shit done at Showpo. This year we held our first-ever HQ Get Your Shit Together hackathon and came up with fantastic ideas we're already working on rolling out.
I – ICYMI Bridal
Sorry, we're going to be going on about this one for a while. We're so in love with our bridal range and our in-house design team worked so hard on it!
J – Jane and Waldie's wedding
Okay, so this wasn't the real thing, but how great do these images look? This was to mark the launch of our bridal collection, have we mentioned that yet?
K -100K LMBDW Members
Like Minded Bitches Drinking Wine hit 100k members in April!
L – LA Pop-up Shop
We headed across the pond for our first ever LA-based pop-up shop. We loved the experience so much it almost convinced us to head back to bricks and mortar…just kidding.
M – Maternity Edit
You've been asking for it for a long time and we finally answered! Our edit is the chicest and trendiest collection of maternity wear you'll find.
N – Nine Years Of Showpo
We turned nine! Today! Happy birthday to us!
O – ORIAS Hall Of Fame
We've already mentioned how strong our awards game is but did we mention we were inducted into the ORIAS hall of fame this year? To say we were thrilled is an understatement.
P- Puppy
If you've been on our Instagram recently you would have seen the cutest new addition to our HQ in Sydney, Nacho the Cavoodle! She's our part-time office pup and full-time Head of Cuteness.
Q –  Our Queen featured in Forbes Magazine
Ever heard of it? Yep, we got ourselves a shoutout in Forbes Magazine and interview with our very own Jane Lu!
R – Retail awards
Even more awards came our way, #humblebrag. Jane was crowned number six in the top 50 people in e-commerce. That's a whole 16 places ahead of last year.
S – Same Day Delivery
We hear you loud and clear Brisbane, Adelaide, Sydney and Melbourne-based babes. You want your new threads and you want them now. Lucky for you we introduced same-day shipping so you can get your look for tonight, today!
T – Tech Champions
Yep, another award! We also won the ORIAS Tech Champion award.
U – U.S. Takeover
We kicked off the year with a 6-week PR trip to New York to celebrate our U.S. expansion. To see what shenanigans Kel and Jane got up to, watch the vlogs here.
V – Vegas Baby
Jane made an appearance at Shop Talk 2018 to chat all things Showpo and online retail.
W – With Love From Australia
We launched a campaign to celebrate the beautiful, sunburnt country we come from and the results were to die for. Haven't seen the range yet, shop it here.
X – X-Factor
What makes stand out from the rest of the fashion pack? We design over 100 styles in-house every single week. That's a lot of clothes in a year.
Y – She said YES!
Real-life couple Tania and Lani modelled our bridal collection for the campaign. Tania even asked Lani to marry her on set! How cute is that!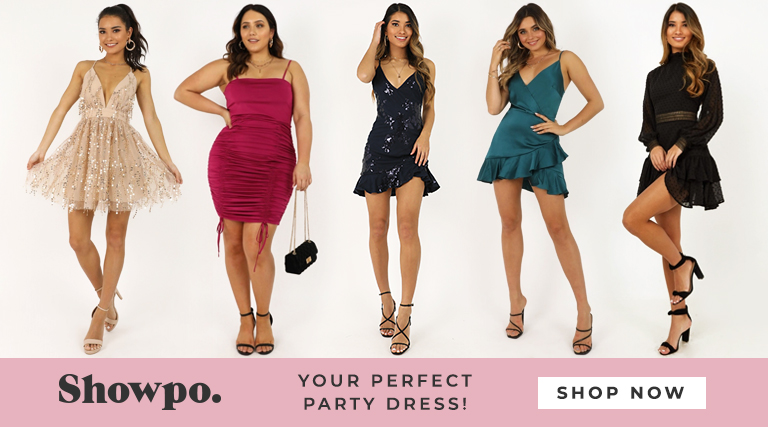 Z – Zzzz
After such a massive year, we need some rest. Just kidding, we're already working on bigger and better things to make our next year the best one yet.
Words by Gemma Higlett and Emma Roffey