Today, we're talking about a really sexy topic… Allergies! If you suffer from them, you know the deal. Everyone counts down the days until spring and summer, but you dread them because when those flowers start bloomin', you start sneezing. While you can't control what's happening outside, there are a few things you can do to stop those allergens from taking over your safe haven: your home.   
Don't wear shoes in the house…
The streets are filthy, especially when it's wet and rainy outside. That's just a fact. Pollen thrives in damp conditions; so to avoid tracking it all over the house (lol! apartment*), leave your shoes at the door. Bonus: Your place will feel like a zen den, and your floors will be a lot cleaner so you won't need to vacuum as much.
Go green with your cleaning prods…
If you're not a clean freak yet, become one! Vacuum, mop, and wipe down every damn surface (even skirting boards) at least once a week. Feather dusters actually throw dust particles into the air, so use a damp cloth or towel. Then, be picky with your prods. Commercial cleaners tend to contain harsh chemicals that aggravate allergies, so switch to natural/eco-friendly products and start wearing Birkenstocks to the farmer's markets. 😉
Speaking of vacuums, look for one with a HEPA filter…
You know how the older you get, the more excited you become about homewares? Well, if you're allergy-prone, you'll love this gem. Like feather dusters, standard vacuums kick dust into the air, while these vacuums filter dust while they clean. Genius.
Get rid of clutter…
Clutter = more dust = intense sneezing. The less trinkets, and dust-collecting things you have lining your shelves, the better. Luckily, minimalism is chic!
Store your books and magazines in boxes…
Just ask Hermione: musty books belong in the library. Keep yours crisp and dust-free by stacking them up in plastic storage boxes.
Switch your cozy rugs and pillows…
Okay, this one hurts a little. Fluffy pillows and thick, plush rugs look and feel incred, but they accumulate soooo many allergens, like dust and dirt. If you're not willing to clean them every few days, sob and then swap them out for low-pile, less-fluffy versions.
Wash your bedding in hot water weekly…
For some reason, changing your sheets is the most annoying chore – which is why so many people *forget* to do it on the reg, right? If your allergies are driving you crazy, your bed might be to blame. Wash your sheets, blankets, and pillowcases 1-2 times a week, and then pop them in the dryer on high heat to kill off dust mites.
Buy allergen-proof covers for your mattress and pillows…
They prevent dust mites and bed bugs (yum) from settling in, and they're waterproof, so they'll stop spills…and other fluids… from turning into mould. #gamechanger
If you're allergic to pollen, close your windows overnight…
As lovely as it is to have a balmy breeze rocking you to sleep, trees and flowers' peak pollination time is between 4-6am – which might be why you're waking up with red, itchy eyes. Run the AC or switch on a fan to save $$$.
Allergic to indoor allergens, like mould and dust? Throw open those windows – the fresh air may help to clear them out.
Work out indoors…
Rise, shine and exercise inside! On dry, windy days when the pollen count is high, trade in your morning bootcamp or run (what a shame) for a gym sesh or a Jane Fonda DVD in your lounge room. Have a dog? Try to walk your pup at night, when there's less pollen making it hard to walk/breathe/exist.
Dry out humid rooms, like your bathroom…
Mould and mildew are gross for so many reasons. To prevent it from building up, turn on the exhaust fan after you shower or soak in a bath, and set up a dehumidifier in any balmy rooms. It's the best investment you'll make, especially if you'll allergic to both dust and mould. The joys!
Don't have a fan? Just crack the window.
Put an air purifier in your bedroom…
Are you allergic to pets or mould? A lot of people with those allergies have trouble sleeping, and an air purifier can work wonders. Find one that has a small-particle or HEPA filter, and point it towards your head while you sleep so you're only breathing in clean air.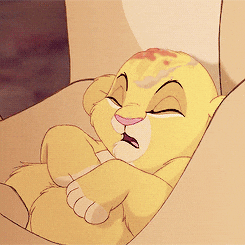 Get rid of mould ASAP…
Sometimes, no matter how much you scrub the shower with a Magic Eraser, mould still creeps up. When that happens, mix one cup of bleach with one cup of water to nix it. Don't forget to wear gloves – that shit's strong.
Bathe your pets more often…
In allergy season, it's a good idea to wash your dogs/cats/exotic pets and wipe their paws a little more often – especially if they love frolicking around outside. While you're at it, brush their fur to keep them from shedding too much hair around the house. The experts would say to ban pets from the bedroom, too, but we wouldn't dare. You do you…
Change your clothes when you get home…
You're already leaving your shoes at the door, so let's take it to the next level… When you get home, strip down and shower so the pollen you collected while outside, living your life, doesn't stick to you and your furniture. And it's not entirely rude to ask your bf/bestie/anyone you share a bed with to hop in the shower before snuggling.
Palm off any gardening tasks…
If you have a house with a backyard (ha!), kindly inform your housemates that you can't do any lawn mowing, weed pulling or flower planting because grass and soil stirs up your allergens. If they don't accept that excuse, wear a mask but make it farshion.
Don't hang your laundry outside…
An indoor drying rack will do the job just fine. #hateupollen
What are your tips for avoiding the sniffles?
Katia Iervasi.