10 Fashion Influencers To Follow For Serious Style Inspo
These fash queens will give you some major wardrobe envy 👚👗👖
Basically, this is how I shop these days… See it on Instagram, like it on Instagram, think about it for 5 seconds, go to the shop tagged on Instagram, go to the shop's bio link, put it in my cart, and then do some of this: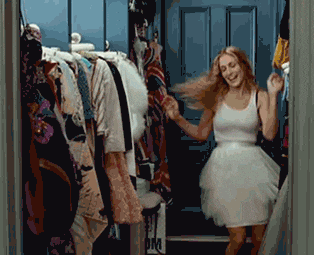 So really, Instagram has a lot to answer for where it comes to my 💸💸💸. Damn you Instagram (but helllooooo there pretty pieces in my wardrobe!!!).
While there are a helluva a lot of style influencers out there that have paid privy to my depleting bank balance, there are 10 that are especially responsible. Every post, every fashion item, every beauty look – I WANT IT ALL. (In fact, I'd be happy just being them. Full stop.)
There's a reason these girls are top of their game and have over 35 million followers between them. They know how to ~werk~ an outfit. From slaying in stilettos to transforming a simple tee and jean combo – the below 10 have truly got fashion in the bag. We take a look at why these 10 style influencers NEED to be on your radar…
Sincerely Jules (4.6 million Instagram followers*)
Founded by Julie Sarinana in 2009, Sincerely Jules has definitely got to be top of the list when it comes to go-to places for everyday wardrobe inspo. With a penchant for denim and stripes plus a super cute summer top and frock, Julie's endless outfits gets a "yaaassss" from us every time. 
While her following may not be as large as that of good friend Sincerely Jules', Collage Vintage's Sara Escudero has a feed that's just as scroll-worthy. Mixing travel with fashion, Sara takes us around the world as she dons outfit-after-outfit of delectable pieces. Ummm, we'll take one of everything, thanks. 🙋🙋🙋
Negin Mirsalehi (4.2 million Instagram followers)
BABE… that's all I'm going to say. Well, okay, maybe not all I'm going to say – but this girl would make a sack look good. But thankfully for those following her for fashion stylin', not many sacks come into play – instead, you're more likely to find Negin in a figure-hugging number or cheeky top to go with that ridiculously good-looking mane of hair and perfectly sculpted brow. *Sigh*
Happily Grey (895K Instagram followers)
A bit of a personal fave, I've been following Happily Grey's Mary Seng right from the start – and the obsession has not waned. With an epic feed featuring truly 👌👌 outfit photography, Mary sure knows how to rock a 3×3 grid. Top points go to her matching set combos. 
Janni Deler (1.2 million Instagram followers)
Swedish-born Monaco-based style influencer Janni Deler is all that is good about Scandinavia. Blonde locks mixed with blue eyes, Janni's dreamy looks are the perfect accompaniment to her always-on-fleek array of fashion ensembles (and this one's not afraid to play with colour too… 🙌🙌)
Mija Mija (865K Instagram followers)
~Fancee~ cars and just as fancy flatlays, Mija Mija's Mirjiam Flatau takes minimal chic to the next level – both in her feed and in her fashion. Girl keeps it clean (and we're paying it).
Song of Style (4.6 million Instagram followers)
A member of the Forbes 30 under 30 and New York Times bestselling author of Capture Your Style, Song of Style's Aimee Song is killing it in life (and in style). Going from a swimming costume to a conservative blazer, this one doesn't mind a little experimentation when it comes to her look.
Camila Coelho (6.5 million Instagram followers)
Competing with Negin Mirsalehi in the hot department, Camila Coelho is one smokin' fashionista. Rocking a leather jacket like nobody's business and adding in a little smoulder when approps, Camila's feminine fashion is a fresh take in a tomboy-esque era.
Wendy's Lookbook (1.1 million Instagram followers)
Cue awe-inspiring locations, flirty florals, and floating fabrics cos Wendy's Lookbook blogger Wendy Nguyen is in da house. Taking the concept of having a "pretty feed" to the nek level, we legit want to jump into Wendy's feed (I mean, how good would it be if you could actually do that?!)
Chiara Ferragni (10.4 million Instagram followers)
The list wouldn't be complete without the mention of Chiara Ferragni now, would it… Recently named the top fashion influencer in the world by Forbes, Chiara is definitely one of the Gram's major success stories – bringing in the massive muller for both her style blog and IG posts, but also her fashion lines. The girl is good.
* At time of publication
Words by Yelena Fairfax