Golden Globes 2019 Red Carpet
The awards, the drama, and of course, the DRESSES! 🤩
IT'S HERRRRRRREEE! The Golden Globes 2019 is here, kicking off the awards season with style, and we're vibing with glee.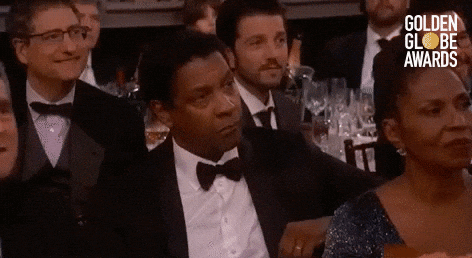 If you need a refresher on last year's awards, check out our coverage here.
Let's do this 😎
Golden Globes 2019
The Red Carpet | Golden Globes 2019
While the 2018 red carpet was a sea of black (support for the #TimesUp movement), this year, colour will hopefully make a big comeback.
Andy Samberg is one of the first to arrive on the red carpet looking dapper AF. Holt would be very impressed he's put in so much effort, pressed shirt and all!
Christina Yang has arrived looking very confused as she thought she was going to the Harper Avery awards? FFS, bloody Karev probably gave her the wrong address.
Special shout out to Lucy Boynton's hair. Texture ✔️Colour ✔️ Length ✔️
If there was an award for the most romantic frock, surely Kiki Layne's beautiful, blush bridal-style gown would be the winner!
Molly Sims stole someone's curtain and fashioned it as a frock – resourceful.
Camilla Belle has committed to her aquatic theme, by carrying it through to her slicked back locks and smoked out green eyeshadow. I love this cause it's daring and I'm all for zesty makeup looks.
Arriving with sleeves and a train as big as her voice, Gaga is full… well, Gaga in her head-to-toe blue ensemble.
Also arriving in blue, Amy Adams brings none of the zest. Come on GF, you legit have EVERY dress at your disposal!
Funnyman (and my absolute IDOL) Jim Carrey cuts a fine form in his smart suit, cheeky grin firmly in place.
Blue really IS the warmest colour (lel) and proving popular AF, appearing on Dakota Fanning as she minces on down the carpet, cute as a bloody button all tied up.
Bradley Cooper and Irina Shayk win the award for the hottest couple on the red carpet. Wow 🔥🔥🔥
As another genetically blessed couple arrive on the red carpet, I can't help but wonder if ol' Emily Blunt crocheted this monstrosity in a  quiet place? Sorry, but it's not good.
I really hope Taraji P. Henson remembered Hollywood tape on dem pups. The Daily Mail will have a field day.
My fave dress thus far! This will be hard to beat, I'm all for the sparkles and the fit, so so flattering. Keri Russell has killed it.
Although it's a beautiful dress, this Louis Vuitton number kinda drowns Emma Stone out, thoughts? Her stylist should learn how to put darts in a dress.
Nicole Kidman is always 2 things. 1 – Regal. 2 – Classy.
This choice… confuses me. But her jewels, hair and makeup are on POINT.
The stars make this dress look like a kids costume for book week. You are not a wizard Melissa.
Right.
I don't even know what to say.
Clearly, Janelle's sending Anna Wintour a clear message that she's keen for a MET Gala invite.
Another blue frock folks! Gemma Chan's bold lip and effortlessy chic chingon is what dreams are made of.
Kiki Layne has some competition in the romance department! Constance Wu looks BEAUTIFUL in her nude-y dress.
And another! Emily Rossum is shamelessly (hehe) romantic in this plume of pink chiffon.
KWEEEEEEN 👸🙌
Big bird on her period. I love Laura Dern though, such a fab actress.
Octavia is a vision in this midi dress.
Points for trying Anne Hathaway but you've completely missed the mark with the animal print trend. 
Another book week creation but this time, a child stole their goth mothers wedding dress to begin the creation.
Oh Connie, you can do no wrong,
LOL Amber Heard looks like a crazy child pageant queen who doesn't realise they are no longer a) a child and b) in pageants.
Indya opted for a fishing net.
Ok I actually LOVE this look! It's such a vibe. The top knot, orange lips and hectic dress just seem to work.
After she's finished wearing this, Lucy's dress will be headed back to the MET. Pretty sure she got it from the Impressionist era.
Wot.
Is.
This.
🤔🤔🤔
Darren Criss looking like a treat in Dior.
Cute but kinda meh?
YUM, MBJ always a delicious treat.
Chrissy jumping on the red carpet/red dress bandwagon, looking fierce AF.
Weird but love it.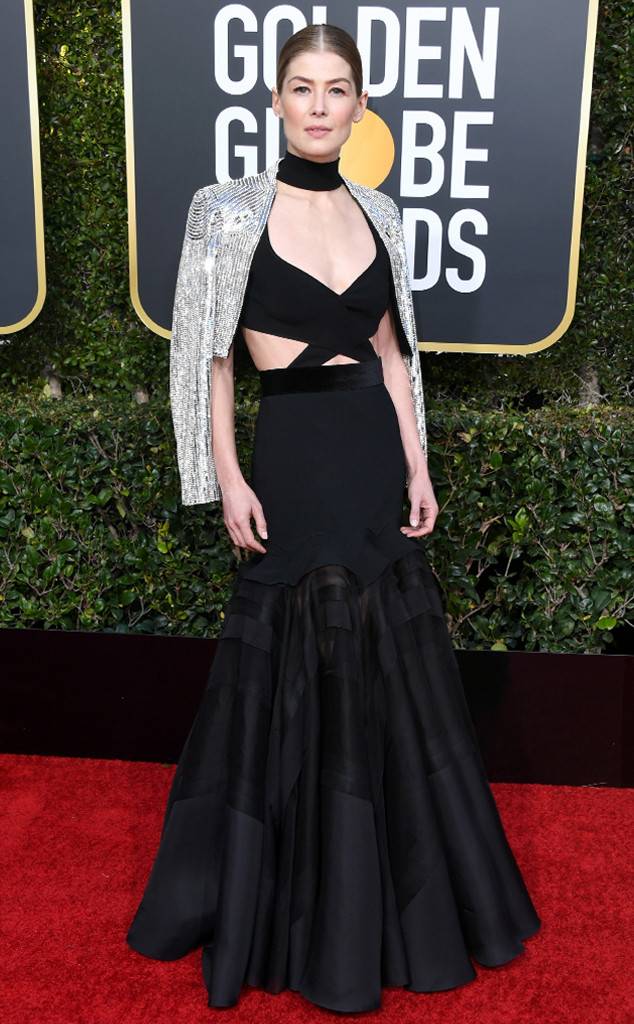 Love this shape and the blush sequins are 🙌
What.
A.
BOSS.
#JudyGreerForPresident
Well now, we have one delicious specimen spotted in his penguin suit.
Right.
Well then.
The mini GOT star decided to wear her weekend gear for deer hunting to the Golden Globes and that's ok. I too, made questionable life choices as a teen.
Pretty in peach! If you're not following body-image warrior Jameela Jamil on insta, what are you even doing with your life.
The Riverdale star channels Laura Dern's 'Big Bird on her period' vibe.
Kristen watched a few of our Halloween 'mermaid vibe' vids.
If I ever get invited to the Golden Globes, I couldn't think of any dress I'd rather wear but a creased number dipped in the goo they use on that Nickelodeon dunk thing.
This entire look is amazing.