2019 Met Gala: All The Looks From The Red Carpet
It's the first Monday of May!
Celebs have already started flocking to the steps of the Met for the 2019's Met Gala. The theme this year is Camp: Notes on Fashion so hopefully our male attendees might finally wear something that isn't a black suit.  That being said, prepare to feast your eyes on some masterpieces of farshun and probably even more mishaps from the red carpet.
Here come the first arrivals
Stop the press. Anna Wintour is wearing something that isn't a tweed Chanel creation to the Met Gala. For someone who has massive sway on the event, she never really goes far outside the box. Granted the year that she has she decided to do so in a feather cape, but you know what, I'm here for it.
Upon second glance, I really like Bee Shaffer's look but l'm not too proud to admit that if I ever wanted to dress up as a period for halloween (not likely) this is what I'd wear.
Okay the red carpet has been going for maybe 30 minutes now and Lady Gaga has already had FOUR costume changes. It's a predictably extra move from Gaga but honestly her final big reveal is so typical for her I kinda wish she would put her clothes back on. I'm here for the eyelashes though, they can stay.
YAASS Serena Williams, get it girl! I love everything about this yellow and pink masterpiece. I'm also only just noticing the red carpet tonight is actually pink. Regardless, Williams looks regal AF and I salute her.
My Super Sweet 16 meets a DIY cardboard box car is the only way I can describe Liza Koshy's outfit this evening. That being said, I don't hate it.
Excuse me Daenerys, Billy Porter, he wants his aesthetic back. Honestly, after this and his 2019 Oscars look, let's just go ahead and make him King of the world. Anyone who objects will be forced to wear tiny gold booty shorts and carry him to and from all future events.
Here's a closer look at Billy Porter's look in case you weren't convinced.
And one more for the road.
Somebody needs to let Ashley Graham know that just because Vogue said Gucci was camp, doesn't mean you can slap on anything with the Gucci logo and call it done. Also those stockings over stilettos were never going to be a good idea. I give her 10 minutes before she's got a ladder running up the back of her thighs.
Thank you Awkwafina for getting us back on track. This is camp but IMO she could have taken a gold bag instead and just really gone the whole mile with the gold trend.
Celine Dion came dressed as the elderly love child of Cher and a Vegas showgirl, what's more camp than that?
If you're going to call yourself Dapper Dan you've got to commit yourself to being dapper 24/7, lucky this look fits the bill.
Okay Harry Styles, if we could just get you to readjust your shirt just a little so I could see your nips I'd be happy. Also who was in charge of hemming your pants? Let me speak to them, they did you a dirty.
I don't know, I find this look from Karlie Kloss just a little bit boring. Did one of her Project Runway contestants make it? Couldn't she give them a time extension?
This is a perfect silhouette for Laverne Cox and her aquamarine hair really makes this look. 10/10, moving on.
Nobody asked Mindy Kaling to go blonde but boy-oh-boy we should have. Without the hair I fear this might have just been another all-gold-everything look but she nailed it with the blonde locks.
I swear someone wears this dress to the Met Gala every year. This year it was Rachel Brosnahan. Thank you, see ya next year.
Regina Hall's face in this picture is exactly how I feel about this dress. Meh.
Sara Sampaio is proof that a Victoria's Secret model can literally dress like a toilet brush and still look bangin' doing it. Such is life for these genetically blessed wonder women.
I'm sorry 21 Savage but you're about a year late to the Heavenly Bodies theme, that was last year. This year is camp, go ask Lady Gaga if you can borrow one of her first four outfits.
Charli XCX in what can only be described as Big Bird, but make it fashion.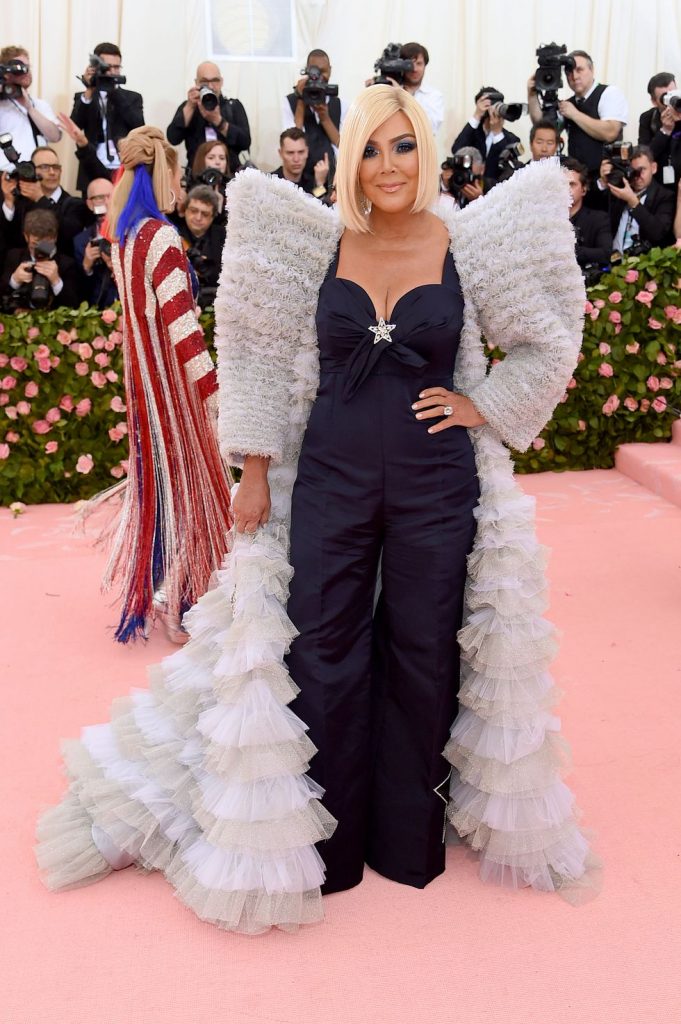 Our first Kar-Jenner sighting is the matriarch herself, Kris Jenner. Take away the tulle cape and the momager risks looking a little frumpy and that is not the Kris we know and love.
The only thing camp about Richard Madden here is that he's stolen Tan France's hair. Otherwise, it's just a lot of black and not in a fun Laverne Cox kind of way.
Oh hello Yara Shahidi, thank you for showing up. I love this look and only wish I too had hair that could defy the laws of gravity like that.
Finally some Australian representation on the pink carpet in the form of Baz Luhrmann and Catherine Martin. They're not regular parents, they're cool parents.
Hamish Bowles came dressed as the best version of Willy Wonka I have ever seen. Or maybe it's an ode to Dame Edna? Either way I am here for it and for his sassy Angelina Jolie style posing.
Nichapat Suphap dressed in what looks like wearable fairy floss by Peter Dundas.
ICYMI, Abbey Lee Kershaw would like everyone to know she is now officially a mermaid and acting ruler of the mer-people.
File this picture of Benedict Cumberbatch and Sophie Hunter under couples that look so alike maybe they should get a DNA test before tying the knot.
Constance Wu clutching pearls that aren't there is everything I needed to get me through the Met Gala.
Darren Criss wearing something I'm almost positive he already owned.
Doutzen Kroes stole the look of everyone who attended the 2019 Oscars.
I feel like Florence Welch is about to tell me the fate of humanity rests on my shoulders before sending me off on some kind of mystical quest where I'll battle a dragon. Anyone else getting that vibe?
I think I need someone to explain Jemima Kirke and Lena Dunham's looks to me before I comment. I don't get it.
Liu Wen is dressed like the 2019 version of Cher Horowitz from Clueless.
If you look closely at Madelaine Petsch's fairy costume you'll notice her shoes are nearly a full size too big. It takes commitment to walk a red carpet in shoes that don't fit, props to you Fairy Princess Madelaine.
"No we're not wearing the same thing, Ashley is clearly wearing yellow" – Mary Kate and Ashley Olsen.
So much drama in Natasha Lyonne's outfit. The contouring, the shoulders, the neckline, I love it.
Saorise Ronan can do no wrong in my opinion and this look is no exception.
Taylor Hill is looking very demure in this pretty, albeit boring by Met Gala standards, pink gown.
A zebra print, sequin suit with flares. Tiffany Haddish saw the word camp and went for it.
Tommy and Dee Hilfiger in your daily dose of 'MURICA.
Alessia Cara in mismatched Nikes at the Met Gala because why can't a girl be both stylish and comfortable at the same time?
'I don't know what I want to be when I grow up' personified in a dress worn by Carey Mulligan.
Amber Valletta is a lesson in leaving your jacket at home if you're just going to take it off as soon as you arrive.
BRB, taking this photo of Elle Fanning to my nail lady for inspo.
Oh look another all gold look but this time on Emily Blunt. Personally I think she should have come dressed as Mary Poppins.
Jared Leto has gone to extremes to make sure he wasn't stood up by his date. Cool.
Marie Antoinette is that you? Nope, it's Lili Reinhart in Salvatore Ferragamo.
I'm loving Lucy Boynton's ashy locks and flower crown and she's the only person who has done feather's right so far so props for that too.
Okay, Liam Hemsworth didn't even try. But Miley Cyrus, you had so much potential for tonight. I thought we would see wrecking ball era Miley and not The Hannah Montana Movie Miley. At least the dress has pockets though!
Regina King is looking like a queen in this bronze number. Granted, it doesn't scream Met Gala or Camp but it's pretty and I like it.
Rosie Huntington-Whiteley is looking particularly ethereal in what was a very safe choice but still one of my favourite looks from the night.
I'll be wearing this Alexa Chung look to every spring wedding from now until the rest of my life.
Alicia Vikander aka Lara Croft Tomb Raider has been raiding the prop cupboards by the looks of that flying saucer bag.
More proof that being a Victoria's Secret angel can help you get away with anything. If I tried to style my baby hairs like Candice Swanepoel has I would look like a fool.
Diane von Furstenberg wearing her own face on a gown dressed as the Statue of Liberty is the kind of extra I aspire to be.
Um is Emily Ratajkowski okay? What made her do this? She looks like a chic and sexy gremlin.
More toilet brush dresses! This time on Emma Roberts but tbqh I really like this on her!
Frank Ocean decided to blend in with the photographers this evening but no one told him photographers stand on the other side of the camera.
Gal Gadot is one of the only attendees who managed to nail monochrome dressing this evening.
How dare Michael Kors stand there and act like he hasn't just pulled the biggest prank of his life on Gigi Hadid.
Gwenyth Paltrow has made her return to the Met Gala in this sheer yellow number and to be honest anyone who can pull off this shade of yellow gets a free pass in my eyes.
Wonder Woman meets the Met Gala in this vibrant red look on Halsey.
Google Sgt. Pepper's Lonely Hearts Club Band then get back to me and Hari Nef with your thoughts.
Why settle for one hat when you can have four? Why settle for two eyes when you can have three? These are all questions Janelle Monae is asking and answering with this Picasso-esque masterpiece.
I audibly shrieked when I saw Jordan Roth in this get up. It was frightening and I'm still kind of scared.
Kacey Musgraves nailed her Met Gala Barbie look right down to the hairdryer bag. I want to see her on way more red carpets.
No Katy Perry, Chandelier is Sia's song. You sing Firework. Cute halloween costume though.
Kerry Washington's designer clearly forgot about the top half of her dress but from the waist down this look is incred.
Kim Kardashian is looking mighty uncomfortable in this very, VERY tanned look. I'm not sure what the water droplets are for but they aren't helping. I preferred the time she dressed like a couch.
Kendall and Kylie Jenner are going for a same-same but different kind of vibe in these feathered frocks. In isolation I don't love these dresses but after Kim's look, they'll do.
If you listen carefully, you can hear Lily Aldridge's latex bodysuit squeaking up the steps of the Met.
Lily Collins is the perfect vision of a 1960s rebel bride in this look and I don't mind the little throwback.
Since when is Lily Rose Depp old enough to attend the Met Gala and do so looking like this?
When has Naomi Campbell ever gotten red carpet dressing wrong? Never that's when and this frock is no exception.
I think it's cute that Nick Jonas and Priyanka Chopra are spending a date night at the Met Gala. It's where the newlyweds met after all. However, is Nick planning on carrying around that napkin like a waiter in a posh restaurant all night or will he hang it from Priyanka's crown from some point?
When they asked Tracee Ellis Ross to come to an art gallery for the evening, she heard the call and answered with, 'I am the art darling'.
Wendy Murdoch must have decided last minute to show up to the Met Gala because she has clearly pulled out everything in her craft box, slapped it together and called it a dress.
Take away the feathered shawl and Winnie Harlow is the showgirl we all deserve at the Met Gala.
Zoe Kravitz took the term sweetheart neckline to a new level and it is working for her.
There is nothing more camp on this red carpet than Cara Delevingne dressed as a rainbow Carmen Miranda.
I really hope Cardi B showed up this late in the game so just she could snap this much space on the step. After getting in  a car in this outfit, the girl deserves. Wishing her luck when she eventually needs the bathroom later.
Another Gucci creation is making it's way into the Met, this time on Dakota Johnson. This probably my favourite Gucci look so far but I wouldn't call it camp.
I'm not sure Hailee Steinfeld quite understands the purpose of a red carpet but nevertheless I'm glad this Viktor and Rolf dress got it's time in the sun.
This pair is absolute couple goals and dare I say it, but I think A Rod has done a better job of going outside his usual look than J Lo has.
Fresh from their surprise wedding in Vegas, Sophie Turner and Joe Jonas look fabulous in their matching attire.
The Met Gala was the perfect opportunity for Bella Hadid to wear something that isn't a black cutout dress but no one told her so that's a bummer.
Dua Lipa is nailing her first Met Gala appearance in this kaleidoscopic number. I'm also picking up major Fran Dresser vibes.
Making a comeback from the waffle dress disaster at the Oscars, Emma Stone is finally wearing a Louis Vuitton look we can get behind.
Gemma Chan is my new favourite red carpet attendee. I wonder if she can pick up Foxtel on that headpiece?
According to her skirt, Donatella Versace looks divine.
I spent too long looking for Ezra Miller's real eyes and now I have a headache.
Irina Shayk heard the theme was camp so she came dressed as a night sky I guess?
As a kid my favourite thing to get from the Mr Whippy ice cream van was soft serve dipped in sherbet so no surprises, I love this look from Lizzo because it looks the exact same.
YES MICHAEL URIE. That's all.
Zendaya looks perfect in this metallic ode to Cinderella.