Weekly Wrap: Kit Harrington's Testicle, How Much The Kardashians Actually Earn and Bieber Beauty
Okay, everybody, we have a lot of ground to cover today. As I'm sure you definitely noticed, our weekly wraps went on a little hiatus (we were at Coachella, #soznotsoz). That means we've got twice as much goss to fill you in on.
This week we're moving between West Hollywood and Winterfell so keep up. For once, the Game Of Thrones cast and the Kardashians are neck and neck with their clout chasing. We've also got shoutouts for Ariana Grande, Hailey Bieber and Beyoncé.
Kit Harrington almost lost a testicle filming GOT
We're two episodes deep into the final season of Game Of Thrones and boy-oh-boy is that show risky business. Not only do the stars get accosted by people in the streets, but Kit Harrington aka Jon Snow nearly lost a testicle for the sake of the show.
In an effort to satiate the thirst of GOT fans, HBO dropped a behind-the-scenes look at the making of the first episode. If you haven't seen ep one already, sorry but spoiler alert, Jon takes a little joyride on one of Danyerys' dragons. To create the on-screen magic, Kit and Emilia ride mechanical-bull-like mechanisms and that's where things went balls-up (sorry) for Kit.
"There was a bit where Jon almost falls off," he explains. "The dragon swings around really violently…and my right ball got trapped, and I didn't have time to say 'Stop!' And I was being swung around.
"In my head, I thought, This is how it ends, on this buck, swinging me around by my testicles". Ouch.
Sophie Turner trolled Maisie Williams over that sex scene
While the internet was busy googling 'how old is Maisie Williams?' during this week's episode, Sophie Turner had the best reaction to Maisie Williams' first sex scene on GOT.
Sophie Turner bringing the tea ☕️ pic.twitter.com/ragG7oKh7S

— Daenerys Targaryen (@Daenerys) April 22, 2019
Turner toasted Williams, sipping on some vino and declaring: "In honour of Easter I guess Game of Thrones wanted the storyline to have a little Easter bunny hop hop hopping into that pussay. That's the tea."
I've just got two things to add here. First, if you're one of those people who has a problem with Ayra losing her virginity, do everyone a favour and read this. Second, thank you, Sophie Turner, for bringing the phrase, "hop hop hopping into that pussay" into the zeitgeist. We salute you.
Khloe was shady AF at True's first birthday and it's gold
Things are finally looking up for Khloe Kardashian with the celebration of her daughter True's first birthday. Of course, it was a classic Kardashian affair with OTT decor and pony rides that baby True probably won't remember. What we'll be remembering for years to come through is this golden interaction between Khloe and Tristan Thompson.
Tristan, you'll remember, is a total scumbag Khloe's ex-partner and baby daddy. The pair split after multiple cheating scandals on Tristan's behalf (the most recent being that Jordyn Woods fiasco).
True may only be 12 months old, but damn, even she knows Tristan is gross. Khloe obviously wasn't going to hand her over but tbqh, True didn't look like she wanted any father-daughter bonding time either. Who knows where those hands have been.
Speaking of awkward Kardashian run-ins, did anybody else see that Kendall and Jordyn ran into each other at Coachella weekend one? Talk about awkward.
Kris Jenner revealed how much a Kardashian #Spon post is worth
Khloe Kardashian really spared no expense when planning True's first birthday bash and now we know why. Matriarch and OG hustler, Kris Jenner revealed that the Kardashian-Jenner sisters get at least six figures every time they post an #ad (throwback to Kendall's  US$250,000 Fyre Festival post).
"My daughters are constantly getting offers to post something for a company, or a brand, on social media. They have a fee for a post, or a fee for a story, a fee for Facebook…they have a fee schedule," Jenner told Good Morning America. Jenner also revealed that the price of the post can go up if one of the sisters has to ingest the product (like those toxic tummy teas they all seem to love).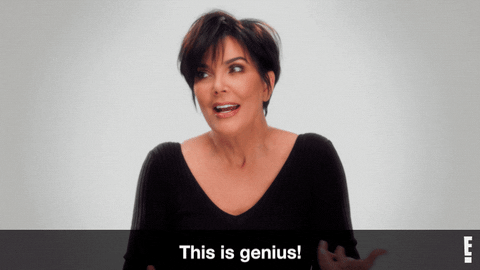 So basically, they earn more than most people a decade for an Insta post. Cool.
Bieber Beauty is coming
Another celebrity cashing in on her famous surname is one Mrs Hailey Bieber. Hailey recently trademarked the name 'Bieber Beauty' giving a major hint that something big is coming. To be fair, if my surname was Bieber I would be slapping it everywhere too.
Before becoming Mrs Bieber, Hailey was successful enough in her own right and probably could have started a beauty label but 'Baldwin Beauty' just doesn't have the same ring to it. Fingers crossed the range is complexion based because I'd spend a lot of money to look like Hailey.
Beyoncé is coming home
Last but certainly not least, for anyone who has been living under a rock for the last week, Beyoncé's doco is finally here. A Netflix special titled. Homecoming, the production is basically a religious experience. It documents Beyonce's 2018 Coachella Beychella performance and fans are here for it.
My honest reaction to every single part of this film. BEYONCÉ. GIRL.
🙌🏾🙏🏾🙌🏾🙏🏾 #BeyoncéHomecoming pic.twitter.com/YhH19WEjPr

— Strong Black Lead (@strongblacklead) April 17, 2019
In true Beyoncé fashion, the documentary wasn't the only gift she had up her sleeve. Bey also surprise-dropped a 40-track album called Homecoming: The Live Album. It's not the gift we deserve, but it's what we received and I for one am thankful.
The documentary reportedly cost US$20 million to make and IMO it's money well spent. However, it's release happened just before Coachella weekend two prompting a rogue fan to throw a lemon at Ariana Grande during her set because of the disparity in their headlining act fees.
Just about everyone is talking about the documentary from Michelle Obama to Mindy Kaling who uploaded this killer IGTV in Bey's honour.
That's it, have a good weekend folks.
Wrapped by Emma Roffey