UPDATED: Everything You Need To Know About Justin Bieber's Wedding
I cannot handle JB's wedding makeover 🤤
Apologies to your 14-year-old self, but your 2009 man crush, Justin Bieber is officially married (again). No, he and Hailey Bieber (née Baldwin) haven't split in the short year they've been married. Rather, they got married again. However, this time instead of secretly exchanging vows in a courthouse, the Biebers threw the ultimate big, white wedding. Find out everything you need to know about Justin and Hailey's wedding below!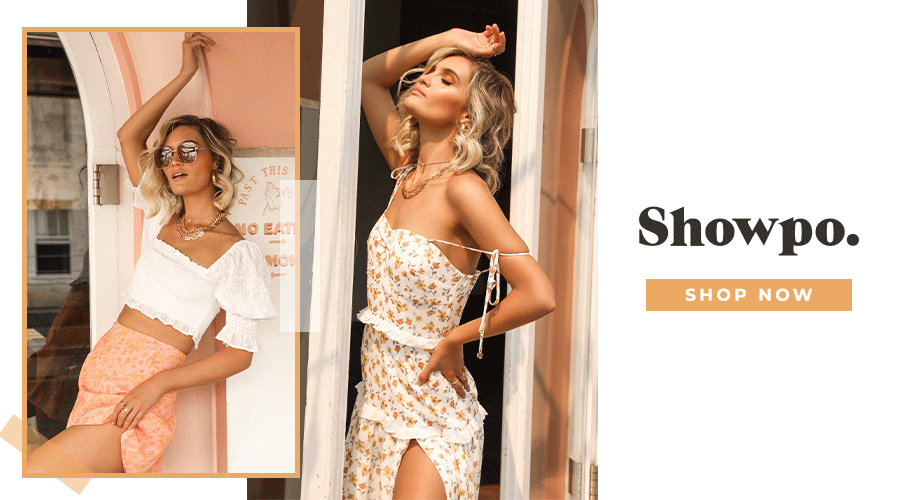 Update: We finally have pics of Hailey Bieber's wedding dress
The Biebers have heard our prayers and well and truly delivered on the wedding dress front. A week after her wedding to Justin Bieber in South Carolina, the bride took to Instagram to share long-awaited pics of her dress.
The dress was a slim-fitting, off-the-shoulder lace gown with a trumpeted skirt and full-length sleeves and a low back, connected by a thin strap. Designed by Off White's Virgil Abloh, the new Mrs Bieber thanked the designer for "making [her] vision come to life and creating [her] dream dress."
Her veil also had a special message from the groom embroidered on the hem. You know, in case anyone was forgetting what occasion they were all there to celebrate.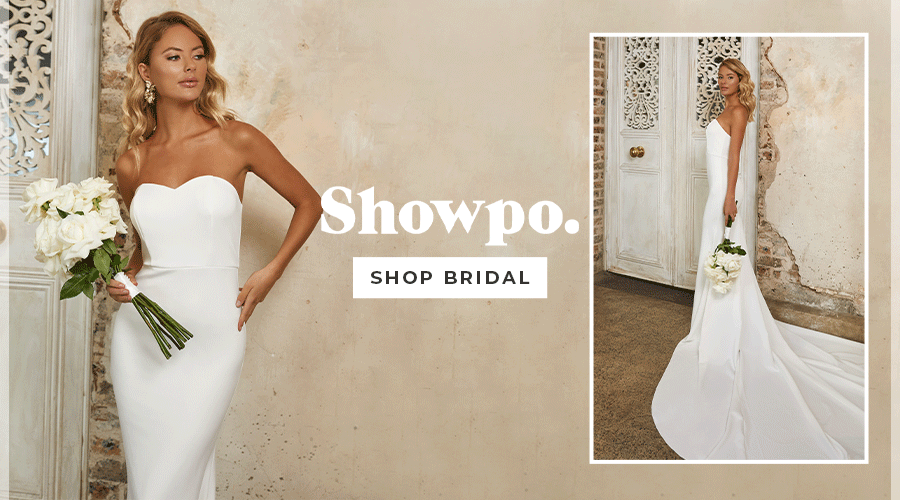 Original article continues below
Justin's wedding makeover
First of all, let's get to arguably the most jaw-dropping part of these nuptials: Justin Bieber's wedding transformation. No, we're not talking about the Biebs doing a wed-shred. It was like the Fab Five from Queer Eye paid the popstar a visit before he walked down the aisle because this is not the same man we've seen in recent years.
Ditching his usual track pants and baggy t-shirt aesthetic, Biebs donned boat shoes and a white Lacoste polo shirt TUCKED IN (!!!) to navy slacks for the rehearsal dinner. Hailey Bieber also looked stunning in a white Vivienne Westwood mini dress and Jimmy Choo heels. But honestly, that's not shocking. The girl always looks fabulous. But Justin! The outfit. The haircut. It's all too much, who is this man?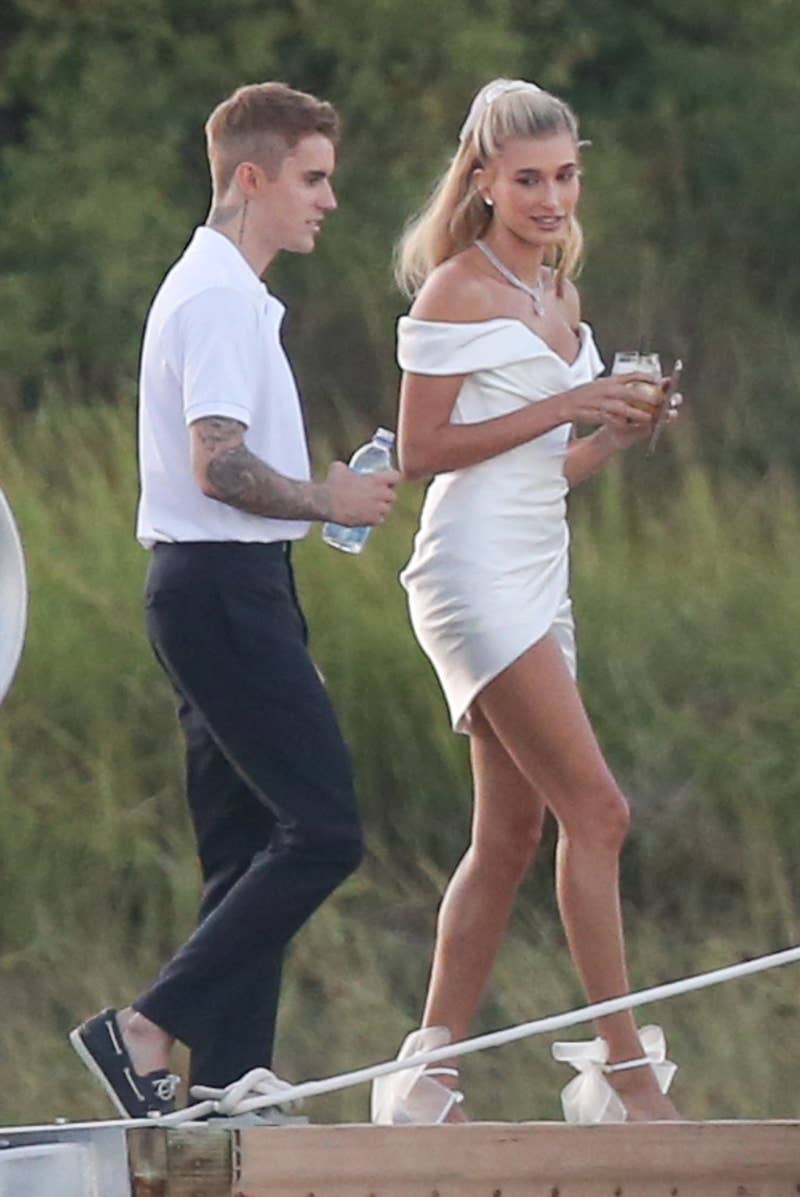 In case you forgot, this is what the Fab Five (who I am convinced had a hand in this) were dealing with:
The venue
The wedding was held at Palmetto Bluff, a private hotel and chapel in South Carolina that Justin and Hailey completely rented out.
According to all reports, guests were whisked away to the rehearsal dinner by speedboat. You know, because the Biebers are very low key and casual people.
The attire
There's no official word (or pics) of the wedding dress just yet, but judging by their last wedding, we can expect a full spred in Vogue shortly.
From the limited look we get from both Justin and Hailey's Instagrams, we know she wore a white halter-neck gown to her reception. We also caught a glimpse at a few key details of the gown including a small notch in the neckline, and a thin strap that ran down the back. Her hair was worn in a low bun and her jewellery was kept minimal. Or at least as minimal as you can be wearing a pair $2,050 of Tiffany diamond stud earrings.
Now, I'm assuming this is a pre-reception outfit change because there are a few paparazzi pics floating around of her in something entirely different.
They do!!! 😭😭😍Check out these photos of Hailey and Justin at their wedding ceremony. pic.twitter.com/YDHhQbddPQ

— Hailey Bieber Outfits (@haileysoutfits) October 1, 2019
While we wait for word on the wedding dress, there's definitely an opportunity to have a nosey at other items worn by the bride and groom.
For instance, this super cute leather jacket donned by the bride at the end of the night.
And the sweaters in this super #SponCon wedding favour:
Then there are these grills worn buy the groom. We knew that preppy transformation was hiding something.
Pre-wedding, Hailey stuck with the all-dressed-in-white theme in this killer look: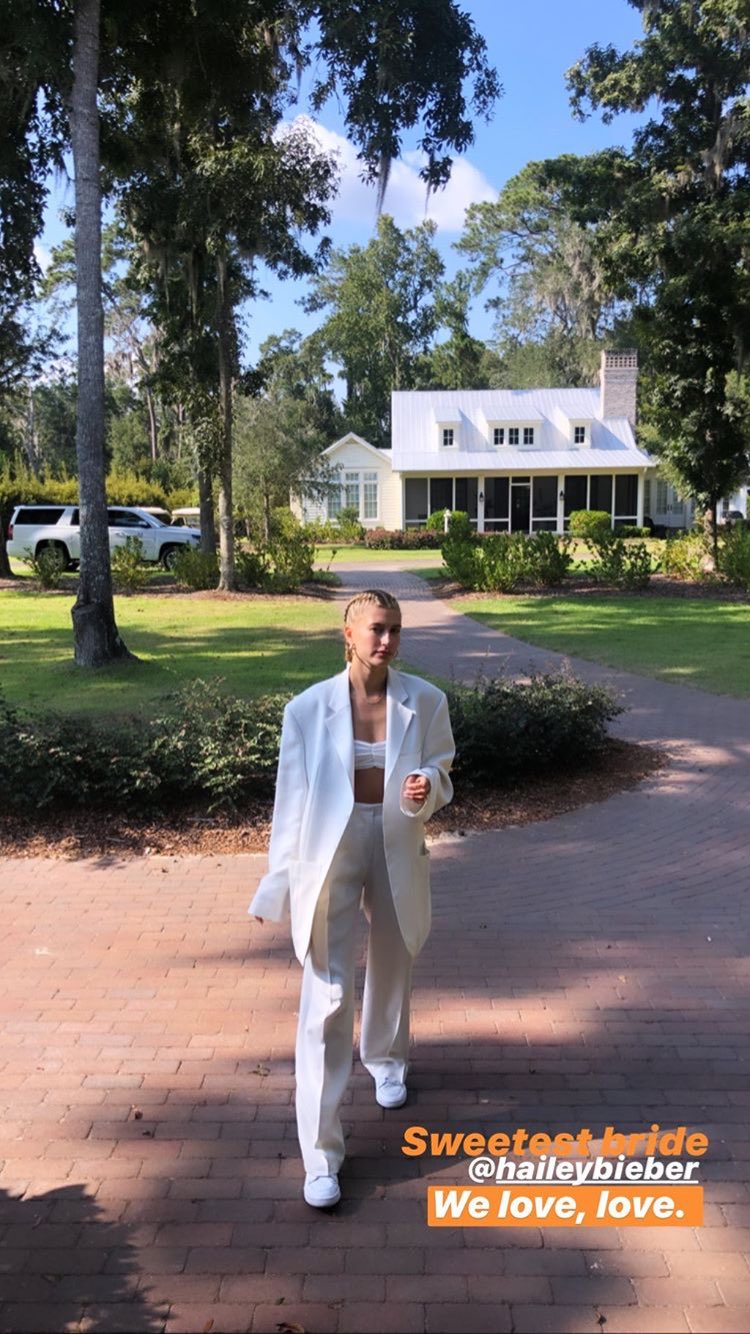 The guest list
We already reported on the potential guest list when TMZ leaked info about the wedding back in August and not brag, but we totally called it.
Invitees include Kendall and Kylie Jenner (with Stormi in tow), Travis Scott, Jaden Smith (never forget that Karate Kid collab), Scooter Braun and of course Hailey's sister Alaia Baldwin and cousin Ireland Baldwin. Since Ireland was there (the person, not the nation) we're assuming her dad Alec Baldwin also made the cut.
The wedding had to be a black-tie affair because the guests were dressed better than half of this year's Emmys attendees.
Oh, and for those of you interested, Kylie and her krew flew home to L.A from South Carolina once the wedding was over. That's the real luxury of having your own private jet. I wish I could hail a flight like it's an uber.
Kendall Jenner's gratuitous use of the photobooth
Don't get me wrong, I love a good photobooth. Pop one at a celebrity wedding and even better, I'm a happy lass. However, I think Kendall Jenner's show-stealing snaps deserve a little shout out of their own. Swipe the second pic to get a real for the look she's serving.
I mean to be fair, if I was attending my ex-boyfriend's wedding, I too would want to look fire. However, if he was marrying one of my best friends, maybs not. I don't know, let's discuss it (politely, ladies) in the comments.
Words by Emma Roffey