James Charles DMed A Bunch Of Celebs And It's SO Cringe
"Hey Queen!"
While there was plenty of speculation that celebs would be quick to drop James Charles post his Tati Westbrook dragging, it turns out we were all wrong. Again.
On Friday, James dropped his latest YouTube vid, 'DMing Celebrities To Pick To My Makeup', where he does just that. He DMed a whole slew of our fave celebs (Hey Rihanna!) and asked for their top beauty buys.
Shockingly, a bunch of them actually replied! Granted James Charles isn't your regular Insta user, I doubt I could DM a Kardashian and get the same response rate he did, but MAN, it is interesting to how celebs interact with each other (especially when we catch snippets of their previous convos).
The video starts off with a hilarious little aside about James referring to his own 'fame'. If you don't understand, go back and catch up on the beauty feud shitstorm from earlier this year and then come back us. Trust me this is essential to understanding this goldmine of a video.
So who did he message, and more importantly, who took time out their day to respond? Scroll on for a full breakdown.
Bella Hadid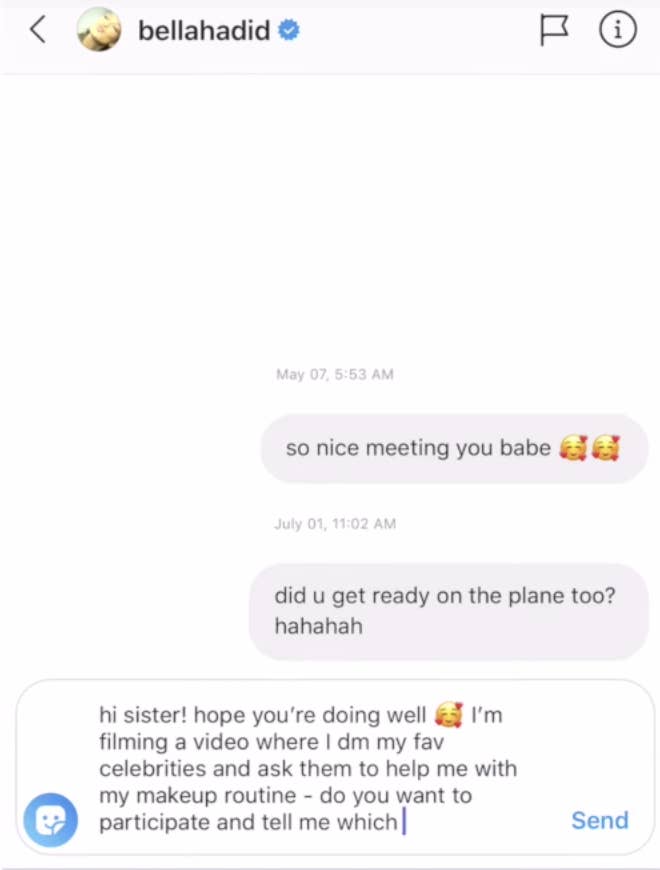 The first person James messaged was Bella Hadid. His reasoning is that the VS model has ludicrously good skin (true) and therefore must know what's up with good primers. What's awkward though is that he's definitely DMed her before, and she's definitely never responded. He also spoke about meeting her on a flight from New York to LA. He called the encounter iconic but I doubt she remembers it.
Cardi B
For foundation wisdom, he turns to Cardi B, obviously, they both have pretty similar aesthetics tbh. It's super interesting to see that he's blurred out their last conversation. I don't know if I'll be able to sleep tonight not knowing what Cardi B and James Charles talk about. Also was Kulture's birthday party everything? I need to know. Sadly, we won't find out, because Cardi didn't respond. Rude.
Rihanna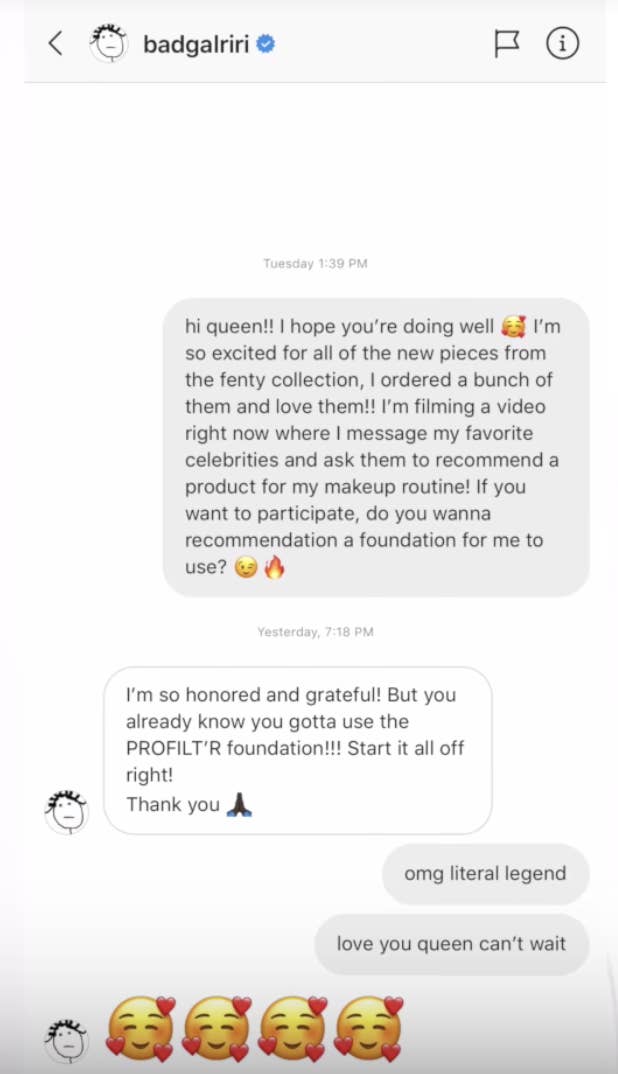 Argh, this message is SO cringey. Like, yes, he is DMing a living legend but what happened to playing it cool? Obvs Rihanna was into it because she bloody replied! I would have been deceased on the spot. Naturally, her fave foundation is the Fenty PROFILT'R, because one, it's the bomb, and two, as if she wouldn't.
Zara Larsson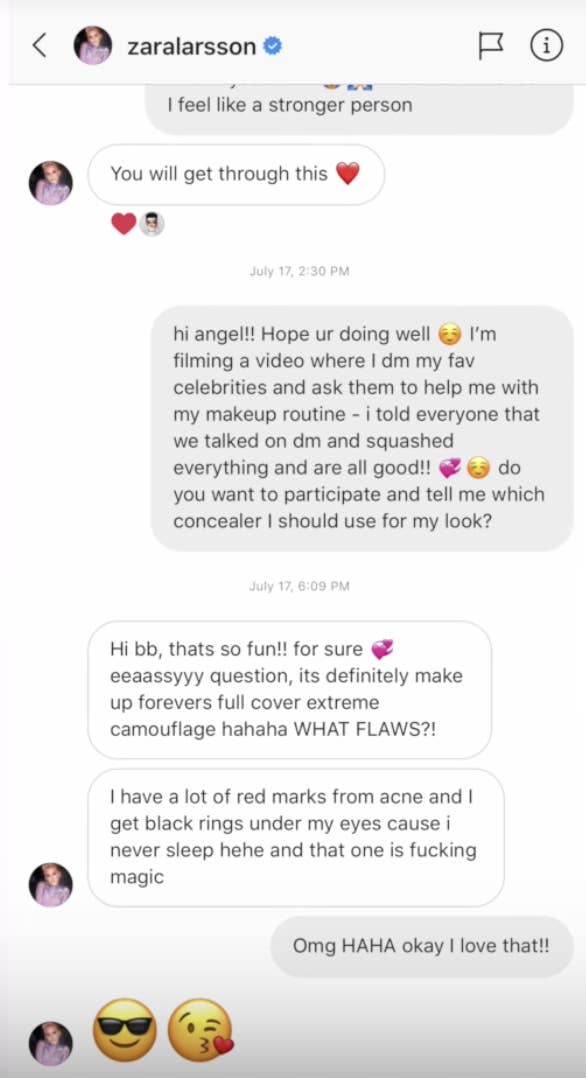 You heard it here first folks, Zara Larsson and James Charles are over their beef and are now bonding over their fave concealers. Super interesting considering Zara publicly tweeted about James trying to cut her grass with her BF, and he pretty much slammed her back in his response video. But obviously, there's no bad blood between them because that message at the top is actually kinda sweet.
Kim Petras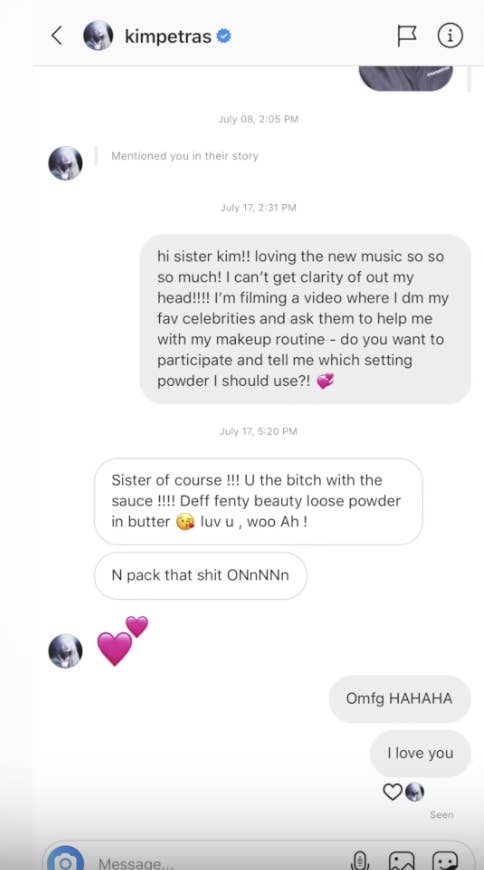 I have no idea who this is, someone educate me, please.
Iggy Azalea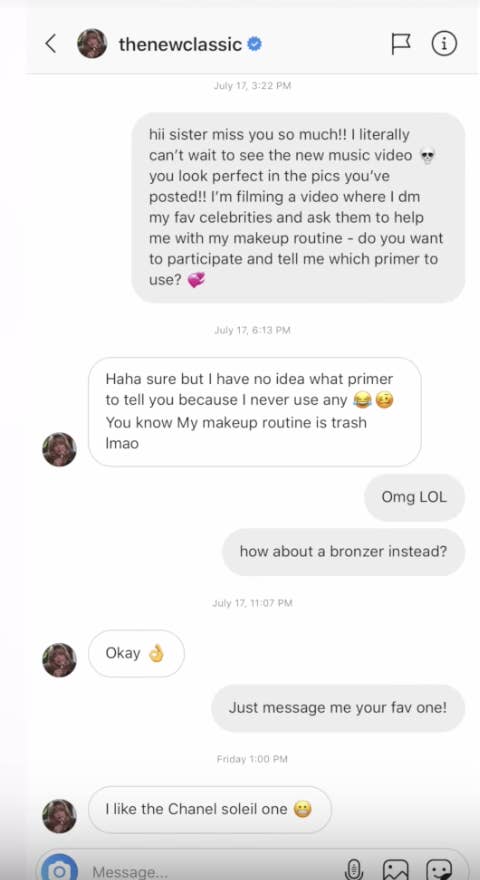 Okay, first of all, whoever told Iggy Azalea her make up is trash is a downright liar. She may not be my fave musically, but that woman has good skin.
Millie Bobby Brown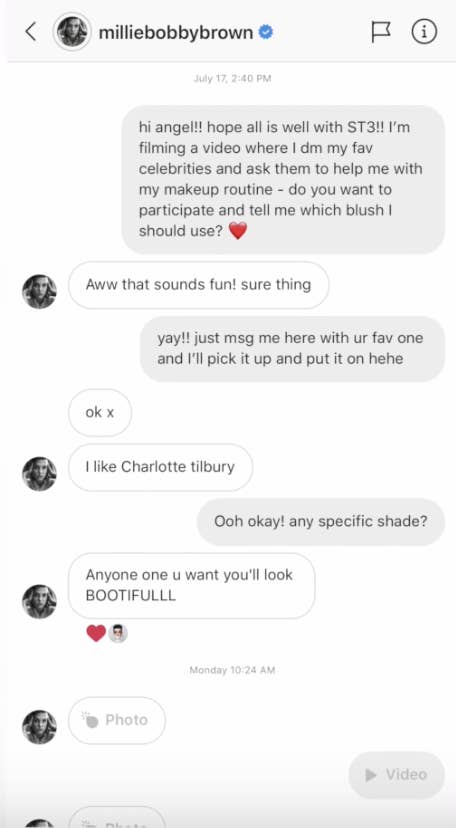 I mean, asking a 15 year old for her fave blush seems a little redundant to me. It's called youthful innocence, ever heard of it?
Maddison Beer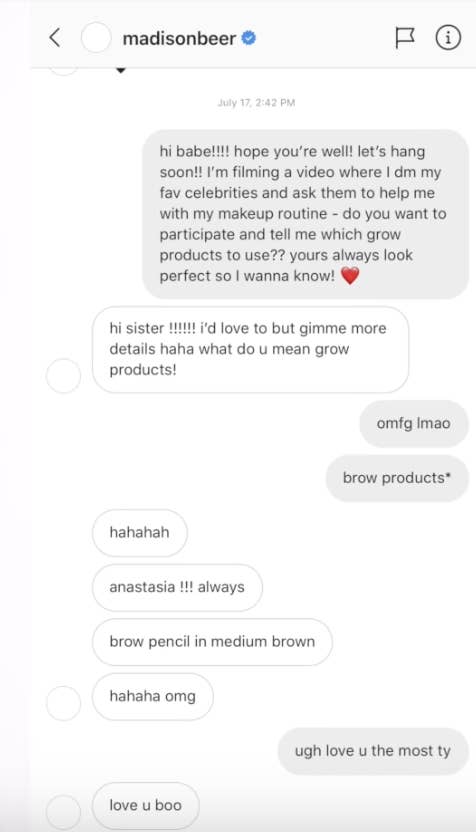 Not gonna lie, this is another 'celebrity' who I had no idea existed. Turns out I'm v late to this party because she already has 10 million Instagram followers and a Twitter shoutout from Justin Bieber.
Kim Kardashian West
Let's ignore the fact that he called Kim Kardashian 'Mom' for a second, how many times can he name drop Kim K in this snippet. Granted the entire video in an exercise in name dropping, but James was especially sure to mention that he has spoken one-on-one with Kim on Twitter, on Insta, via text and probably via homing pigeon too if he could. First making sure this was going to be good for business (she's a Kardashian after all), Kim recommends her yet-to-be-released palette So Fire.
Lady Gaga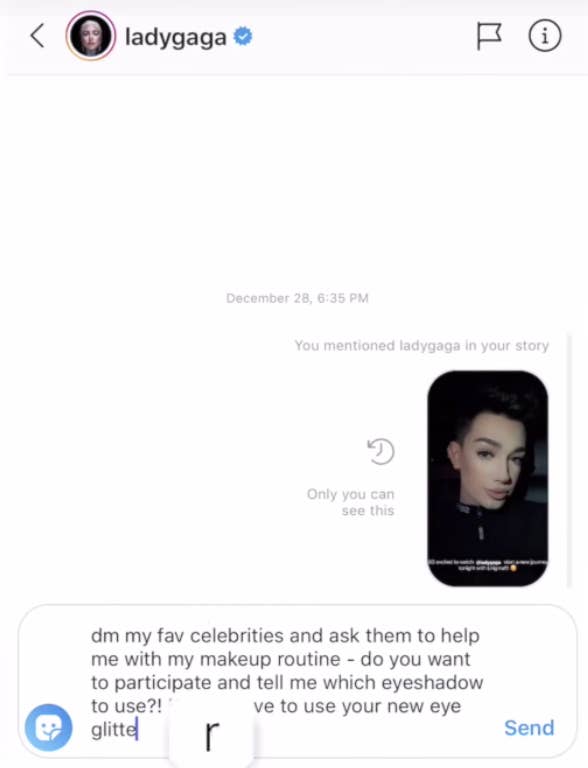 Clearly too busy launching her own beauty line (or just cut that she was James' second choice for eyeshadow recs), Lady Gaga never got around to reading her DMs.
Paris Hilton

I love that instead of sending a recommendation of which lash product James should use, Paris Hilton, sent an entire branded swag bag of her own lash products. That's hot.
J Lo
Maybe don't ask J Lo if you can meet her kids. It's weird. That's why she didn't reply.
Troye Sivan
'Love u the most'
*Troye has left the chat*
Kylie Jenner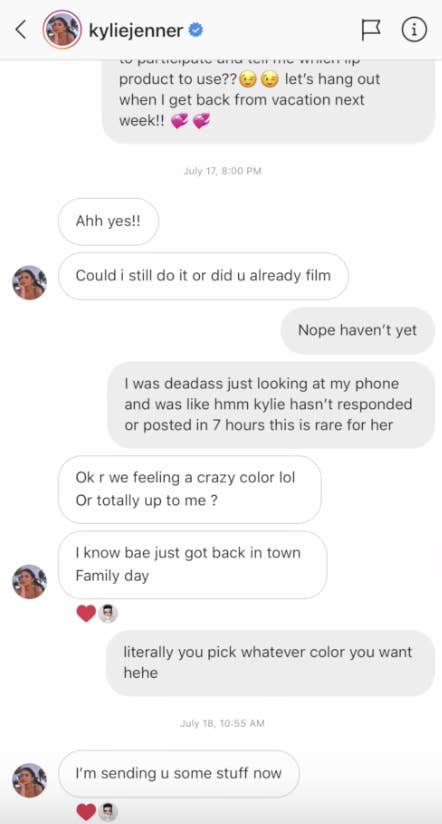 James couldn't even get through an apology video without mentioning his friendship with Kylie Jenner so there's no surprises about her inclusion here. Never one to let her big sister's business outshine her own, Kylie sent a couple of her own products James' way. Personalised gifts from Kylie Jenner? Can't relate.
 Lil Nas X
"Taking horses to the old town road sounds like a very rigorous sport…", this is so many levels of cringe and awkwardness that I just can't. Lil Nas X was apparently way too busy with those horses to reply but it's likely he's still scratching his head wondering why this message ended up in his DMs.
Shay Mitchell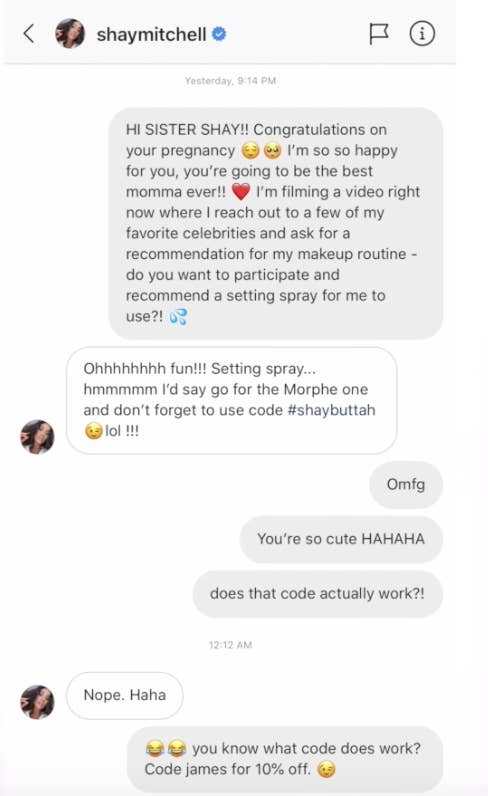 Shay's to-do list:
1. Announce she's six months pregnant to the world.
2. Get back to James Charles with a setting spray recommendation.
Shawn Mendes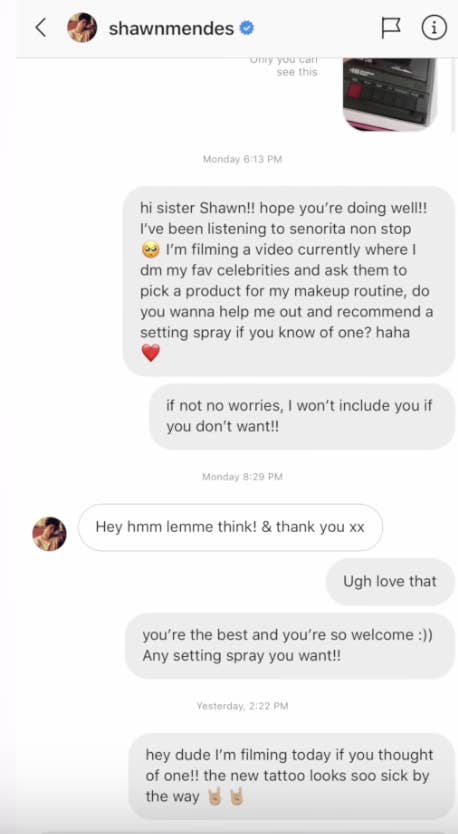 Shawn Mendes is so busy pining over Camila Cabello that he ghosted James Charles, and that's the tea.