Every Major Moment You Missed From The 2020 Oscars
A TLDR for your Tuesday morning.
ICYMI, the 92nd Annual Academy Awards went down at the Dolby Theatre in LA yesterday. Naturally, Hollywood's night of nights took centre stage and provided us with all the red carpet fashion and meme fuel we needed to get through this week. However, if you got caught a little too off guard byTimothée Chalamet's outfit to concentrate on much else (like you know, the actual show), here's everything that happened at the 2020 Oscars worth knowing about.
Janelle Monae opened the show
With a dig at the Academy for a lack of representation no less. She delivered an absolutely killer performance with nods to all the nominated films and still had time to serenade Tom Hanks. We may or may not have clapped at our monitors when it ended.
Mindy Kaling and B.J. Novak arrived together
AKA Kelly Kapoor and Ryan The Temp. If you're a fan of The Office, this is a big deal.  P.S. we know this is from the Vanity Fair afterparty but the sneaky buggers didn't upload anything from the actual Oscars. SMH.
Toy Story 4 won an Oscar
"We hope your adventures with Woody and Buzz made growing up a little bit easier". Our hearts are bursting with happiness seeing our childhood buddies win Oscars. NGL, we didn't really get the whole Forky thing, but we're glad he's having a moment.
Plot twist: There are 44 versions of Frozen II in the world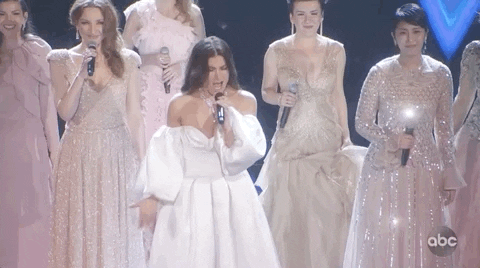 Just when you thought Frozen couldn't take up any more airtime, it turns out there are 44 women in the world who play Elsa. Disney had the film dubbed in multiple languages so children all over the world can obsess over Elsa and Anna the same way your baby cousin does. We got to see several of the Elsas on stage (luckily John Travolta didn't introduce them) at the Oscars. We're not sobbing at our desks, you are.
Brad Pitt won an award and didn't joke about being single
Brad Pitt finally won his first Academy Award for acting at the 2020 Oscars. Taking out Best Actor in a Supporting Role with Once Upon a Time in Hollywood, Pitt took to the stage with a tear-jerkingly cute speech.
He gave a quick shoutout to his BFF, Leonardo DiCaprio saying, "Leo, I'll ride on your coattails any day, man. The view is fantastic."
Then he got a bit emosh about his own Hollywood journey.
"To all the wonderful people I've met along the way as I stand here now. Once upon a time in Hollywood, ain't that the truth."
Breaking an awards season-long streak of Tinder jokes and self-deprecating nods to his singledom, Pitt ended his allotted 45 seconds with a shout out to his kids.
"This is for my kids, who colour everything I do. I adore you."
Eminem performed about 12 years late
Look, if the year was 2002 we would understand why Eminien was performing Lose Yourself at the Oscars. Well not really, but we'd kind of get it. Like a little bit.
However, after a musical montage honouring the Best Original Song winners of the past, Eminem came out of freakin' nowhere to do exactly that. Suffice to say the audience's reactions were varied.
Gal Gadot loved it…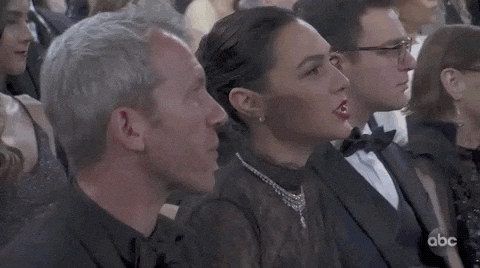 Billie Eilish and Finneas, not so much…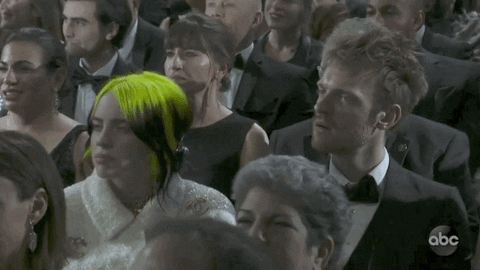 This human was living for it…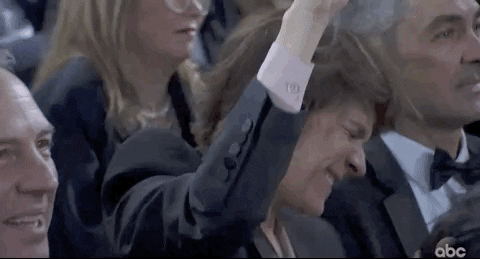 Martin Scorsese took the opportunity for a nap…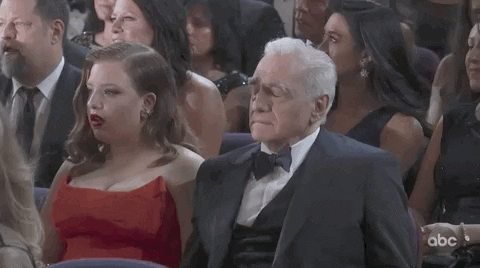 Sorry, Eminem. You win some, you lose some.
Maya Rudolph and Kristen Wiig proved they should've hosted
Billie Eilish didn't get it, but personally, it was our fave skit.
Laura Dern made everyone want to call their mum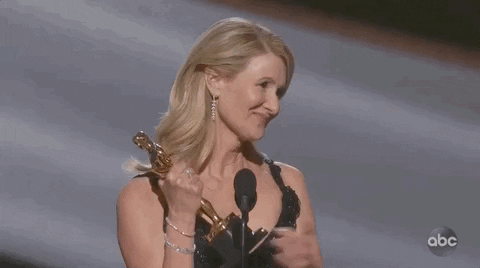 Accepting the Oscar for Best Actress in a Supporting Role, Laura spoke directly to her mum who was sitting in the front row.
"Some say, 'Never meet your heroes,' " Dern said during her emotional acceptance speech. "I say if you're really blessed, you get them as your parents. I share this with my acting hero, my legends, Diane Ladd and Bruce Dern. You got game. I love you."
BRB, crying.
Tom Hanks and Charlize Theron staged an uprising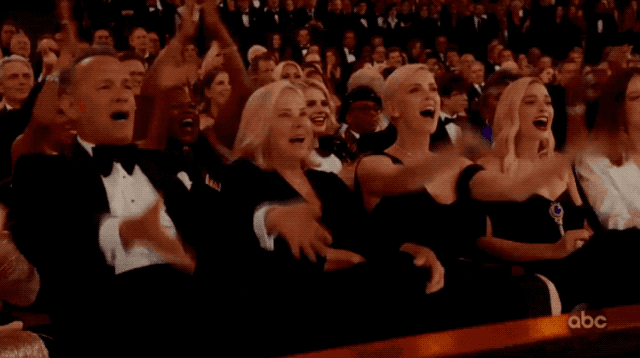 When the lights cut while the cast and crew of Parasite collected their Best Picture Oscar — the duo (along with Margot Robbie) used their collective star power to demand the lights be turned back on.
Who is the Academy to say no to Tom Hanks? The lights swiftly came back on so they could finish their well-deserved "thank yous" in what was truly the most delightful moment of the night.