We're living in a non-stop news cycle. There are new reports released around the clock, and newspapers, sites, apps, radio and TV stations put their own spin on stories. We can get information when we want, and how we want, so it's harder than ever for journalists – no matter how passionate, relentless and thorough they are – to make their mark.
As consumers, we're interested in different topics. We're engaged by different styles of writing. Because of that, it's impossible to narrow down the world's best journalists. What we can do is talk about the most influential, inspiring and talented journalists; the ones who are drawing in audiences and shaking up the news industry, story by story.
These 7 journalists are on our radar right now…
Ronan Farrow
The #MeToo movement erupted in 2018, and part of that can be traced back to Ronan Farrow. In a blockbuster report for The New Yorker, he blew the whole Harvey Weinstein scandal out of the water. Over the course of 10 months, Farrow found and interviewed 13 women who accused the Hollywood mogul of sexually harassment and assault. Then he published the ground-breaking (and heartbreaking) results. But it wasn't easy: Farrow had to use spies to track down some of the sources, and many of the women struggled with the idea of coming forward. He took the story to NBC News first, who shut it down. Fast forward to now, and tons more women have come out of the woodwork, and Harvey Weinstein turned himself into the police (before being released on $1 million bail).
Christiane Amanpour
If you're hoping to be a journalist one day, start reading Amanpour's work – she's a fearless #girlboss. She began her career as an entry-level assistant at CNN in 1983, then worked her way up to the international desk. Now, she's CNN's chief international correspondent, plus a global affairs anchor for ABC News in America. She's also one of the journos who's most followed by world leaders on Twitter, just casually (and she's interviewed most of them, too). Amanpour has reported from war-torn and politically-charged regions like Iraq, Afghanistan, Iran, Sudan, Pakistan, Somalia, Rwanda, Libya and North Korea, plus the US after Hurricane Katrina. She's most famous for being the only Western journo to secure an interview with Hosni Mubarak, the Egyptian military leader-slash-President who was in power for 20 years.
Chris Cuomo
Even for a political journo, Chris Cuomo is feisty. If he's interviewing you on his CNN show, Cuomo Prime Time, you'd better be prepared. He's brash, with zero tolerance for bullshit, and his interviews are thrilling and entertaining to watch. In his own words, "Testing power is something that I am good at." Earlier this year, he got Trump's counsellor, Kellyanne Conway, in the hot seat, and things got heated. The marathon interview (about 30 mins) covered everything from the FBI and Russia investigation to the White House's firing streak, and Cuomo would not let her dodge a single question. And every time Conway tried to deflect, Cuomo caught her, saying "I haven't asked you anything about that! It's like you're having a different conversation." The clincher was when he accused her of trying to "poison people's minds."
Sabrina Siddiqui
The 2016 US presidential election was one of the most newsworthy events of our time. In her role as a political reporter for The Guardian, Siddiqui shone a sharp and necessary new light on the election. She chronicled Trump's campaign as a Muslim, and her essay was chilling, memorable and intensely personal. Especially the first few lines:
"We should exterminate them."
The words rolled off the voter's tongue as though as he was merely discussing a pest invasion in his home. He was talking about Muslims.
I froze as I suddenly became aware of my own Muslim identity, my long hair just barely covering my necklace that bears the name of Allah in Arabic scripture.
And this was 2016.
Siddiqui has continued to use her unique point of view to report on the Trump government, and sadly, the news hasn't gotten much better.
Nikole Hannah-Jones
As a reporter for The New York Times Magazine, Hannah-Jones has honed in a specific issue: racial segregation. Her work is both important, impressive and some of the best journalism of our time, so much so, that the MacArthur Foundation awarded her a 'genius grant' in 2017. Then, it was time for Hannah-Jones to send her own daughter to school. Her feature, Choosing a School For My Daughter In a Segregated City, is a masterpiece. She talks about navigating New York's public school system, and the battles she faced between what's best and what's right. When she decided to enrol her daughter in a Brooklyn school made up of low-income students, she said, "I worried—I worry still—about whether I made the right decision for our little girl. But I knew I made the just one."
John Woodrow Cox
This year, you would have heard about the #MarchForOurLives rallies that took place in the US and across the world (we wrote about it here). The anti-gun movement is sweeping America, but the story doesn't stop there. John Woodrow Cox is one journalist who has dedicated his time to exploring what happens after school shootings. He investigates the ins and outs of the kids' lives, and gets into the minds of the shooters. Why did they do it? Why? For The Washington Post, he wrote an eye-opening series about the impact of gun violence on children in America – and it was named as a finalist for the 2018 Pulitzer Prize. Each report is gripping and important, and told through the eyes of kids, which has never been done before. Cox is now writing a book.
April Ryan
For over 20 years, April Ryan was known for asking hardcore questions as a White House Correspondent for American Urban Radio Networks. She thought she'd seen it all, and then the Trump government came along and in Ryan's words, "put a target on [journalists'] heads" with the whole 'fake news' thing. Ryan is now also writing a book and working as a political analyst for CNN, and she's scooped up many awards for her reporting, including the National Association of Black Journalists 'Journalist of the Year 2017.' She's one of the few minorities and women allowed into press briefings, and sometimes, she can't hide her shock (Exhibit A: this "I'm sorry, what?!" gif).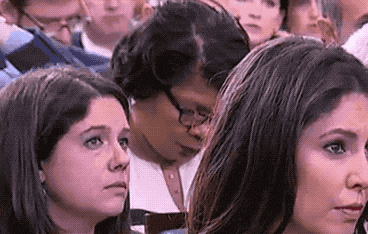 In April, she asked the White House Press Secretary Sarah Huckabee Sanders if Trump was considering resigning – which as you can imagine, didn't go down well.
 Words by Katia Iervasi.