6 Reasons Why You Need To Nab A Career Mentor
If Oprah had one, so should you.
Sure, sisters are doing it for themselves, but that's not to say that going it alone is the best approach to your career. Someone to have your back is integral when you're climbing the corporate ladder. A more experienced mentor can light the way in the downright murky world of workplaces. Hell, even Oprah Winfrey has a mentor in the form of literary goddess Maya Angelou, and it's unlikely Mark Zuckerberg would have been as successful as he is today without Steve Jobs. Still need convincing? You'll find the top reasons for bagging yourself a workplace mentor below:
It's a form of upskilling
What's the point of choosing a certain job aside from the income factor? Learning something new of course! And that's exactly how a mentor can help. Typically, a mentor is someone in the same industry, so the skills and insight they've collected during their own career can then be passed on to the mentee. You'll also pick up handy hints on avoiding some of the same mistakes.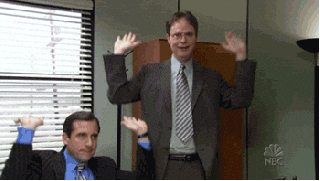 A support network
Yes, Mum and Dad will always be your biggest cheerleaders. However, it's important to have somebody who actually understands what it is you do for a living, to guide you through professional scenarios (no offence, Mum). The relationship between mentor and mentee is a support network of sorts. The same way you would ask your bestie for dating advice, your mentor becomes a go-to for anything job-related.
You'll earn more
Sick and tired of scrounging around in the bottom of your bag for coffee money? Or surviving solely off 2-minute noodles till payday? While a mentor can't sign your contracts for you or ask for a raise on your behalf, they will help you define your financial worth, guide you through the awkward pay negotiations, help you to better approach potential promotions, and consider new job opportunities. 
Personal growth
Not great with criticism? Too bad. Constructive criticism is an important component of your career. It's the only way you'll learn to improve in the areas you don't quite excel at. Sure, it sucks to hear that you're not quite perfect, but it's not a personal attack we promise, it's just feedback. Being aware of your career-related attributes is really important when it comes to rising up the ranks, but it's just as important to be as aware of your shortcomings. A mentor should be the one giving you honest feedback on your suggestions and movements career-wise.
Better connections
The saying 'it's who you know, not what you know' rings fairly true, even today. Which is why it's always of benefit to be well-connected within your chosen field of work. Having access to a mentor means having access to their industry connections on top of your own – it's a foot in the door to more opportunities, and skills should you wish them. Networking with your mentor will provide you with a better chance of making the introductions that will help you to gain greater access to new opportunities.
It's free
Unlike therapy, a mentor is FREE – that means it costs even less than your daily latte with almond milk. It's something pursued purely out of goodwill by those who have a burning desire to help those in the same field which means that finding a career mentor has wayyy more value than that likely overpriced latte we promise.
Words by Sarah Bristow