What a great time to be alive! As young women growing up in this day and age, learning about the struggles and inequality of women in the past is a shocking revelation of a turbulent time in history. The strong and determined women of the past and present are the reason we have the opportunities to achieve what we want today, to catch our dreams, aspire for any job we imagine and express ourselves freely and confidently through creativity in our fashion choices, interests and conversations. Be inspired by successful women who share their own personal stories and the powerful stories of other women in history with the top 20 books that celebrate women. In no particular order, let's get into it…
Lean In: Women, Work and the Will to Lead by Sheryl Sandberg
Most women believe that they have the right to equality at work, however, many lack the confidence to step up and ask for a raise, promotion or equal pay. In this book, Sheryl draws from her own experiences in business and looks at what we as women can achieve to help ourselves and make small changes in our lives to ensure that we reach our full potential in our careers as well as in our personal life. She is a woman to listen to. As Facebook COO and one of Fortune Magazine's Most Powerful Women in Business, she talks and walks the game.
I Am Malala: The Girl Who Stood Up for Education and Was Shot by the Taliban by Malala Yousafzai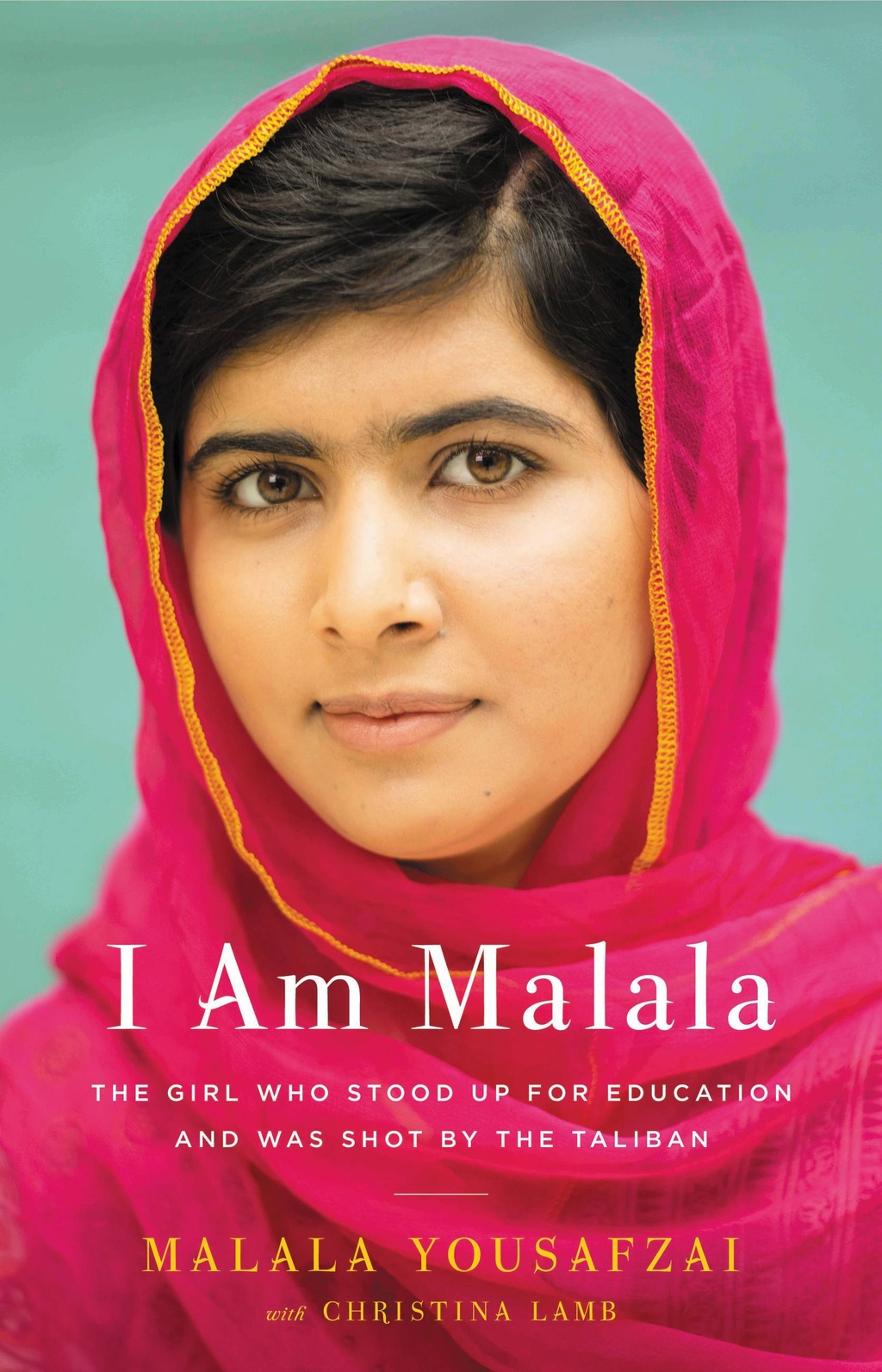 Imagine riding on the bus to school just like any other ordinary day but on the way to school, your bus gets stormed by men with guns who shoot you point blank in the head. This was the reality for Malala Yousafzai who grew up in the Swat Valley in Pakistan. On Tuesday, October 9, 2012 at the age of 15 she was shot by the Taliban all because she was a girl going to school. Few expected her to survive and her miraculous recovery and journey to fight for girl's education have taken her to the United Nations in New York and earned her the Nobel Peace Prize laureate.
My Own Story by Emmeline Pankhurst
The great leader of the Women's Suffrage Movement, Emmeline Pankhurst tells the story of her fight for equality and the rights of women in the early 20th century. She was raised in a world that valued men over women. Her sole purpose in life was to find a husband, have children and raise them by herself while her husband earned a living. This was unacceptable for Emmeline. She was smart and had so much to offer the world and through her involvement in the Suffragette Movement she was imprisoned and assaulted. She never gave up and became the leader of this important movement in history. Without her and other women who stood up for our rights for equality, we may have never been where we are today.
Not That Kind of Girl: A Young Woman Tells You What She's Learned by Lena Dunham
When the hit HBO series Girls hit our screens it quickly became my new favourite show. The quick-witted, hilarious and extremely relatable dialogue reveals what it's like to be coming into your own skin and navigating the confusing whirlwind of life in your 20's. Going through a quarter-life crisis? The characters of Hannah, Marnie, Shoshanna and Jessa will leave you in stitches and make you feel a whole lot better. Lena Dunham is the writer, director and one of the lead actors who plays Hannah in this series and in her honest AF book of short essays, she shares with us stories of strange encounters, her weird and random thoughts and lessons she's learned over the years as a woman with loud opinions wanting to be heard.
The Help by Kathryn Stockett
One minute this book will have you snorting with laughter and the next minute you will be in full blown tears. 22-year-old Skeeter returns home to Mississippi after graduating college but it's the year 1962 and women are expected to already have a ring on their finger. God forbid if you actually want a job that doesn't involve changing diapers and cooking a roast. All her high school friends and the whole of Jackson, Mississippi have help in the house, black maids who get paid next to nothing to do all the cleaning and raise white people's babies. Skeeter, along with maids Aibileen and Minny write an anonymous book about the experiences of black maids in this unfair and prejudice town where the colour of your skin unfairly categorises you in society. Transformed into a major motion picture starring Emma Stone, Viola Davis and Octavia Spencer, The Help is also a must-see movie that will give you all the feels.
Becoming by Michelle Obama
When #girlboss band Fifth Harmony use your name repeatedly in one of their songs, "Boss Michelle Obama, purse so heavy gettin' Oprah dollas", you know you're cool and in with the crowd. Michelle Obama is relatable in the sense that she comes across like all of us, just a regular human being with a sense of humour and the ability to make people feel welcomed. In her memoir, she invites us on a journey through her life from growing up on the South Side of Chicago to becoming the first African American First Lady of the United States. Through this role, she has become a powerful advocate for women and girls around the world to pursue a more active life, not only physically but mentally.
Bad Feminist by Roxane Gay
Roxane Gay peels back all the layers of feminism and what it means to be a feminist in today's society. She stresses that being a feminist doesn't mean you have to relate to those burning of the bra women of the 1960's or hate men. Instead, through her insightful essays, she admits all the things she loves about being a woman and how you can feel feminine and nurturing and still be assertive in your life and stand up for the rights of women. She reveals, "pink is my favourite colour. I used to say my favourite colour was black to be cool, but it's pink – all shades of pink". So go on and totally embrace the things that make you girly!
Women Who Run with Wolves by Clarissa Pinkola Estes
This book is all about embracing your femininity and understanding your own intuition. Being happy and comfortable in your own feminine power is something that all women should be encouraged to pursue. In a world where success seems to be largely defined by your career aspirations and triumphs, it is easy to lose sight of what really matters. What really matters is that us women take the time to understand ourselves and our bodies, away from the daily grind. It is important to spend time outside in nature, take time out for self-care and cultivating healthy, positive and rewarding relationships with others. Estes relays the stories of our powerful female ancestors and the ways in which we can use our feminine intuition in this modern world.
My Life on The Road by Gloria Steinem
Gloria Steinem is a writer and activist who shares with us a candid account of her early years constantly on the road and seeing new places and being exposed to a variety of different characters during her travels. It's through the personal stories of these everyday people from around the world that inspired her to become an activist and create positive and thought-provoking change in the world.
Mastering Your Mean Girl by Melissa Ambrosini
Hands up if you have ever listened to that little voice inside your head that tells you things like, 'you aren't good enough' and 'you aren't confident/pretty/skinny enough'. I know I have and it can be extremely hard to escape all the self-criticism especially when our phones become our third hand and we can constantly see new content every few seconds on Instagram. Melissa reminds us that we are perfect just the way we are and shares tips and tricks on how we can gain more confidence within ourselves to get out of our comfort zone and believe in ourselves.
The Colour Purple by Alice Walker
Set in the deep American South, this is a story of a young black girl Celie who is born into poverty and segregation. As a young girl, she repeatedly suffers from abuse from a man who she calls 'father'. She has her children taken away from her and is trapped in a marriage with a man she doesn't love. Her guiding light does not come in the form of another man but a strong and independent woman called Shug Avery who leads her to a world of joy that frees her from her past.
I Know Why the Caged Bird Sings by Maya Angelou
Maya Angelou has so many memorable quotes, words of wisdom that sound like music to your ears. For example, "I've learned that people will forget what you said, people will forget what you did but people will never forget how you made them feel". Simple yet so profound and it reminds us to enjoy the little things in life. Growing up Maya had a tough life in a world that did not appreciate the minds and bodies of women. As she got older she realised that the love you have for yourself and the kindness you show towards others is what gives you purpose and makes you truly happy.
The Opposite of Loneliness by Marina Keegan
Navigating life in your 20's is daunting. All throughout high school you are constantly asked what you want to be when you grow up and then you do grow up and still have no idea. We are thrust into the real world with no clue how to really survive and our life constantly feels like a T-Swift song, "we're happy, free, confused and lonely at the same time". It's a daily struggle! In her collection of essays, Marina articulates the universal struggle of figuring out what we aspire to be and how we can use our talents to make the most out of life.
Very Good Lives: The Fringe Benefits of Failure and the Importance of Imagination by JK Rowling  
Who doesn't love Harry Potter? Shame on you for those that have never read the series, you are really missing out on one of the world's greatest joys. In 2008, J.K Rowling delivered a thought-provoking commencement speech at a Harvard University Graduation ceremony. This book includes that speech where she shares her words of wisdom and answers how we can embrace failure and use our imagination to better both ourselves and others. She also draws on stories from her post-graduate university years and shares with us times where she has failed and what she has learned from these mistakes.
Tiny Beautiful Things: Advice on Love and Life from Dear Sugar by Cheryl Strayed
Cheryl Strayed is the author of the book Wild in which she tells her story of how she got to a point in her life where all she wanted to do was hike more than a thousand miles of the Pacific Crest Trail. This book, Tiny Beautiful Things brings together the best of her life advice column Dear Sugar in the one place. It is honest, humorous and insightful and Cheryl provides solutions in a light-hearted manner on how we can decrease stress levels and get through the day more productively.
M Train by Patti Smith
Patti Smith is an American singer-songwriter who became an influential artist in the New York City punk rock movement. Her memoir, M Train, published in 2015 takes you on a journey through the cafes and haunts that inspired her music. The words are beautifully written and flow so effortlessly, it's no wonder she received a Grammy Award nomination for Best Spoken Word Album. For those of you that love writing, this is a must-read of Patti's poetic inner thoughts.
The Desire Map by Danielle LaPorte
The Desire Map is a book for those of us who love to be organised and visualise the life we want. Everyone has the ability to manifest great things, we just have to be open enough to practice and take positive actions to make things happen and achieve our goals. This is defined as more of a holistic life planning tool. So for those that don't mind the occasional words of manifest, guidance, spirit and destiny in your dialogue, this is the book for you.
Daring Greatly: How the Courage to Be Vulnerable Transforms the Way We Live, Love, Parent and Lead by Brené Brown
It's uncomfortable to be vulnerable and it's easy to want to run away at 100 miles per hour from things and situations that make us feel awkward, ashamed and embarrassed. Researcher and thought leader, Dr. Brené Brown wants us to challenge the way we think about vulnerability. When we are vulnerable and communicate from a place of openness and love we can create room for great things to happen. Being vulnerable allows us to make genuine connections with people and these encounters with others are what makes life enjoyable.
I Shouldn't Be Telling You This by Kate White
Kate White is the editor-in-chief of women's magazine Cosmopolitan. She confesses her secrets to success and the more confronting and challenging moments from her career. Through her advice on how to build a successful career to juggling the responsibilities of a family, Kate celebrates the fact that women can have both- a stable career and time for being with loved ones. It's not an easy road but not impossible. Kate is an inspiration to all us women who want to climb the career ladder without sacrificing our social life and going insane.
South and West by Joan Didion
A favourite of Emma Robert's book club Belletrist, South and West showcases the unique stories of people living in small towns of the US in the 1970's. Written by Joan Didion who went on a road trip with her husband from Louisiana to Alabama, she interviews people along the way about their life, how they grew up and how they got to where they are now. It reminds us that even though life isn't fair sometimes, you just have to make the most of what you have got and never stop dreaming.
Want more book recommendations?
The Best Beach Reads To Take On Holidays
15 Books To Cosy Up With This Winter
Girl power vibes by Tamara Bose.