Your New Skincare Routine Based On Your Skin Type
You're welcome.
Squalane + NMF + Vit C 23%. It's not a chemistry equation, it's my new nighttime skincare routine. While my top shelf might look like a science experiment, my skin is brighter and glowier than it has any right to be. In fact, if you tried to separate me from my niacinamide, I might just break down in tears. So how does a girl who almost exclusively uses whatever is on sale at Priceline turn into a skincare nerd overnight? Two words. The Ordinary.
If you've been on the internet in the last five years, you probably already know who The Ordinary is and are already obsessed with one or two of their prods. Their Buffet Serum sells like hotcakes and Kim K can't stop using the Gran Active Retinoid solution.
READ: WTF Is Retinoid And Why Does Kim K Love It So Much
If like me, you're late to The Ordinary game, their no BS packaging seems a little intimidating. Luckily for you, we've spoken to The Ordinary team and found out what your day and night skincare routines should look like based on your skin type.
P.S. None of these routines will set you back any more than $72 and for dreamy skin, that is a steal.
Dry & Dehydrated Skin
If you're prone to getting a tad flaky and dry in the colder months, or you're one of those poor unfortunate souls who have it all year round, you need to get yourself some squalane. Stat. Squalane is a natural antioxidant that prevents loss of hydration and is gentle enough for daily use.
After you've cleansed your pretty little face with squalane, you want to go ahead and add some acids and oils. Ideally, your AM routine will look like this:
Morning:
Cleanse your skin with the Squalane Cleanser, AU$14.95 and rinse with warm water.
Follow up with 2-3 drops of the Hyaluronic Acid 2% + B5, AU$12.95.
Lock it in with the Natural Moisturising Factors (NMF), AU$12.95, let it sink in a for a hot minute, then continue with your makeup routine.
At night, it's all about nourishing your skin for the next day.
Night:
Follow steps 1 and 2 from your morning routine, doing a double cleanse if you're a gal who likes a full face of makeup.
Layer on the nourishment with your pick of face oils. To combat dryness The Ordinary suggests either the 100% Plant-Derived Squalane, AU$14.95 or my personal fave the 100% Organic Cold-Pressed Rose Hip Seed Oil, AU$18.95.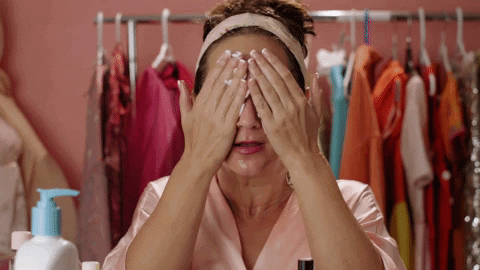 Oily & Congested Skin
Oily gals let me introduce you to your new best friend, niacinamide. One of The Ordinary's global best-sellers, this lil' concoction is fantastic at clearing congestion and supporting blemishes. As a bonus, their formula includes a little bit of zinc to combat any excess inflammation and shine.
Morning:
Once you're ready to hit the hay, you'll only be four steps away from bed-ready skin.
Night:
Cleanse again with your new fave Squalane cleanser, doing a double cleanse if you're a gal who likes a full face of makeup.
One or two nights a week, give yourself a cute little exfoliation with the Glycolic Acid 7% Toning Solution, AU$14.95 (our fave) or the Lactic Acid 10%, AU$12.95.
Follow steps 2 and 4 of your morning routine and you're ready to rest.
Normal/Combination Skin
If you're one of those rare lucky ducks whose skin is neither dry nor oily, first of all, how did you get so lucky? Second of all, don't be fooled. You still need to use as much care as us problem-skin folks.
In the morn, The Ordinary suggests something like this:
Morning:
Night
To continue your lucky streak you can directly copy steps 1-3 from your AM routine.
To lock in all those hard-working products, layer on a few drops the 100% Organic Cold-Pressed Rose Hip Seed Oil, AU$18.95.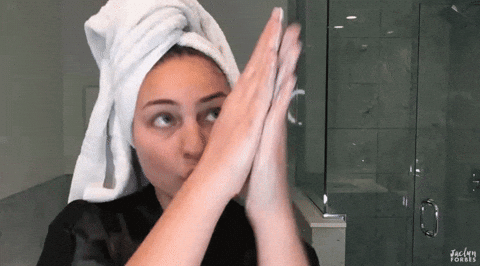 Textured Skin
If your skin isn't as smooth as you'd like it to be, the good news is your only three steps in the morning and four steps at night away from being as soft as a baby.
Morning:
Start your day with the Squalane Cleanser, AU$14.95 making sure to give yourself a nice massage while you cleanse.
Add a couple of precious drops of the best-selling Buffet Serum, AU$24.95.
Finish off your makeup ready base with the Natural Moisturising Factors (NMF), AU$12.95.
Night:

Dull Skin
If your skin is lacking a bit of glow and brightness, right here is where it's at. These four products are going to give you the glow-getter look you deserve.
Morning:
Rise and shine with a healthy massage of Squalane Cleanser, AU$14.95.
Pop a couple of drops of Niacinamide 10% + Zinc 1%, AU$9.95 onto your freshly-cleansed skin.
Moisturise with the Natural Moisturising Factors (NMF), AU$12.95.
At night, you want to add a touch of Vitamin C to your routine, and we don't mean by eating a shit tonne of oranges. Vitamin C offers visible smoothing and brightening in the one product! Add it to your PM routine like so:
Night:
Stick to steps 1 and 2 of your AM routine.
Apply a small amount of Vitamin C Suspension 23%, AU$9.95 or Vitamin C Suspension 30% AU$12.95 if your skin is used to it and blend it into the skin. You might feel a small tingling sensation, but trust us, that's just the goodness at work.
Convinced? Shop The Ordinary on Showpo!
Words by Emma Roffey