2018 Emmy Awards: The Best Looks On The Red Carpet
How fun is red-carpet frock perving? Much more fun than the snooze-fest that is generally an awards show. This years' Emmy Awards proved a pervy style-fest, with 4 key trends dominating the red carpet. We take a look at our 4 fave trends and all the best looks from the red carpet…
ALL IN WHITE
White was dominating the red carpet this year and it's easy to see why. Shop your own white dress here.
Jessica Biel is a VISION in Rodarte! I can't deal with how perfect the whole look is. The soft loose curls, pink pout, and structured gown is perfection. 
Ageless Cruz in a custom feathered Chanel Haute Couture gown. I wonder if I can afford a custom Chanel gown for my wedding? LEL keep dreaming Kelly.  
Balmain looks good on Scarlett. 
The Good Place star keeping it real in a $530 Solace London dress, why not Showpo next time Kristen? 
So simple, so chic. I'm loving the simplicity of the pantsuit with the added glam factor of tassels. 
COLOUR
I always admire a gal who steps away from safer colours and opts for something bold.
Emmy award-winning Rachel looks ravishing in red. 
While on some, this Valentino Haute Couture gown would look perfect for the Met Gala; on Tracee, it just looks showstopping. I am so happy pink is trending. 
I didn't think blondes could look this cute in Yellow, but Judith Light proves me wrong in her Christian Siriano gown.
More pink! This Brandon Maxwell frock is GORG! 
YAY! I'm so glad we have a lass in one of this season's hottest hues; GREEN! Dakota Fanning is as pretty as ever in her textured frock. 
Polished and effortless, ol' Benny's wife Soph is a timeless beauty. 
SPARKLES
Would it be a red carpet without some boss babes storming up it like human highlights?
Allison is hitting both the colour AND opulent trends with her glittering amethyst Prabal Gurung gown.
They aren't polka dots on Angela's Christian Siriano dress… Nope, just zillions of crystals, NBD. 
My fave OITNB star (*sob) looks like the star she is in a silver sequin Jenny Packham dress, but WTF is going on with her hair? It looks like paint!?
Guys… I think I found my fave look. This sparkly suit is MINDBLOWING on Amanda Crew. 
My word do I love a spangly frock and this custom one by Tanya Taylor is SUPERB on funny lady Aidy!
PURE OPULENCE
Textures galore, I'm loving the OTT gowns seen strutting around this year.
I hope they're faux feathers Sarah… The ball gown is by Oscar de la Renta and looks lovely. 
Srsly these all better be bloody fake feathers!? This Zuhair Murad Couture gown is exactly what I want to wear to my 30th.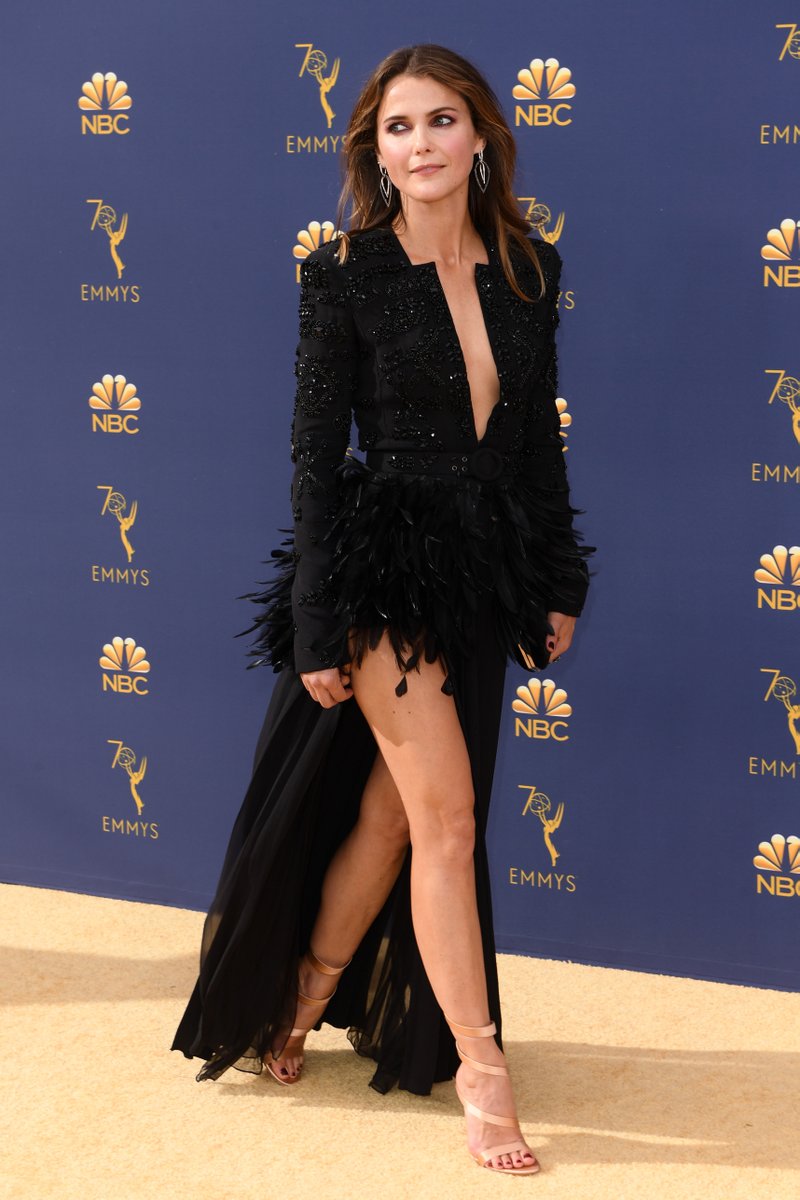 Look up opulence and you'll probs just see a pic of this carefully embellished masterpiece.
Mandy Moore looks delicious in Rodarte, the chocolate frock perfectly cohesive with her shiny locks. Srsly tho, what conditioner does she use?
Alec Baldwin's wife (I'm sorry, I don't know your name) looks fierce AF in her fire-engine hued, rose-textured gown.
Grey's Anatomy lost their best character when Sandra Oh left but doesn't she look STUNNING in this silky Zuhair Murad Couture gown. #BringBackChristina
Sarah layering it up in this flippin' FEATURE of a dress. I'm not in love but she looks insanely effective! 
Comment below and let us know which dress was your fave!?