Who TF is Jordyn Woods Anyway?
No need for Wikipedia, we've got all your answers right here.
Let's face it, if you've landed on this page you already have some idea of who Jordyn Woods is. If, by chance, you're starting from scratch, here's all the tea on today's woman of the moment and exactly why all of the Kardashian-Klan have decided to hit unfollow. Brutal.
Who is Jordyn Woods?
The artist formerly known as Jordyn Woods is (was?) the best friend of Kylie Jenner. Jordyn is also a model and Instagram superstar in her own right. However, we won't lie, most of her fame comes from her close relationship with the Kylie.
There is little Kylie has done in recent years that hasn't involved Jordyn. During an interview with Vogue, Kylie said most of her product swatches are done on Jordyn and it's her arm that people see in her infamous insta-stories.
So why is her name blowing up your Twitter feeds today? Word on the street has it that the 21-year-old has been caught making out with Tristan Thompson, Khloe Kardashian's boyfriend and baby daddy.
This isn't the first time Tristan has been a dirtbag unfaithful to Khloe recently. Just two days before Khloe gave birth to their daughter, True, videos began circulating of Tristan consorting with another woman. In the latest season of KUWTK, Kim says that given his history, Tristan is likely to cheat again. While this isn't the time to say 'I told you so', we can't help but wonder what Kimmy K has to say about the latest scandal.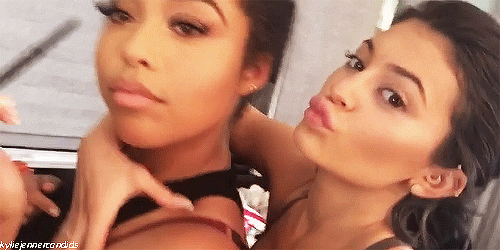 How did Jordyn Woods and Kylie become BFFS?
Kylie and Jordyn aren't such an unlikely duo. Both are represented by their momagers and come from famous LA families. They were bound to cross paths at some point.
There's no solid answer on how the girls became so close, but we'd hedge our bets that they were introduced to each other by Willow and Jaden Smith, both of whom they were close to separately before meeting each other in 2012.
Since then, the pair became so close that Jordyn moved into Kylie's LA pad in 2016 to live with the beauty mogul and her daughter, Stormi. We're guessing that living situation will end pretty quickly though, you know… given the circumstances. 😳
Why is Jordyn Woods famous?
According to her bio on Good American (the brand owned by Khloe Kardashian mind you), Jordyn Woods was scouted as a model on Instagram and aims to "empower other curvy girls to embrace their inner confidence and self-respect."
The bio also says that Jordyn "counts the Kardashian clan as her sisters", but in light of recent events, we think there are a few edits to come.
Jordyn also comes from a famous family. Her late father was a sound engineer on 90s fave 'The Fresh Prince of Bel Air' (she often refers to the show's leading lad as 'Uncle Will'). Her mum, Elizabeth Woods, heads up Woods Management Group and is a frequent dinner guest of Kris Jenner.
What does Jordyn Woods do?
Apart from being Kylie's righthand woman and a recurring face on KUWTK, Jordyn has her own line of activewear called SECNDTURE. According to the brand's website,  SECNDTURE is a size-inclusive, street style inspired brand designed to act as the body's second skin (finally,
something we can get behind
). She's collabed with Kylie Cosmetics on a Kylie x Jordyn collection, which
Twitter anticipates will go on sale any minute now
.
Jordyn has also had a few stints as a model fronting campaigns for ASOS, H&M and you guessed it, Good American (awks).
So what is Jordyn Woods up to now? Well if the Kardashian's mass unfollowing of her Insta is anything to go by, probably looking for somewhere new to live. However, with such an established reputation we're sure Jordyn will land on her feet, with or without Jenner on her side.
Not quite done with your fix? Click here to find out what the internet has to say about the scandal.