Skincare Faves At Showpo HQ
Skincare is a HUGE industry, generating billions of $$$ in sales every year as (mainly) women strive for that flawless, soft, dewy, clear, smooth complexion. I'm always so interested to know what other gals use, so on occasion quite like to have a nosy poke through the beauty bag of my colleagues. Here's what a few of the Showpo peaches are currently loving and brace yourself for just a few face oil recommendations…
CHRISTINA, Executive Assistant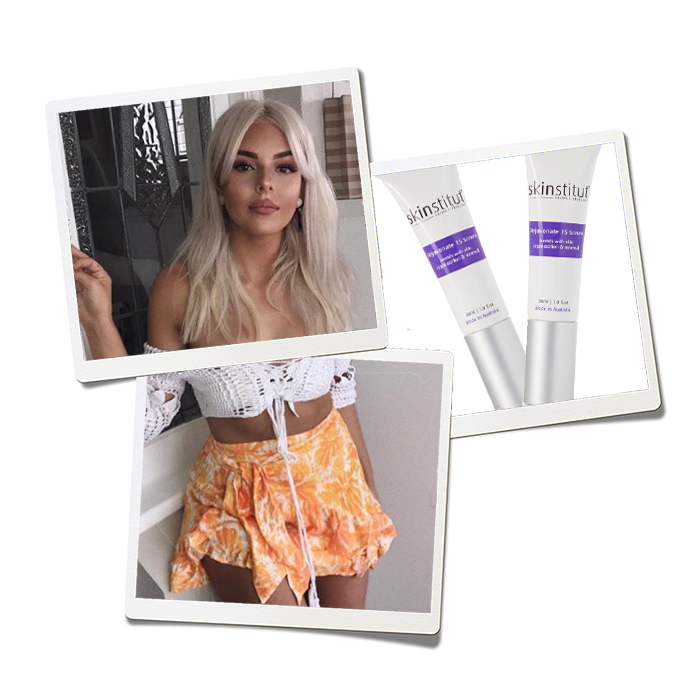 PRODUCT REC
Apply after washing your face and you can accompany it with eye cream or another moisturiser OR before your makeup daily. It hydrates, helps the skin recover from any blemishes and just gives me absolute life ".
Eds note: She has the skin of an angel so I would try anything she recommends. 
Tiziana, Studio Manager
PRODUCT REC
Kiehl's Midnight Recovery Concentrate 
Best night oil I've ever used. It hydrates and plumps up my skin. I 100% notice a visible difference when I use it"
Eds note: Seriously look at that face. Her makeup always looks IMPECCABLE so you know she takes good care of her skin. 
Kelly, Product Developer
PRODUCT REC
I really love the Go-To Face Hero Oil, it smells freaking amazing & actually feels like it's doing my skin good rather than just sitting on top. Plus the bottle looks so cute on the vanity".
Chelsea, Buying Assistant
PRODUCT REC(S)
If I don't put this minty goodness all up on my face at least twice a week my skin is a hot mess. The peppermint oil is so refreshing and it helps brighten your skin!

My mum got me onto this stuff, she's 47 and looks 35 so if it's working for her I'm all about it. It's full of all kinds of anti-aging goodness and is super smooth base for your makeup."
PRODUCT REC
I am so low-maintenance when it comes to beauty so the idea of using a bunch of products makes me bored. Im so into this serum cause it's all I really need to put on my face and I get that 'glow' of the girls in the office talk about."
Tarlia, Graphic Designer
PRODUCT REC(S)
My go-to product when my skin is feeling dry and in need of some extra TLC. I even mix it in with my foundation during the winter months to keep my skin nourished and dewy in the colder weather!

I lather my lips in this stuff every single night and it keeps my lips nourished for fresh lipstick application in the morning. A must-have for every girl, and one tube lasts forever.

This product has CHANGED MY LIFE!! (well…my skin at least) I add it into my moisturizer day and night! It evens out my skin tone, battles breakouts and even reduces pigmentation! Also, a bargain at around $30 considering one pot lasts up to 4 months.

Intense hydration for the skin, while you sleep, helps create that perfect base for foundation application in the morning! It also helps if it smells amazing like this product does, and acts almost like aromatherapy as you drift off to dreamland!"
PRODUCT REC(S)
Skin Doctors Age Defying Power Oil & Elemis Enzyme Peel 
Love this, love the smell, having been using for 2 moths and reckon it makes me look 37!

This is amazing for boosting my skin, been using for years and years, whenever skin looking dull!
Kim, Graphic Designer
PRODUCT REC
Bio Oil CHANGED MY LIFE and got rid of horrific acne scarring on my back, shoulders and chest!!! Plus, has gotten rid of my stretch marks from my recent breast augmentation. Legit liquid gold."
Magenta, Design & Production Coordinator
PRODUCT REC
This is my must have! I feel it really helps keep my skin looking healthy and hydrated through the colder months. And it absorbs quickly and doesn't leave your skin feeling sticky or too oily. "
Kee, Influencer Manager
PRODUCT REC
It's so boujee and $$ but it's worth every cent. I have the DRIEST lips and this balm is the only thing that helps."
I have a billion recommendations, go listen to the podcast I co-host '
You Beauty
' for them all!
And we also have 2 recommendations from the boys…
^lol about this more here at 1.06…