HONEST AF REVIEW: Zoeva Screen Queen Collection
Raise your hand if you get more excited about limited edition makeup collections than Christmas…
Me: 🙋
Even better is receiving a limited edition collection FOR Christmas. 
The new Zoeva Screen Queen Collection pays homage to the silver screen stars who celebrated their individual
beauty and challenged the status quo. The collection consists of a luminous highlighter palette, sultry eye shadow palette, 4 creamy lip crayons, and a luxe brush set – SWO 🤤
So what did I think…
'THE STARS IN HER EYES' EYESHADOW PALETTE
Guys, there are 3 shades in this palette that I'm particularly obsessed with. LOOK AT THE BUTTERY, CREAMY PIGMENT!
The shades look different on the skin than in the pan, so while I thought my fave shades would be the peachy hues, nothing beat the 3 warm chaps I've very obviously highlighted above as faves. The first one I've pointed to is 'Transformative Power', which in the pan didn't excite me at ALL. But swatched, it's the most perfect creamy brown hue for smoking out your lash line, or deepening up your lid. The next ('Best Work Unseen') is a deep chocolate with intense purple undertones that I'm actually frothing over and my last standout is 'Relentless Perfectionism'; a shade that looks reddish in the pan but applies as a gorgeous peachy rust hue.
This palette is super pretty and has all the shades you would need for a brown smokey eye. Each shade works out at $3.50 each, which is pretty damn thrifty.
'IT'S YOUR TIME TO SHINE' HIGHLIGHTING PALETTE
'Peals & Fine Silks'  (the bronzey shade) is my fave, it's inSANE! It's the most perfect golden bronze to give you that effortless summer glow – it's not powdery AT ALL so has a really beautiful finish over your base products.
YOU'RE READY FOR CLOSE UP LIP CRAYON SET
I mean… this nude you guys, THIS NUDE. 'Shiny Nude Apricot' is a sheer balm with the perfect amount of colour for 'no makeup makeup looks'. This basically won't be leaving my handbag as it makes my lips look less dead when I'm not wearing makeup and it doesn't dry them out.
Available online and at Sephora.
THE PERFORMANCE OF A LIFETIME BRUSH SET
I've never met a gal or guy who didn't love Zoeva makeup brushes. Soft, effective, good quality, reasonably priced and pretty – what's not to love! This limited edition set has all the essentials so it's a great pressie (for someone or yourself obvs). While I was testing these out, the girls in the room were all fawning over diff brushes, all proclaiming a different one was 'the hero' – and it's true, it's got a bunch of standouts!
Oh and on another note, this is how the collection arrives… I know, what packaging goals are made of! The brushes sit under the top layer, if you're lucky enough to get your mitts on one, keep the box for storage, it is pretty enough for prime positon on your dresser.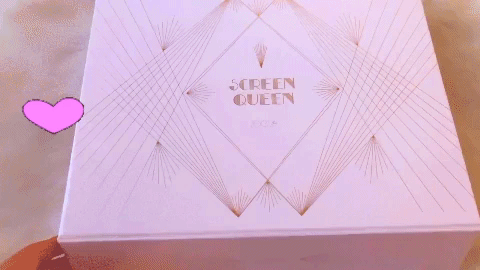 The collection set can be bought here and all individual items are available online and at Sephora.