Your Ultimate Guide To Makeup Setting Sprays
Get misted bitches!
You've all seen makeup artists and beauty gurus using them, but what the devil actually are makeup setting sprays and what the devil do they do?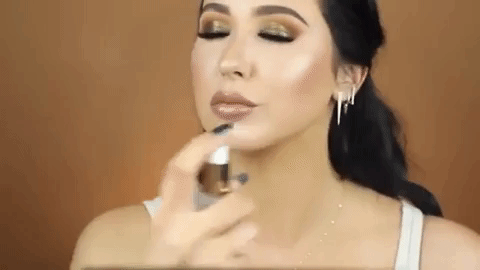 MAKEUP SETTING SPRAY 101
What is a makeup setting spray?
Think of makeup setting spray as a top coat for your makeup. Just like a top coat of nail polish stops the product underneath from smudging or coming off, a makeup setting spray holds your makeup in place, acting as a barrier between your handiwork and the rest of the world.
Remember back in the day when you would finish your makeup and coat your face in hairspray before you hit up da club? … oh…. just me? ANYWAY, it's essentially a fancier, better-for-your-skin version of this technique that sets everything in place and keeps your makeup on your face even through the sweatiest of d-floor grind fests.  A makeup setting spray is formulated with 'holding' ingredients that stop your makeup from moving all over your mug. 
Why are makeup setting sprays so popular?
Bitch, in this age of social media we have no idea when someone will gram us, so we need to look shmick AF no matter if it's 3pm or 3am. A makeup setting spray helps make this happen.
Makeup setting spray keeps everything intact. When it comes to events like a wedding, birthday, formal or even just a special occasion where you don't want your makeup to budge – it's the perfect addition to your beauty routine.  Some gals and guys actually use it daily. Makeup setting sprays can also help you achieve that coveted glowy/dewy look, and help prevent the dreaded 'cake-face' finish wearing too much powder can result in.  
What are the key benefits of using makeup setting spray?
There are so many pros to adding a setting spray to your beauty routine. Some setting sprays specifically target certain problem areas, so if you want to combat them – definitely do your research before purchasing. Some setting sprays help to hydrate and eliminate dryness, whilst others help to eliminate those oily skin patches. 
What's the difference between a makeup setting spray and a face mist? 
With so many makeup products on the market now claiming so many key benefits and promising results, it's easy to feel a little overwhelmed and confused. However, there are differences with products and here's why;
A makeup setting spray is aimed at keeping your makeup in place all day long and helps to give skin a shine or matte finish depending on how you like your makeup. However, facial mists are formulated to hydrate and boost your skin, and although these two products sometimes claim to do both, they both have different benefits. If you're looking to prolong your makeup wear, then definitely opt for a setting spray, however, if your skin is in need of some TLC, then a facial mist is great to carry in your bag for use all day for a quick pick me up.
How do you use a setting spray?
There is a myriad of ways you can use a setting spray: primarily you simply mist it over your skin after you've applied makeup to lock it into place. But you can also use it for;
Spritz prior to makeup application to assist in priming your base.
Soak your beauty blender in setting spray instead of water for an additional 'LOCK IT IN' measure.
Use a glowy spray on your face after applying cream products and then use your beauty blender to melt the products into your skin, creating a seamless, natural finish.
If you want an intense colour on your lid or even your highlight, dampen your brush with some setting spray prior for unreal results. Did someone say poppin'?
If you want to make your brows stay put, simply spray your brush before dipping in your brow colour and feather through.
Lock in concealer by spraying mist onto your finger after applying concealer and patting into the skin.
Turn your eyeshadow into eyeliner with setting spray and an angled brush.
MAKEUP SETTING SPRAYS TO TRY
If you want your makeup to last…
Primary purpose: set your makeup so it doesn't budge all dang day.
M.A.C Prep + Prime Fix+ – An oldie but a goodie, this is a staple for millions of women around the world – for a damn good reason. Bursting with vitamins and minerals, this ultra-lightweight spray has a water-based formula, which can be used to prep skin pre-makeup application, set your foundation and revitalise complexion throughout the day.    AU RRP $36 [100mL] 
URBAN DECAY All Nighter Long-Lasting Makeup Setting Spray – When this product launched on the market, it created serious buzz, quickly becoming a cult-fave in beauty land. The highly advanced setting spray prevents melting, fading or settling into lines and keeps makeup looking fresh and flawless for up to 16 hours. Developed with Temperature Control Technology, this next-gen setting spray regulates the temperature of your makeup so your eyes, lips and complexion is on point no matter the weather. AU RRP $49 [118mL]
MARC JACOBS BEAUTY Re(cover) Perfecting Coconut Setting Mist – A 24-hour makeup setting mist that hydrates while giving skin a fresh, dewy glow. This fine, micro-mist delivers a healthy-looking dewy glow to the complexion, at the same time, locking in makeup so that it stays put and looks fresh all day long. Formulated with freeze-frame technology, it sets makeup for an entirely new sensation: Skin is left feeling comforted and nourished, never sticky or filmy. Inspired by Marc Jacobs's love of coconut water, this refreshing spray contains five coconut actives and is the Showpo CEO's personal fave. AU RRP $61 [112mL]
Arbonne 'Let It Set' Finishing Spray – This desk or handbag friendly spray helps set, protect, and refresh while minimising shine and oil breakthrough throughout the day. Arbonne's Pollution Shield Technology helps protect skin from environmental stressors while skin-loving botanicals hydrate and smooth. AU RRP $53 [50mL]
Make Up For Ever Mist & Fix Setting Spray – The formula increases hydration meaning your skin won't dry out or feel sticky to touch. Instead, your makeup is invisibly sealed into place for a fresh look that will last up to 12 hours. AU RRP $43 [125mL]
If you want glowy AF skin…
Primary purpose:
revitalise your complexion and leave it looking dewy and glowing. Think supermodel skin. 
TATCHA Luminous Dewy Skin Mist – Spritz on serious hydration and just the right amount of luminosity with this milky, moisture-rich emulsion. Designed for use both on bare skin and over makeup, so you can refresh your complexion anytime, anywhere. This is my all-time fave (ever since I found out it's what Kimmie K's makeup artist uses to get her 'glow') BUT don't use it on eye makeup as it will transfer. AU RRP $73 [40mL]
Pixi Glow Mist – Such a good dupe for the Tatcha, this nourishing mist leaves a glowing, luminous complexion. Enriched with 13 natural oils in addition to propolis, aloe vera and fruit extracts, it provides a refreshing, nutrient-rich boost to dehydrated skin. AU RRP $29.95 [80mL]
Iconic London Prep-Set-Glow –  A gorgeous hydrating mist that feels refreshing and contains light reflecting properties that leave the skin with a 'lit from within' glow. AU RRP $44 [120mL]
If you need serious hydration, baby…
Primary purpose: hydrate your skin, making it look and feel fresh AF.
Frank Body Anti-Angry Face Mist – Super hydrating, this calming face mist is designed to instantly soothe stressed, tired or less-than-happy complexions. Formulated with redness-relieving rose water to banish irritation, antioxidant-rich grapefruit seed extract for plump, glowing skin and coffee seed extract to perk up, firm and soften the skin. AU RRP $14.95 [70mL]
CAUDALIE Grape Water – A signature, soothing and organic formula, extracted directly from pure grapes. A cult favourite amongst makeup artists and celebrities, Grape Water is perfect for sensitive skin, soothing rosacea and reducing redness. The versatile product can be used as a toner after cleansing, as a setting spray before applying makeup, or to refresh and hydrate the skin throughout the day. AU RRP $11 [75mL]
Jurlique Rosewater Balancing Mist – One of their most iconic products, the mist is a best-seller thanks to its naturally uplifting scent and instantly hydrating effect on the skin. It's bursting with extracts of organically grown Rosa Gallica flower, which is known to hydrate and soften the complexion. AU RRP $49 [100mL]
AVÈNE Thermal Spring Water – Top tip – keep this bad boy in the fridge for much needed soothing hydration when it's hot. This superfine mist is perfect for anyone with sensitive skin and can be used all-over on angry or inflamed skin. AU RRP $24.99 [300mL]